Bulwinkleland in 29 in 2019/21
What to call my evolving garden spot in 29 Palms, California?
Beeyootee Supplies!! of course.
Thanks to Paul Sutton of Pipes Canyon.
Throughout these images you will find some duplicates.
Not to worry. Maybe the Creator just likes it that way.
After all, he gets to be... "The Decider."
- Mark Elliott Bulwinkle -
"What happens to all your stuff when you die?" - Andy Warhol
"Who cares?" - Mark Bulwinkle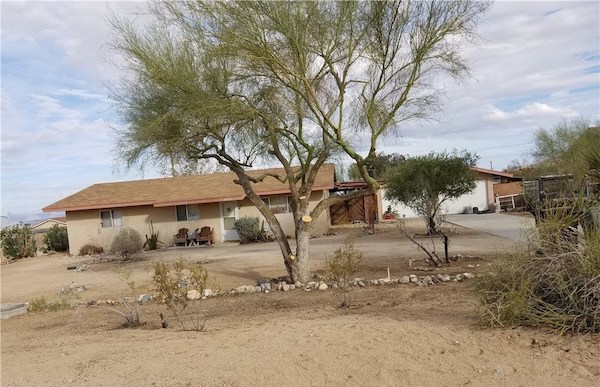 2017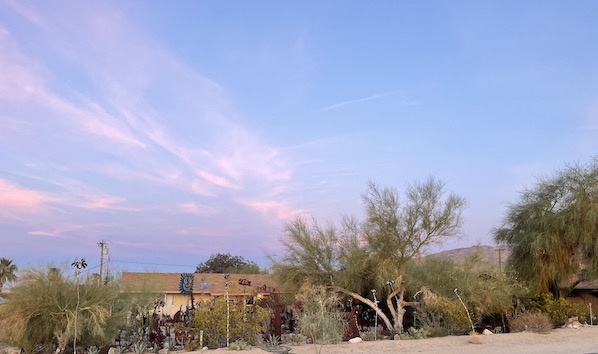 2023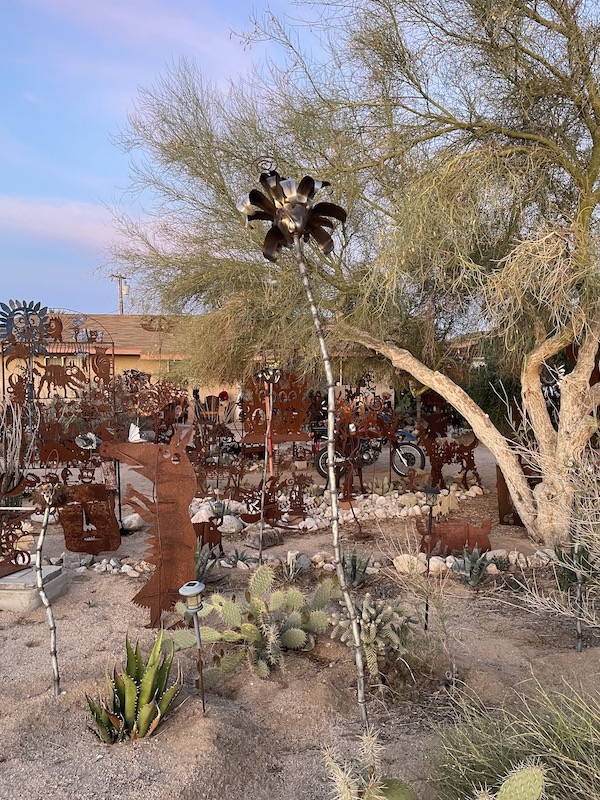 What's with this guy?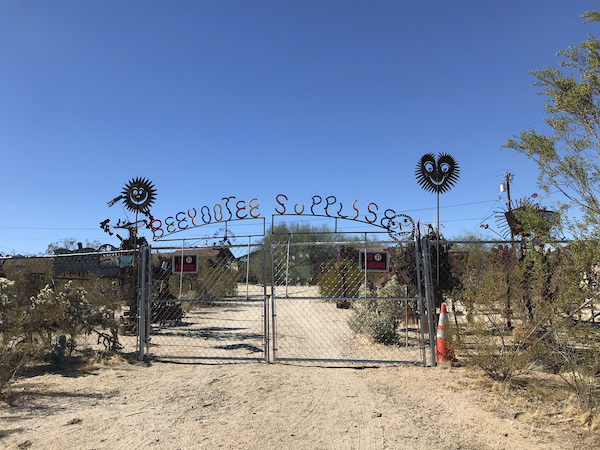 These photos are a record of a work in progress. I share them with you.
With luck, the work will end when I do.
A plan there is not.
Only peace.
Sometimes.
That can be a plan.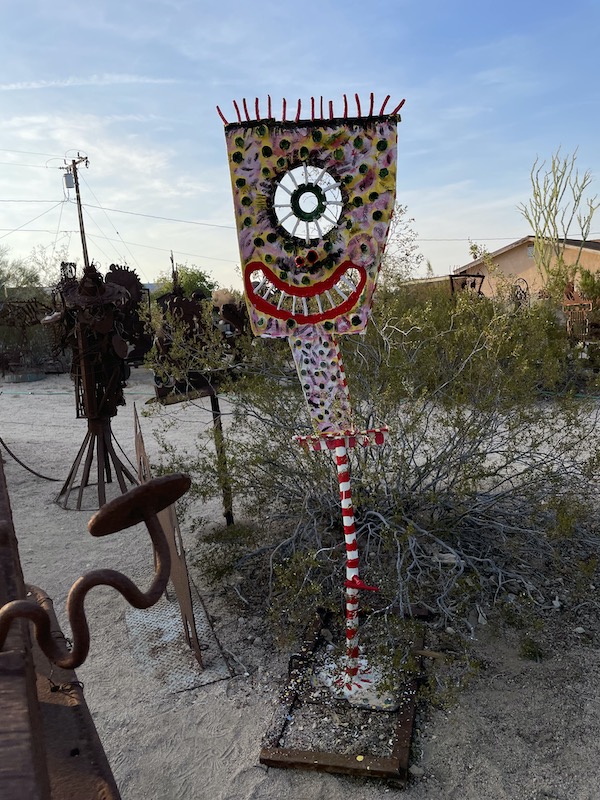 A new face for an old friend.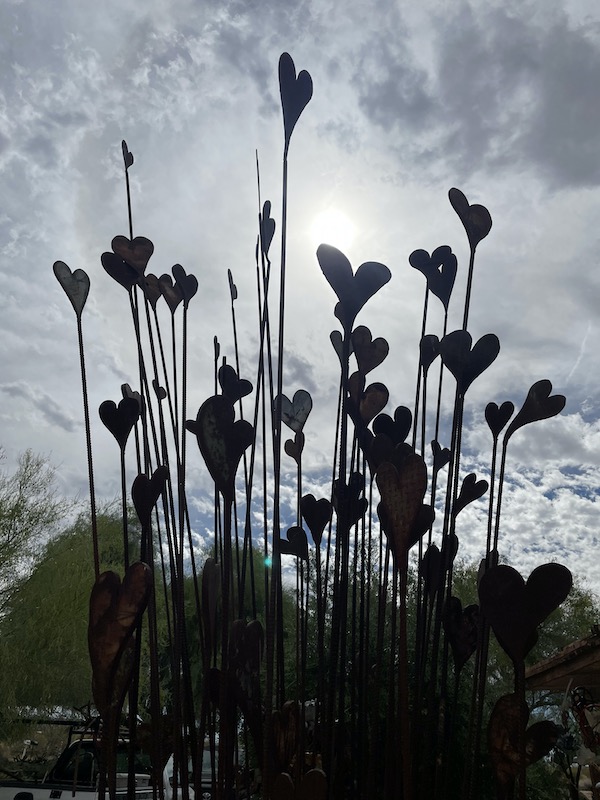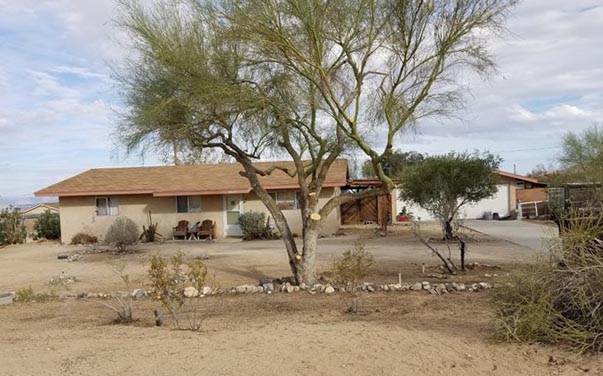 Fall of 2017. What now, Brown Cow?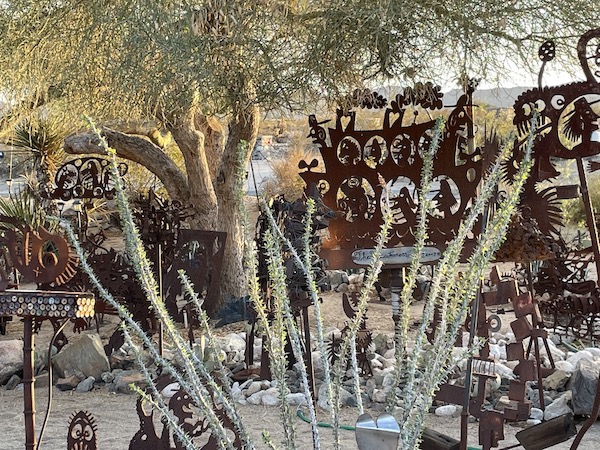 "Love is not like room in a car. With love there is always room for more."
- Pastor Jack Sammel -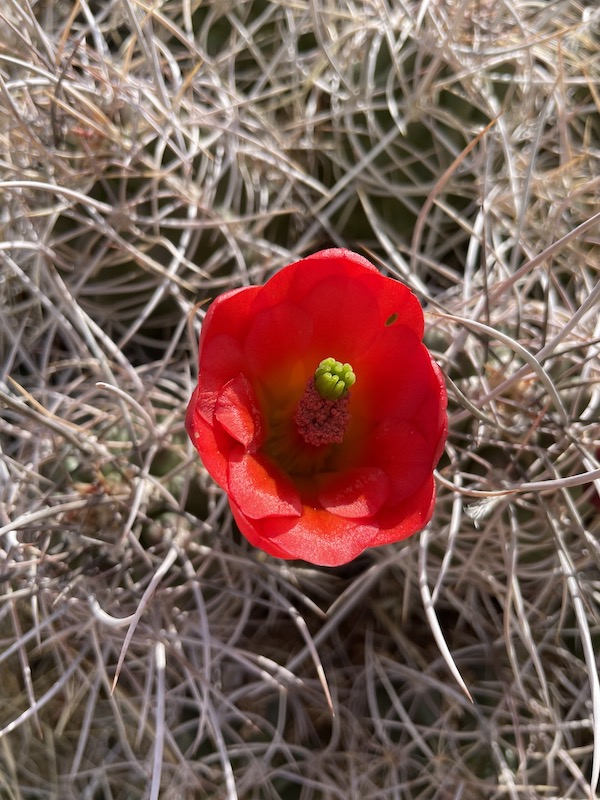 Spring of 2020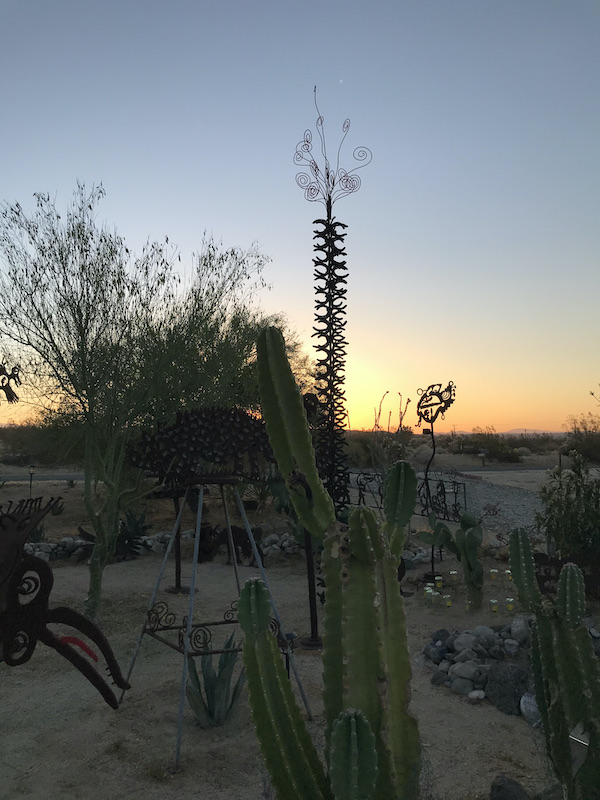 You can do a lot of neat stuff if you don't watch television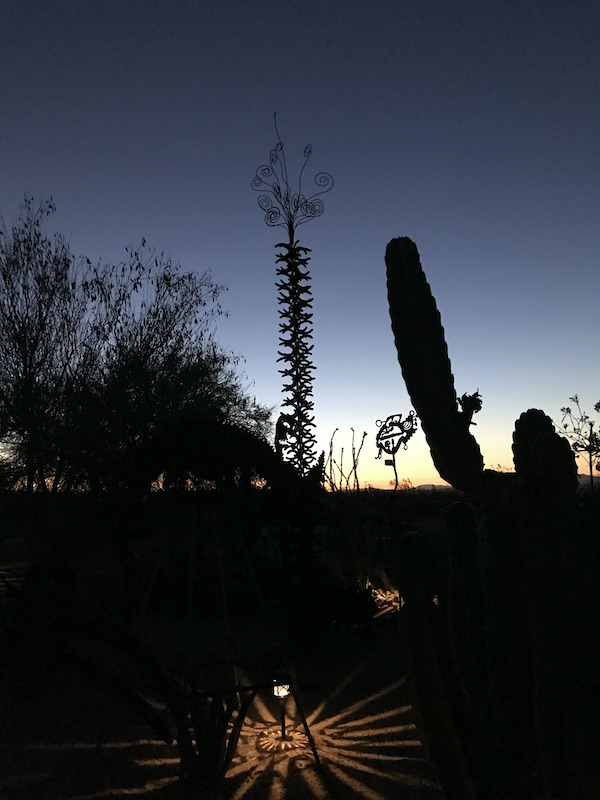 Television free since 1963
And look what just flew in to Bulwinkleland!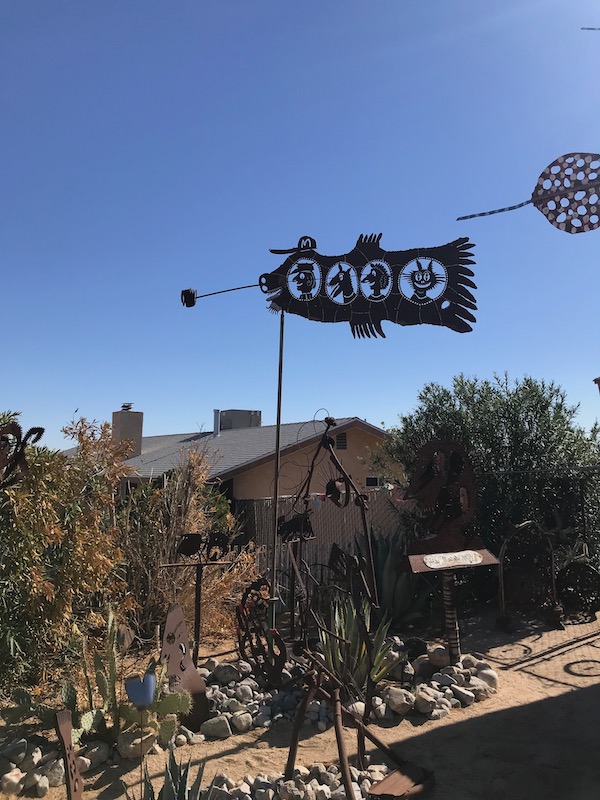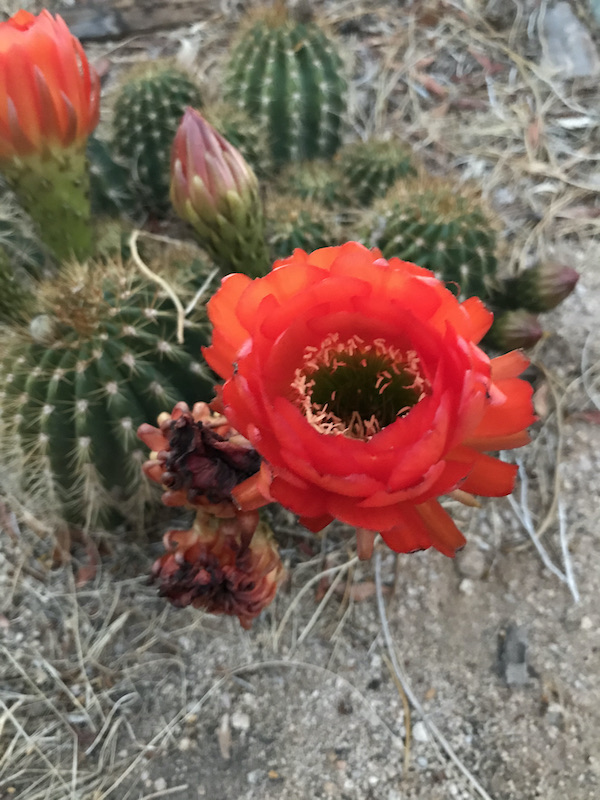 Beauty Supplies, my art is, Beeyootee Supplise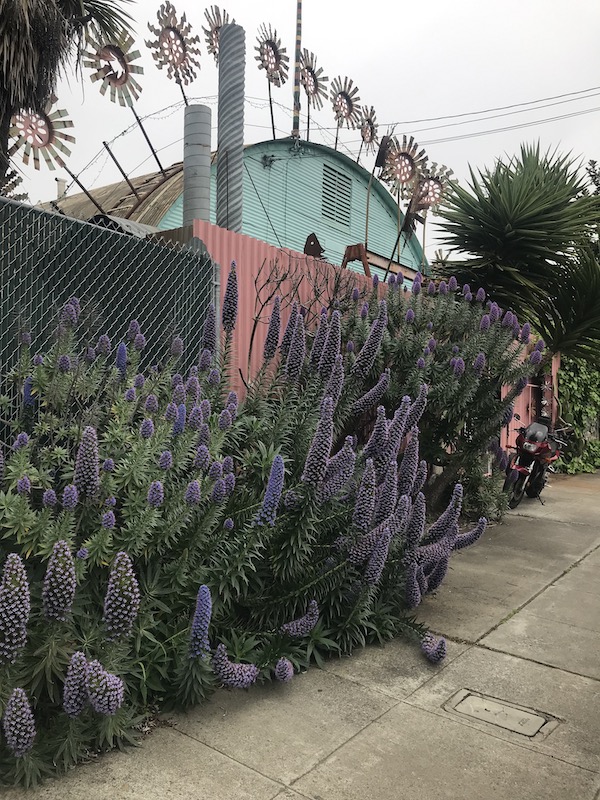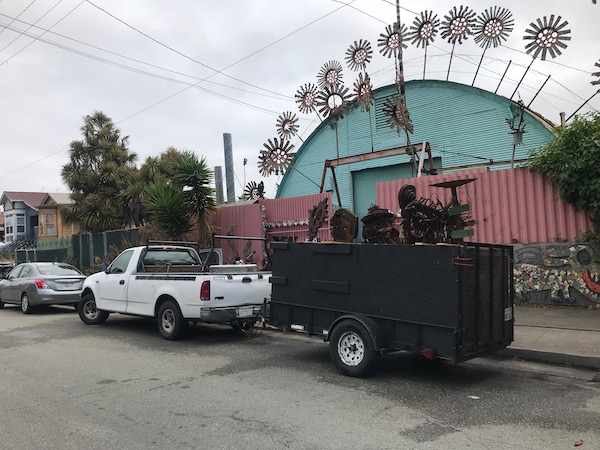 Oh boy! The sculptures are going for a ride.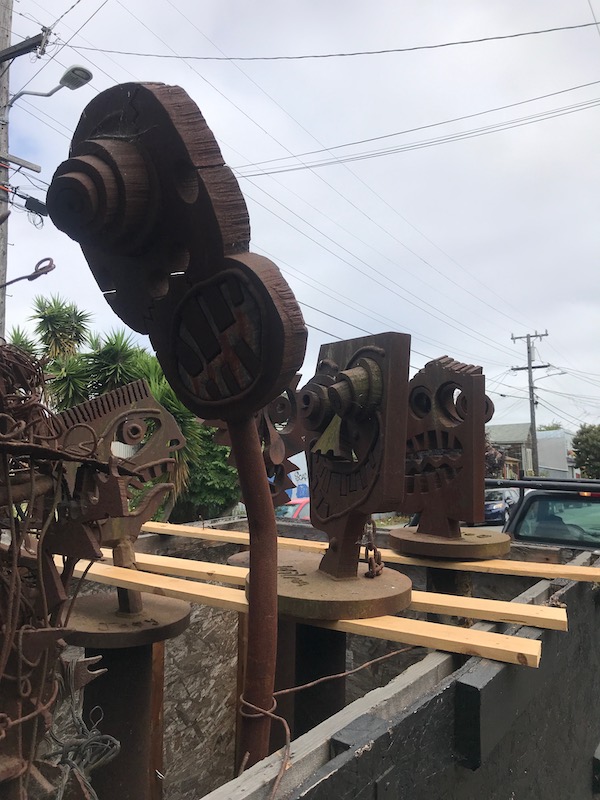 From West Oakland to...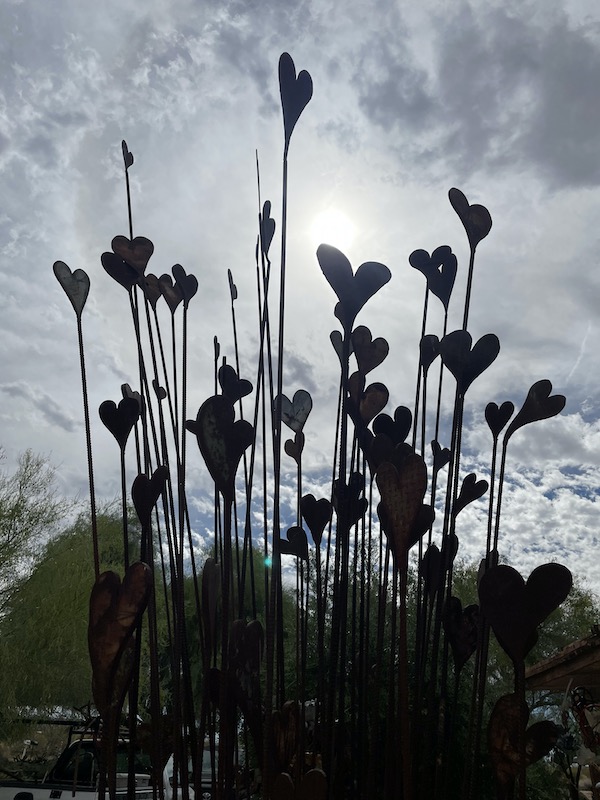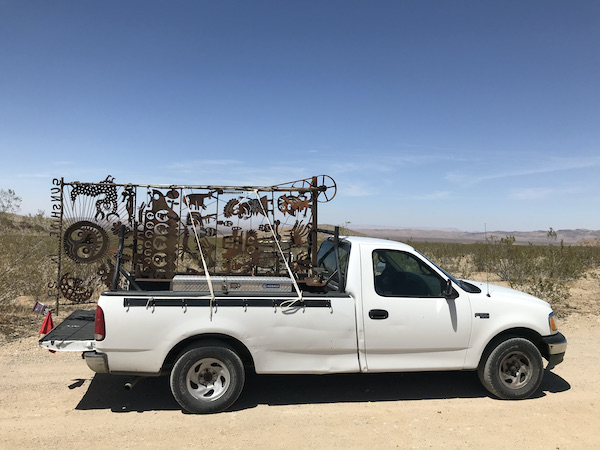 Taking my sculpture for a ride near Barstow, California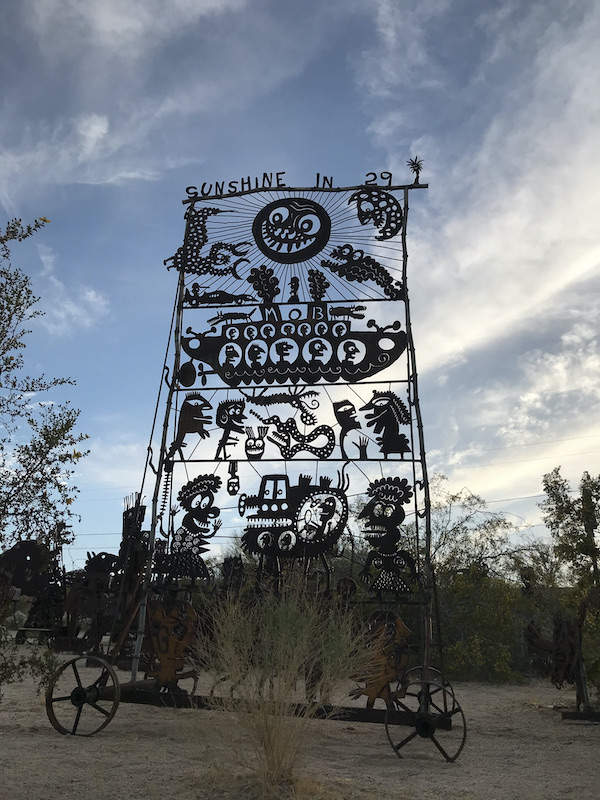 Thems Flintstone wheels works pretty good.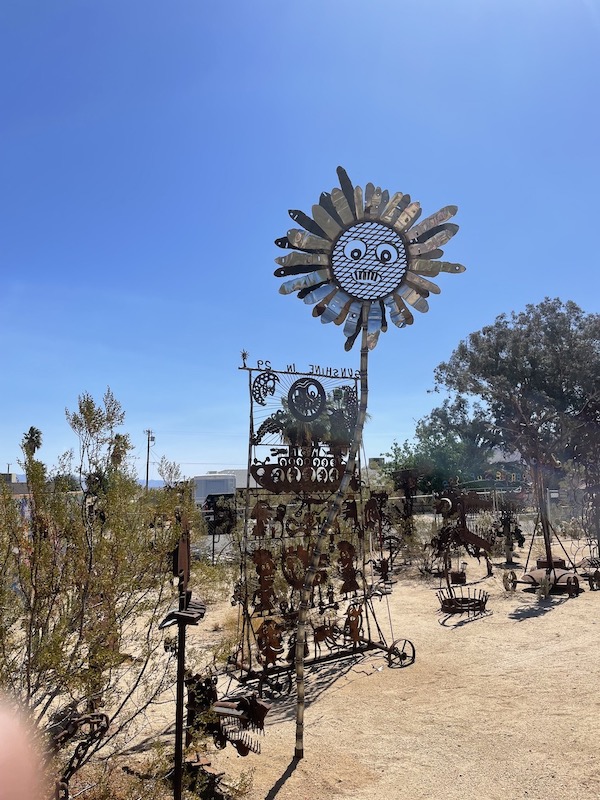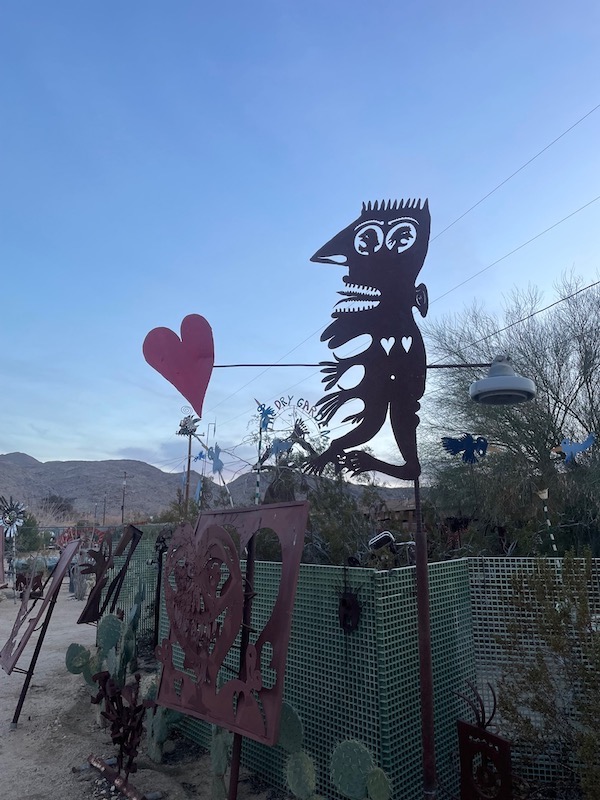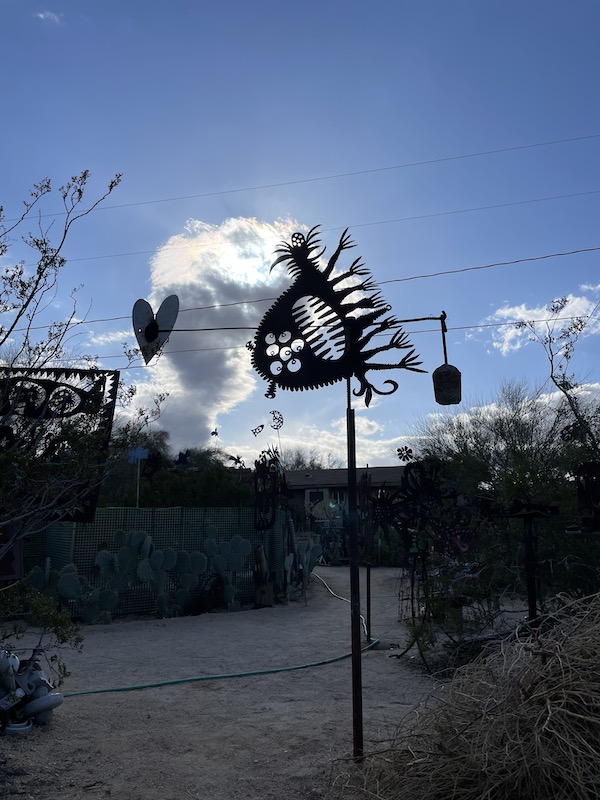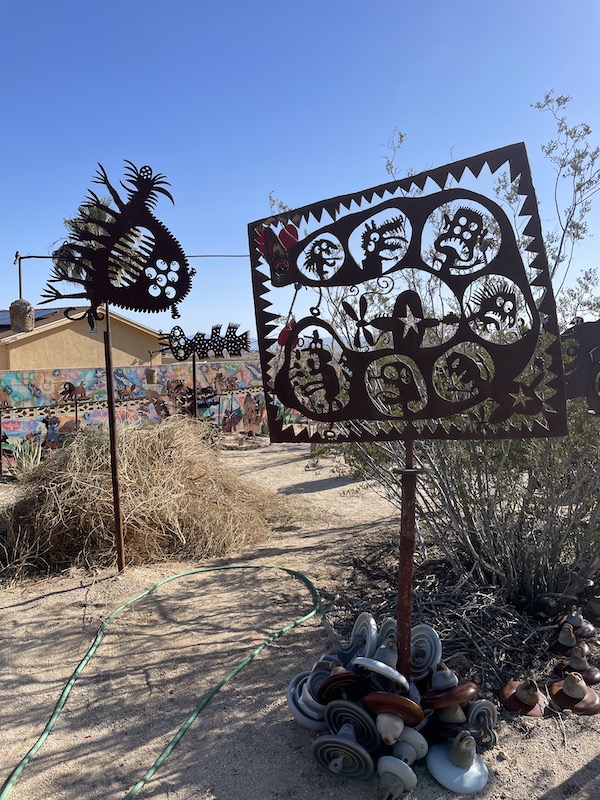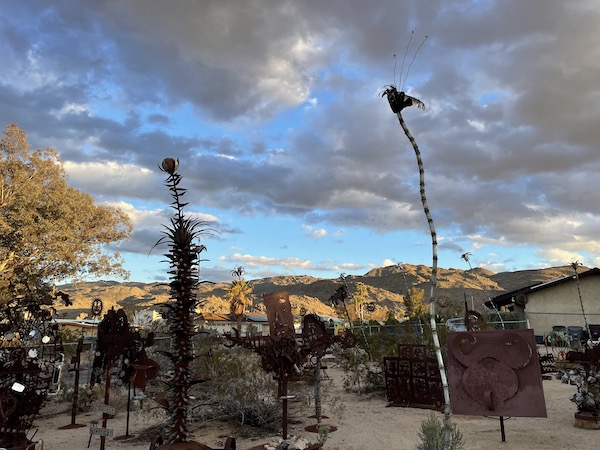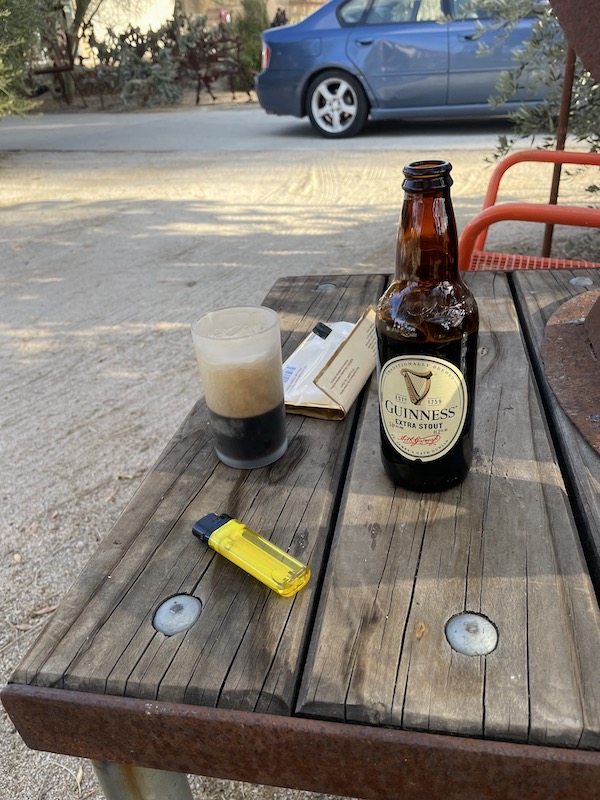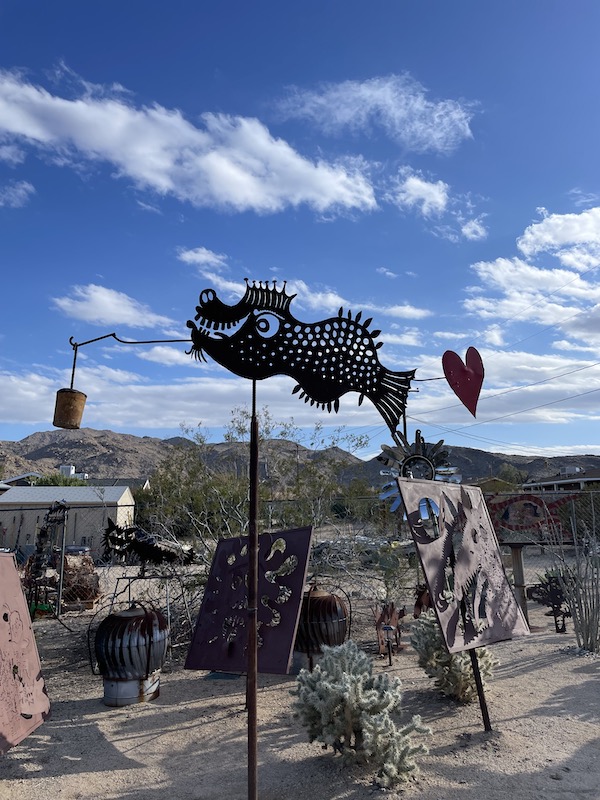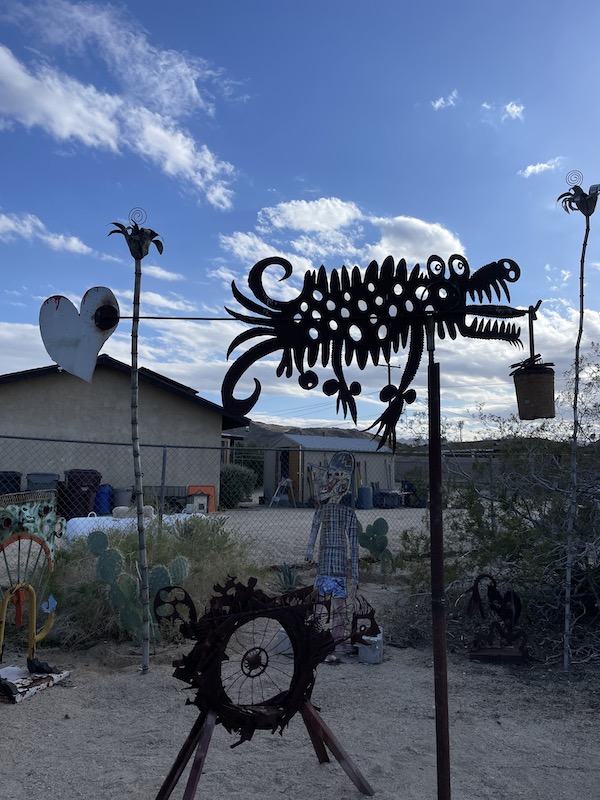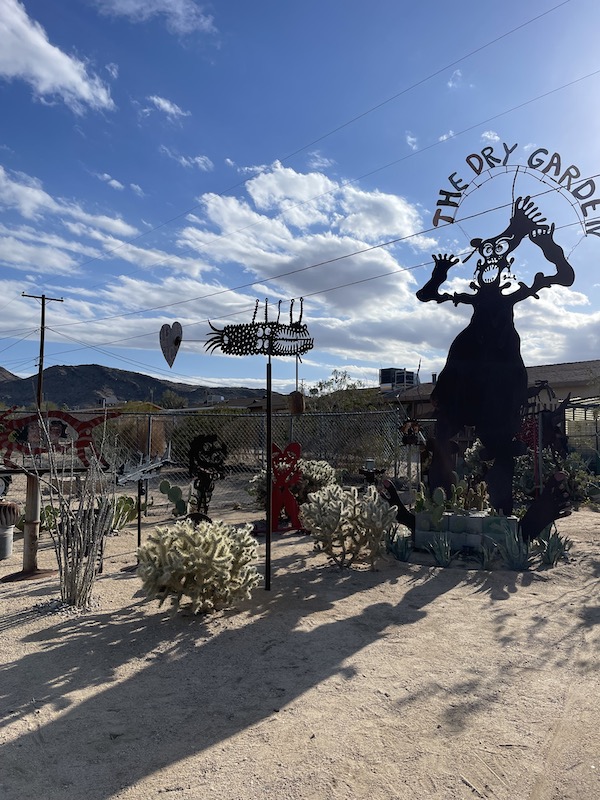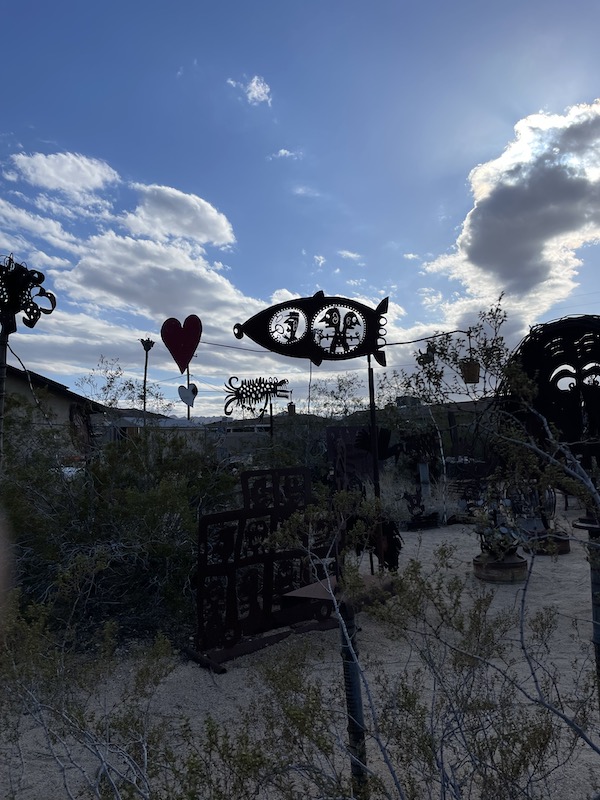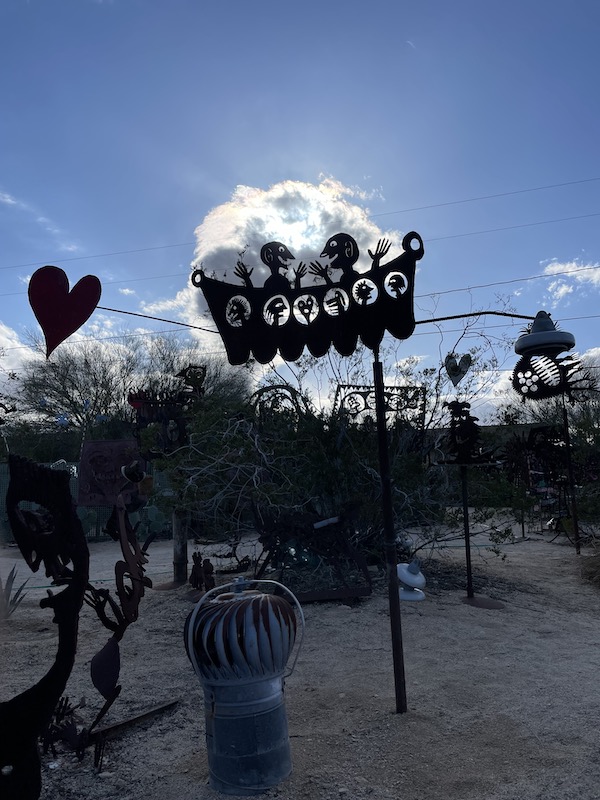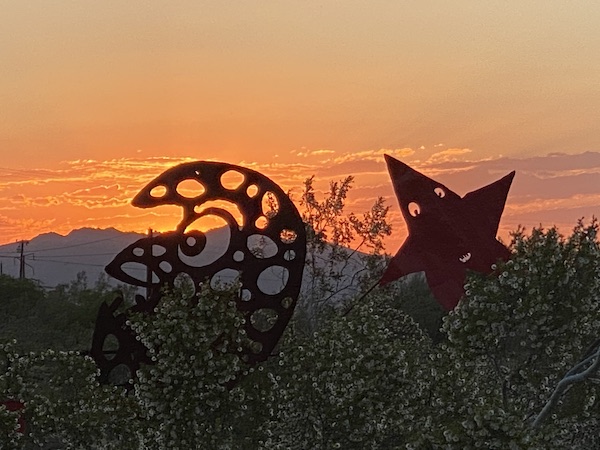 The Moon and Star dream of ...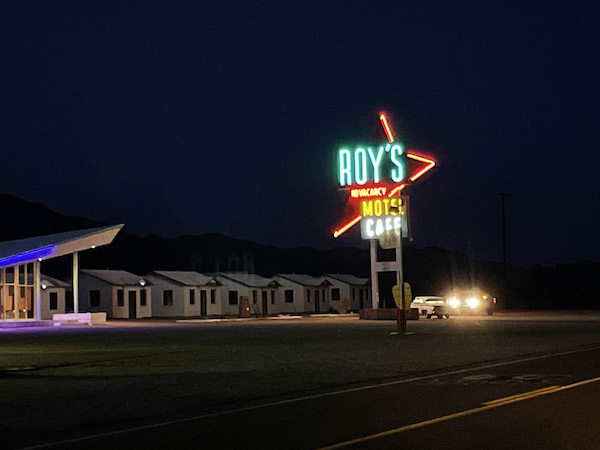 Roy's of Amboy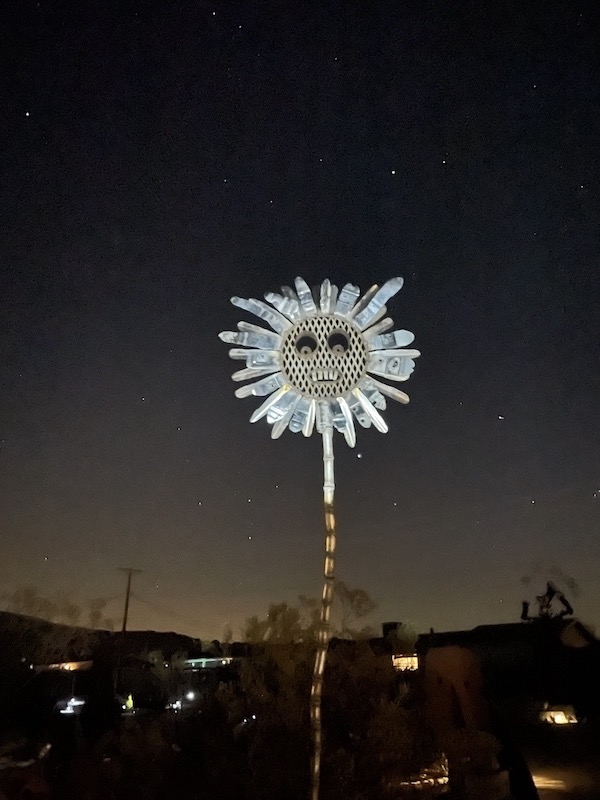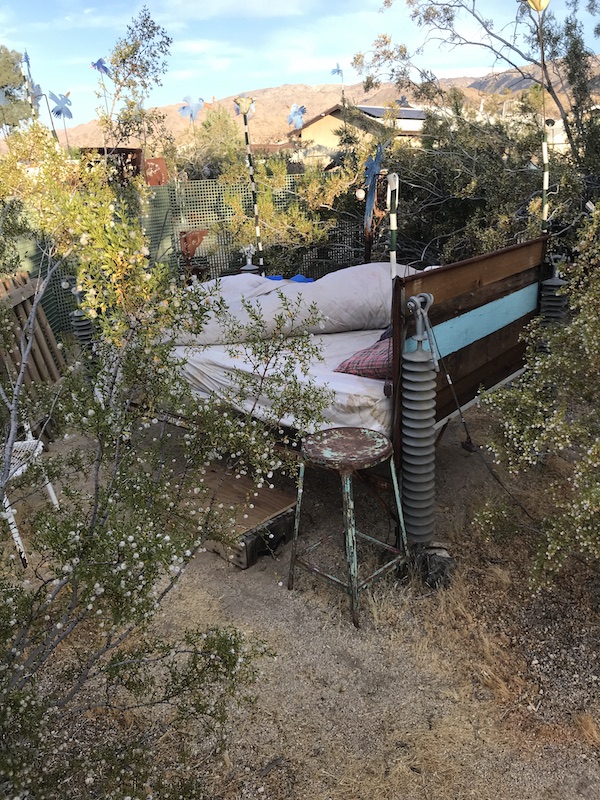 The Mojave Desert and...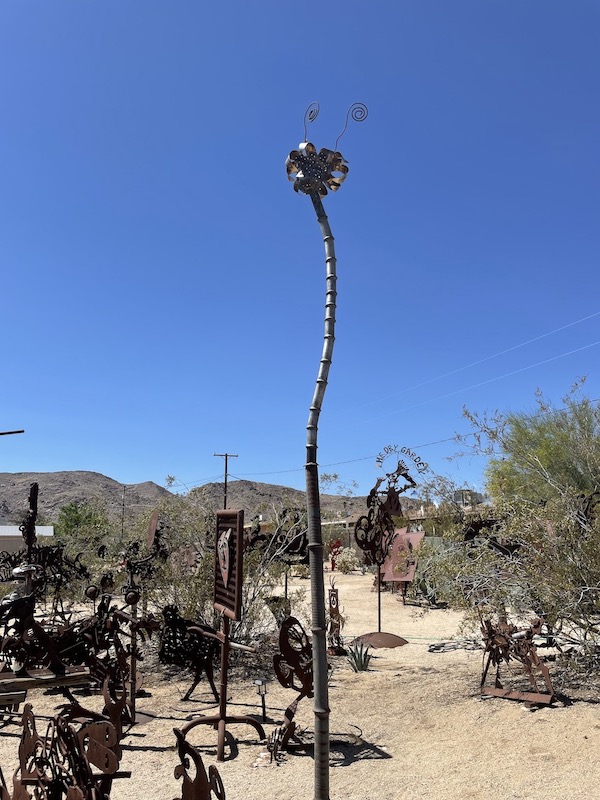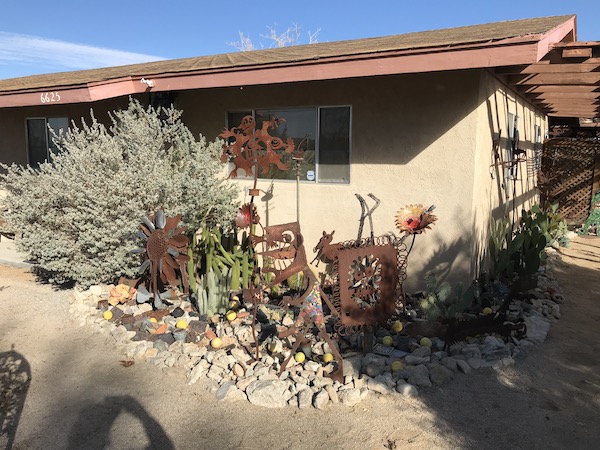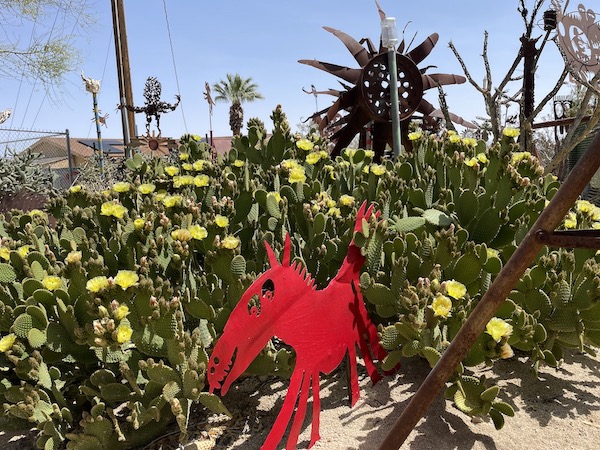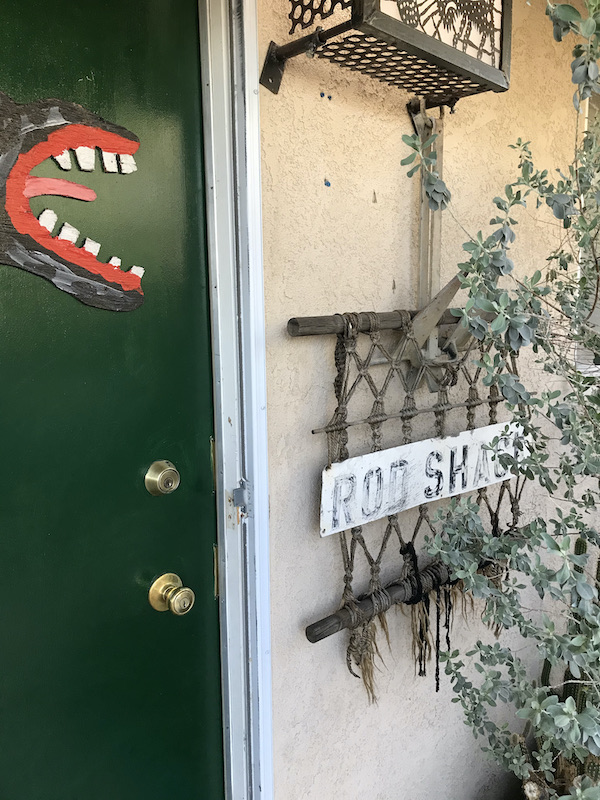 Semper Fi, Pat.
What a trip, Boys and Girls! What, again? Love it.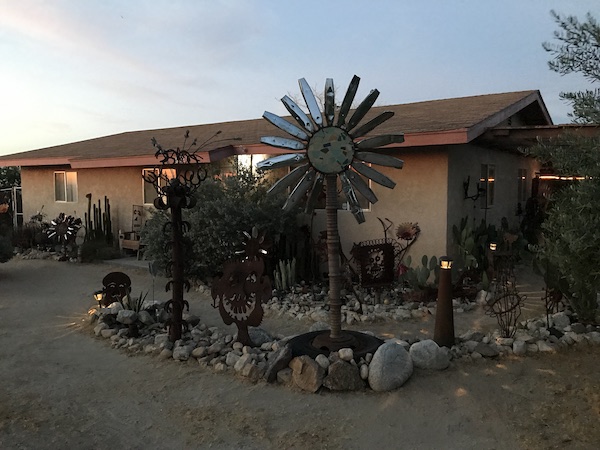 To a little house in the Mojave Desert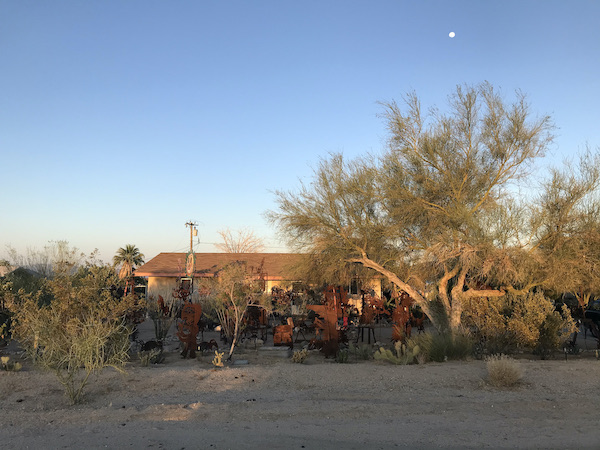 Spring of 2021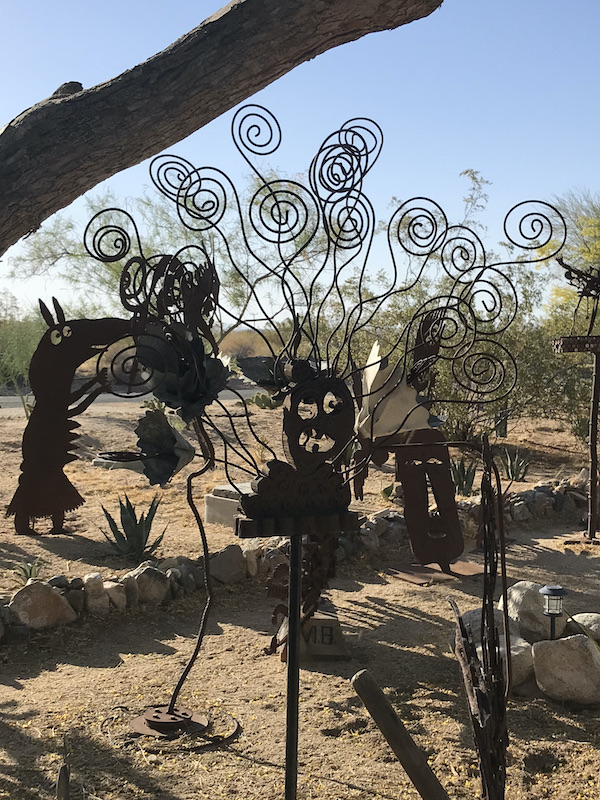 Dizzying. From 1977.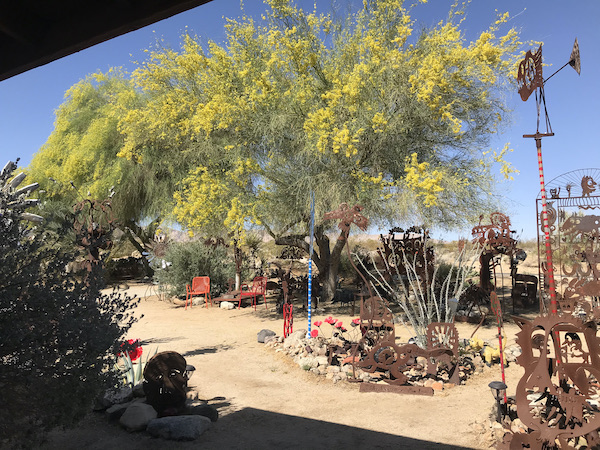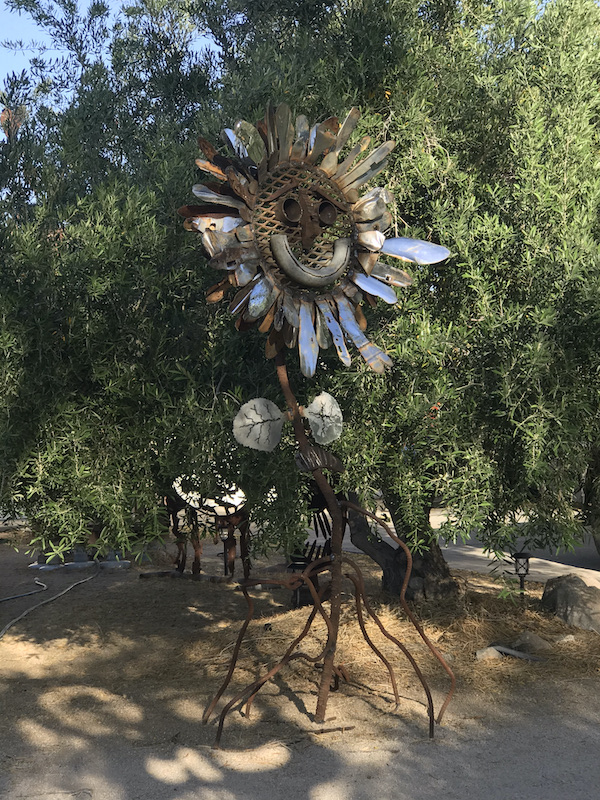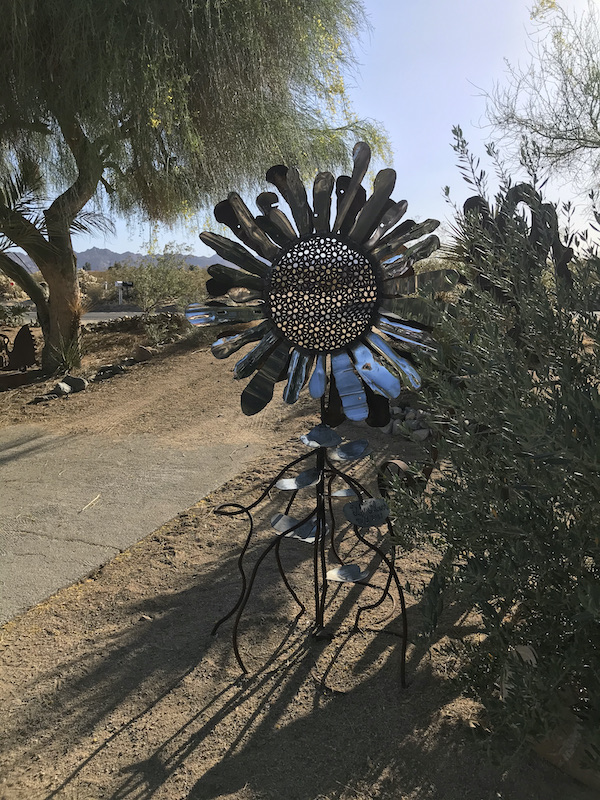 The valve handle garden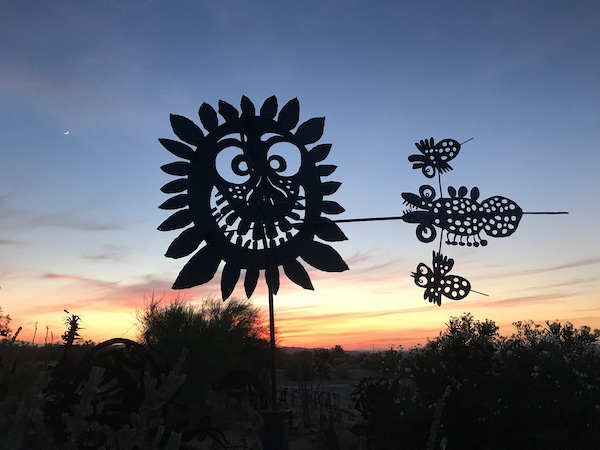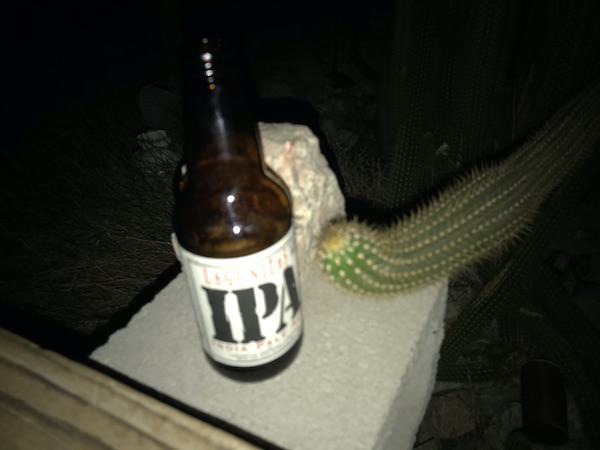 Thirsty Cactus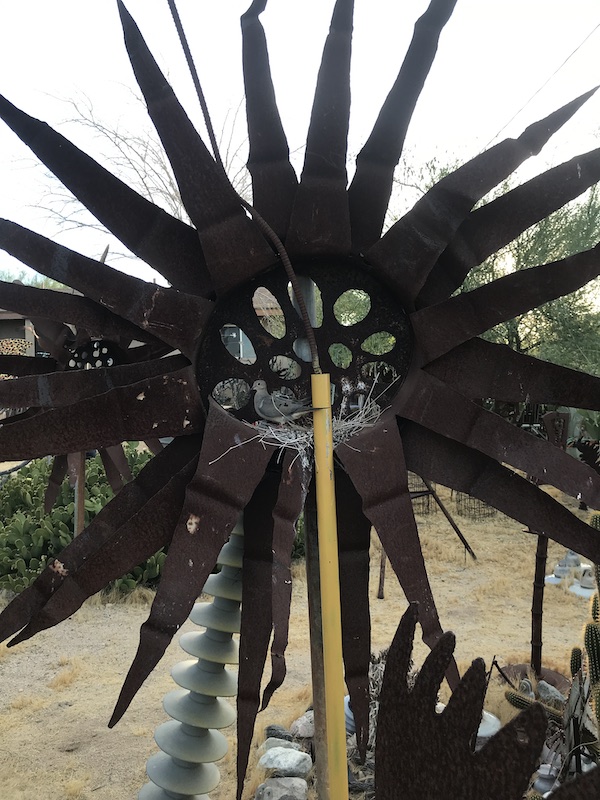 Where sculpture is good for something other than just looking at.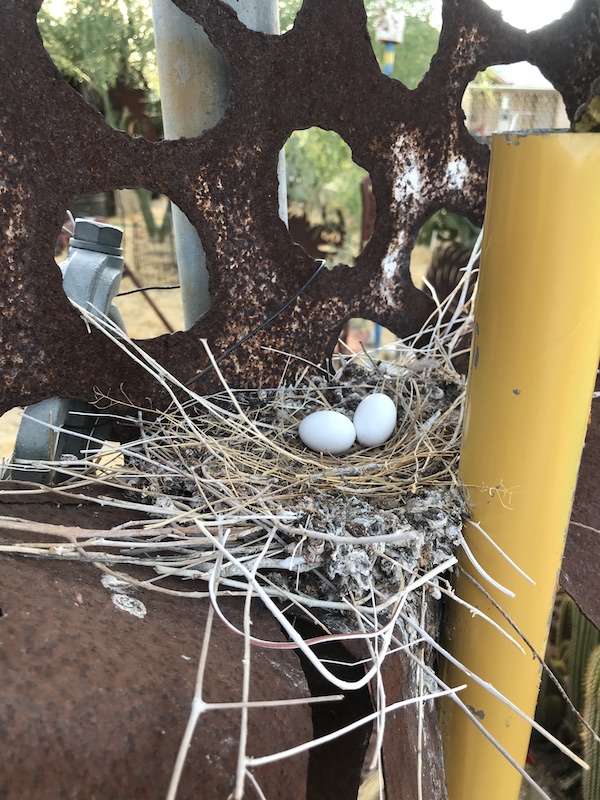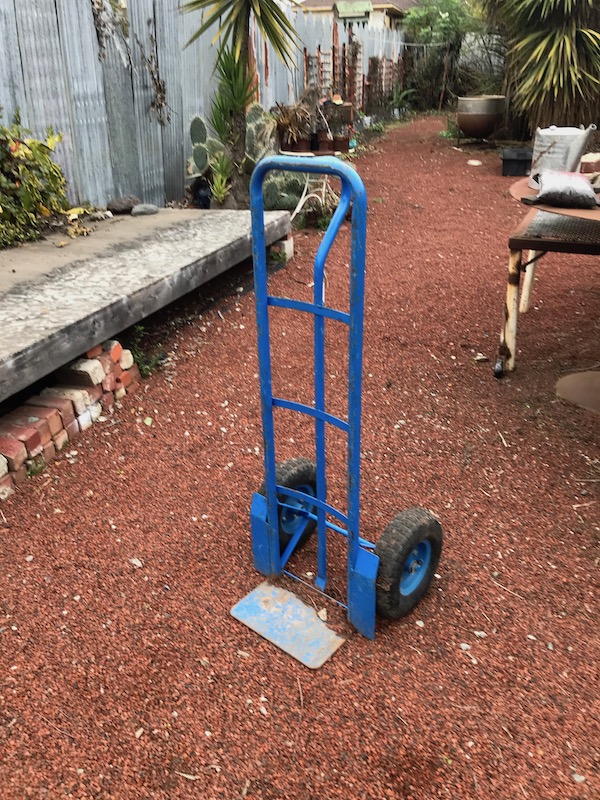 This artist's best friend is not a dog. Then again, perhaps a
dog would have been a better idea? Wagons Ho!!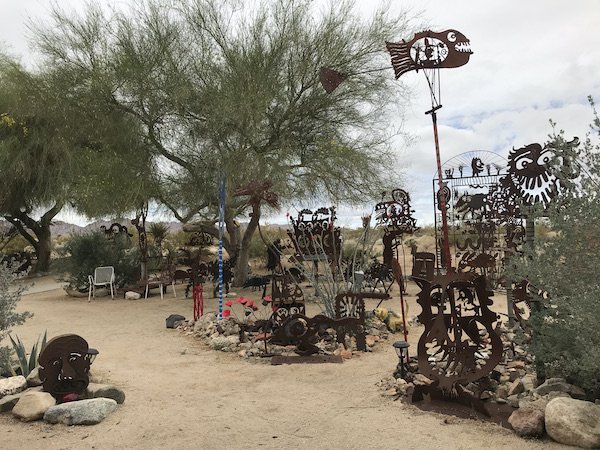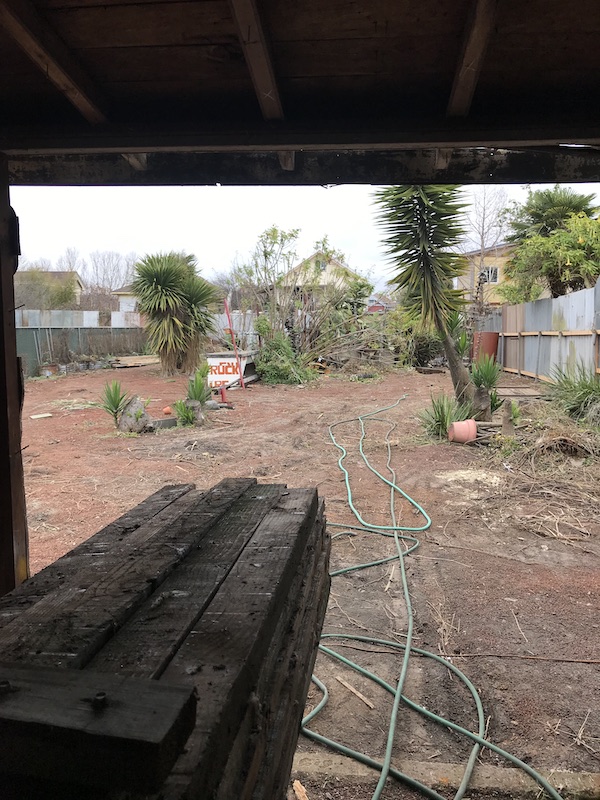 Just another ending.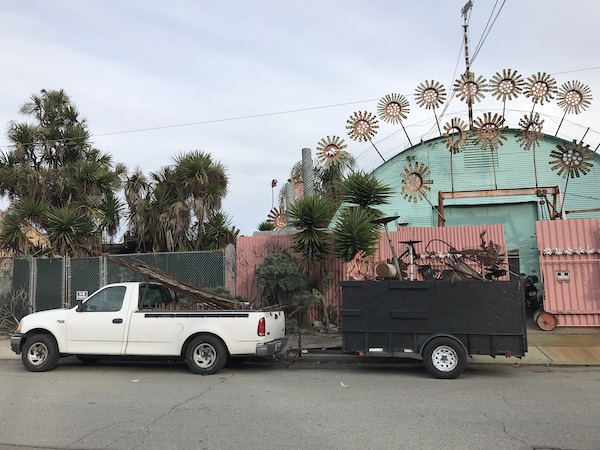 One of my first jobs as a kid was as a Teamster's helper on a
delivery truck delivering swamp water all around Boston, Mass.
This job showed me that a healthy, able bodied
human can move an awful lot of tonage if you know
how. Practice makes perfect. Or at least close enough.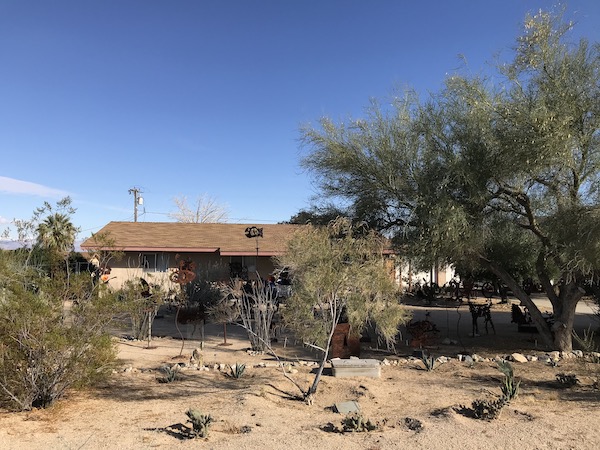 to yet another beginning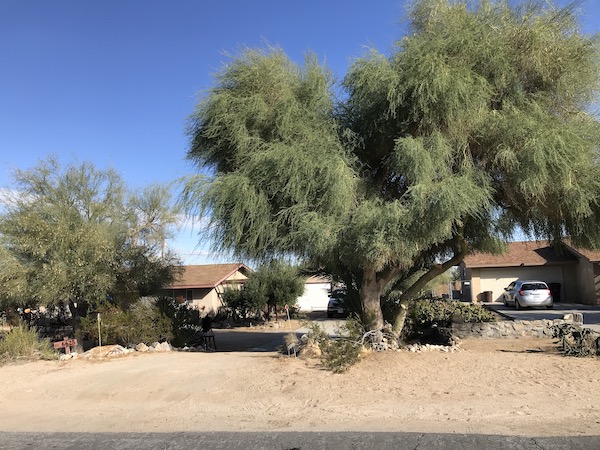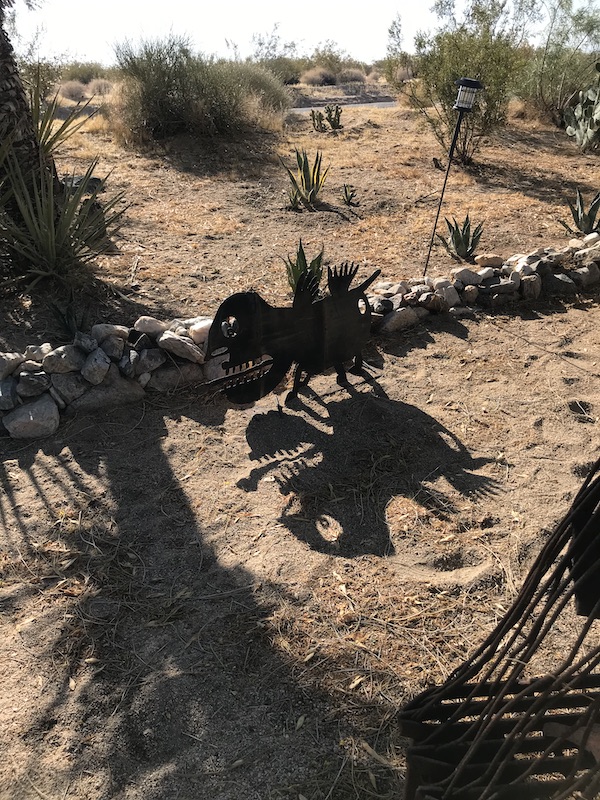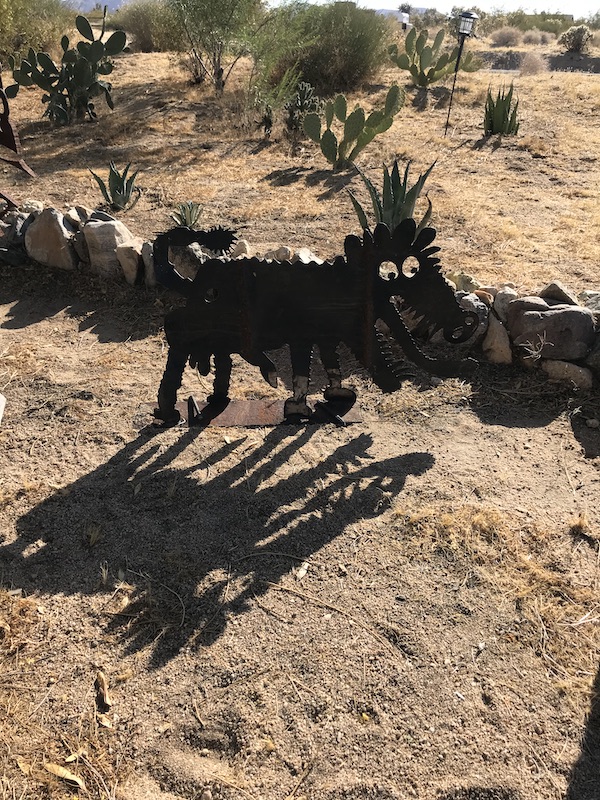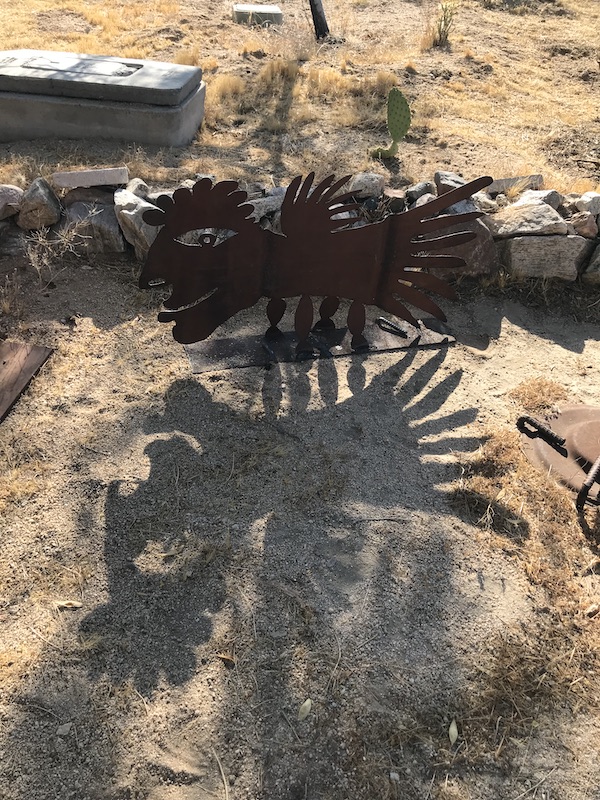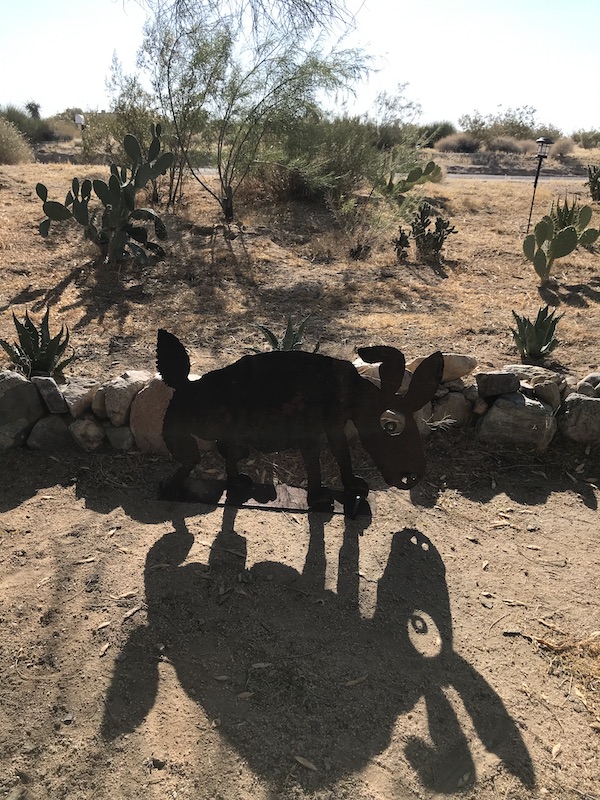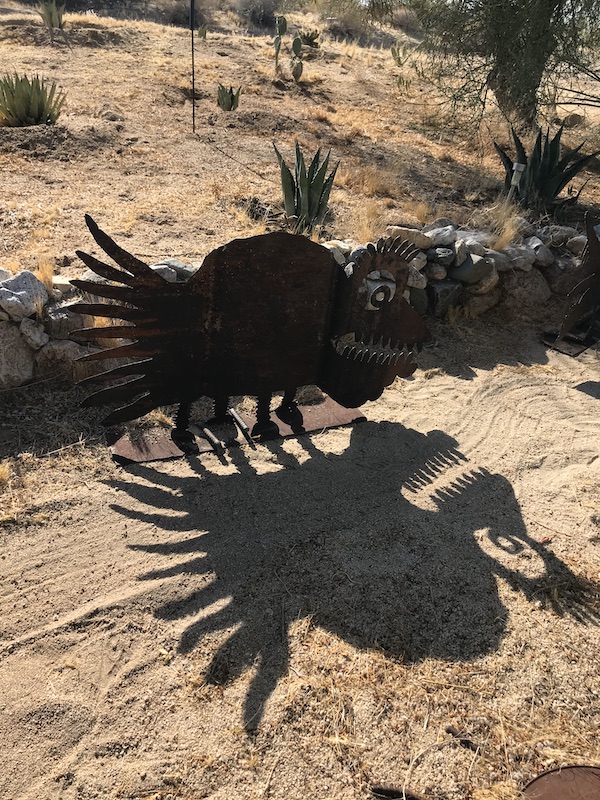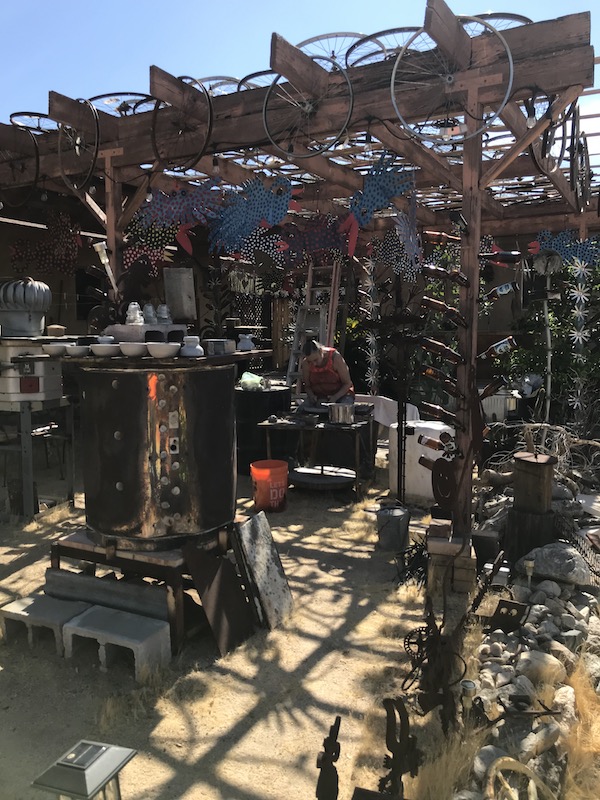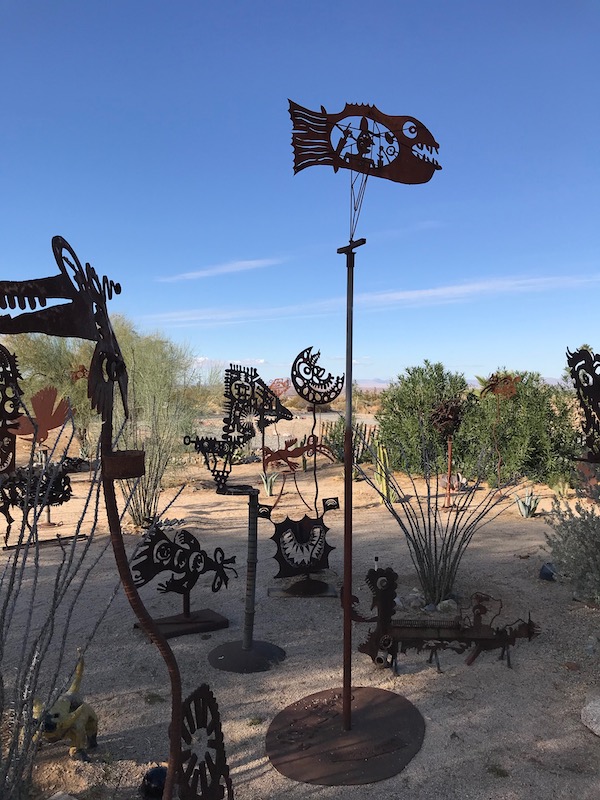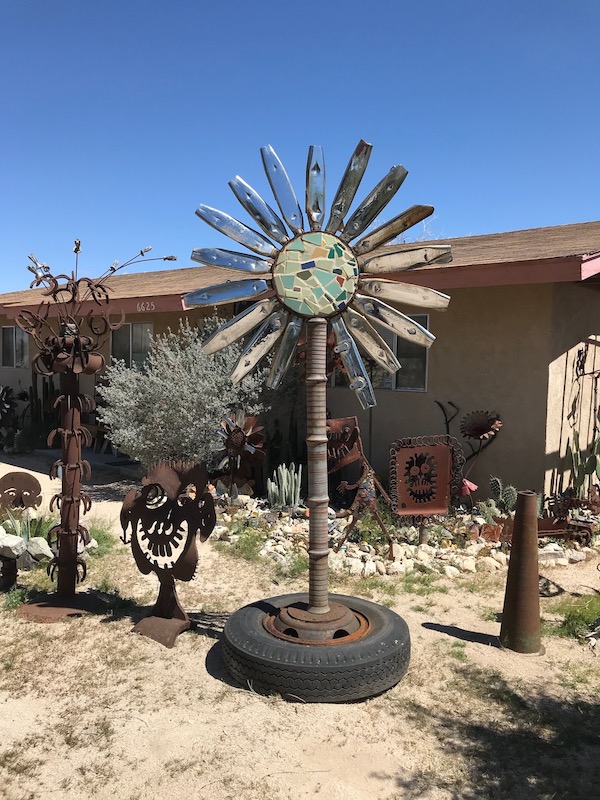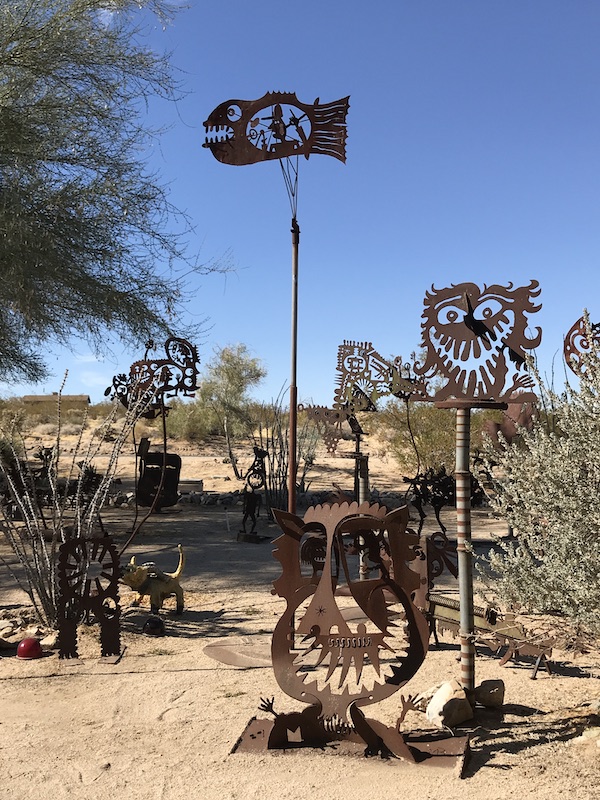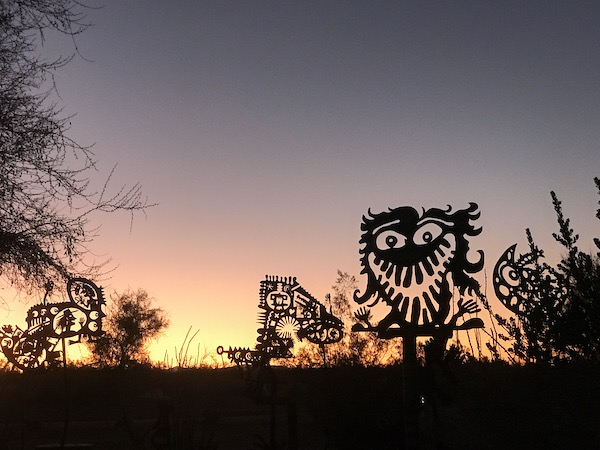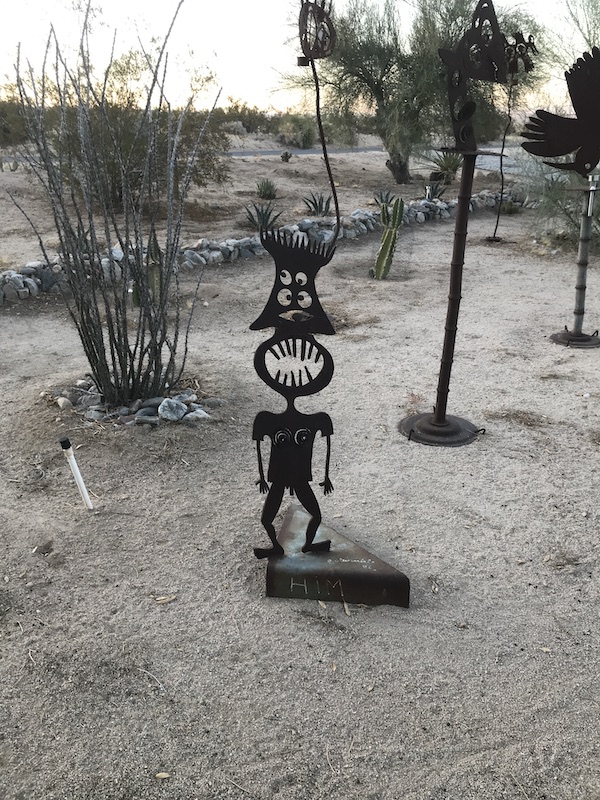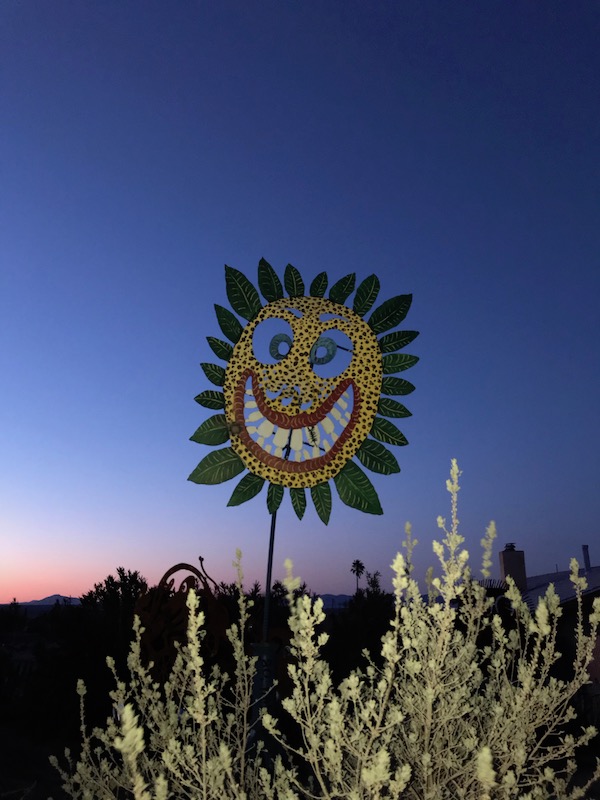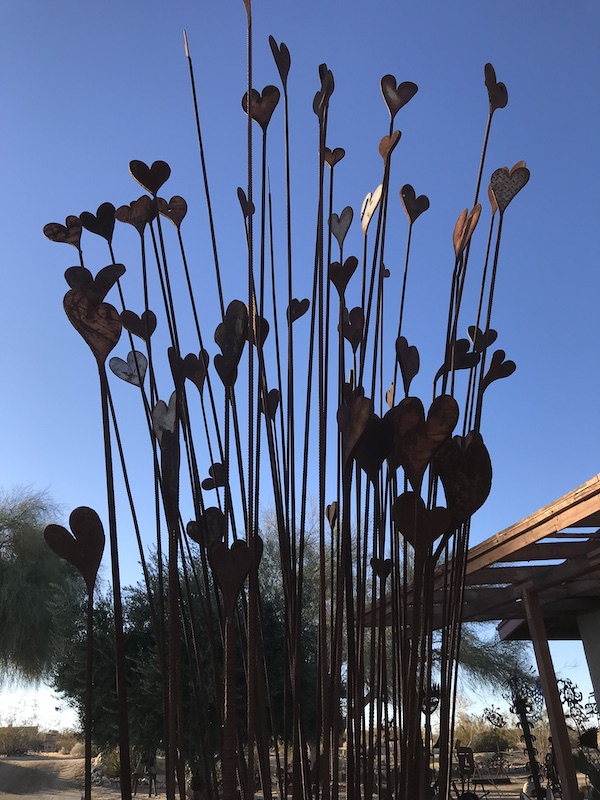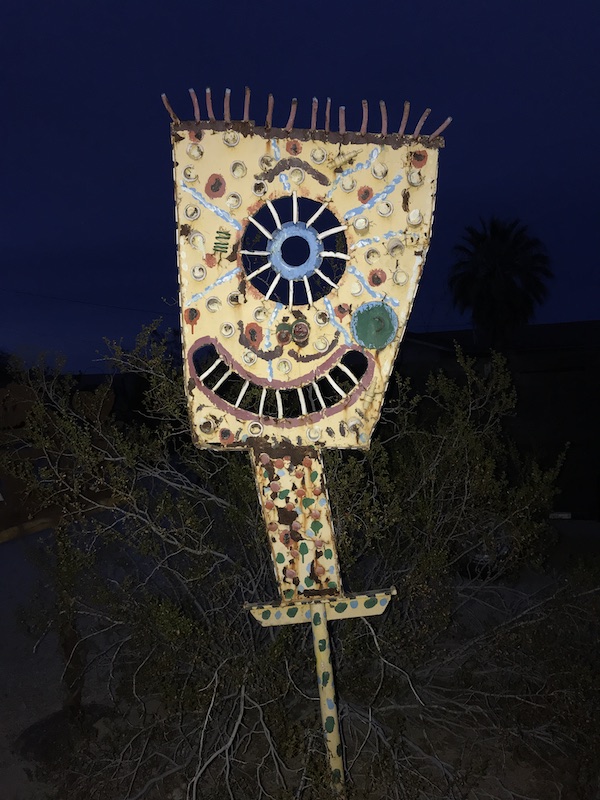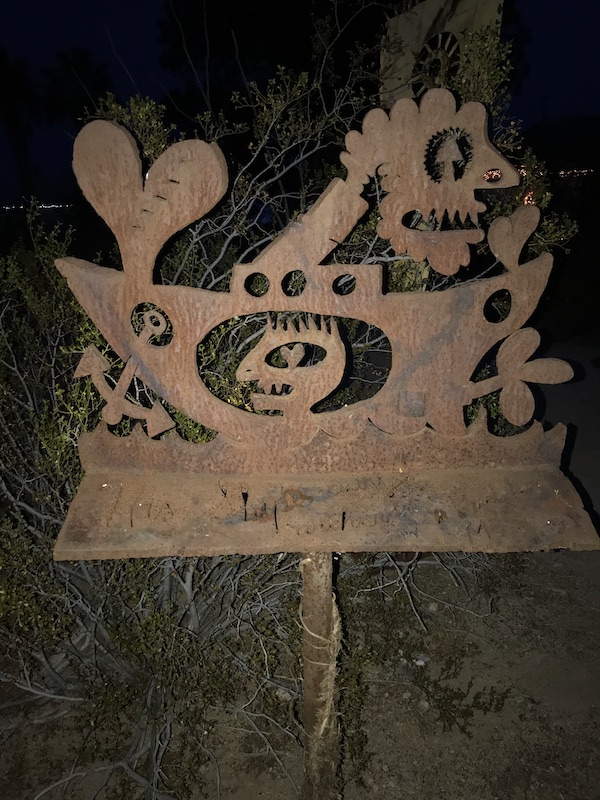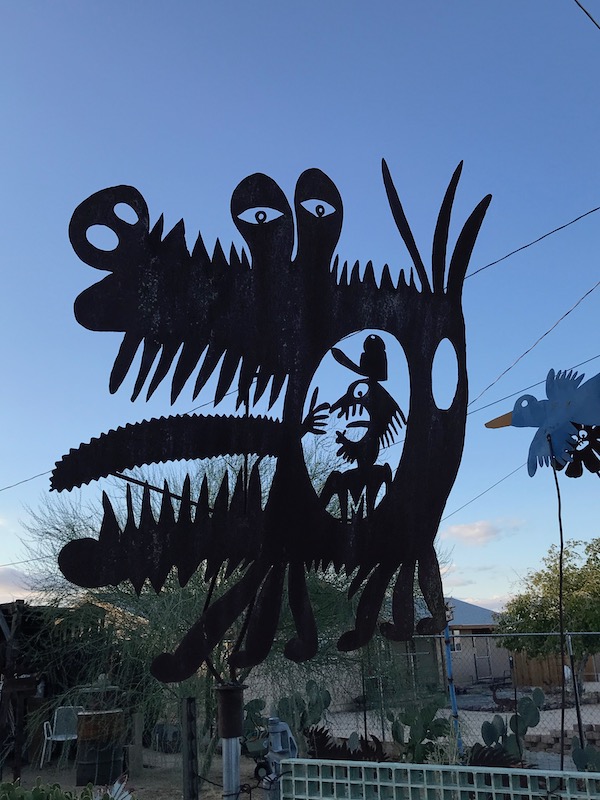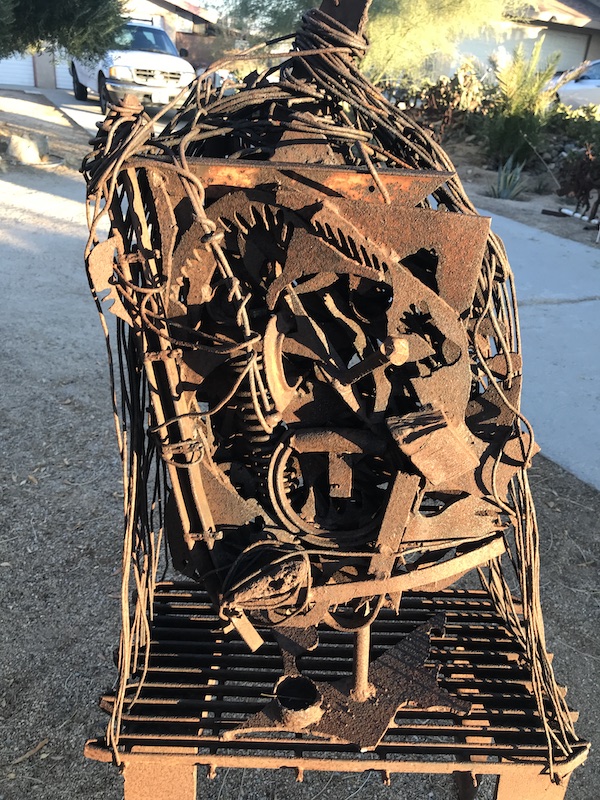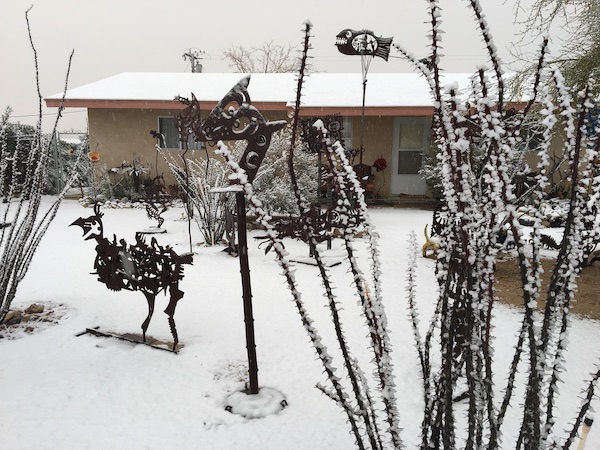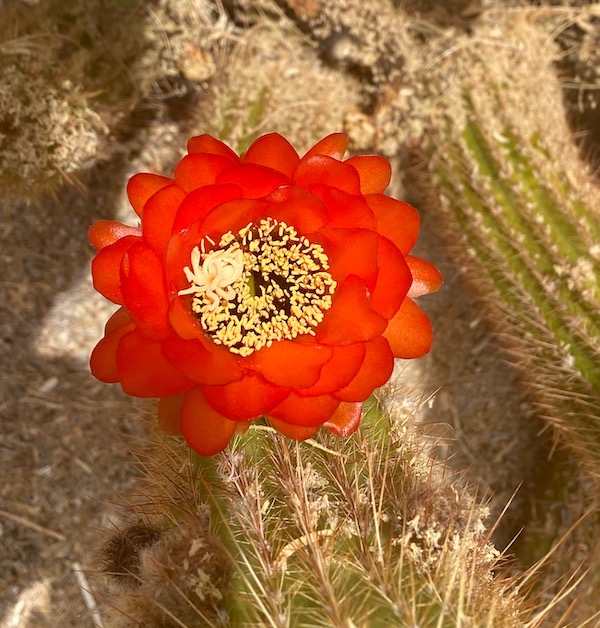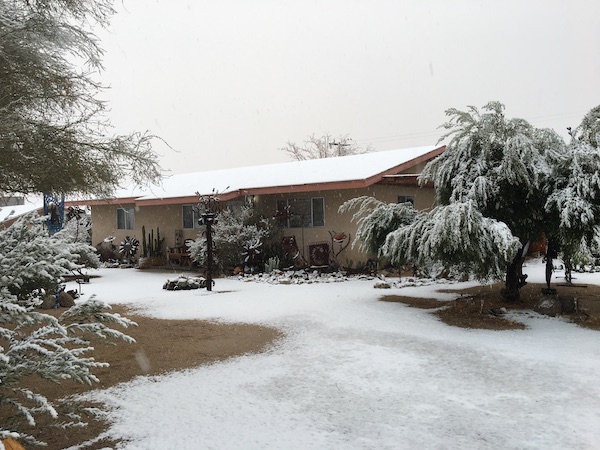 And six months later from that snowy olive tree...
I must be careful not to junk the joint up too much.
I love this picture of my beautiful little house
in the desert, in the snow, in my own special paradise.
You can't always get what you... yeah, yeah. I know the rest.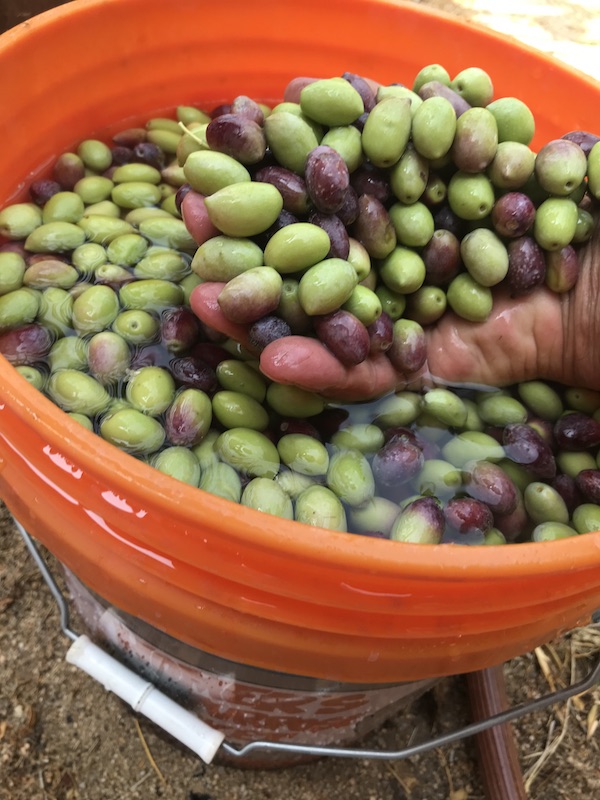 Seventy-five pounds of pretty olives!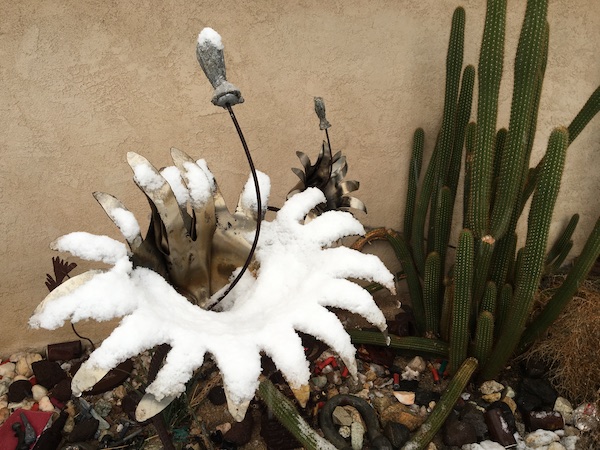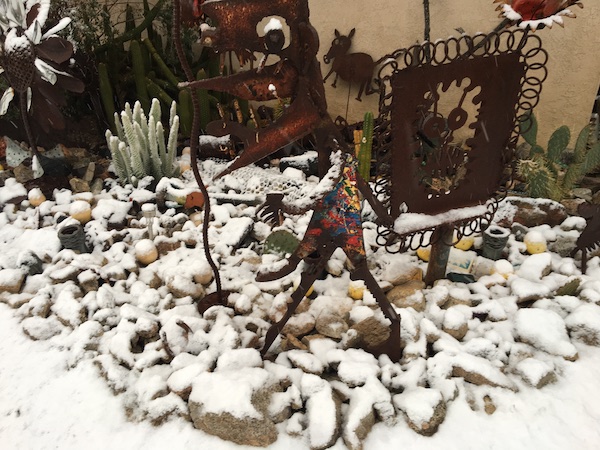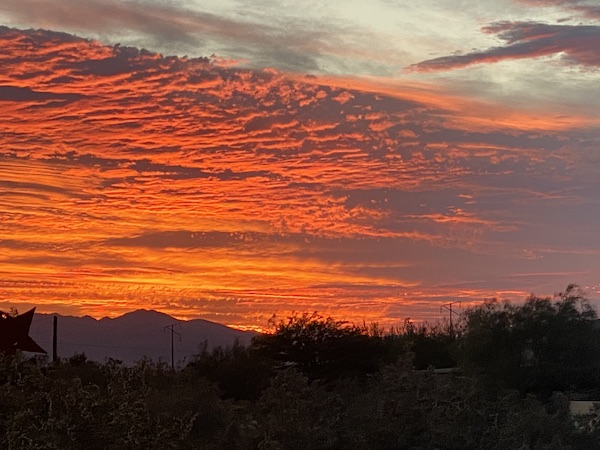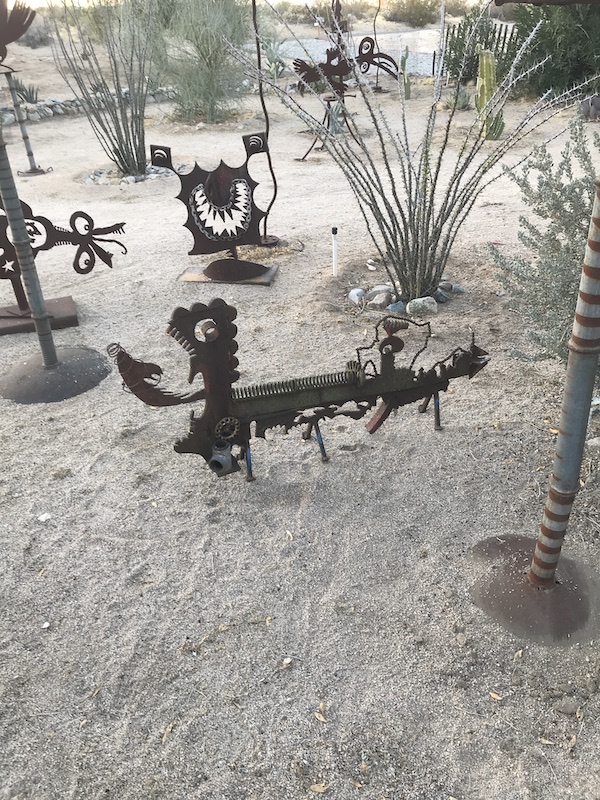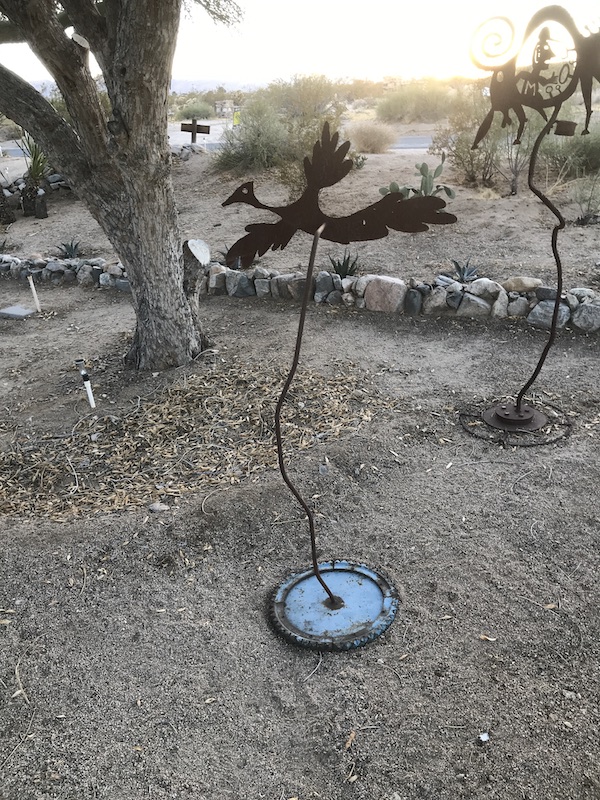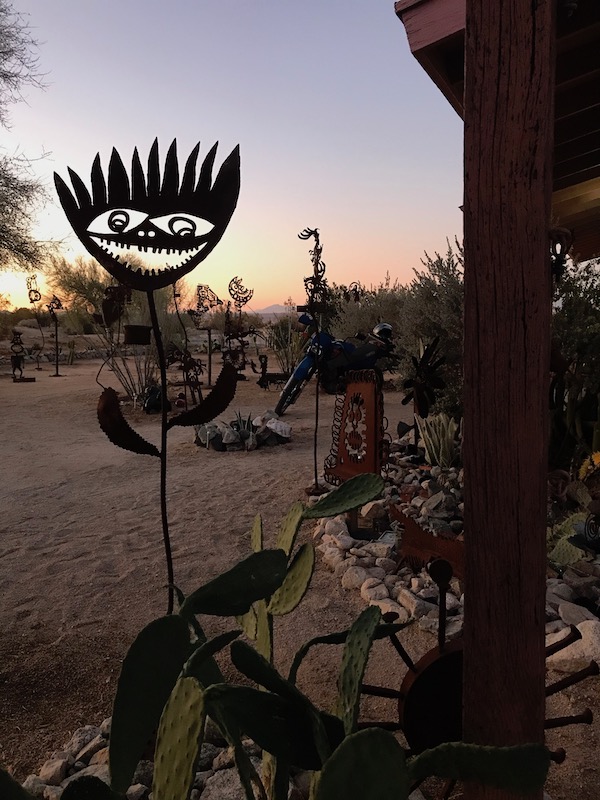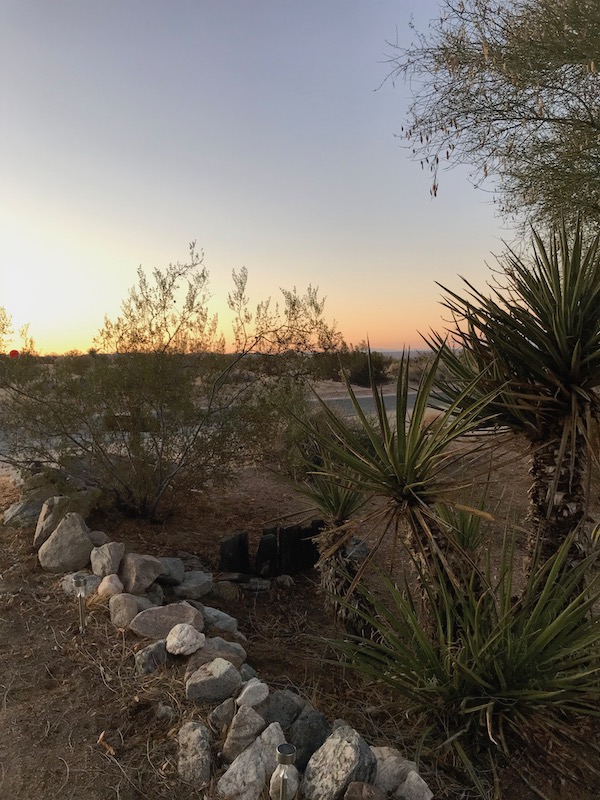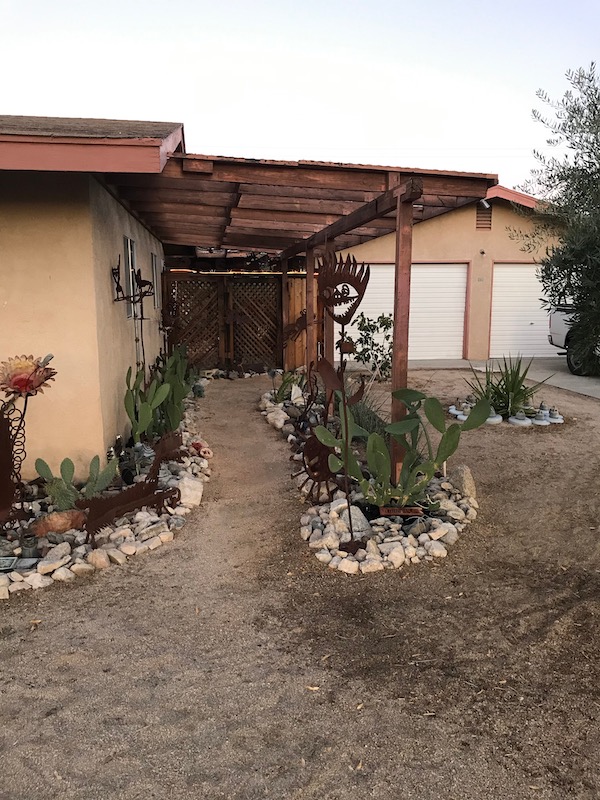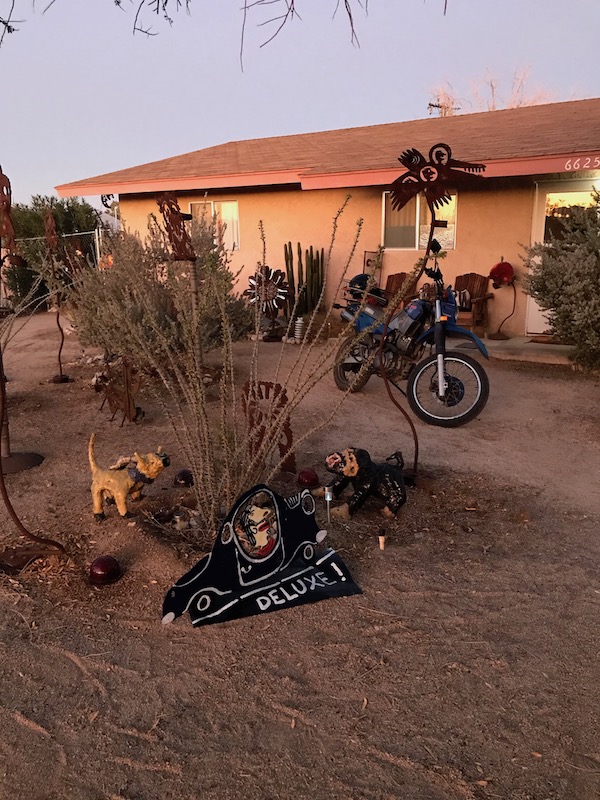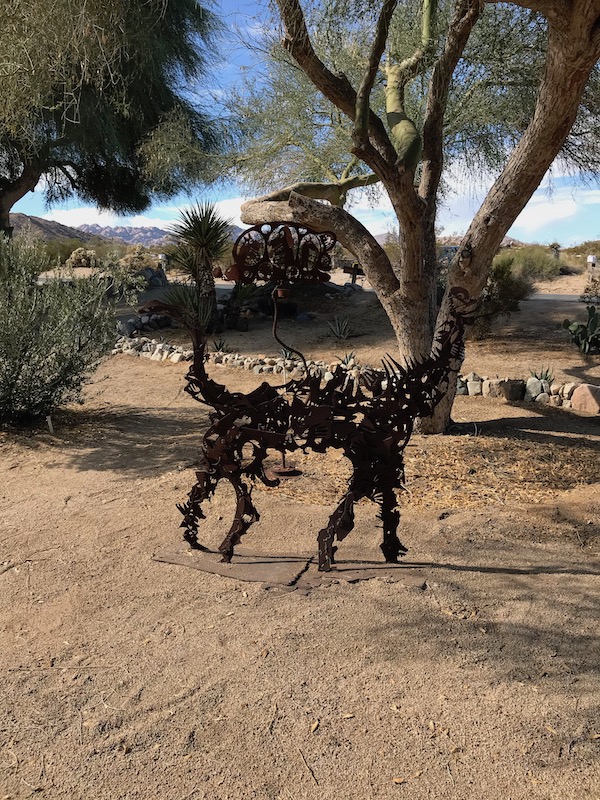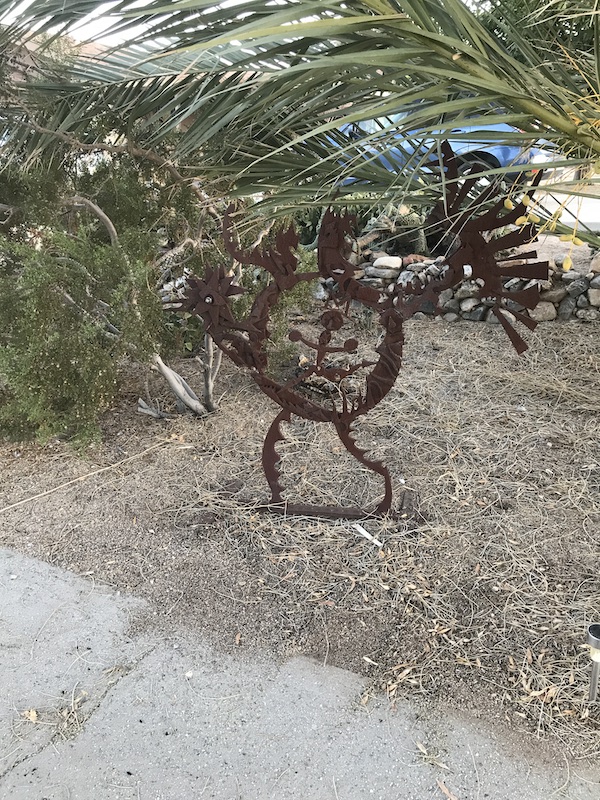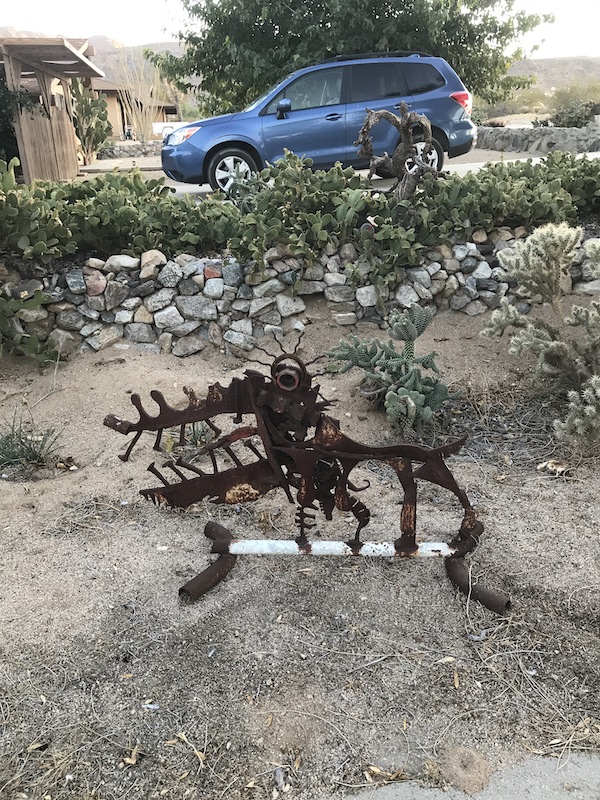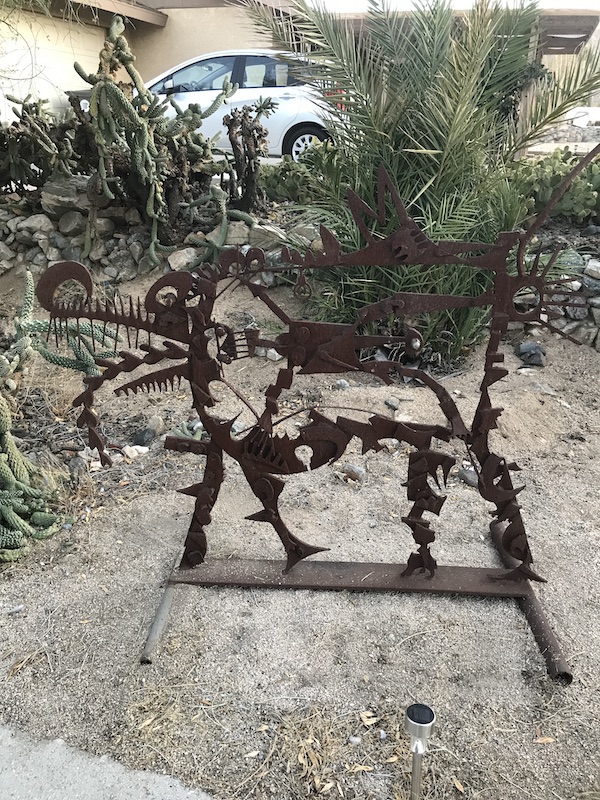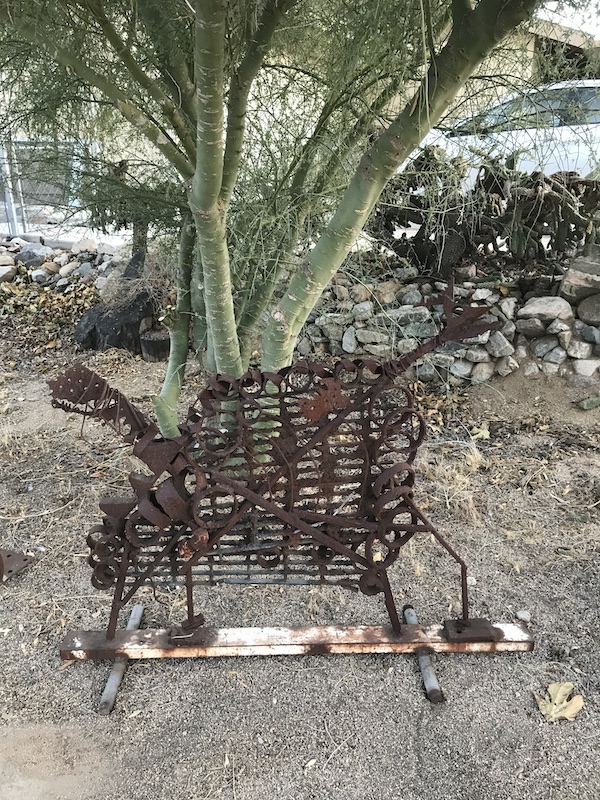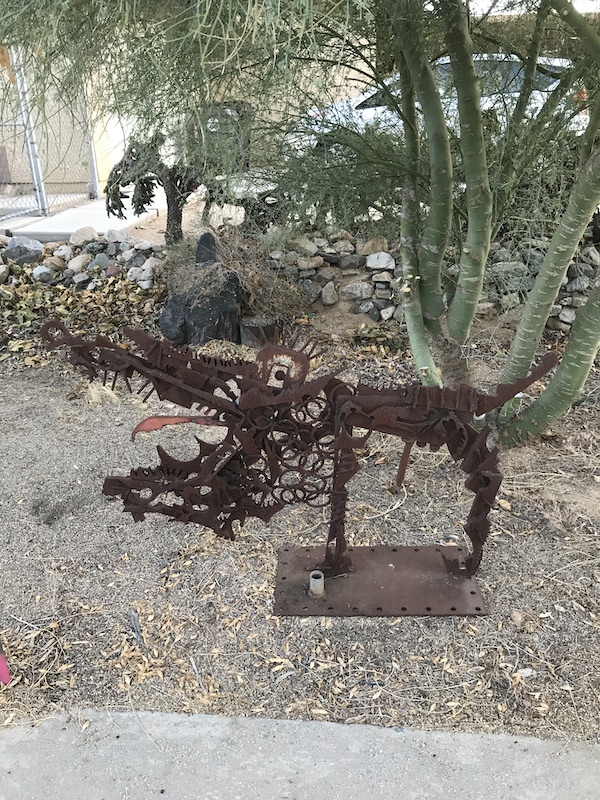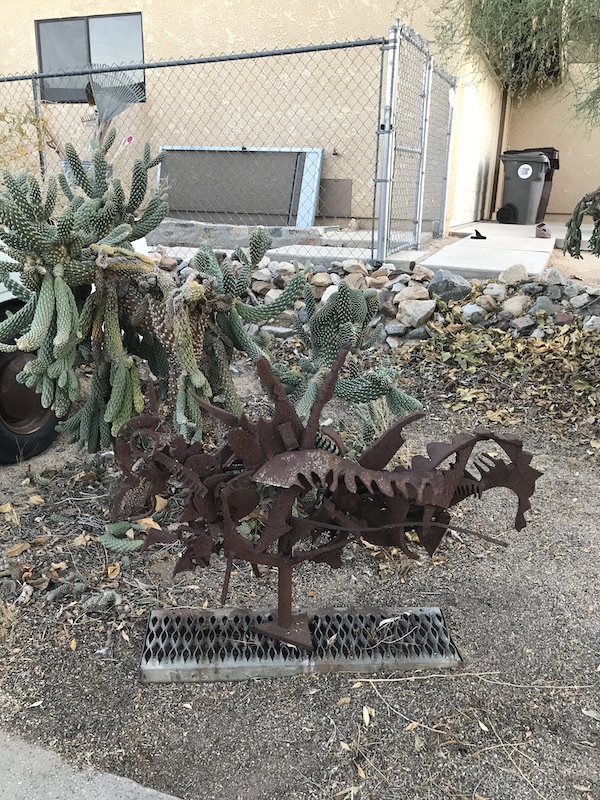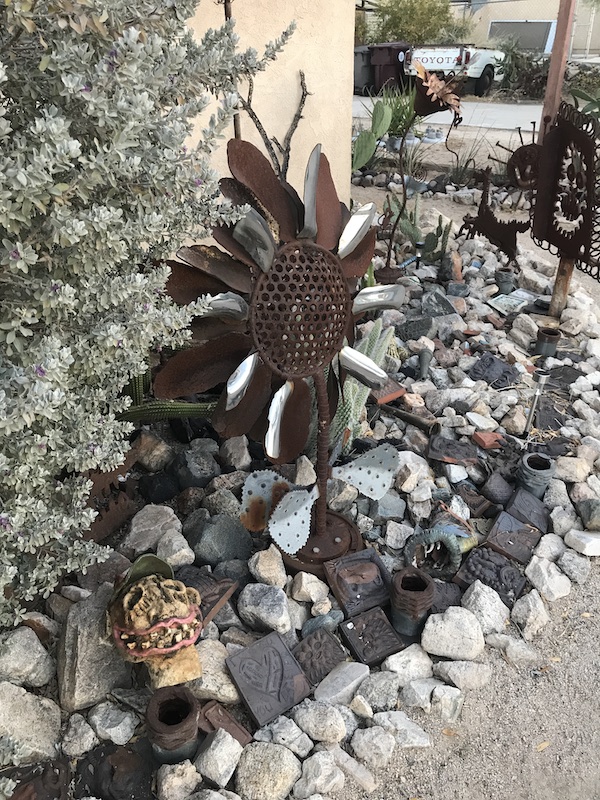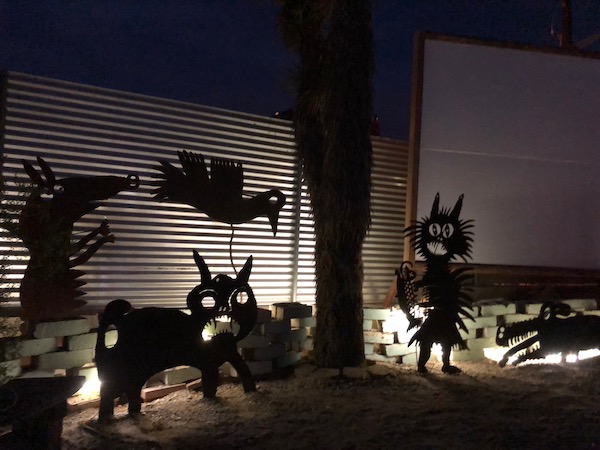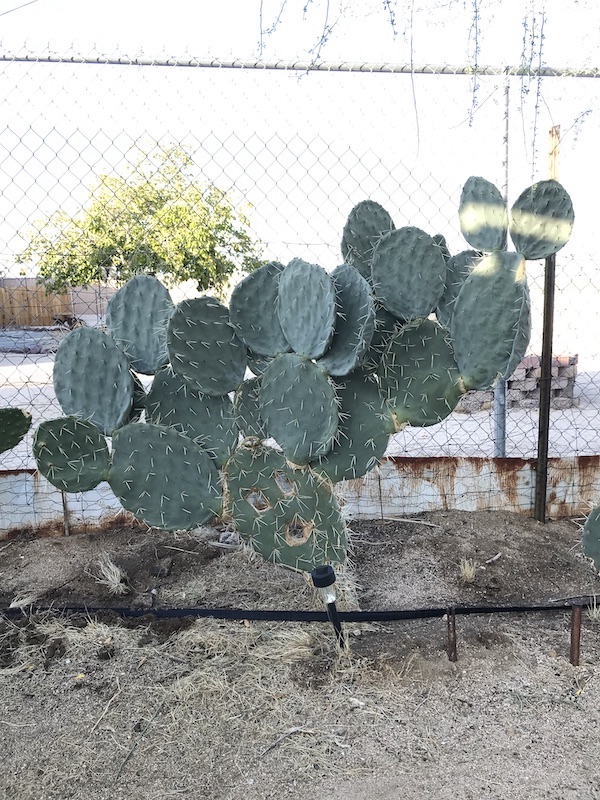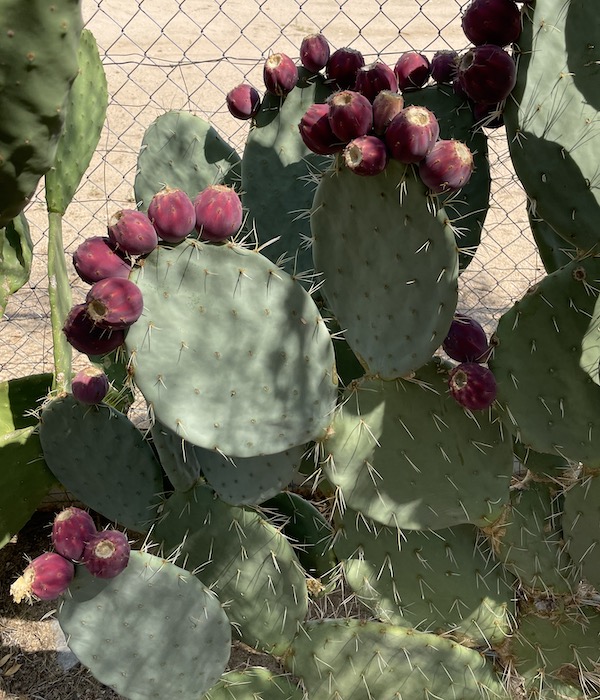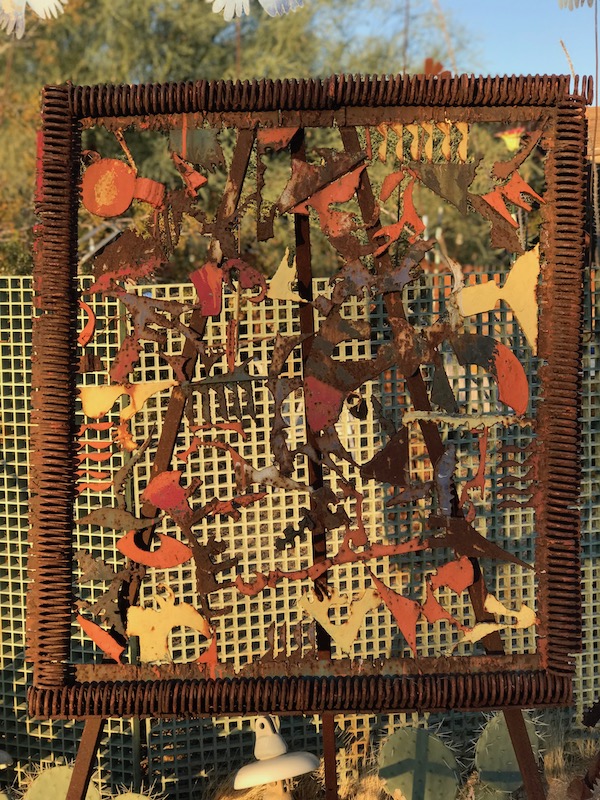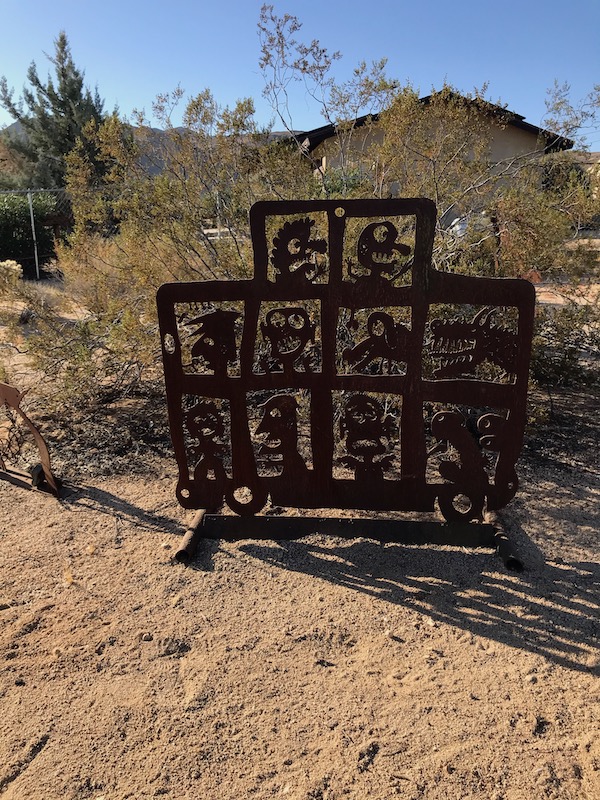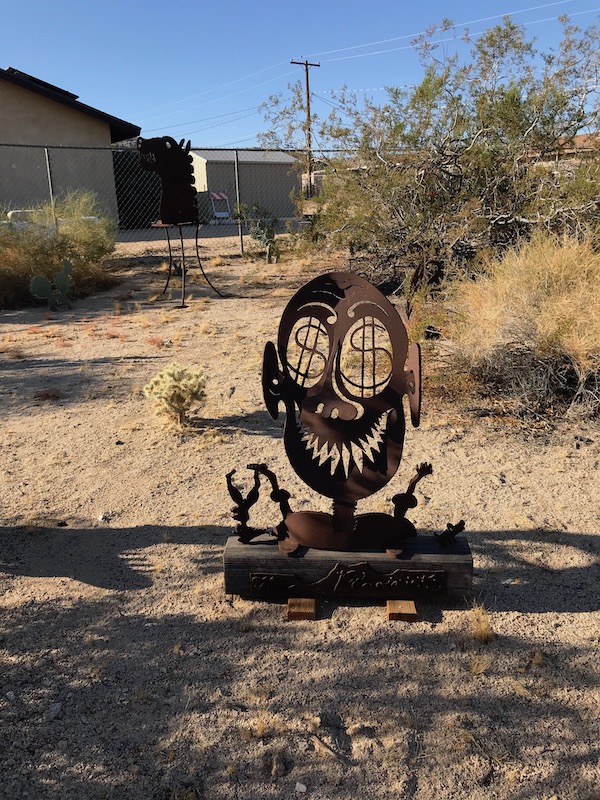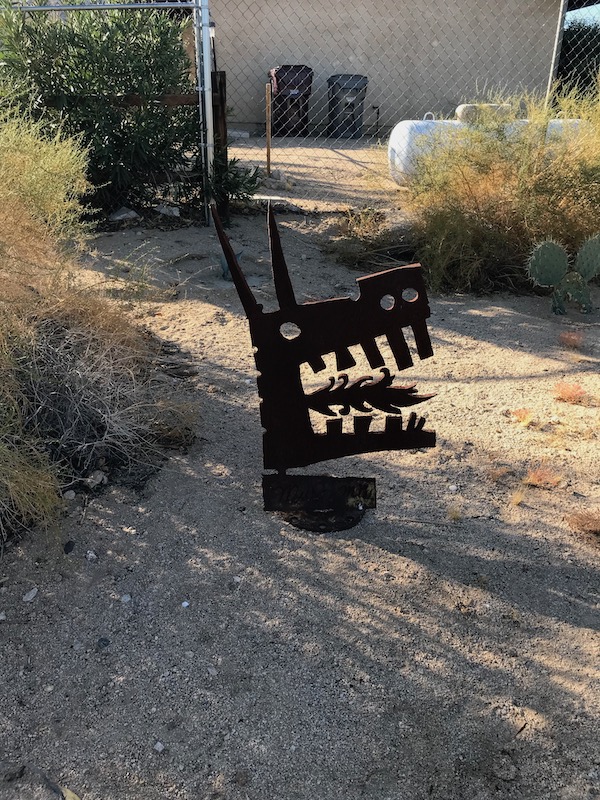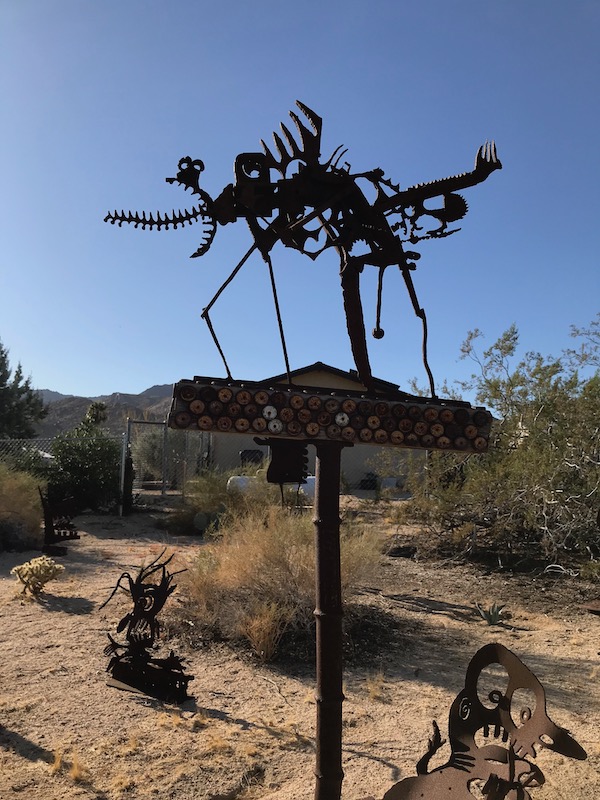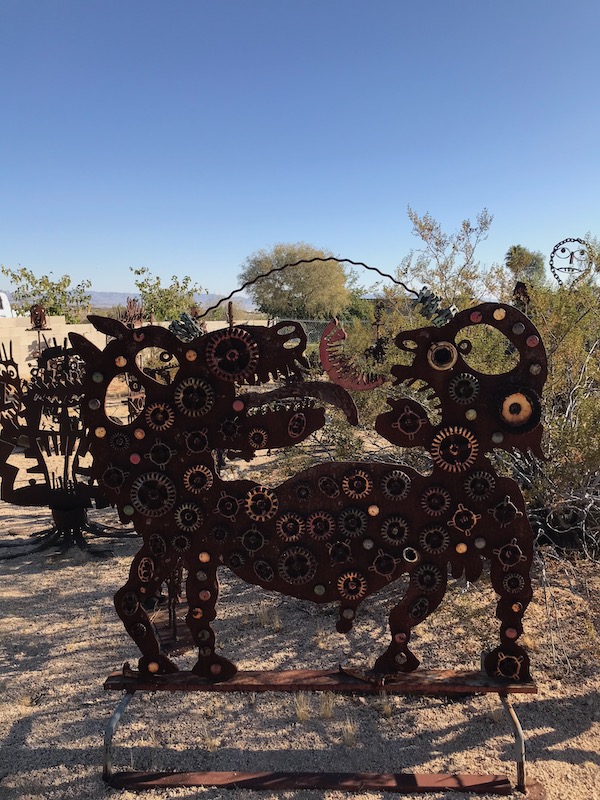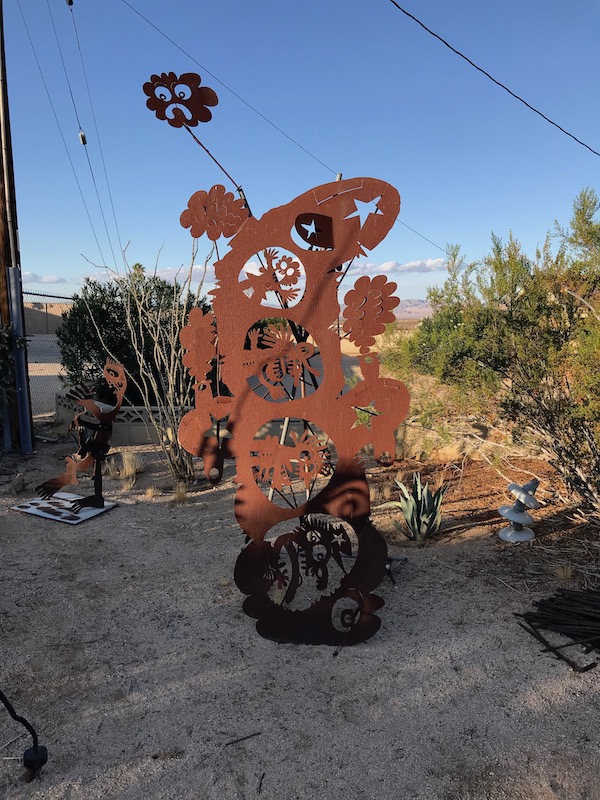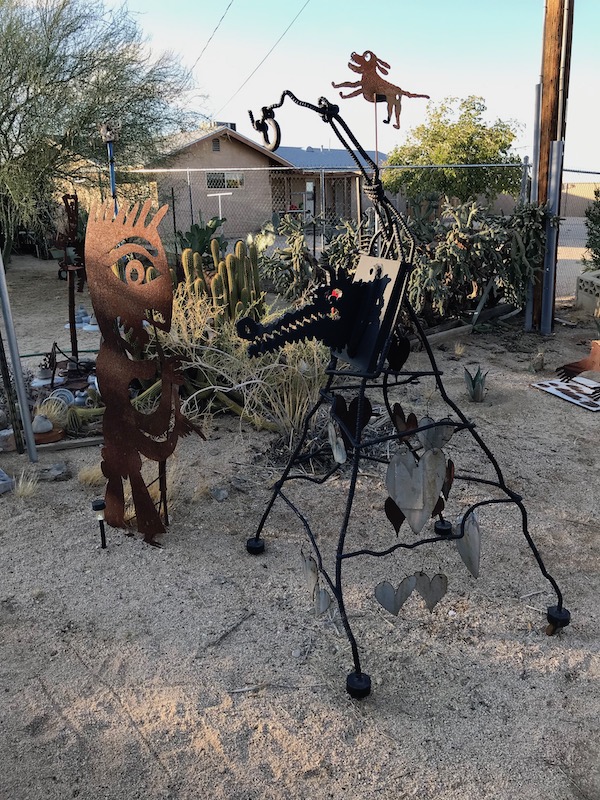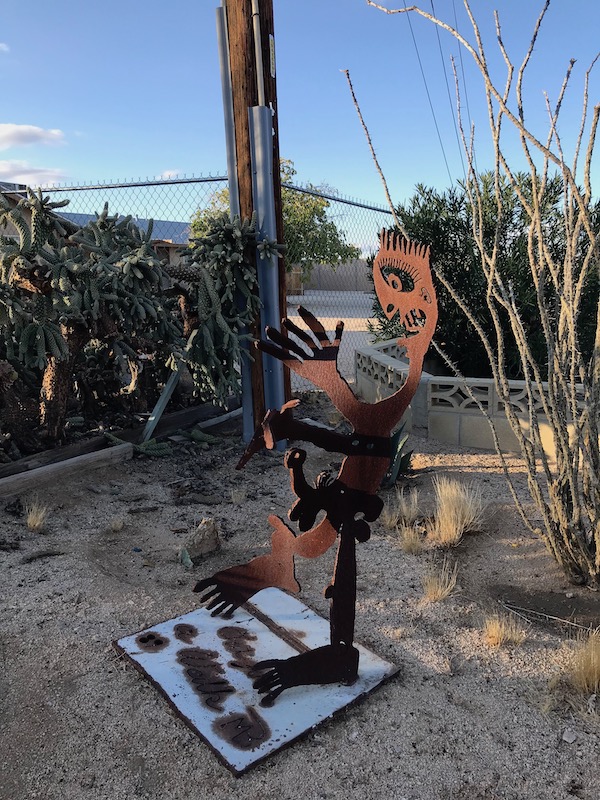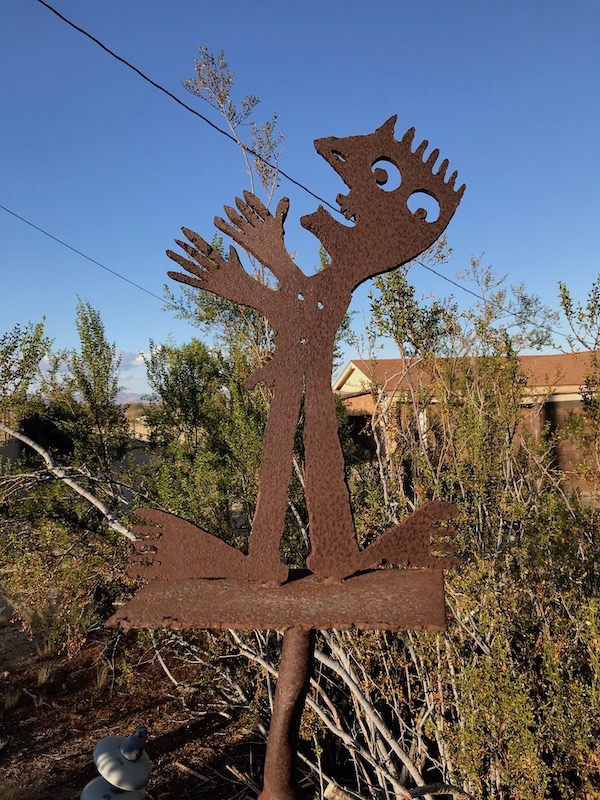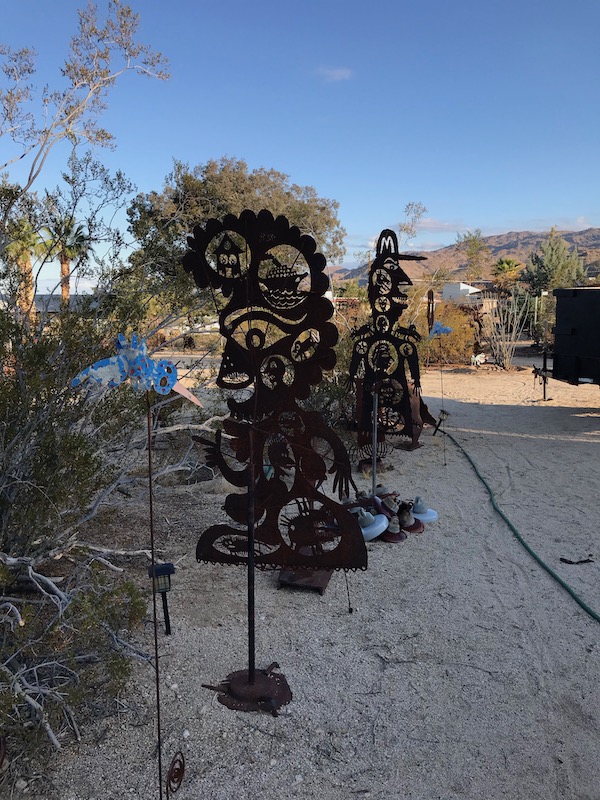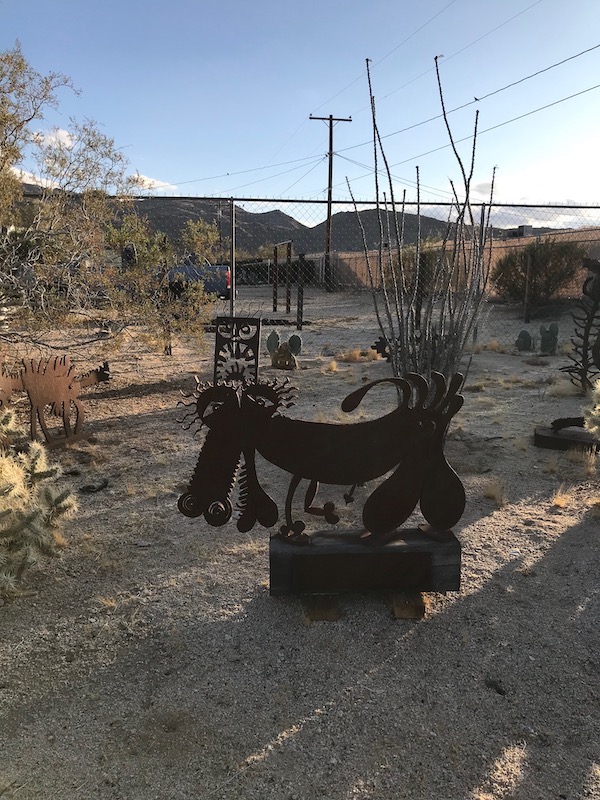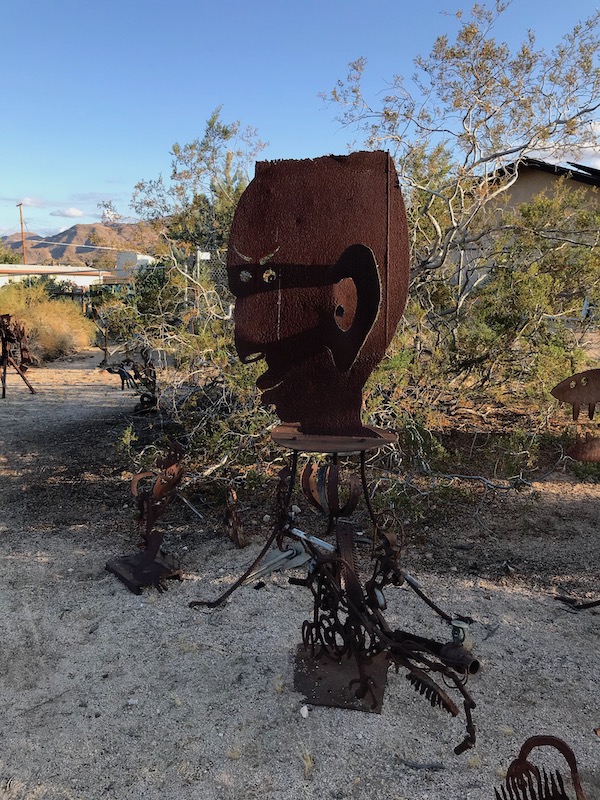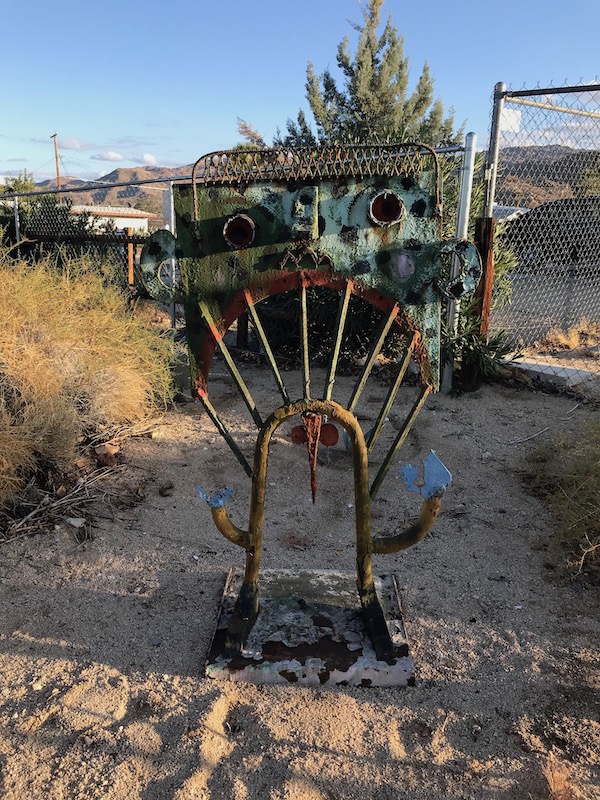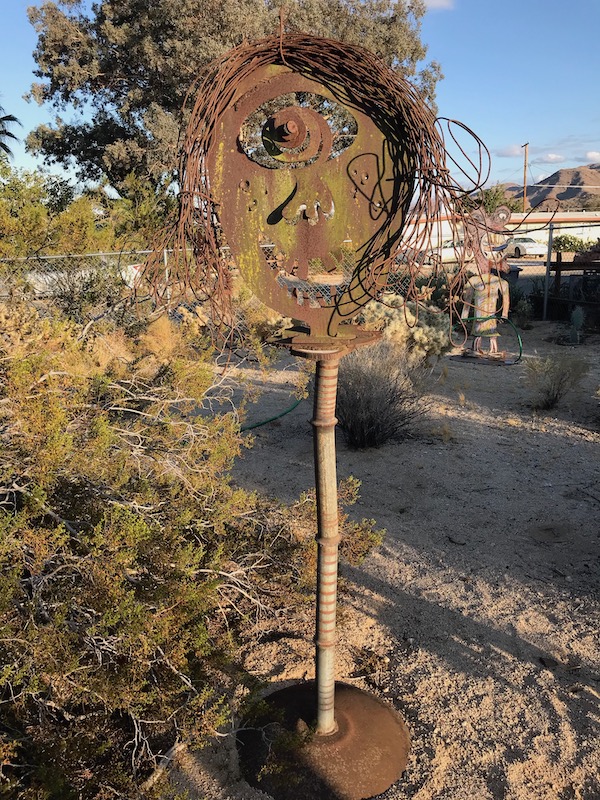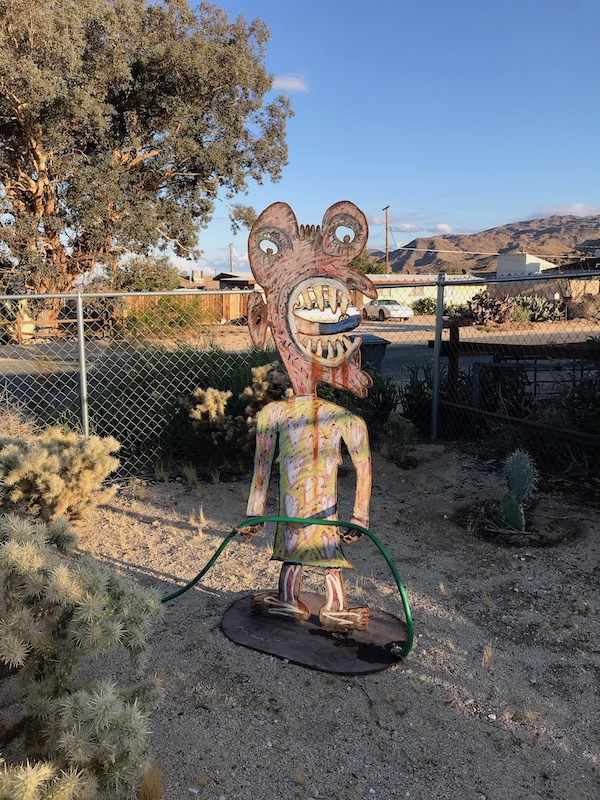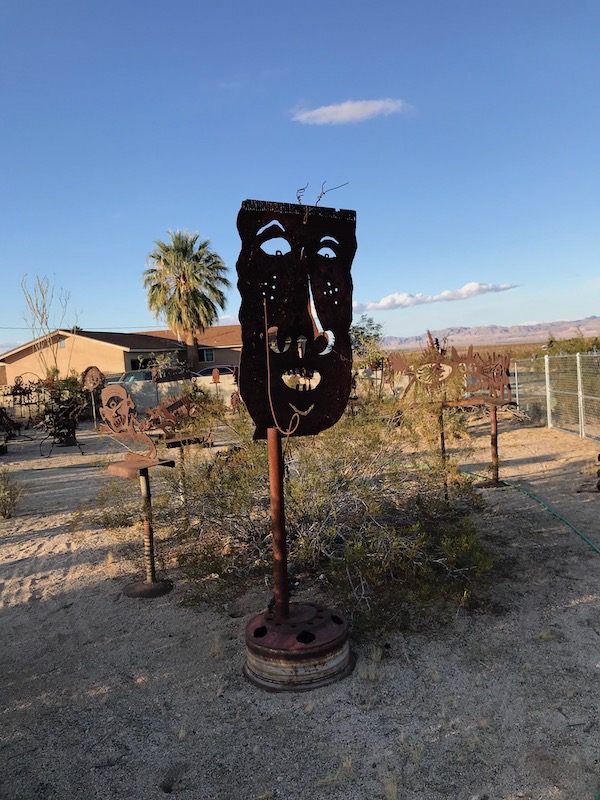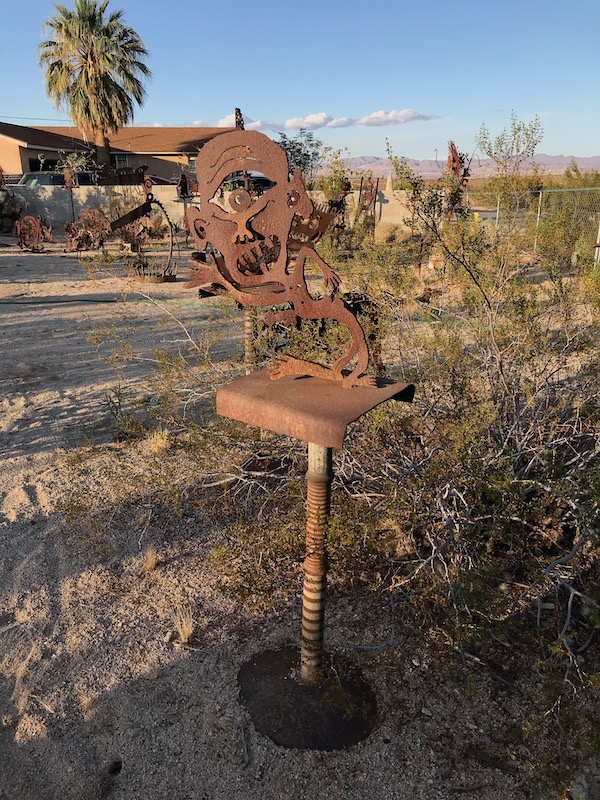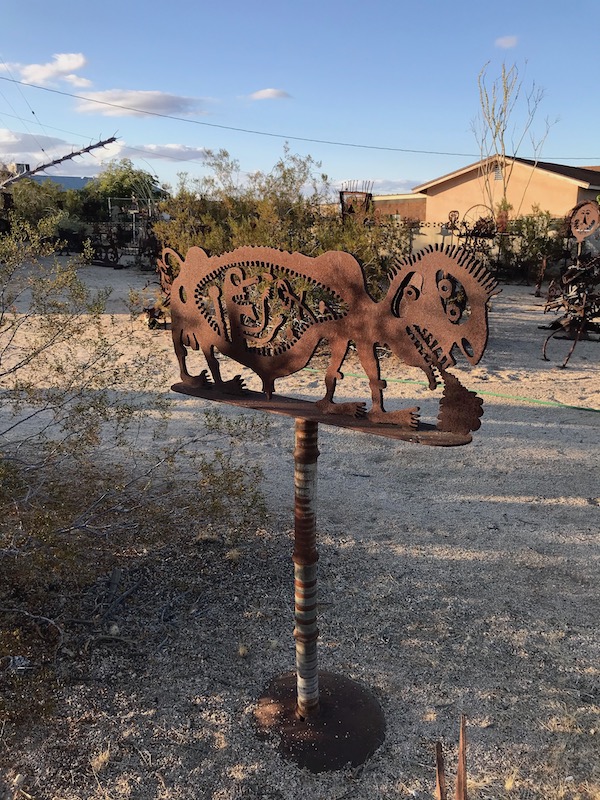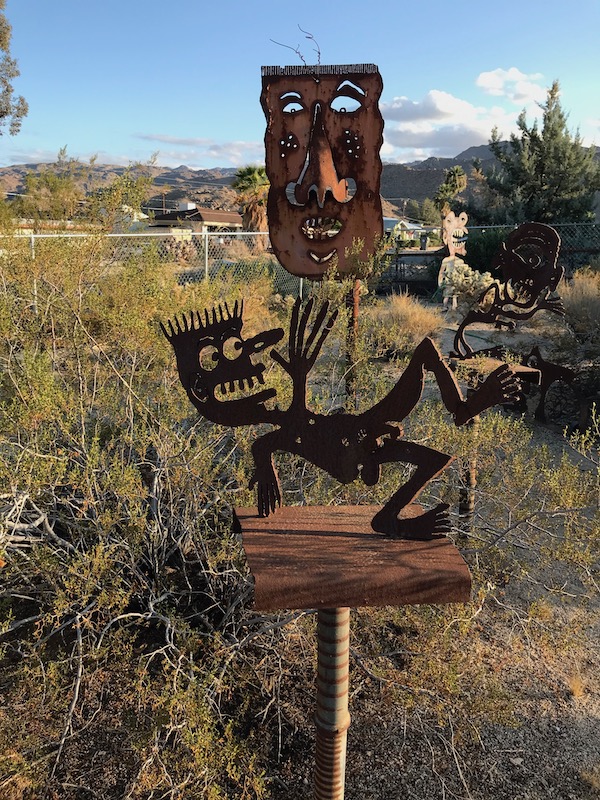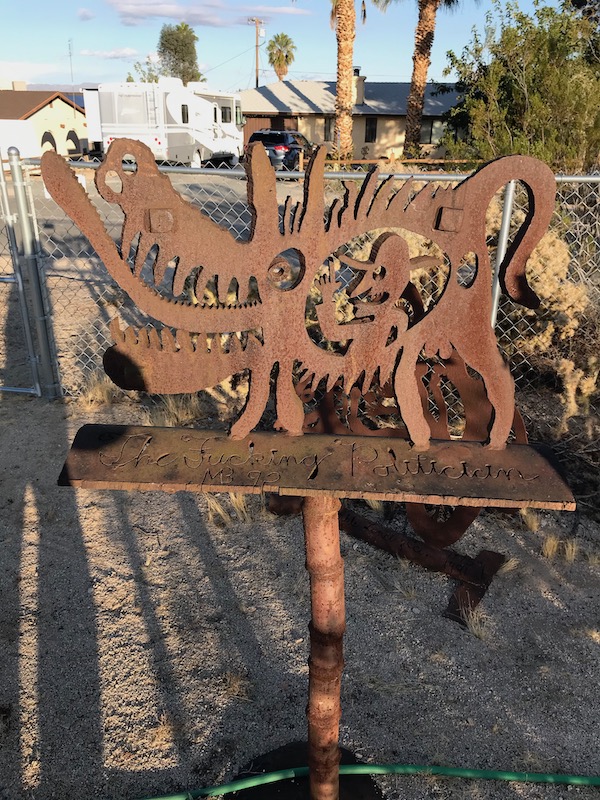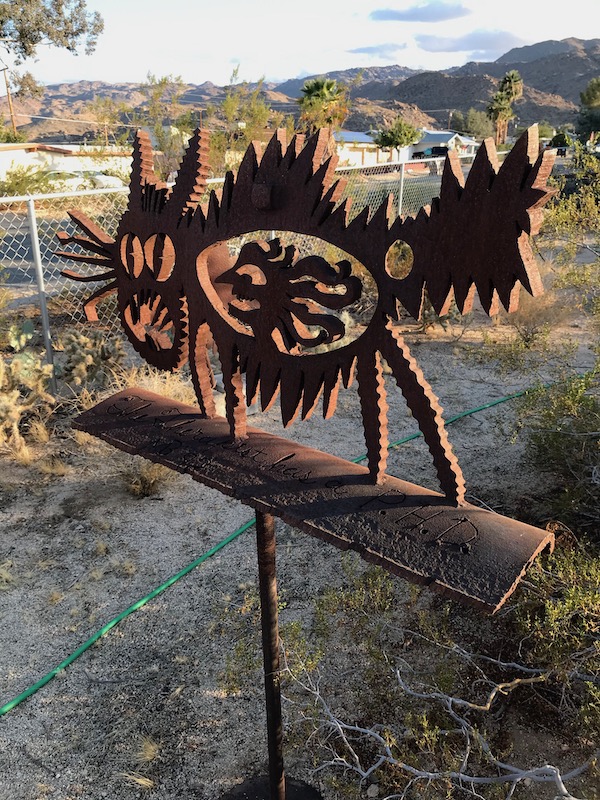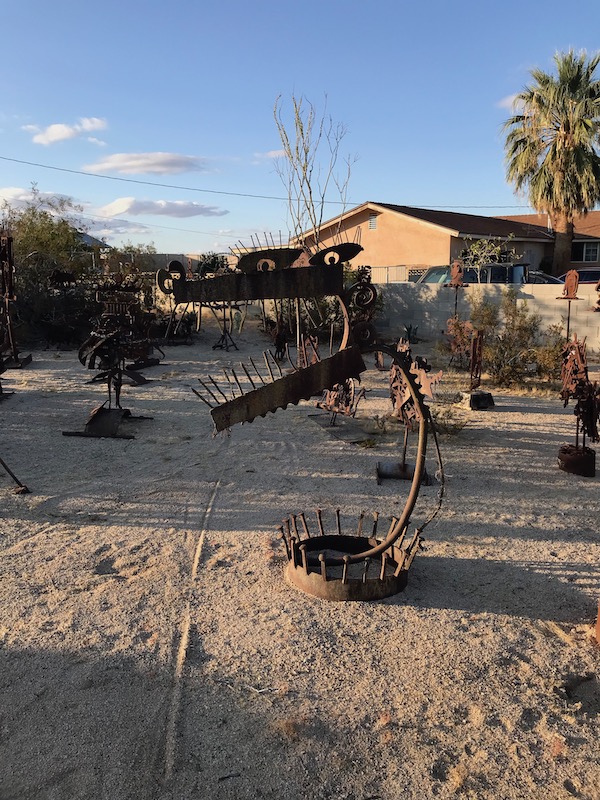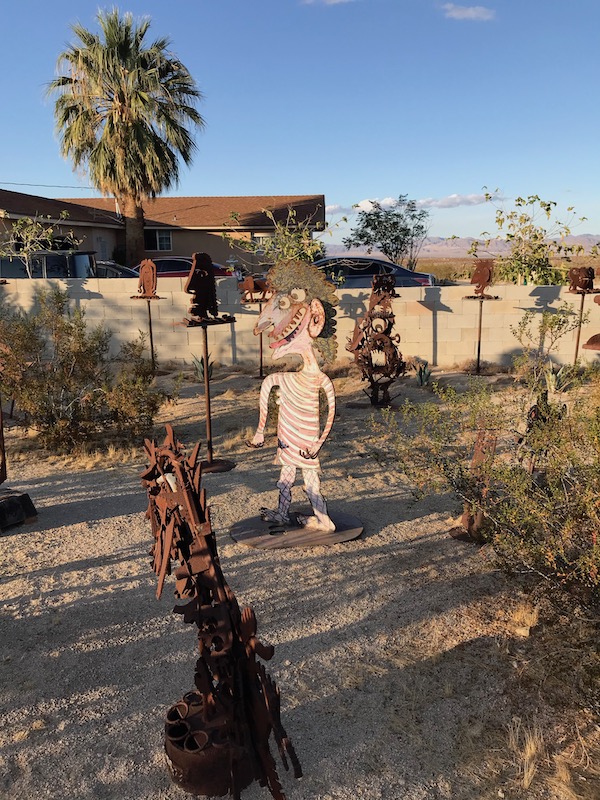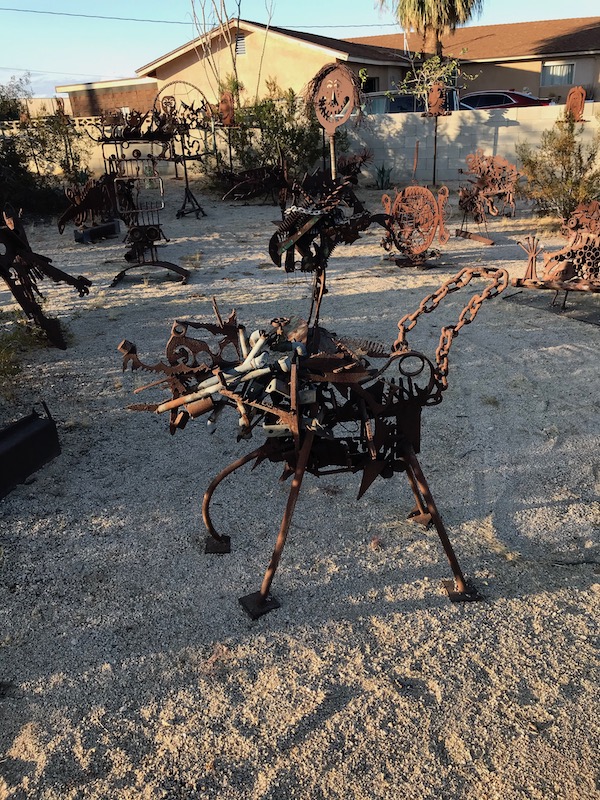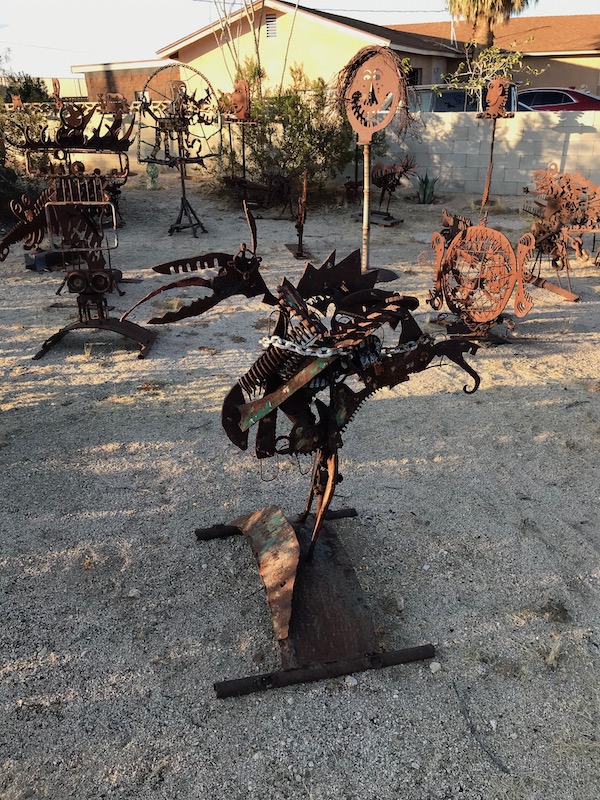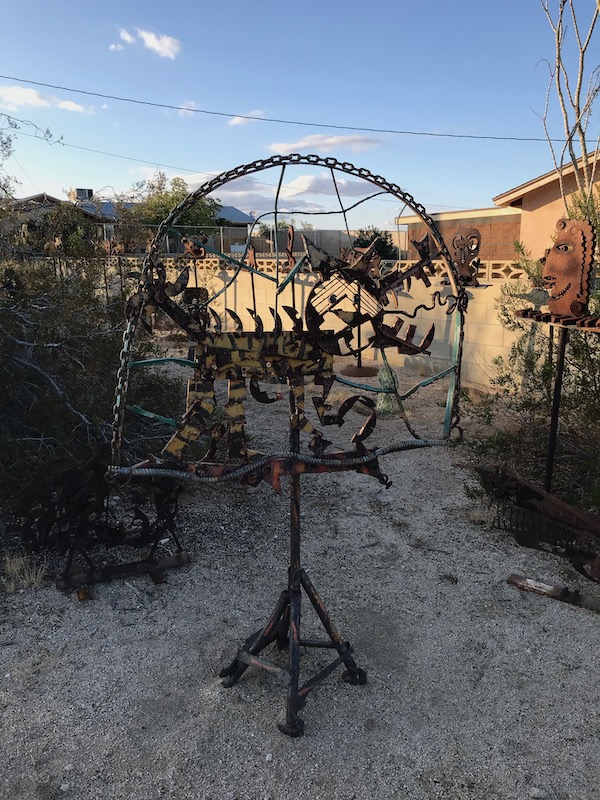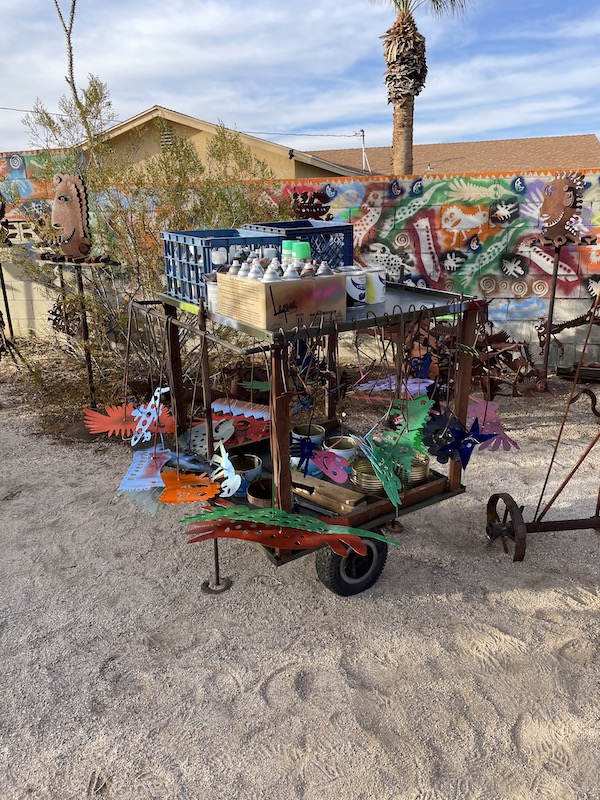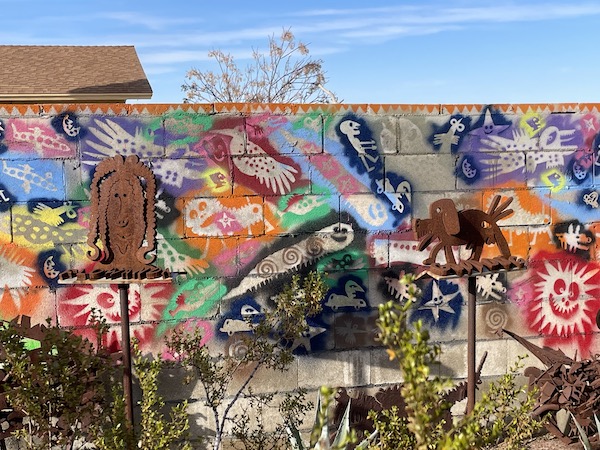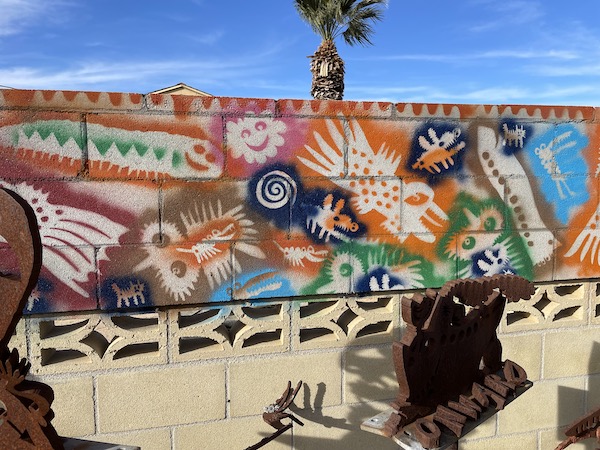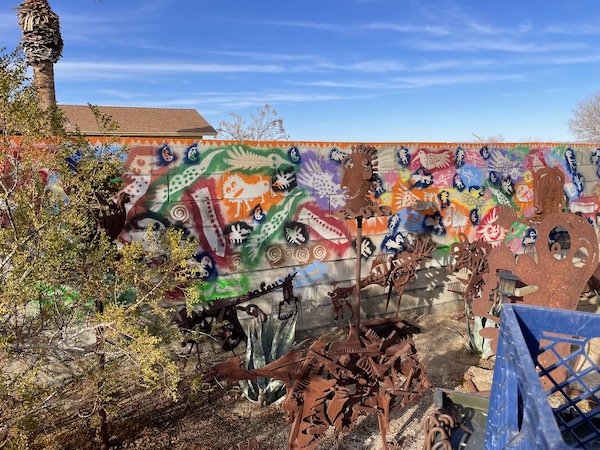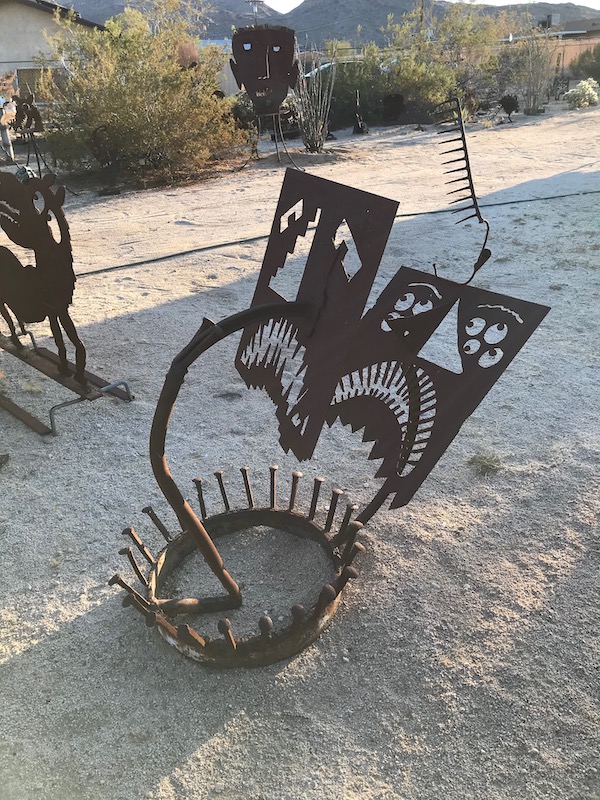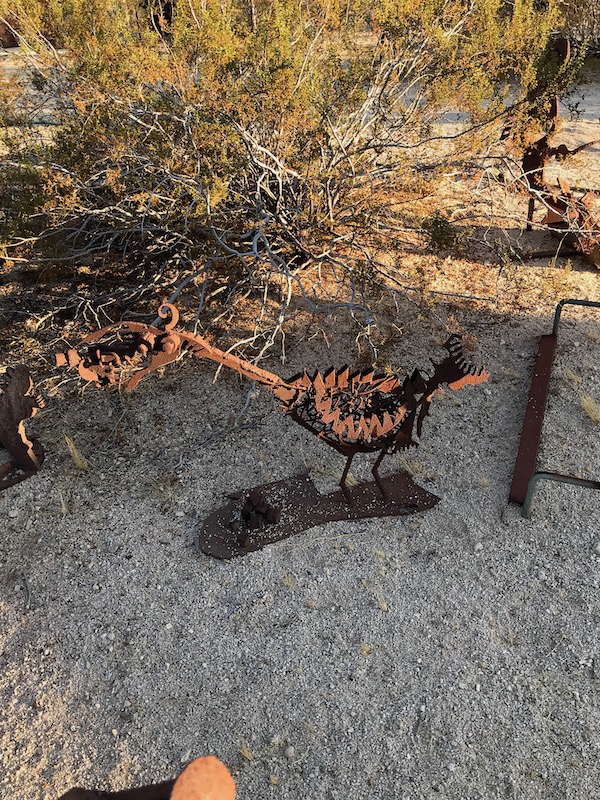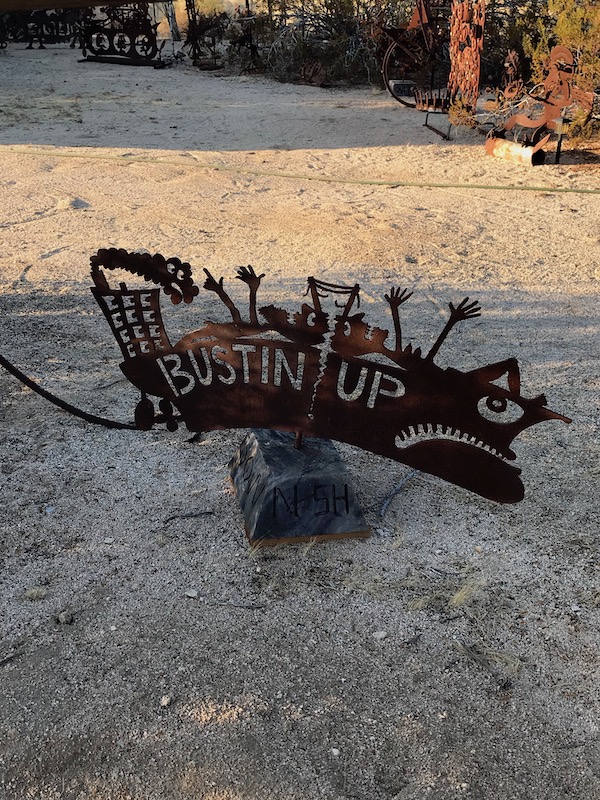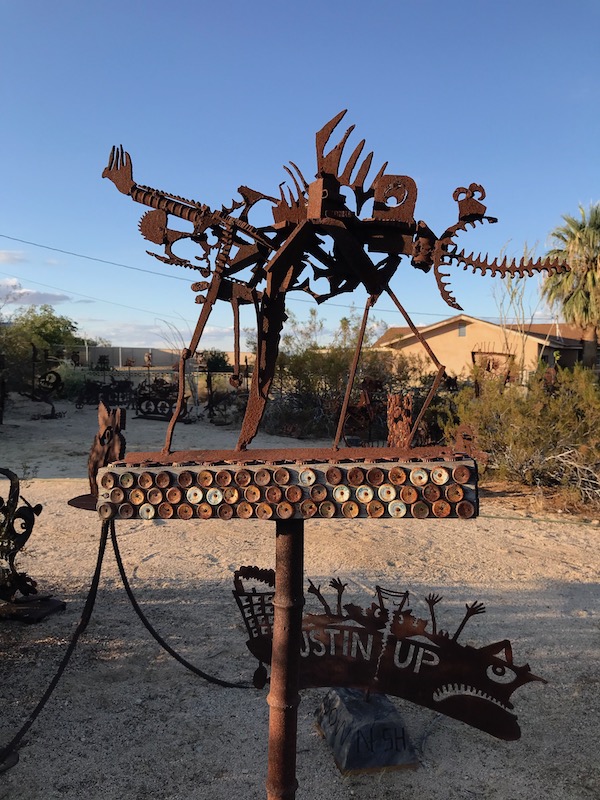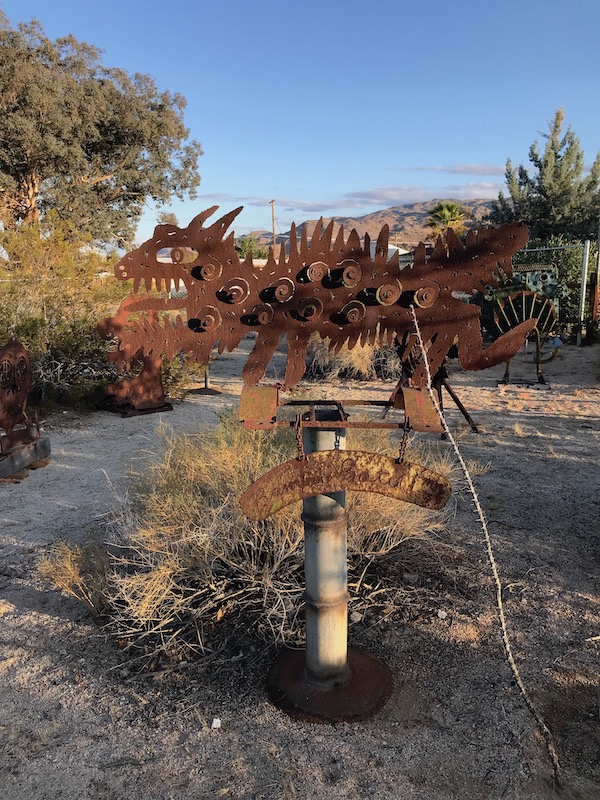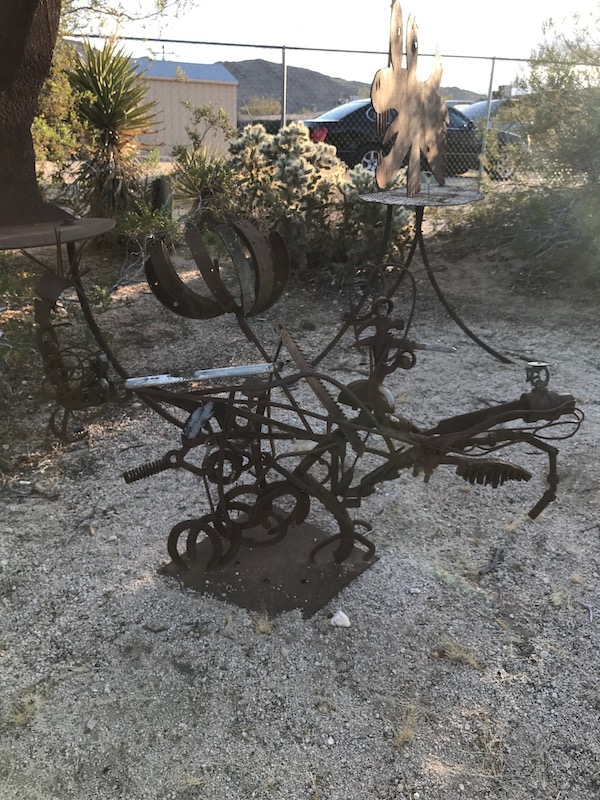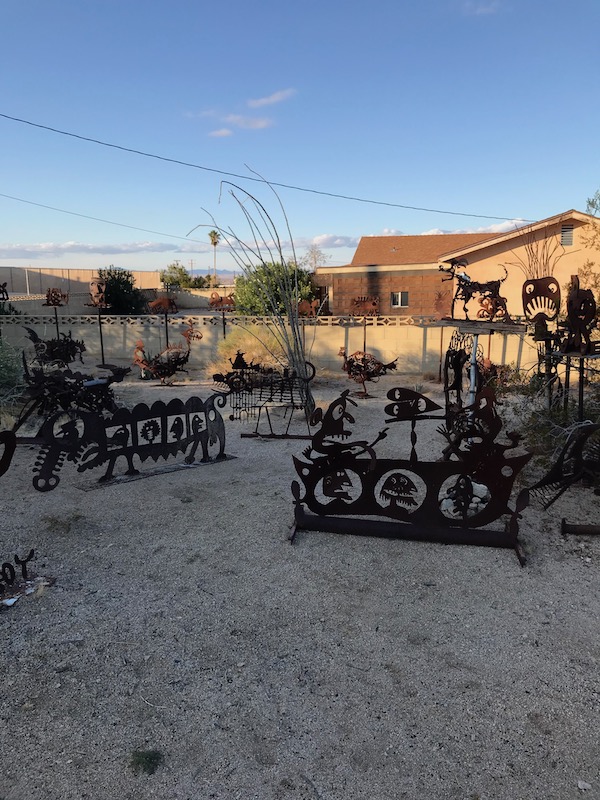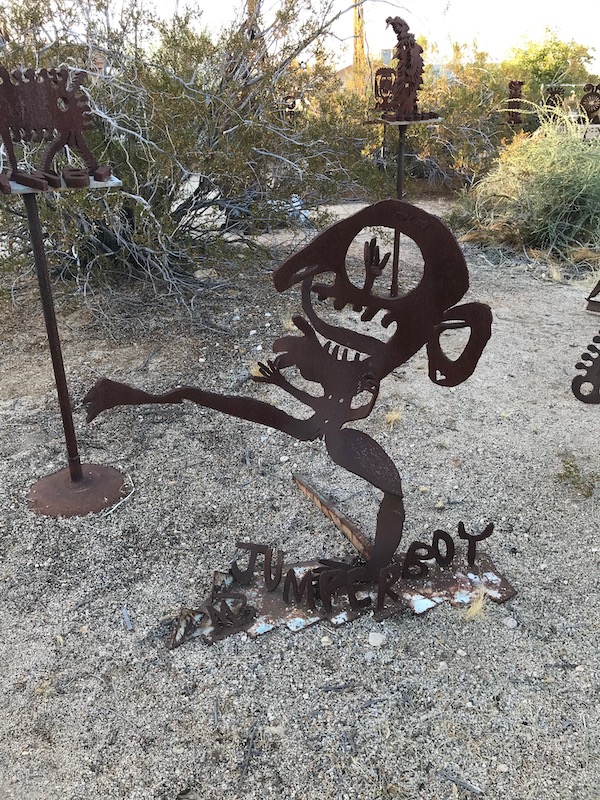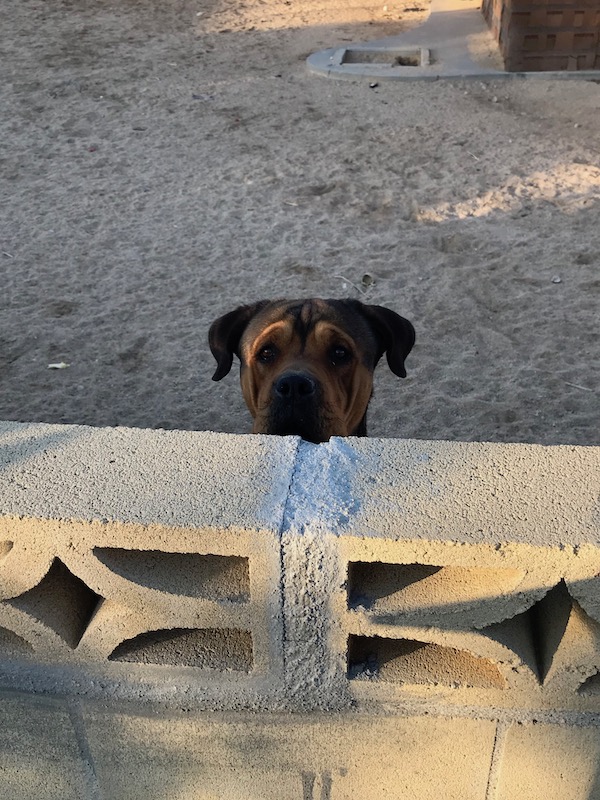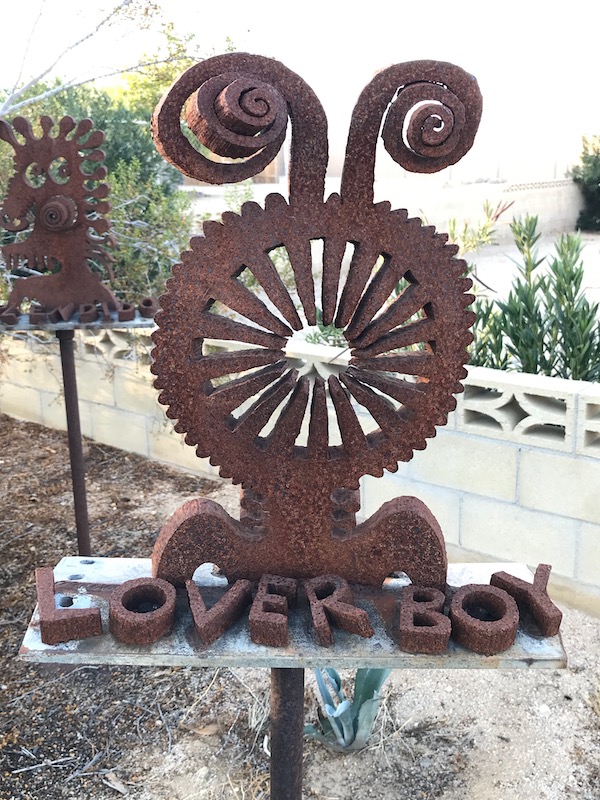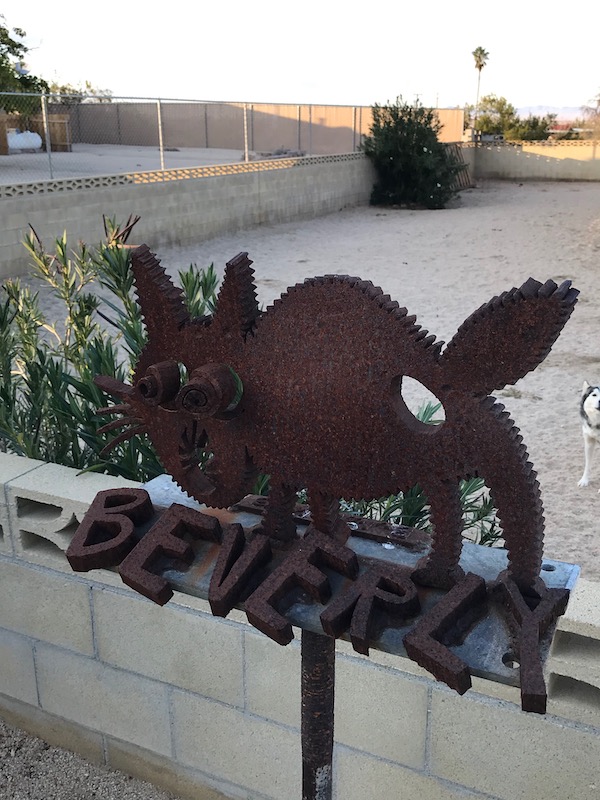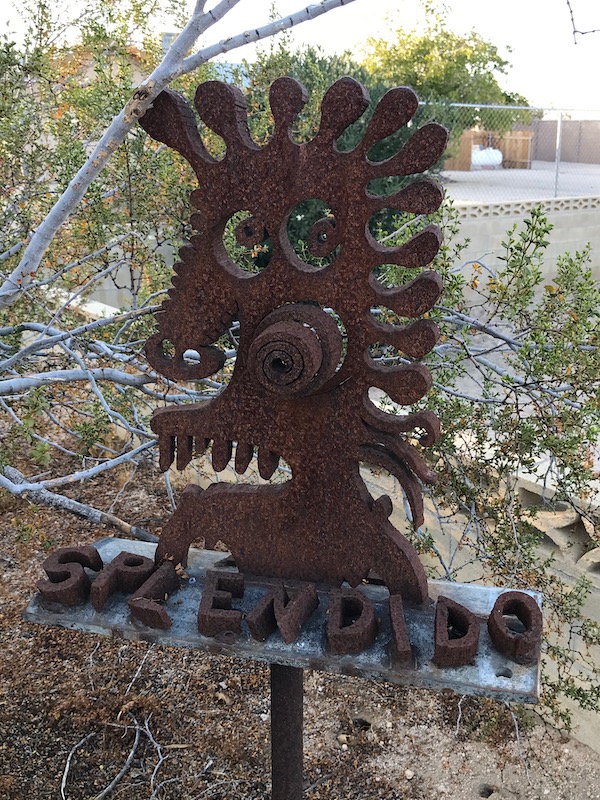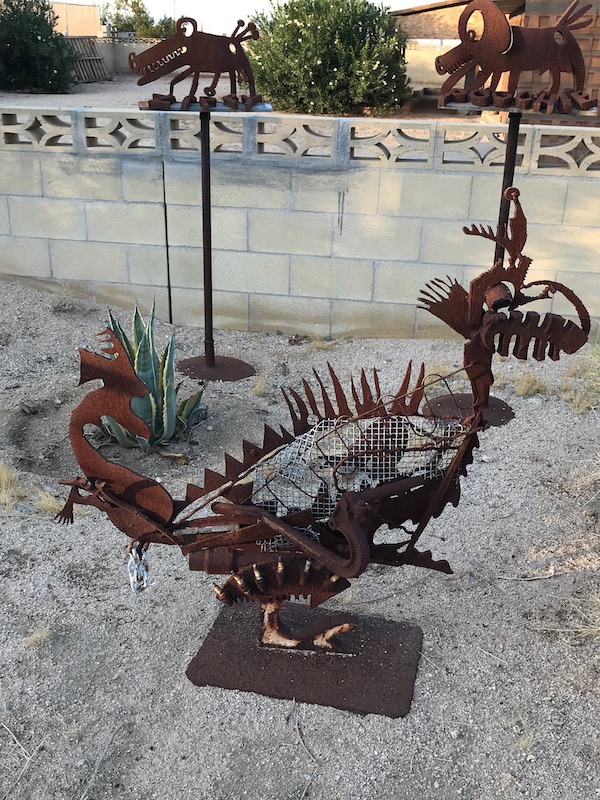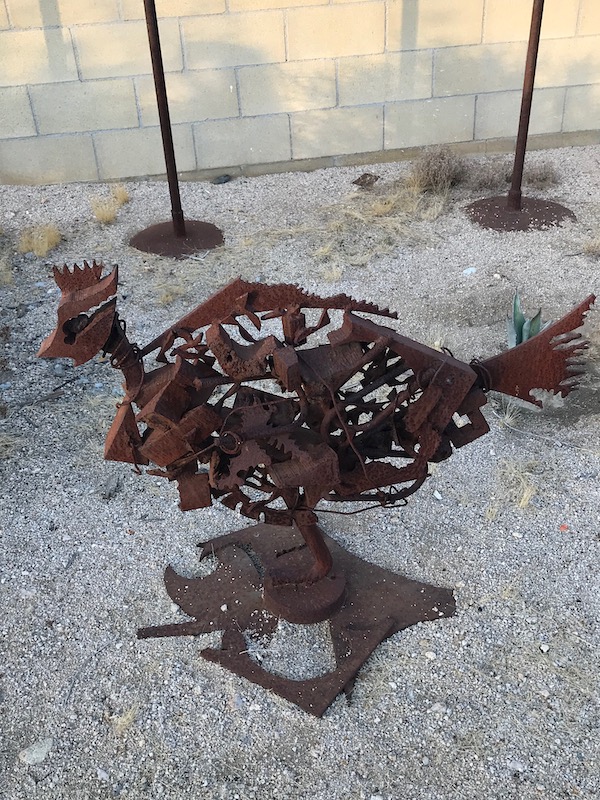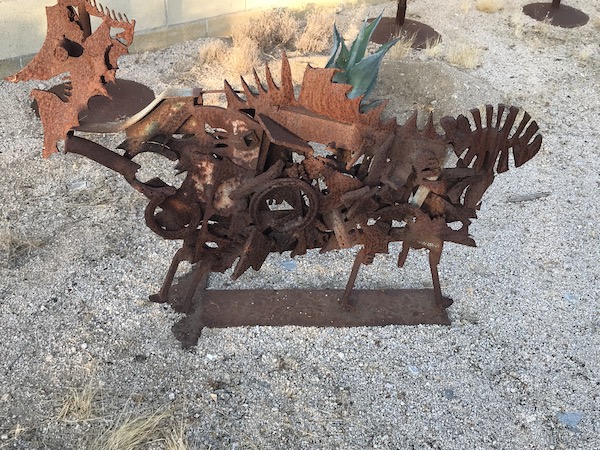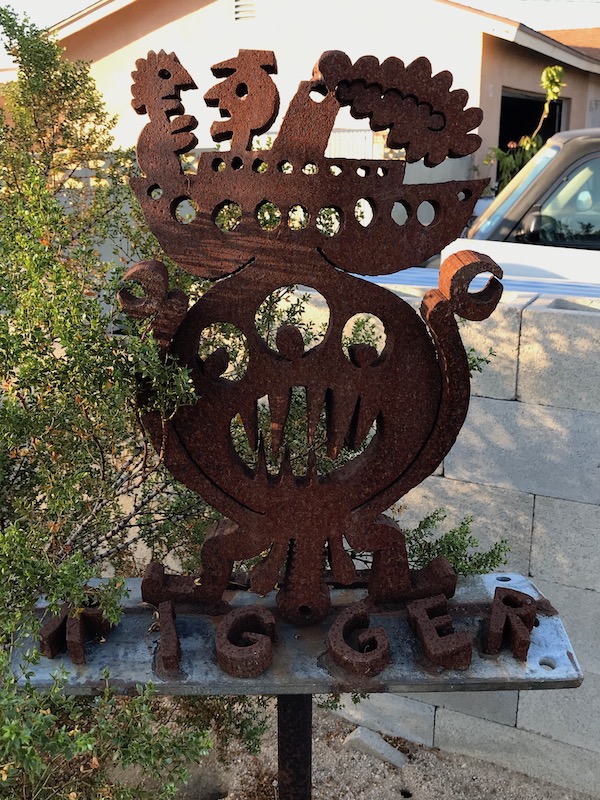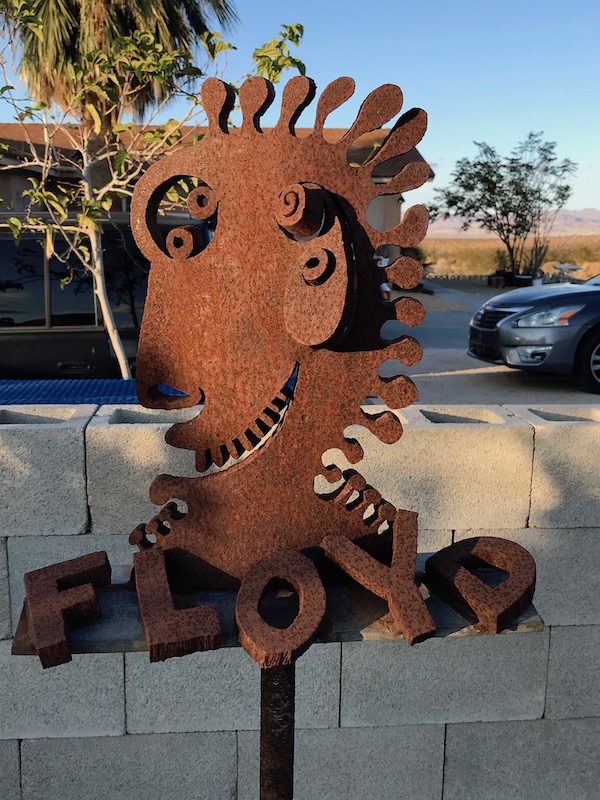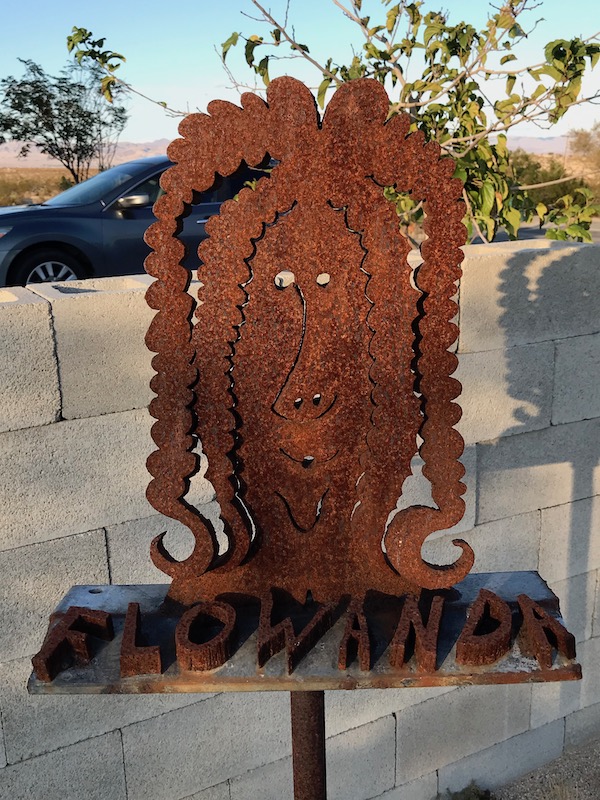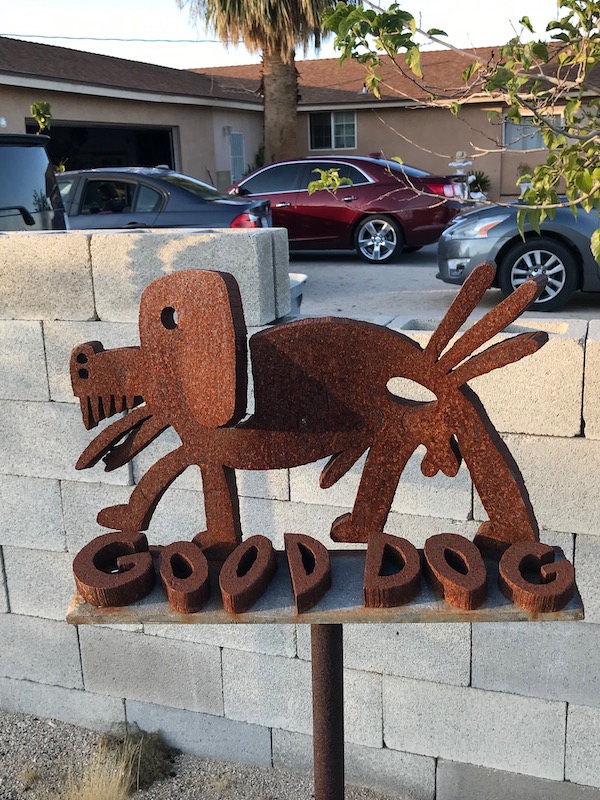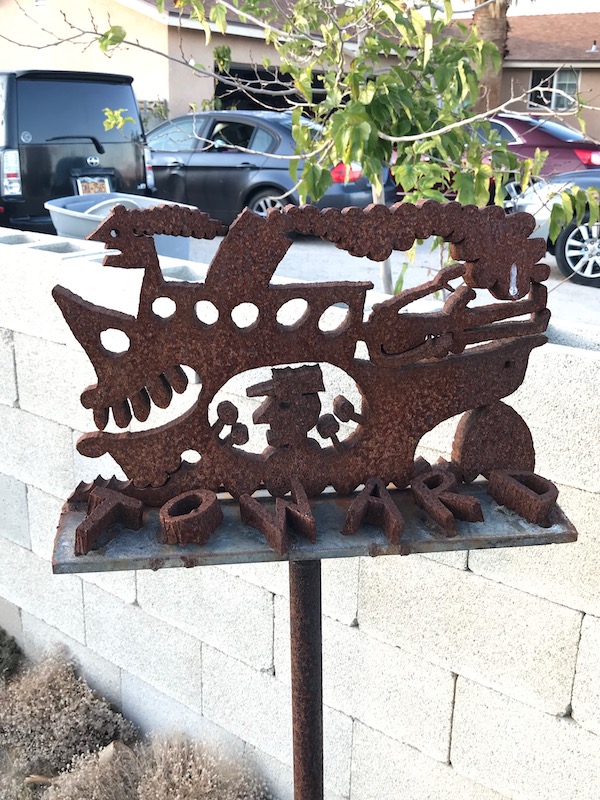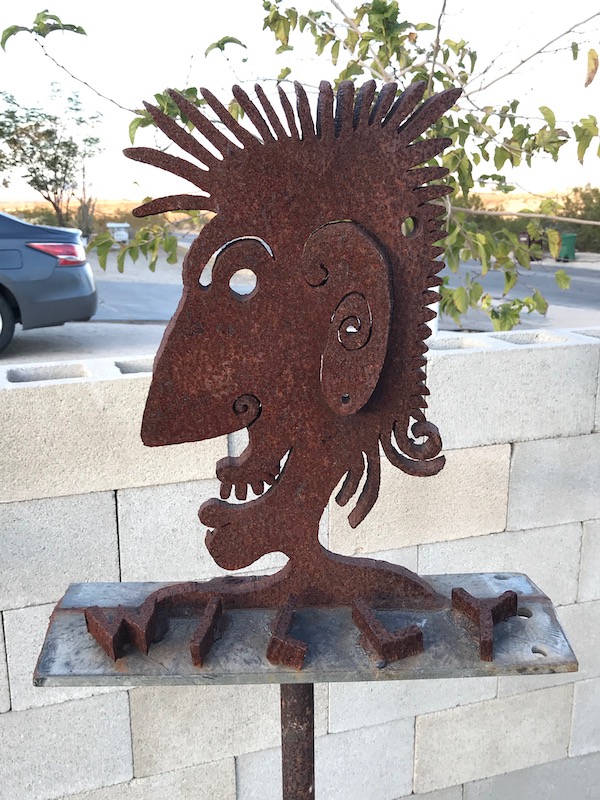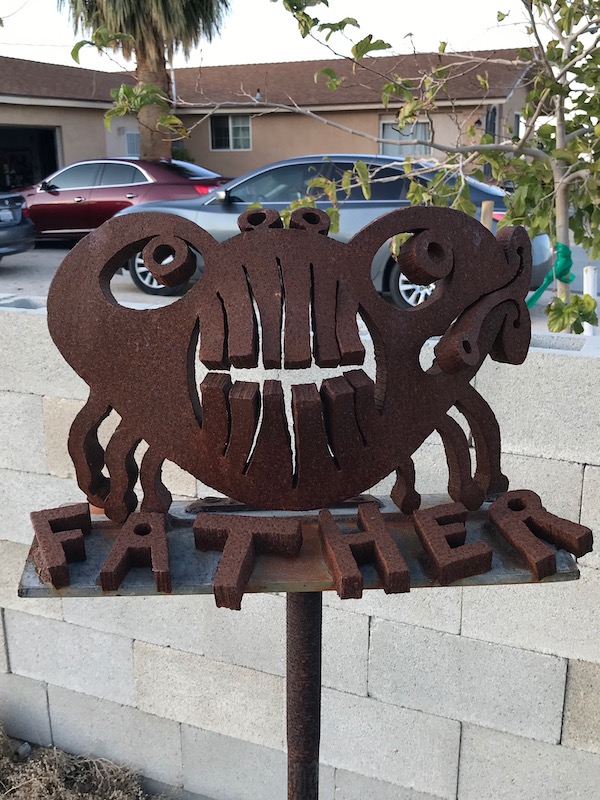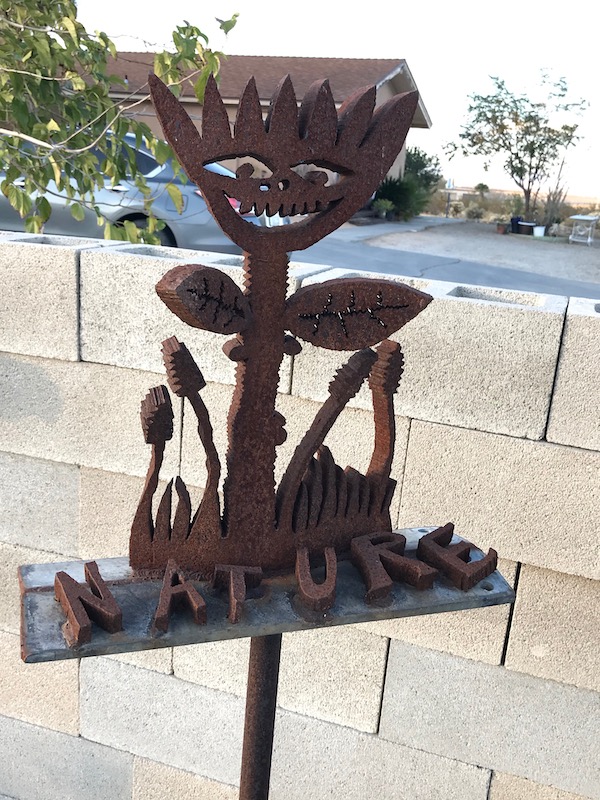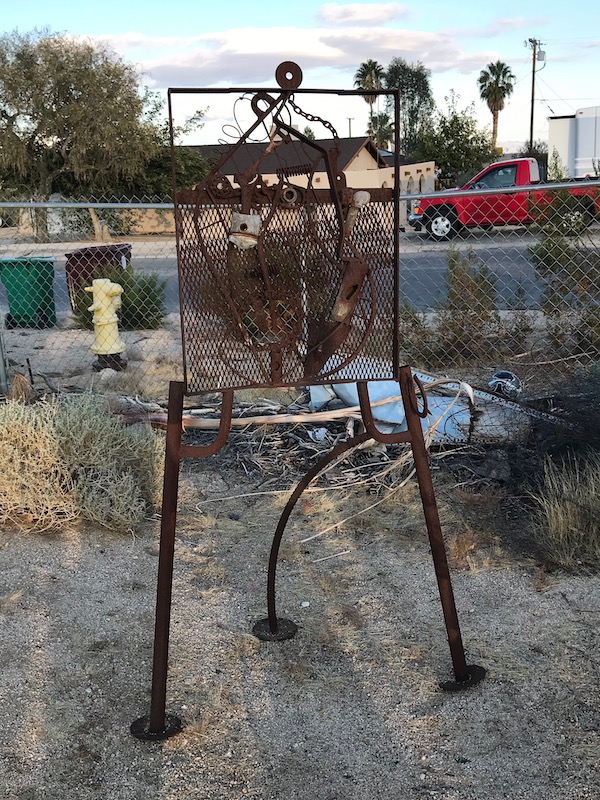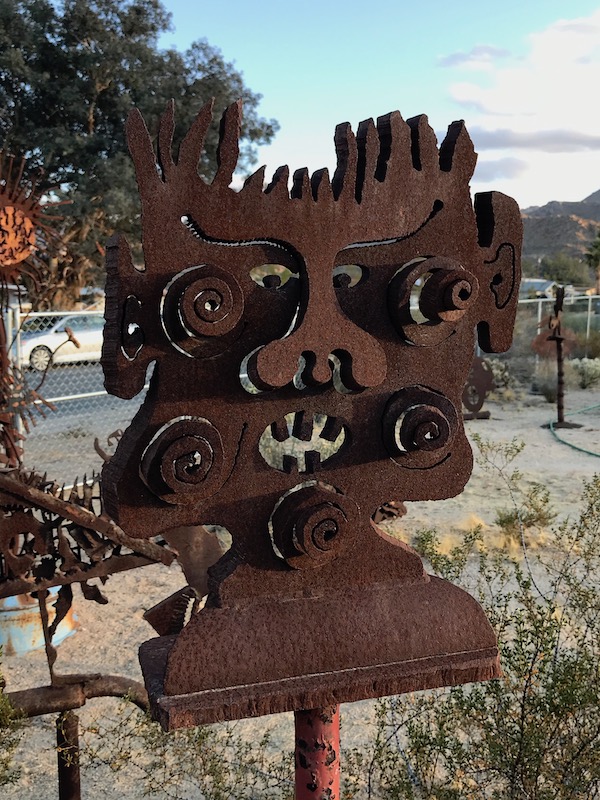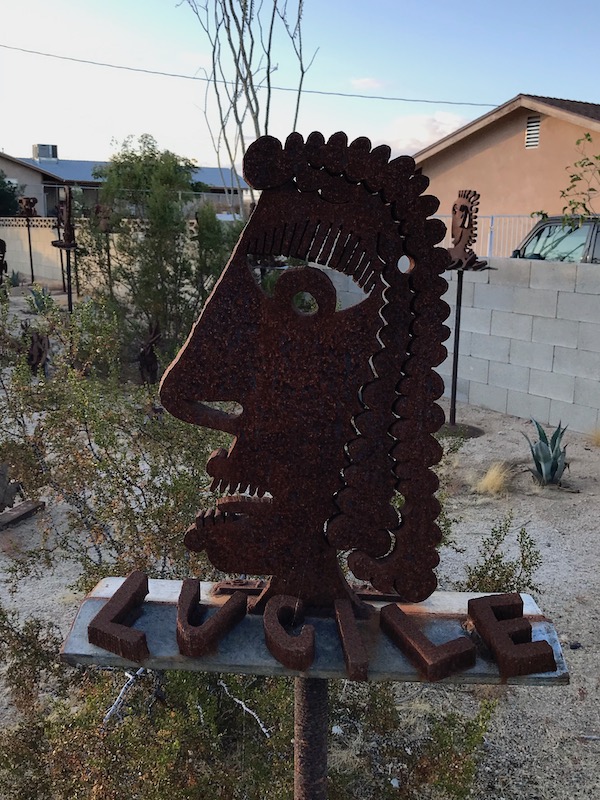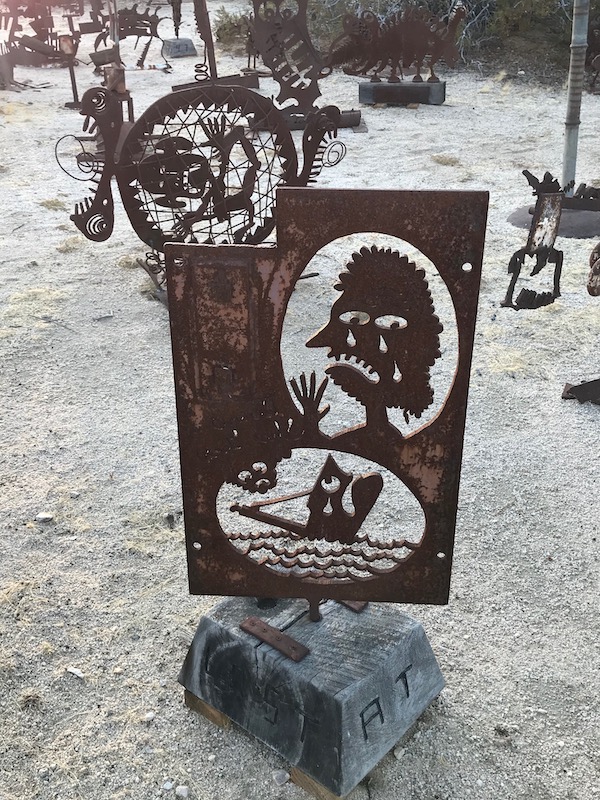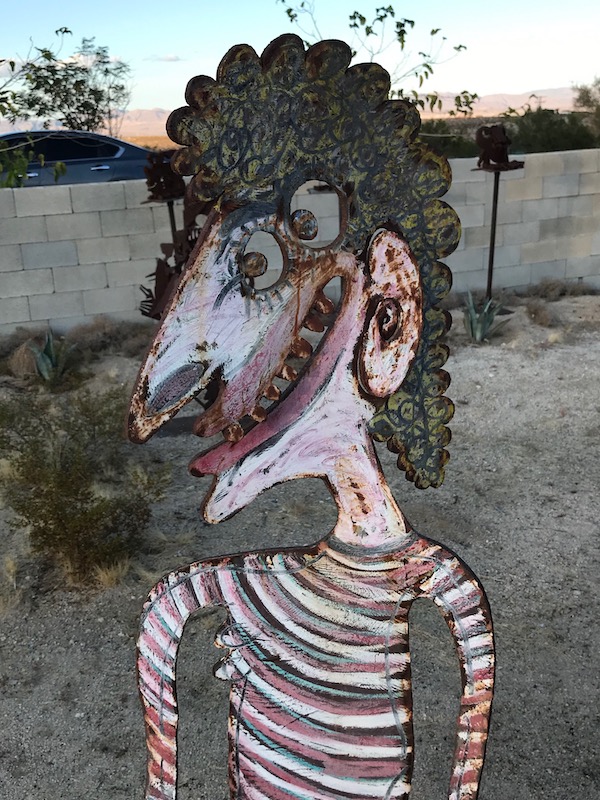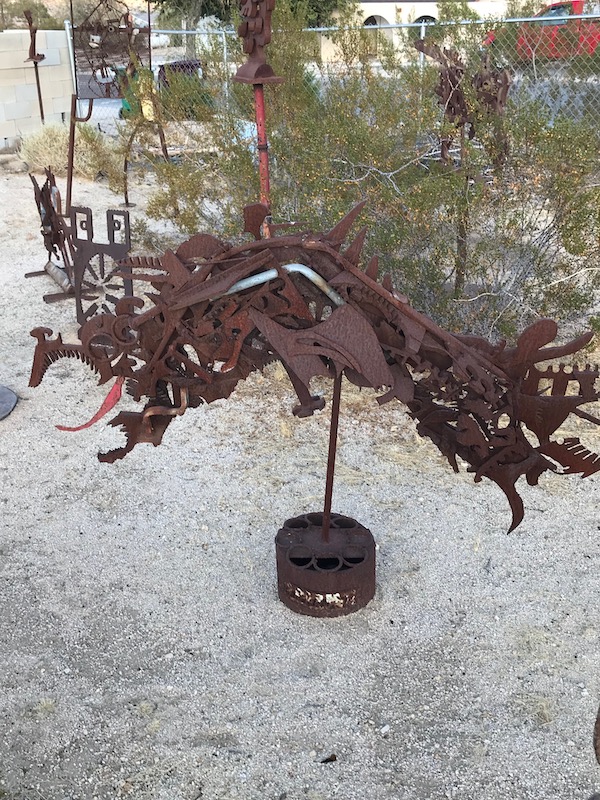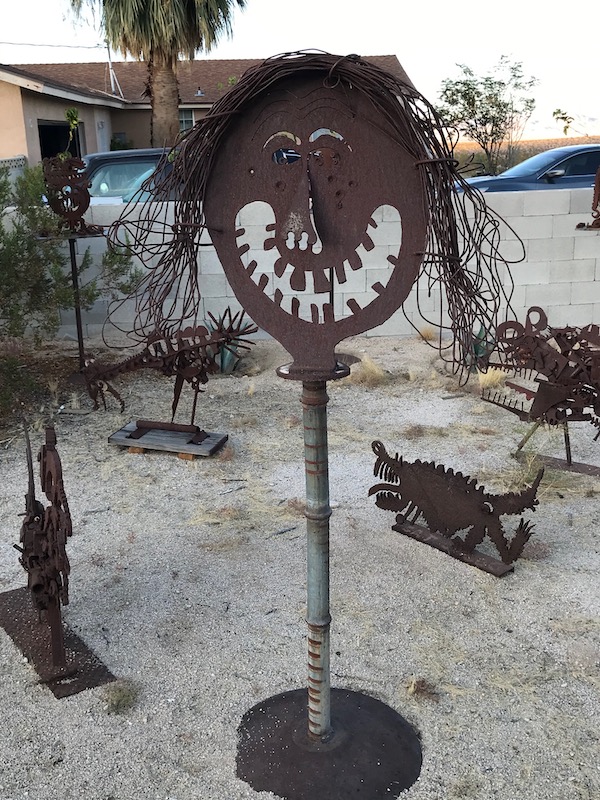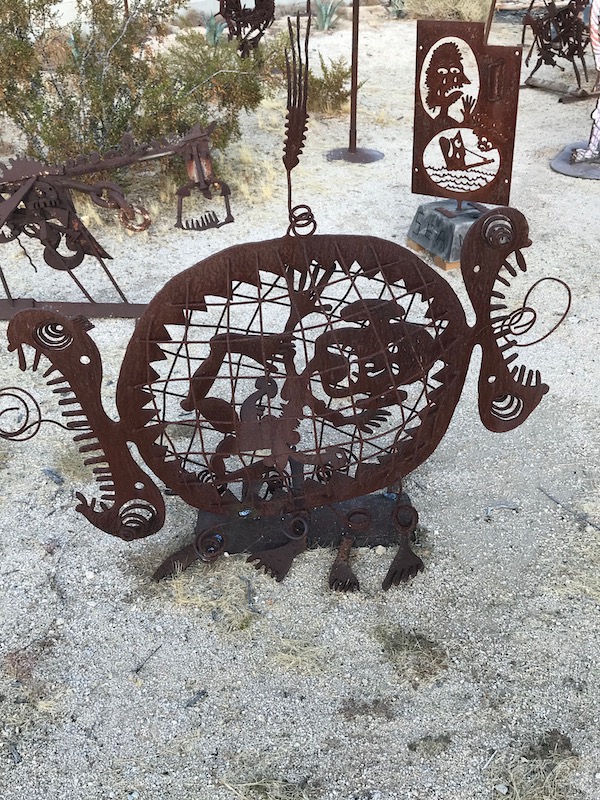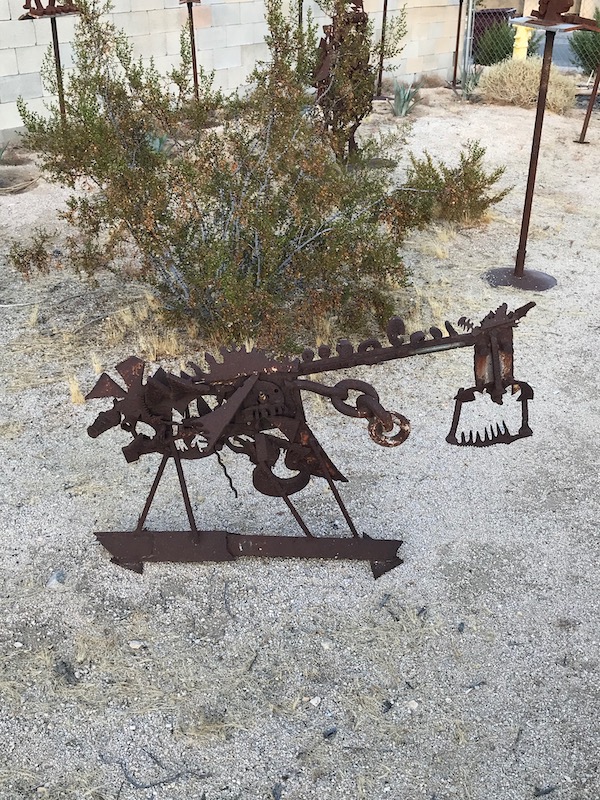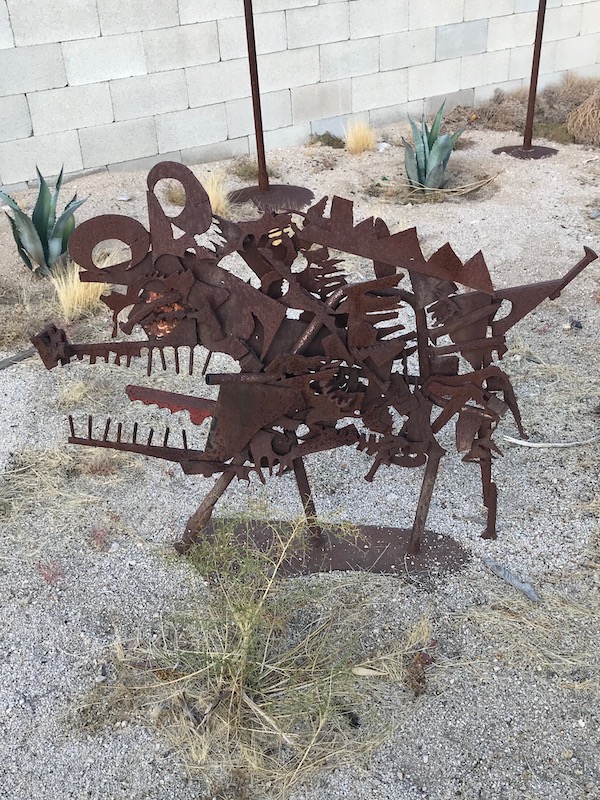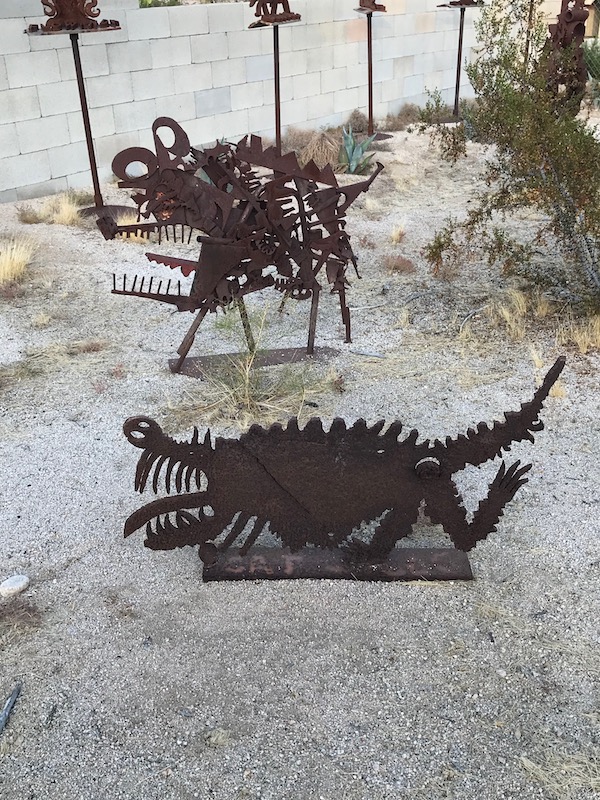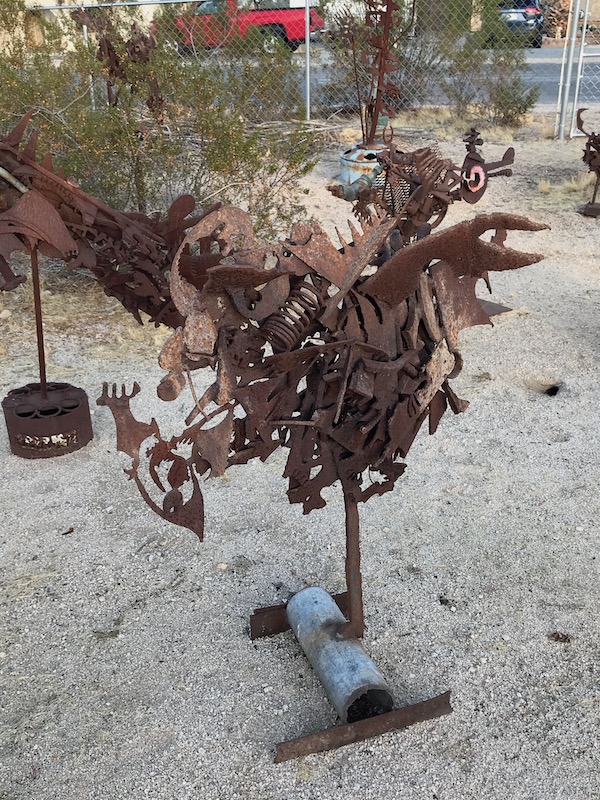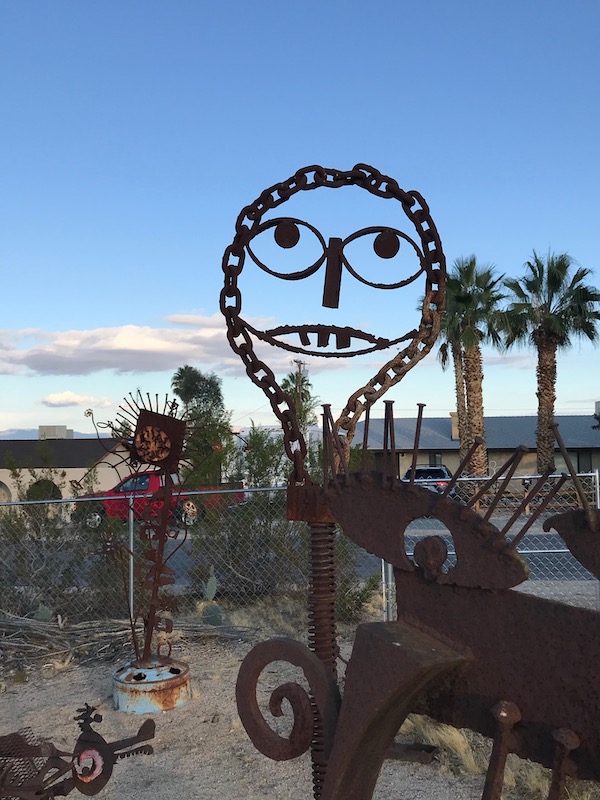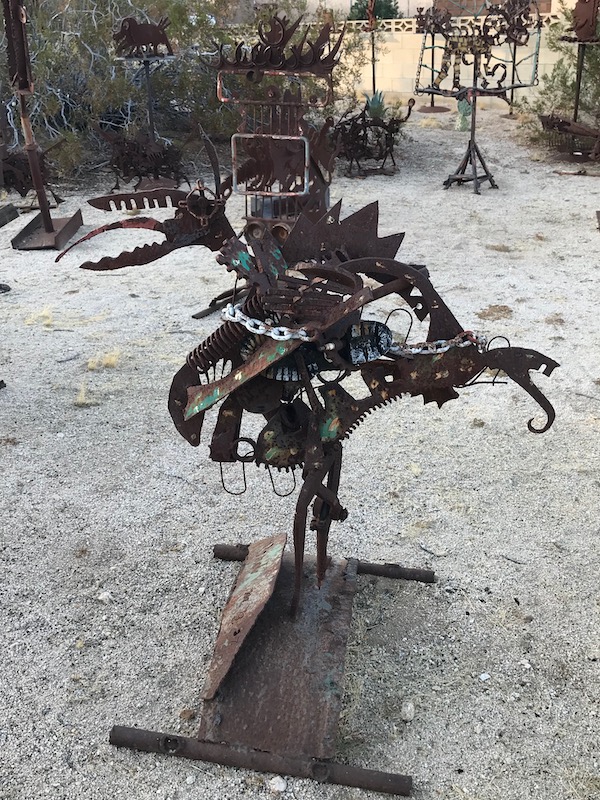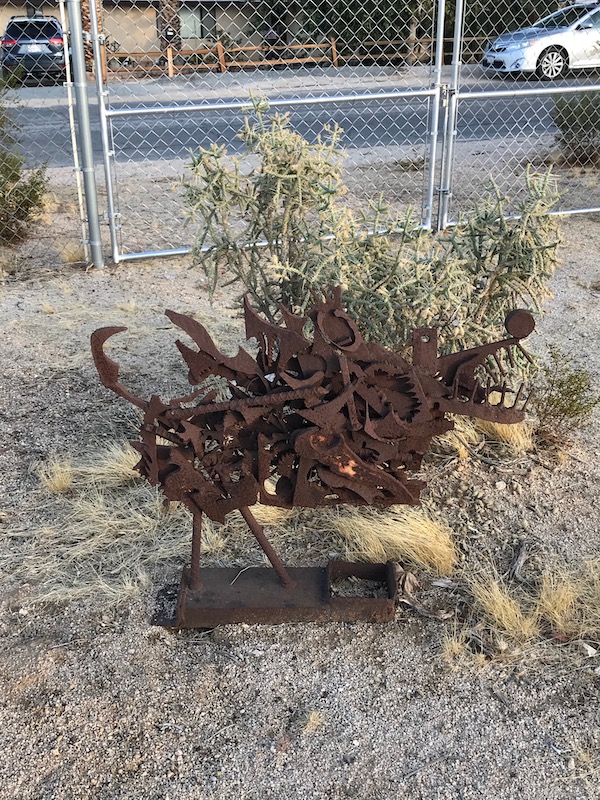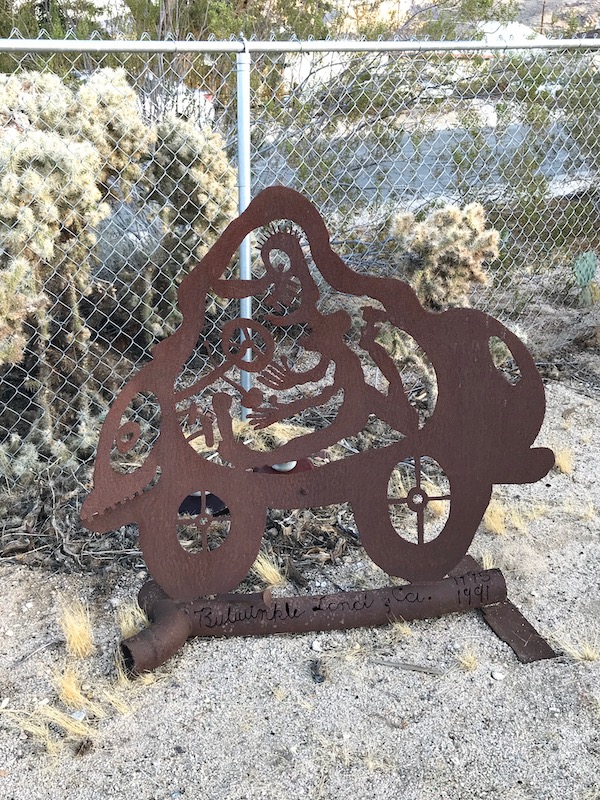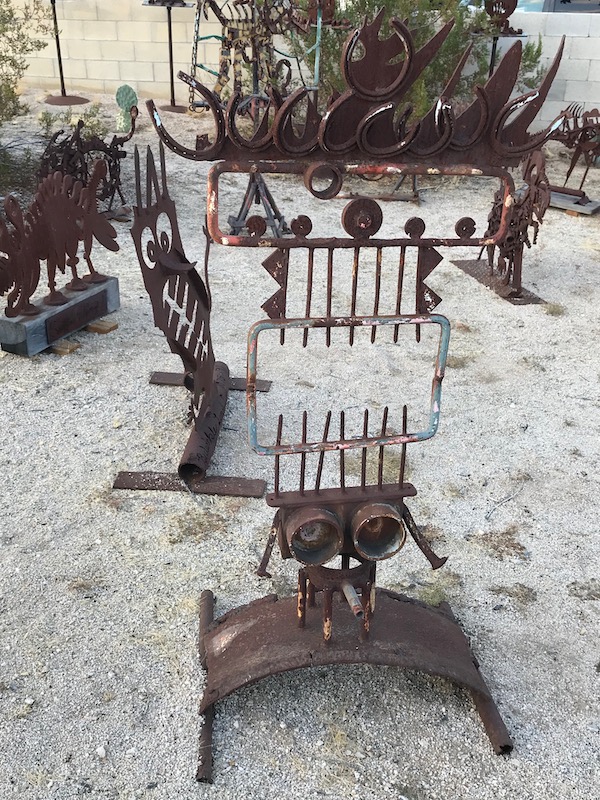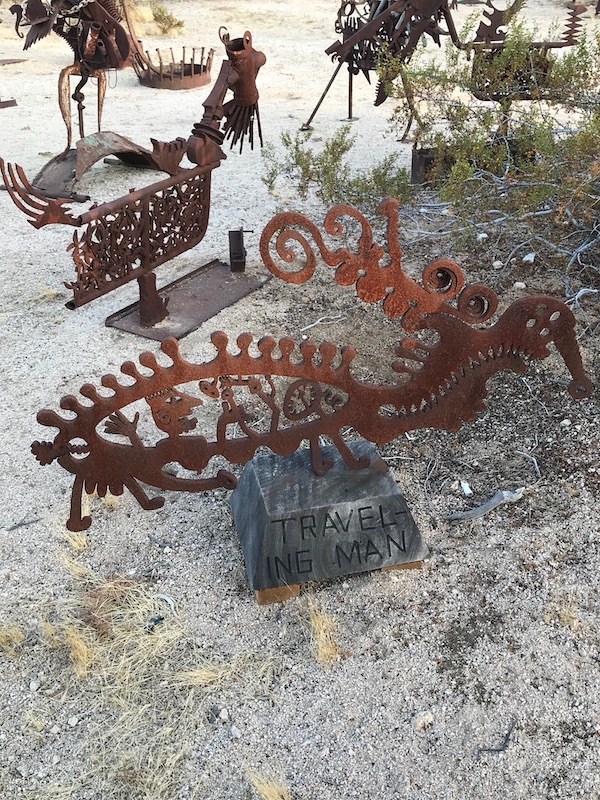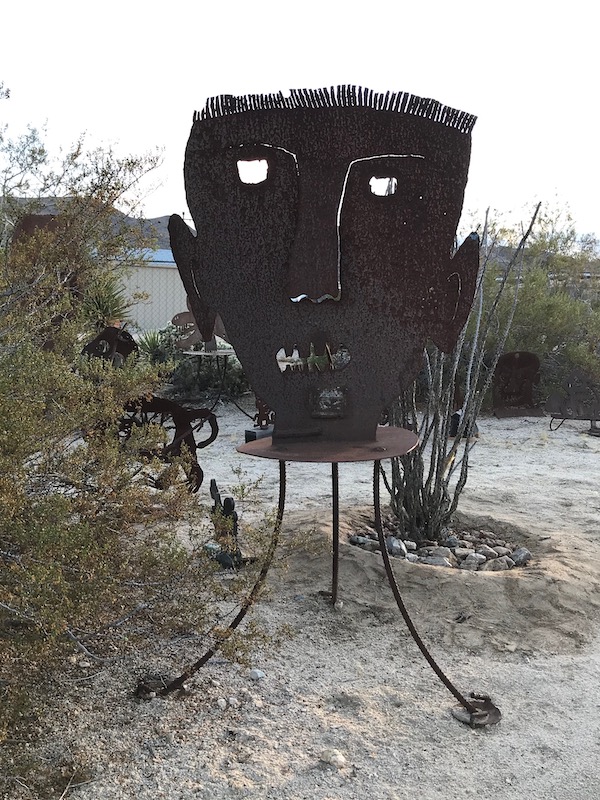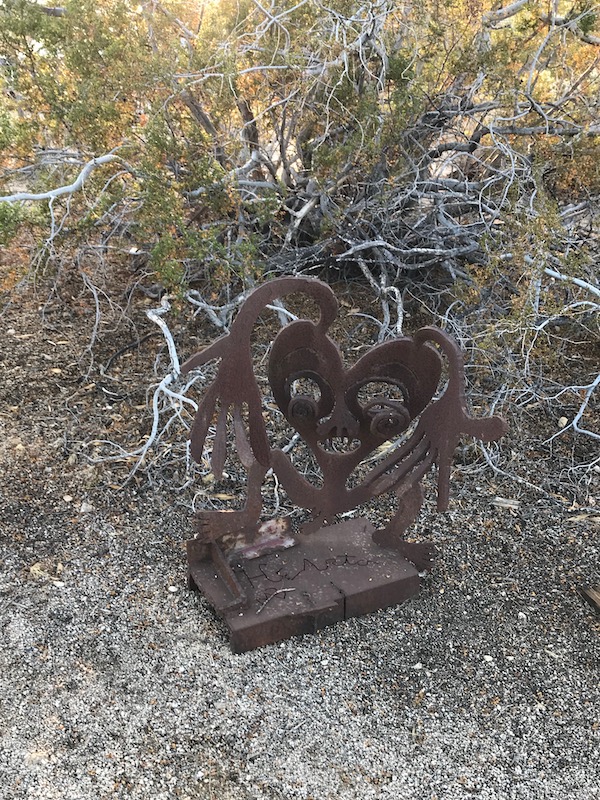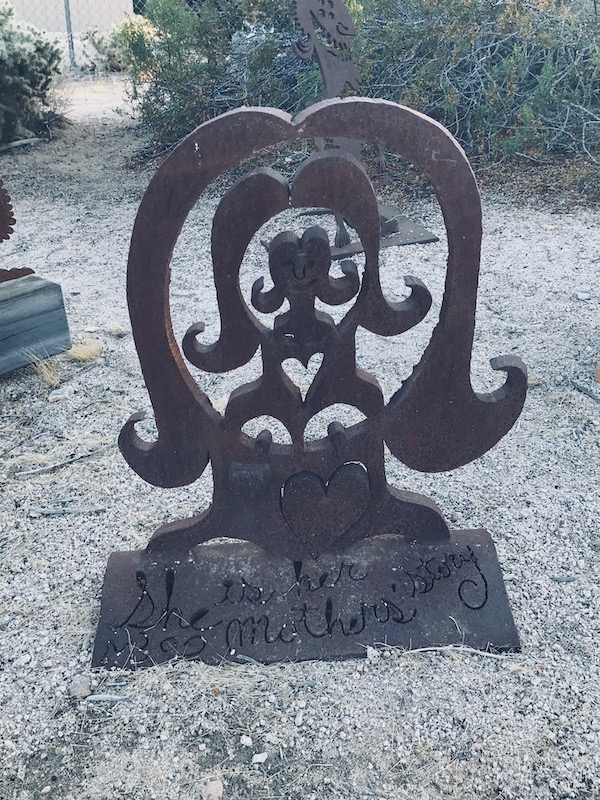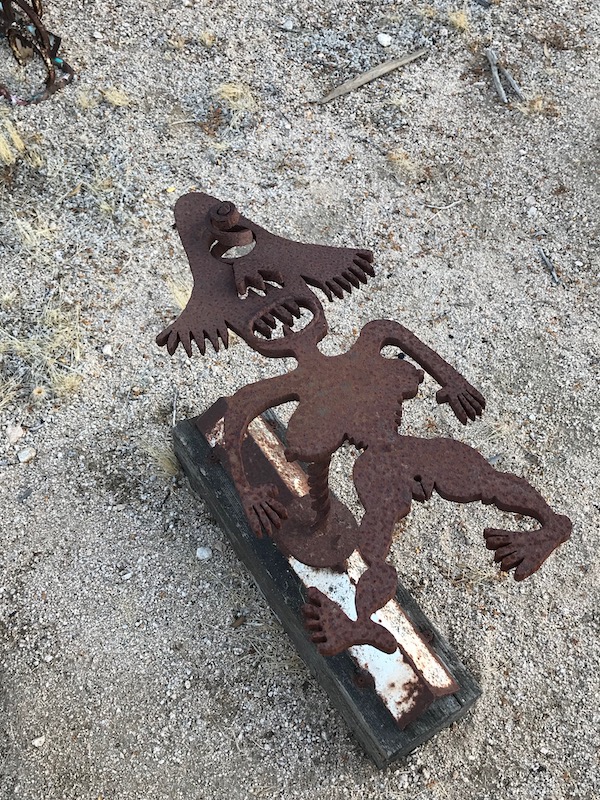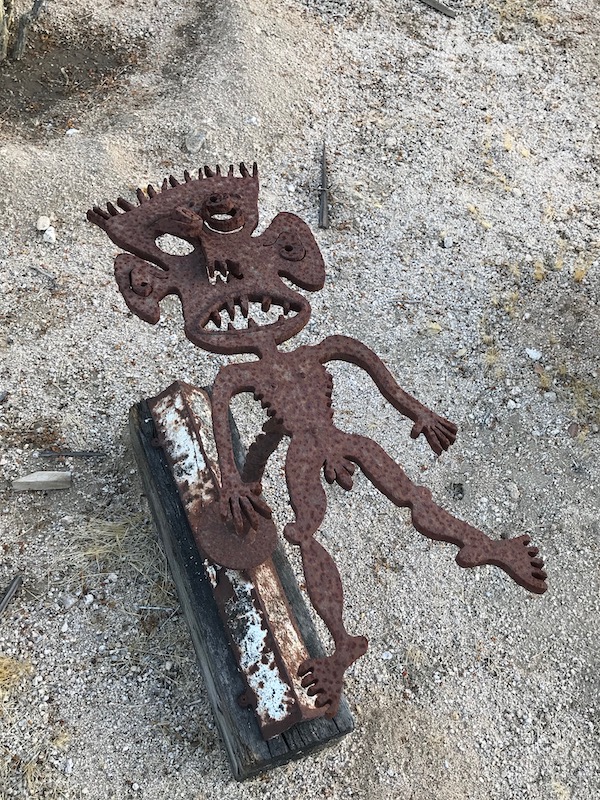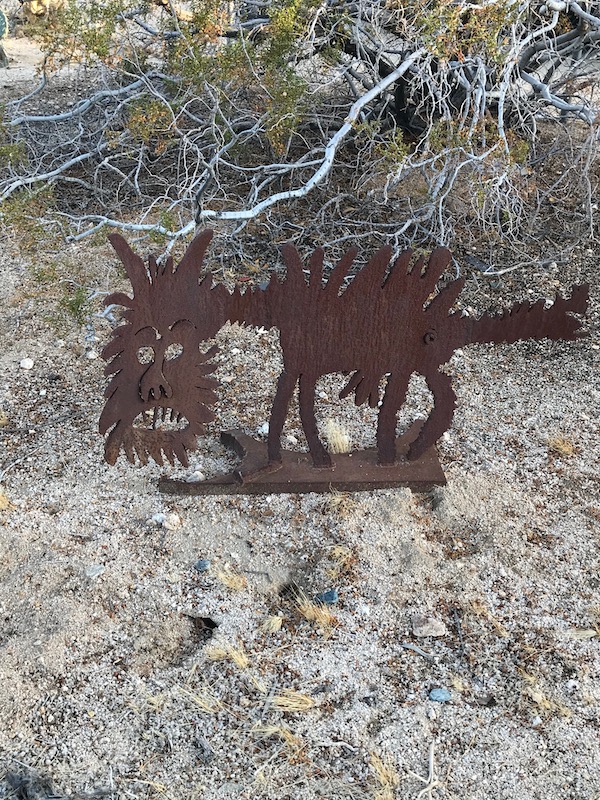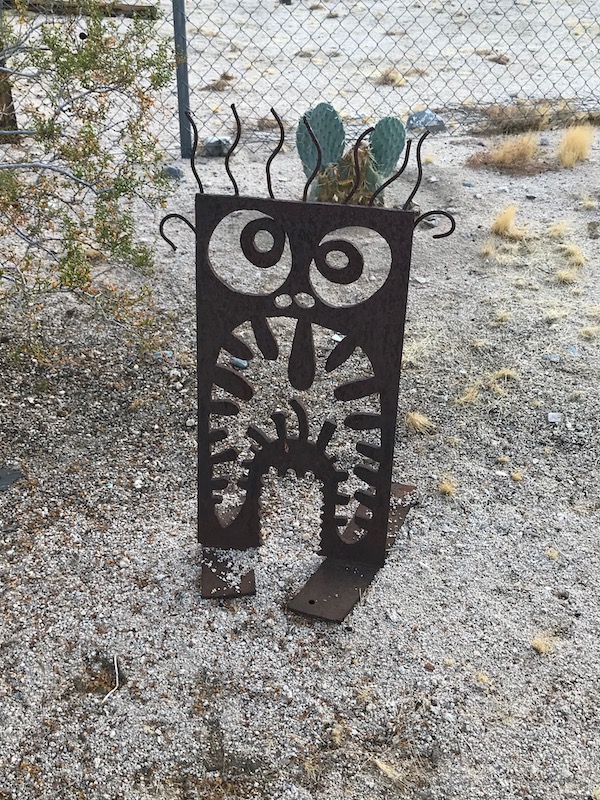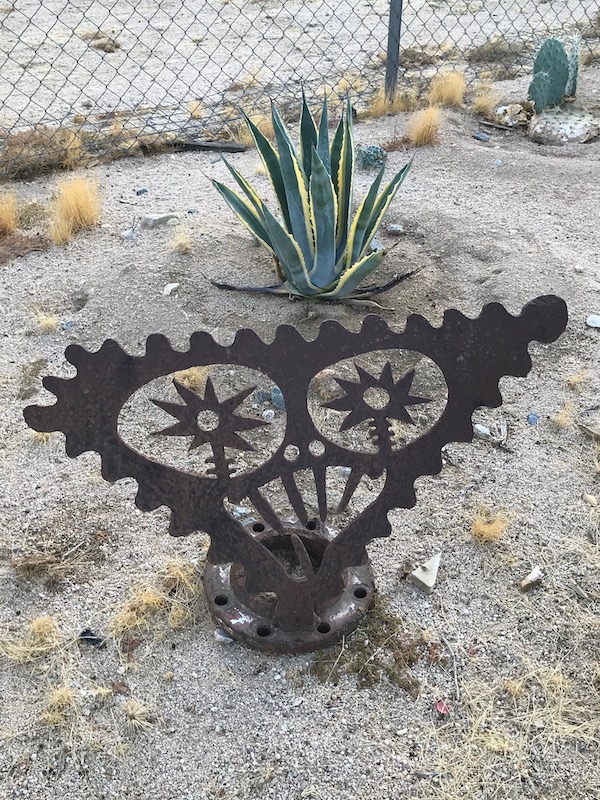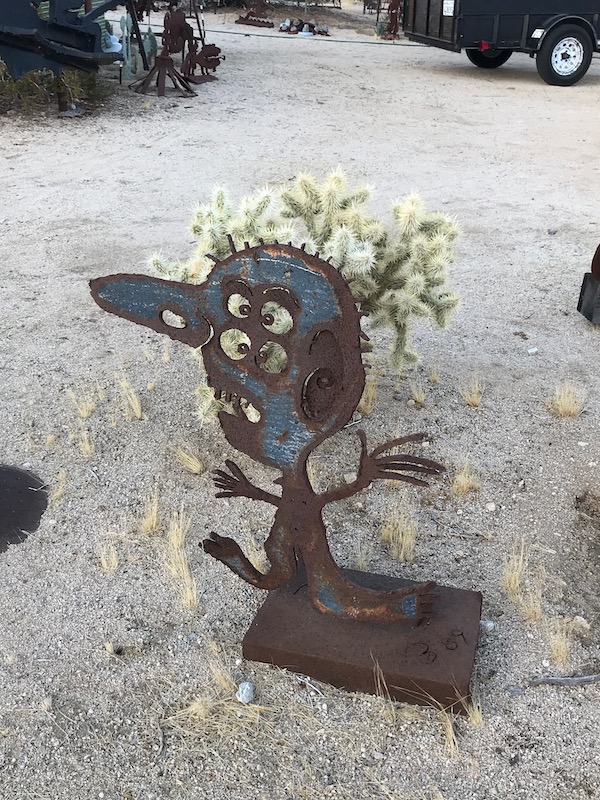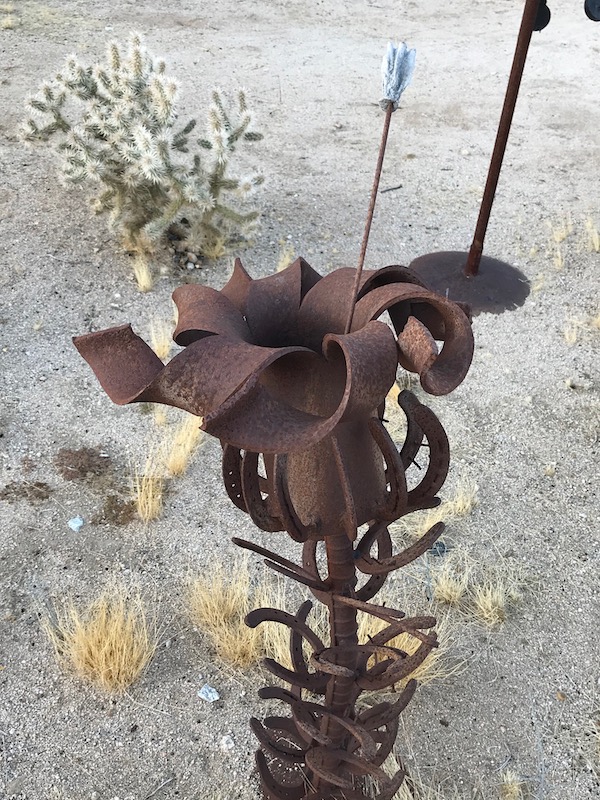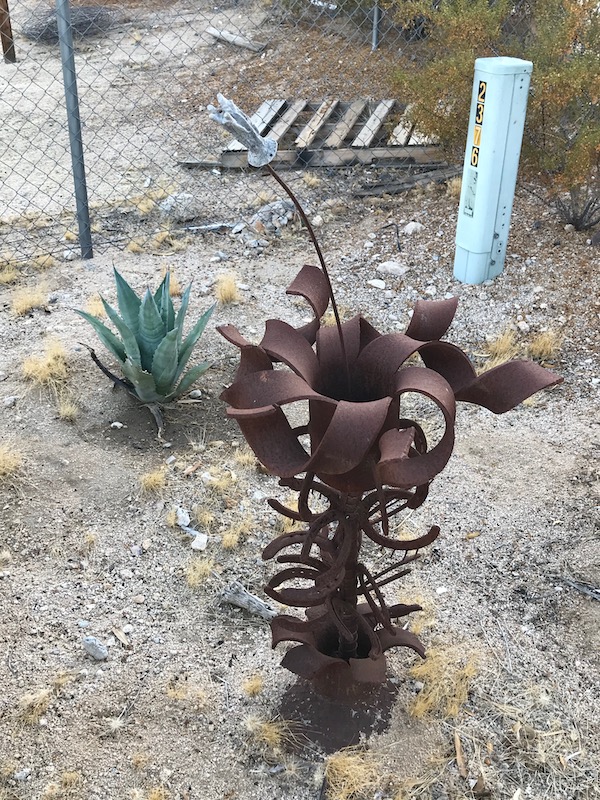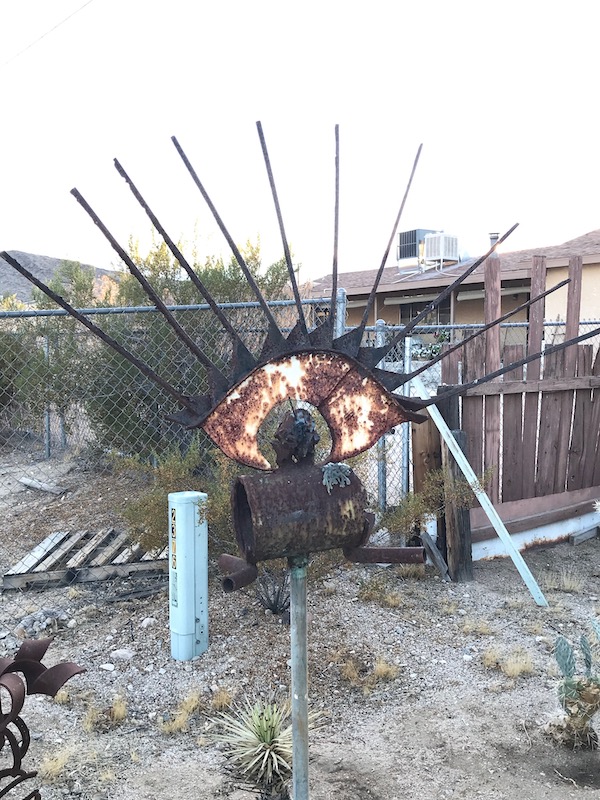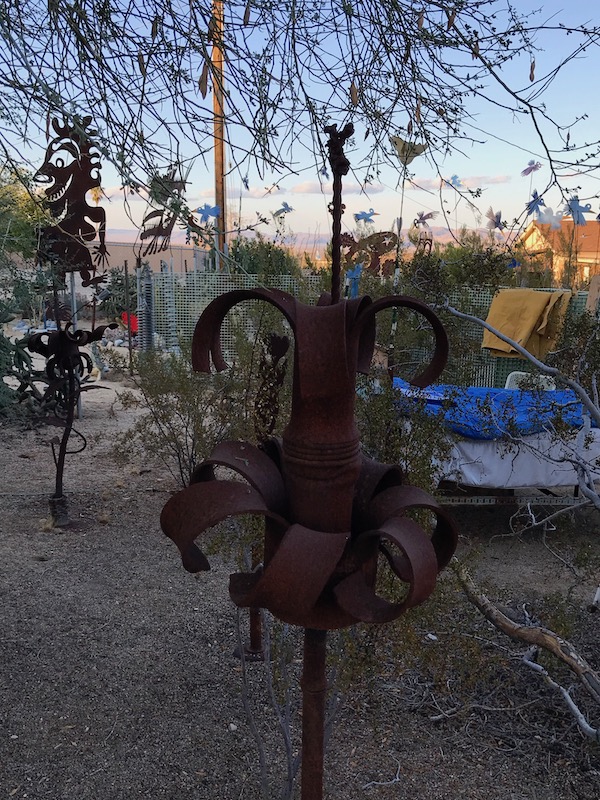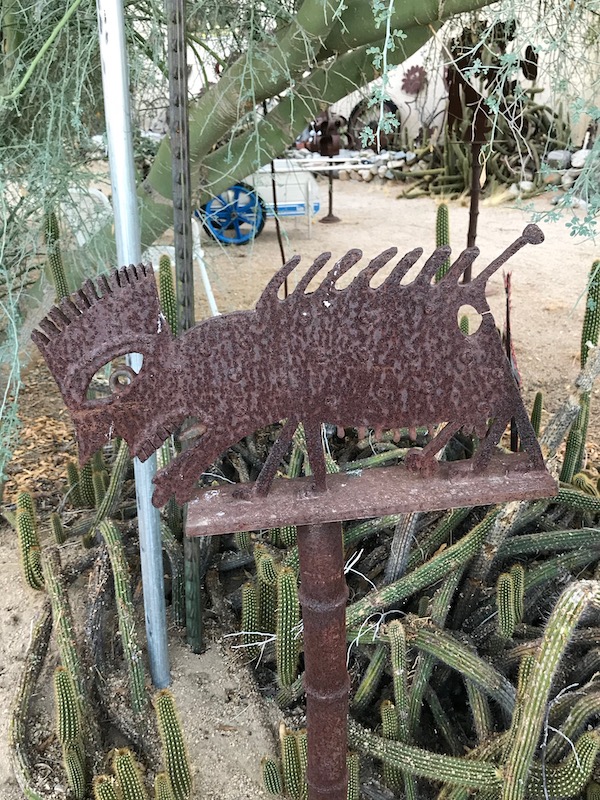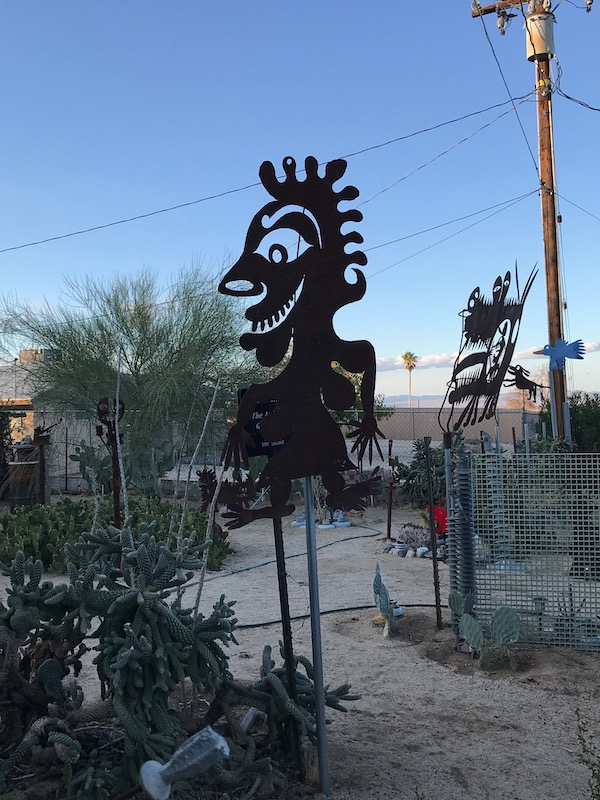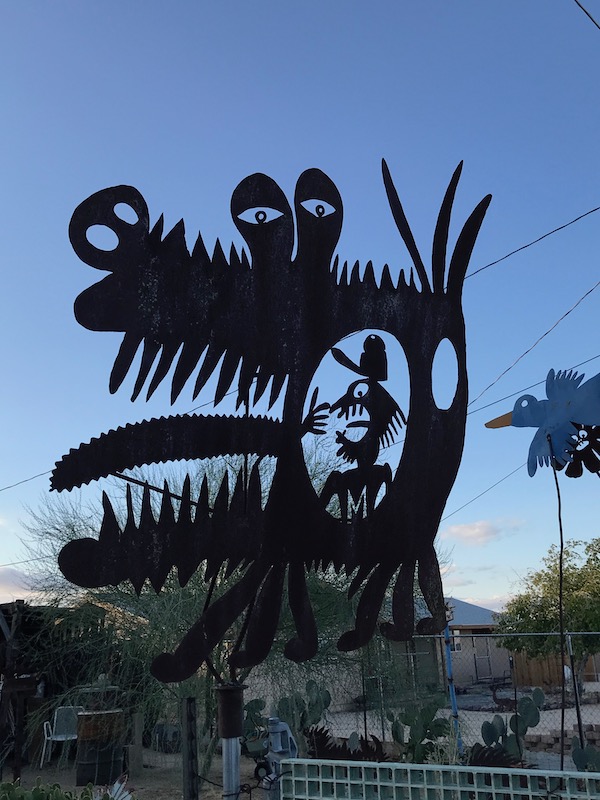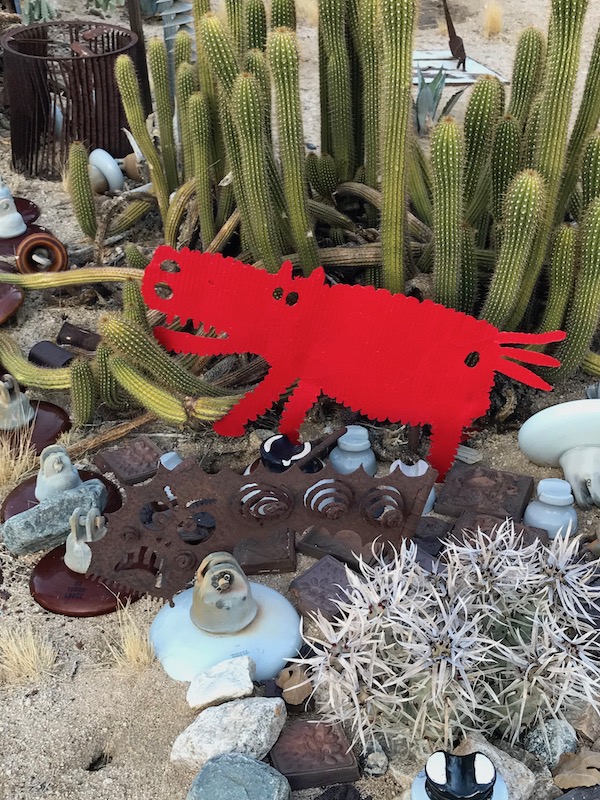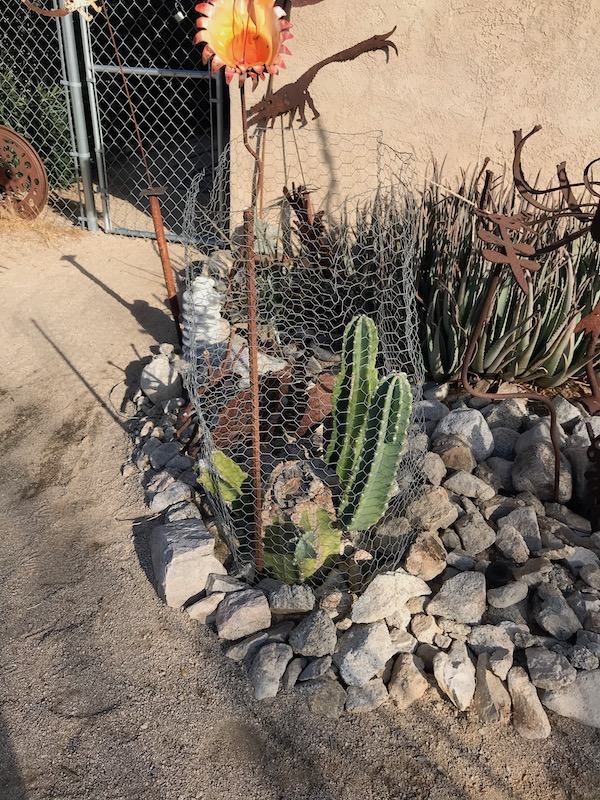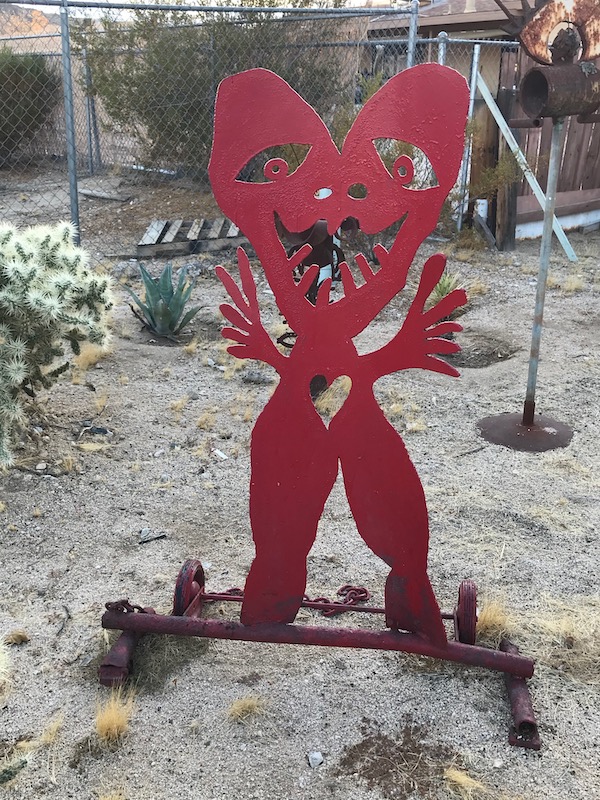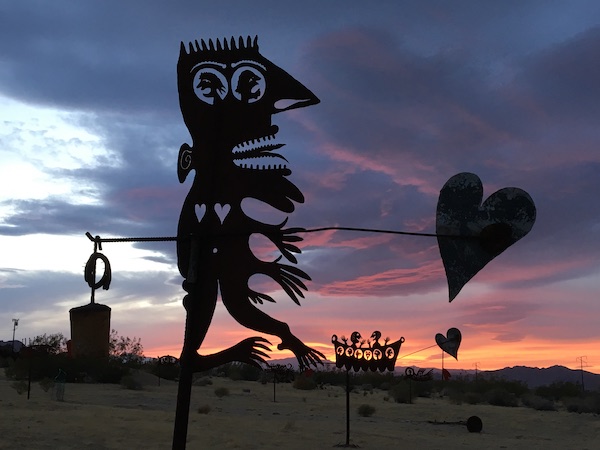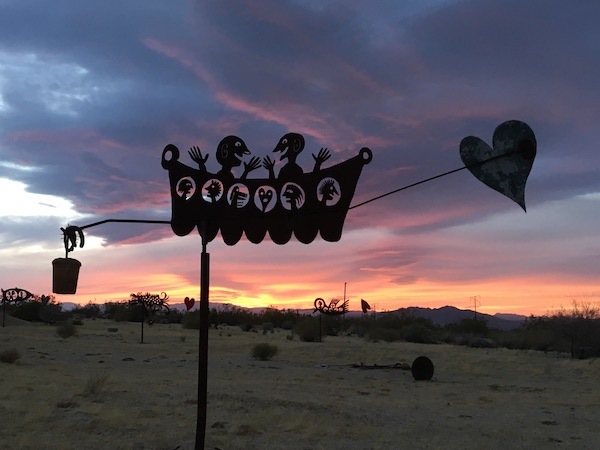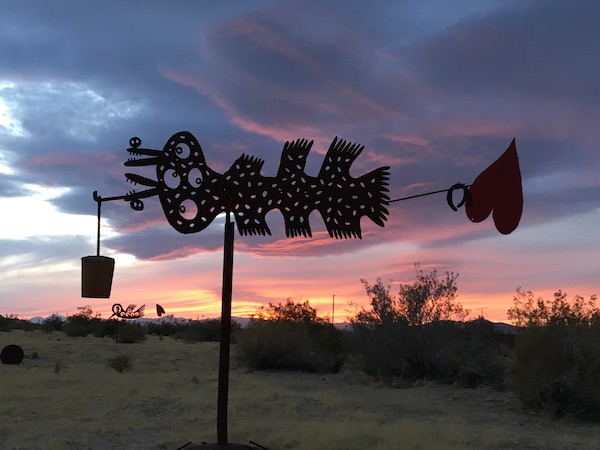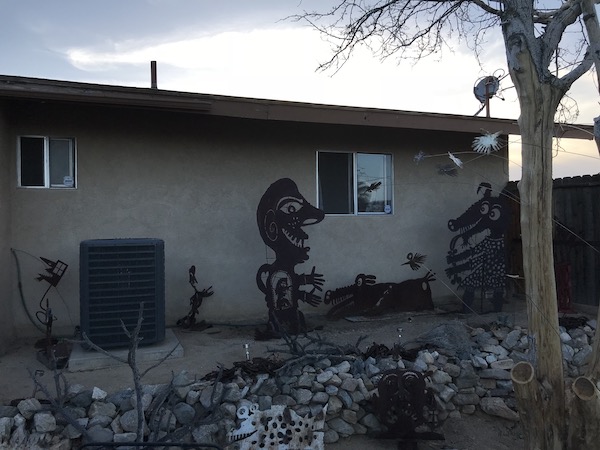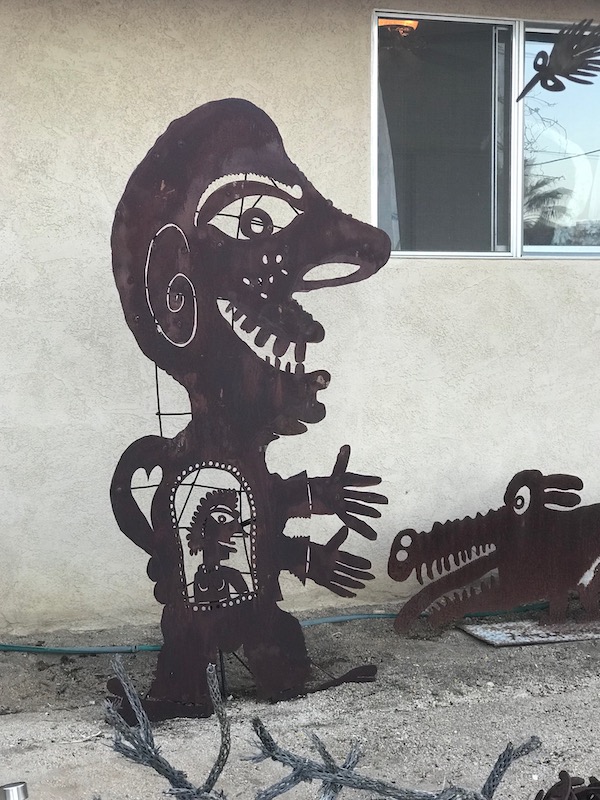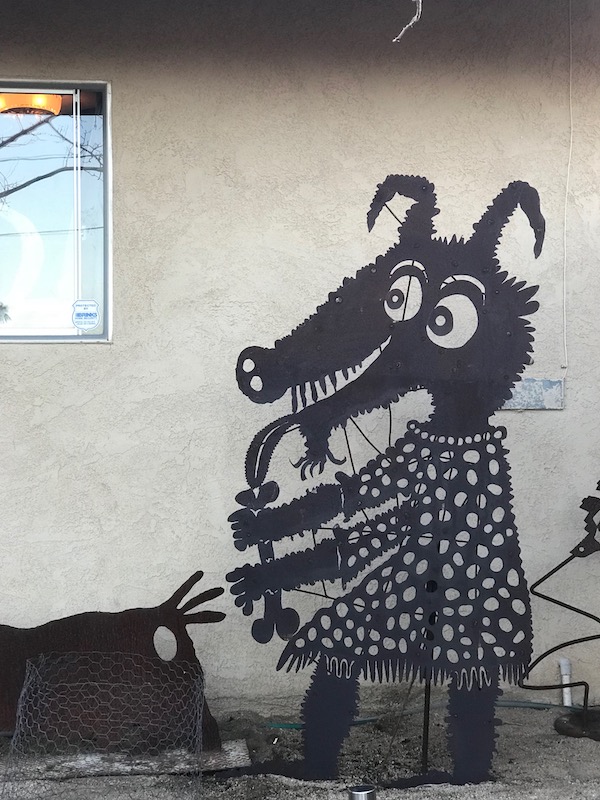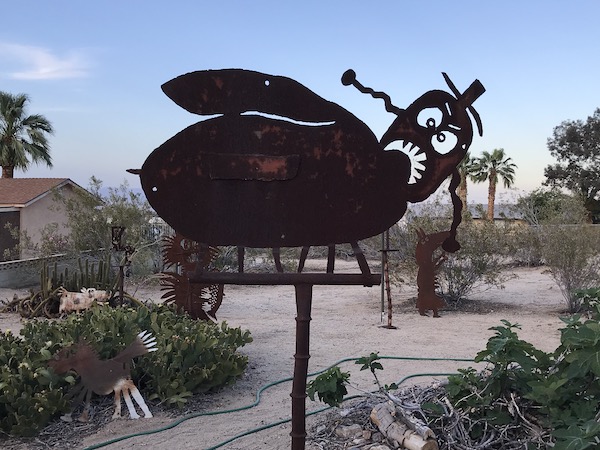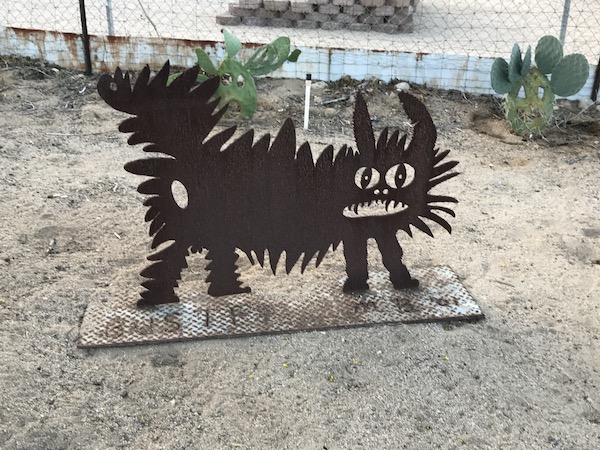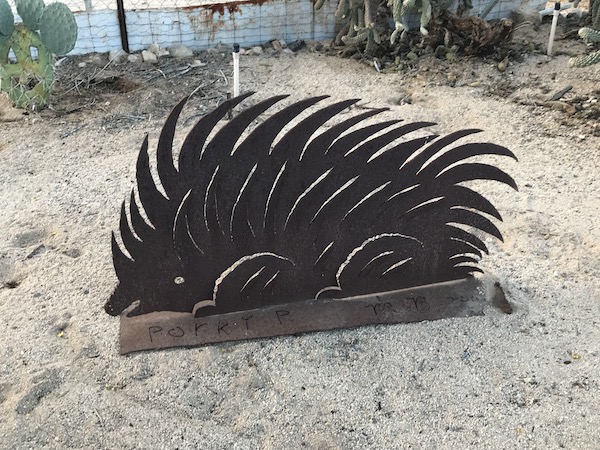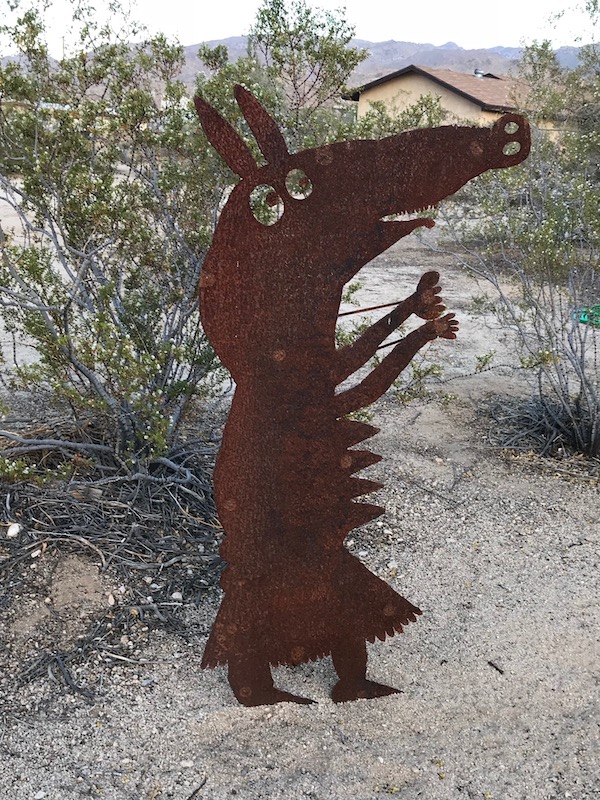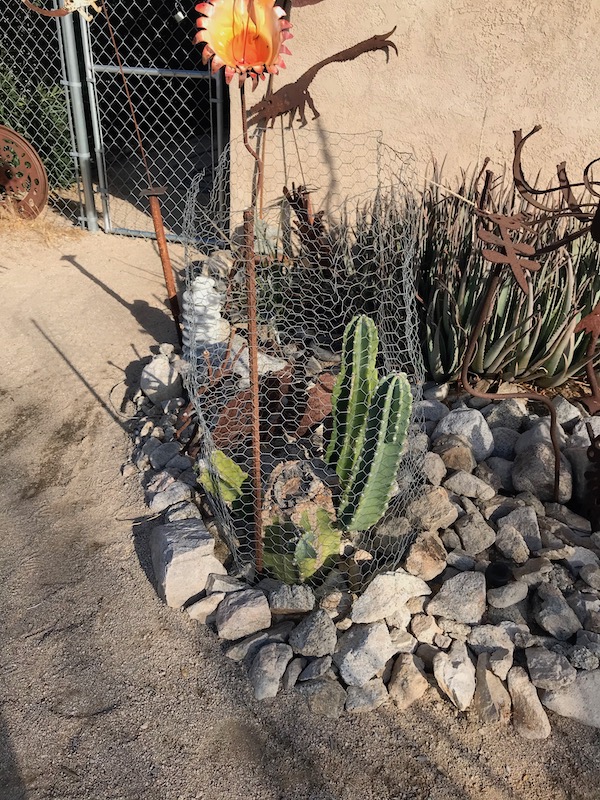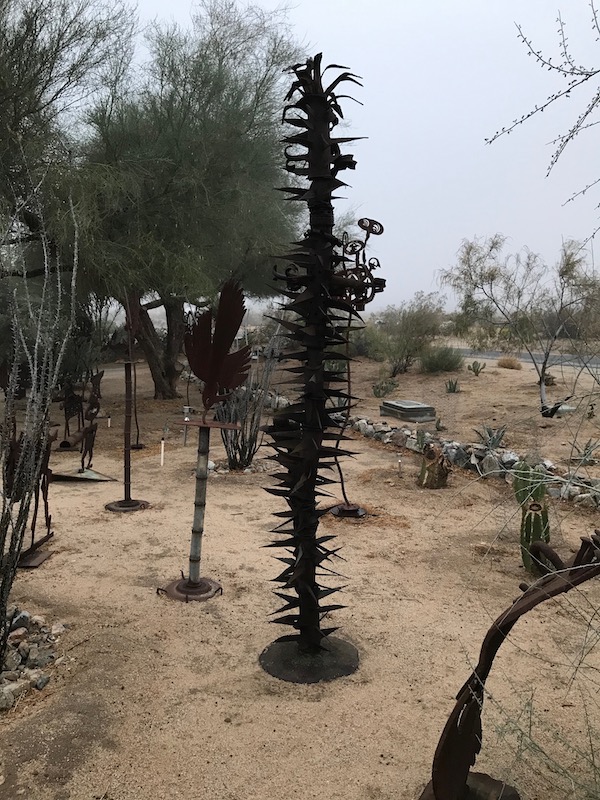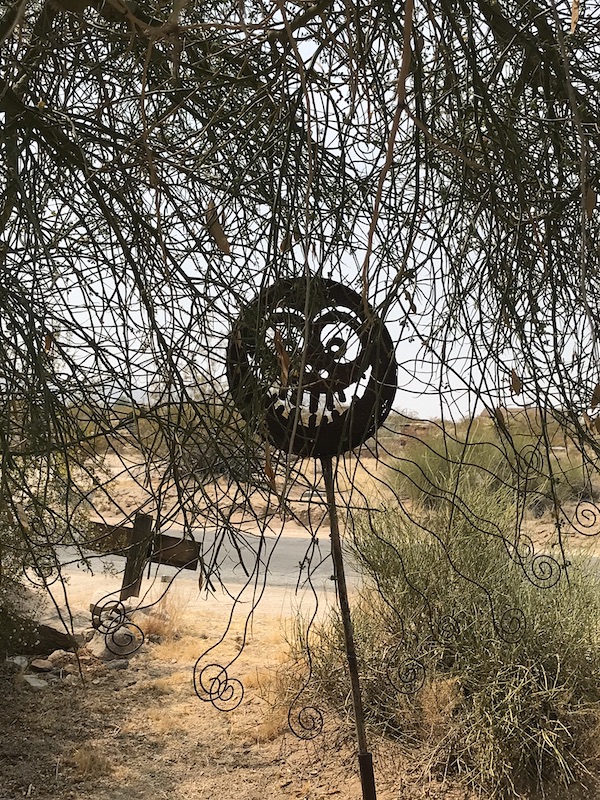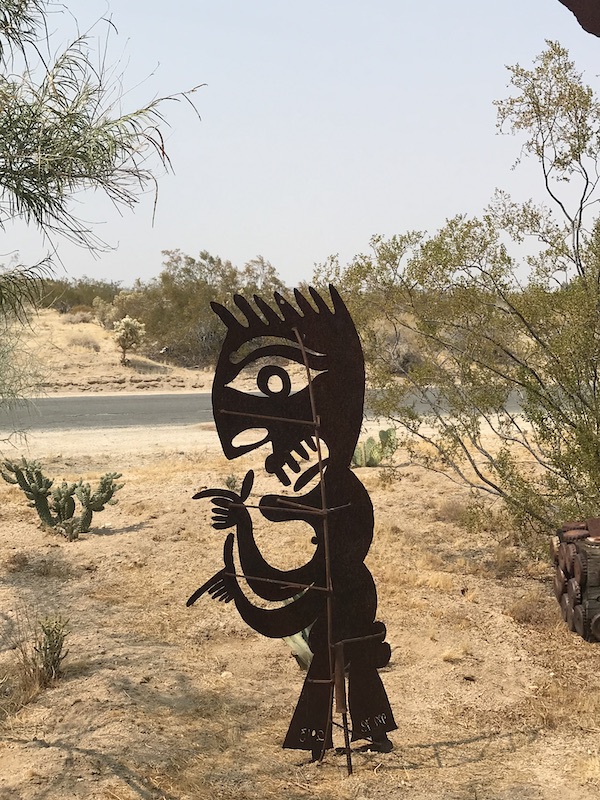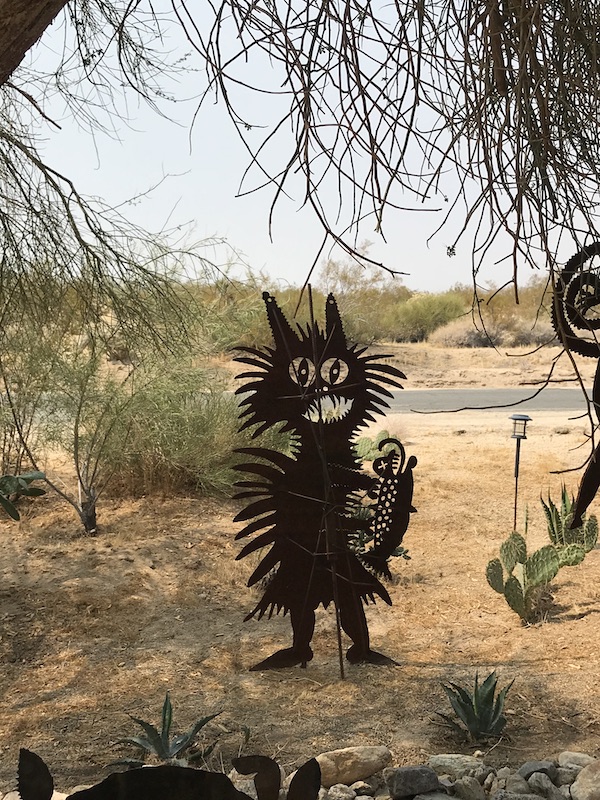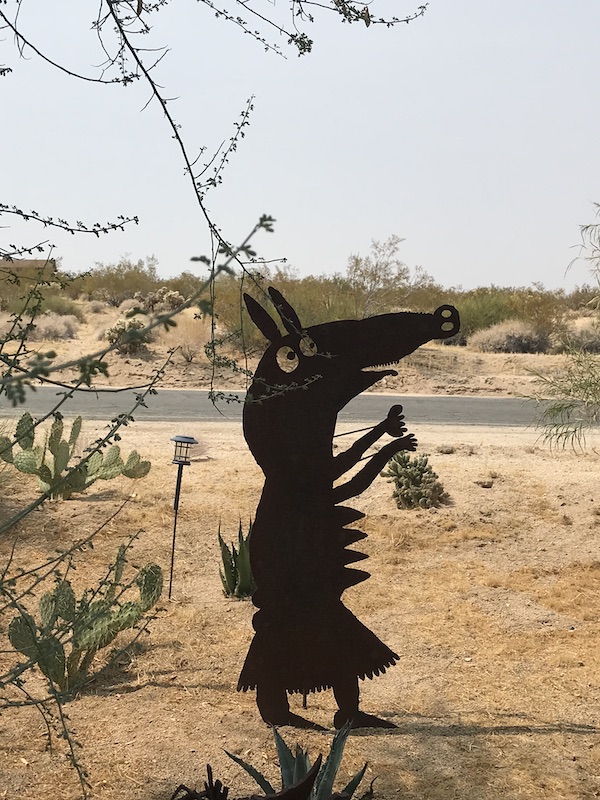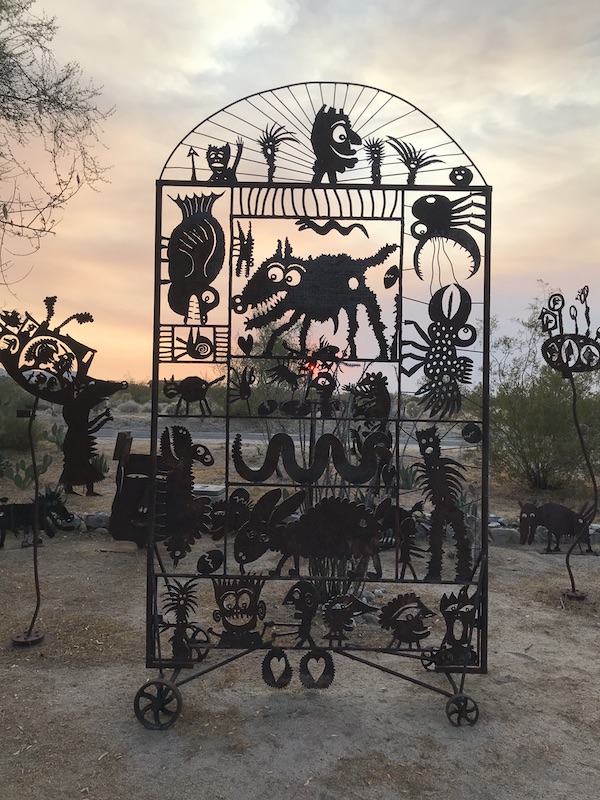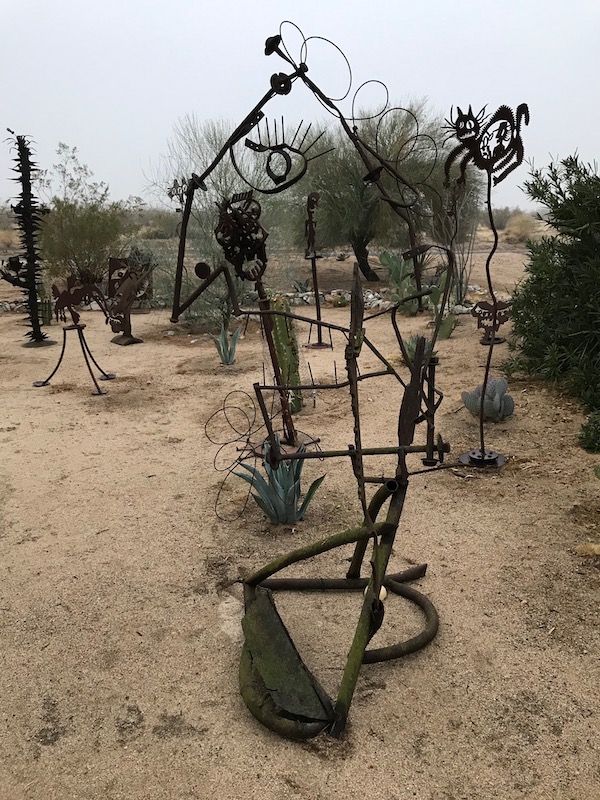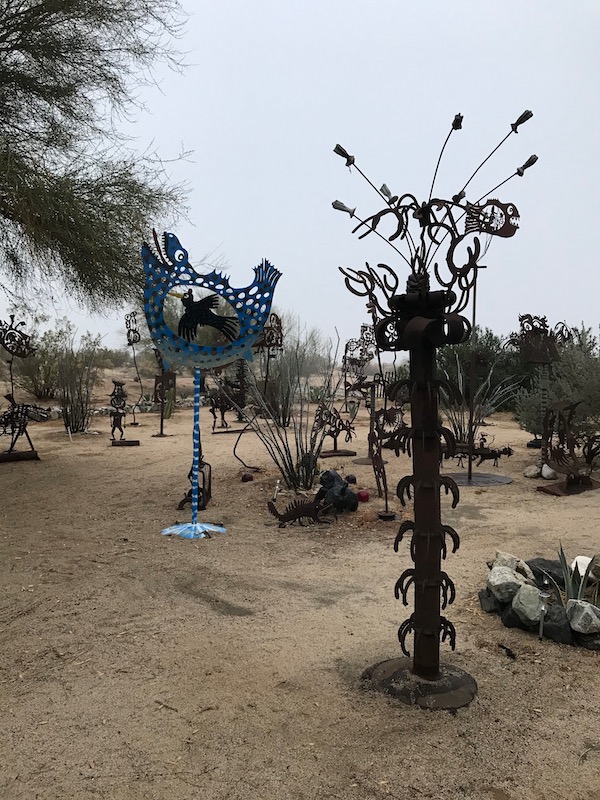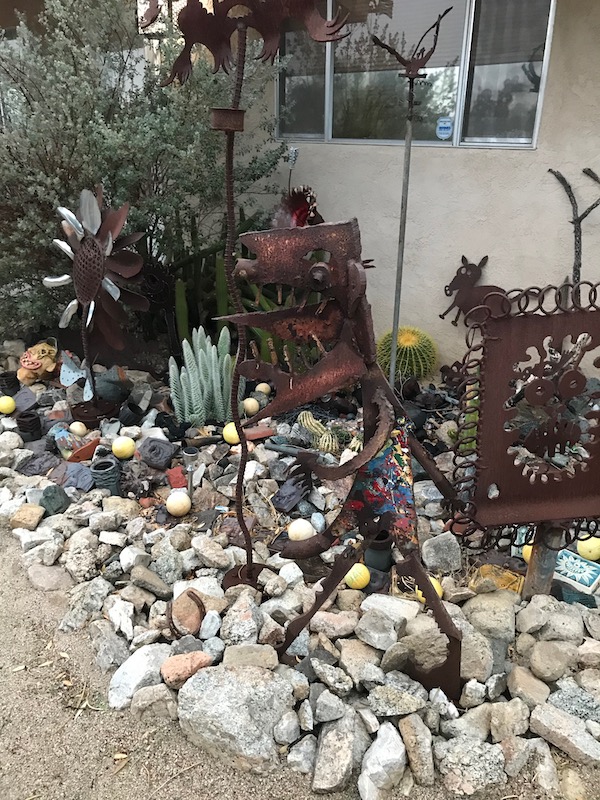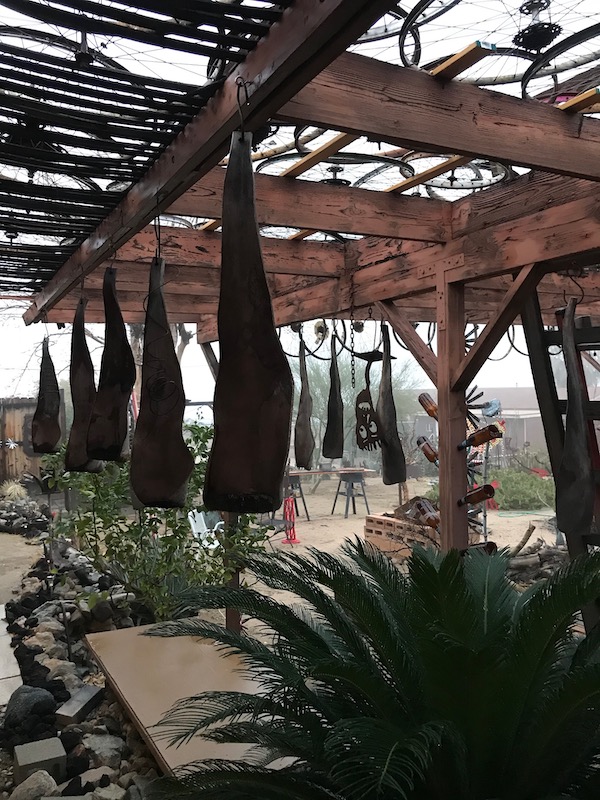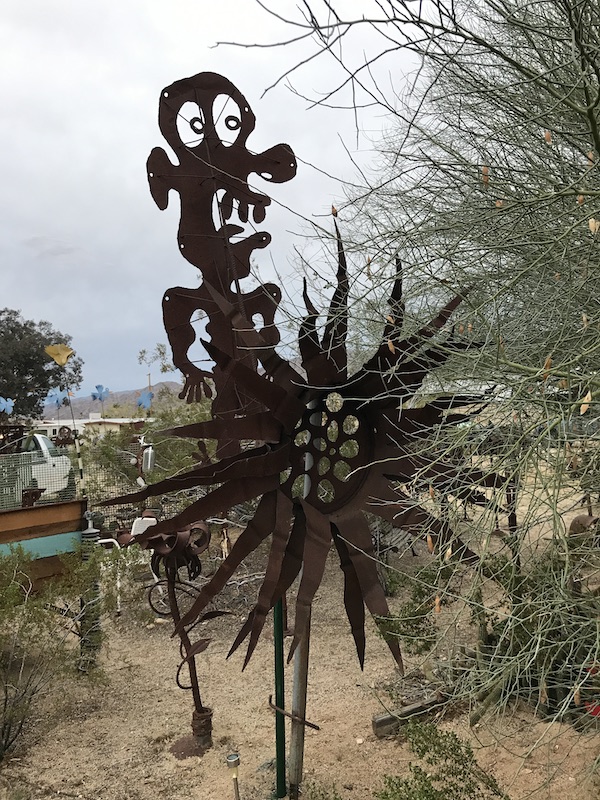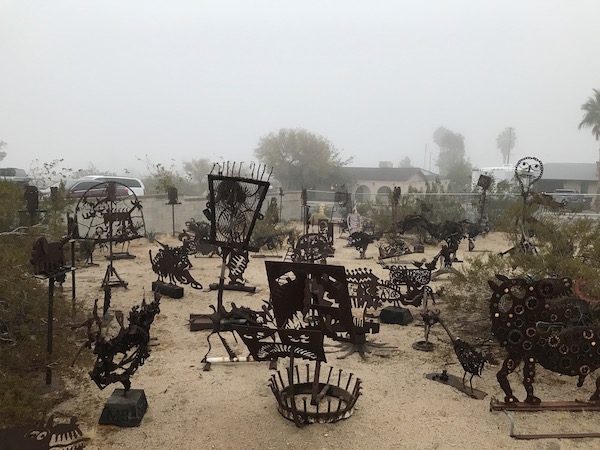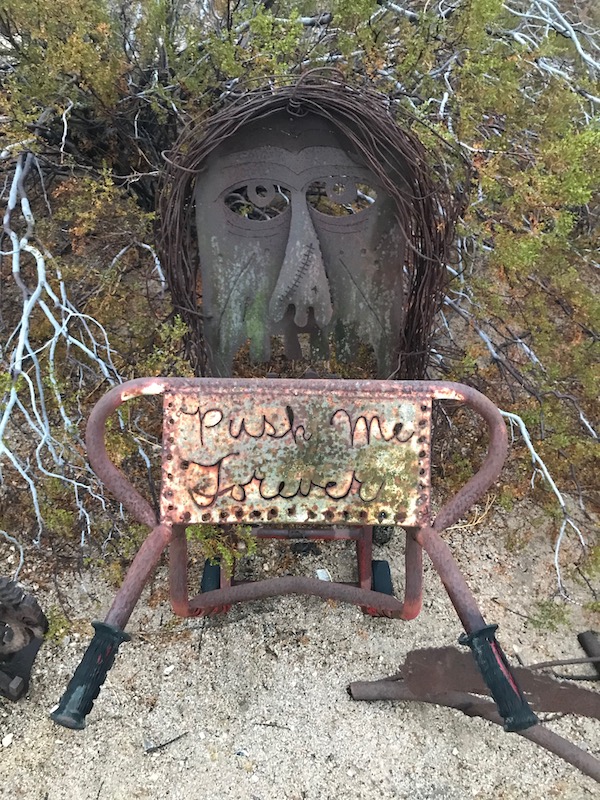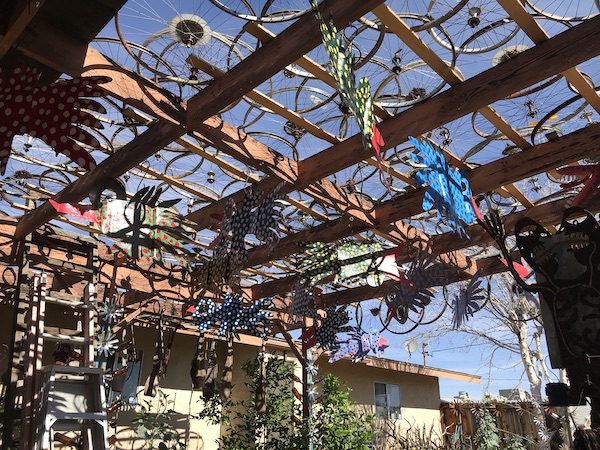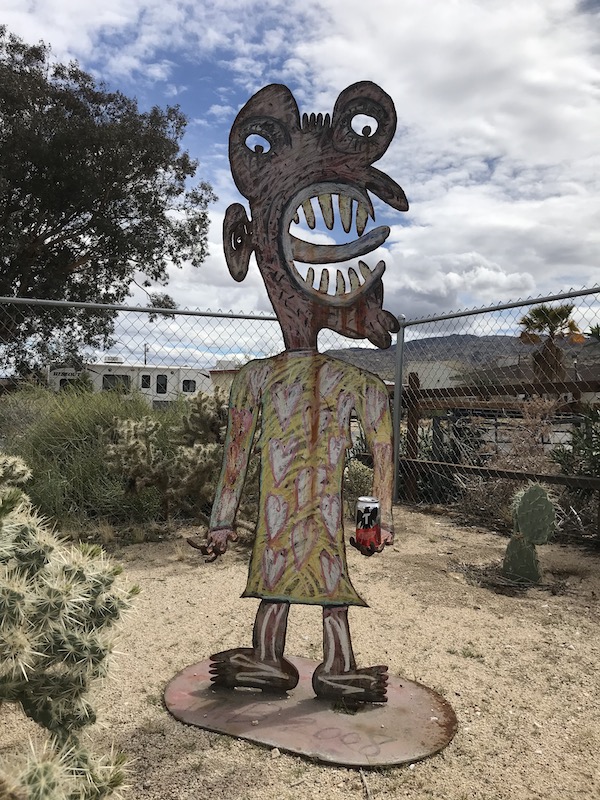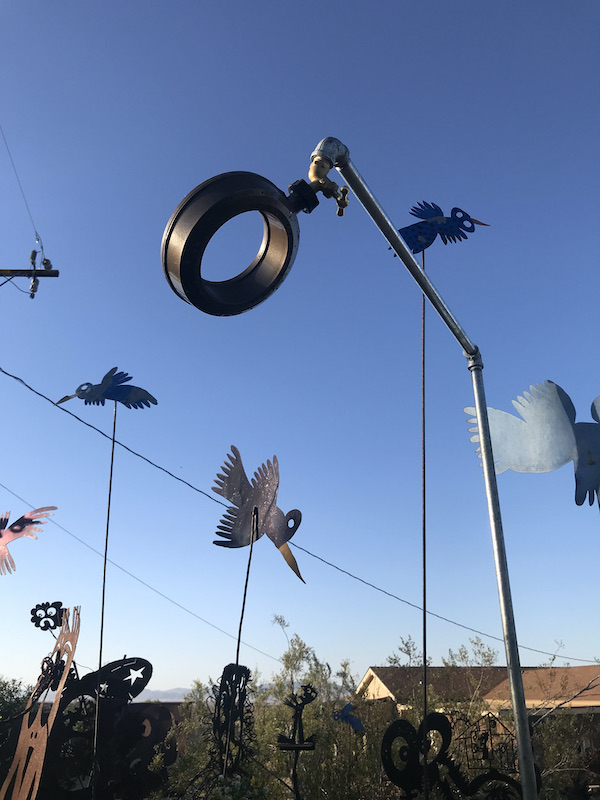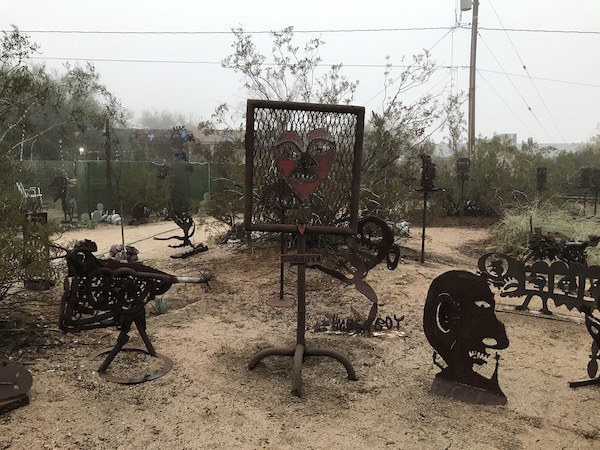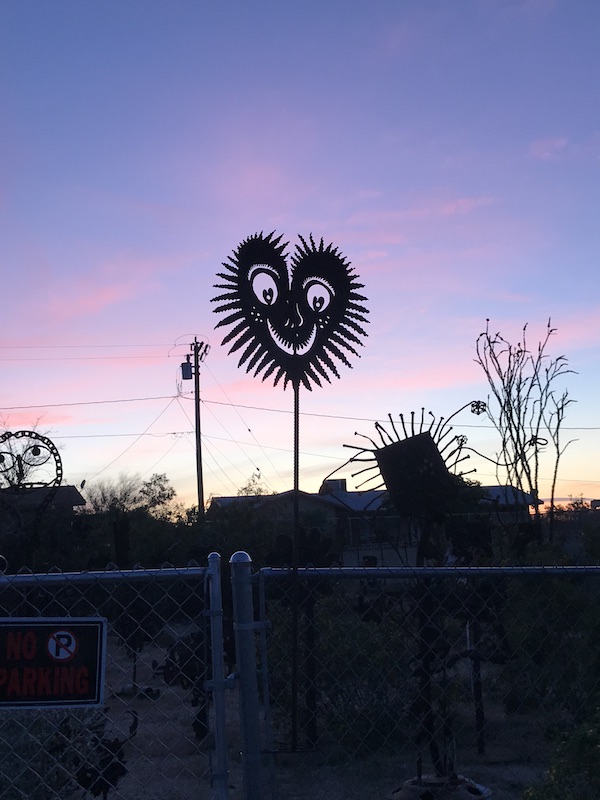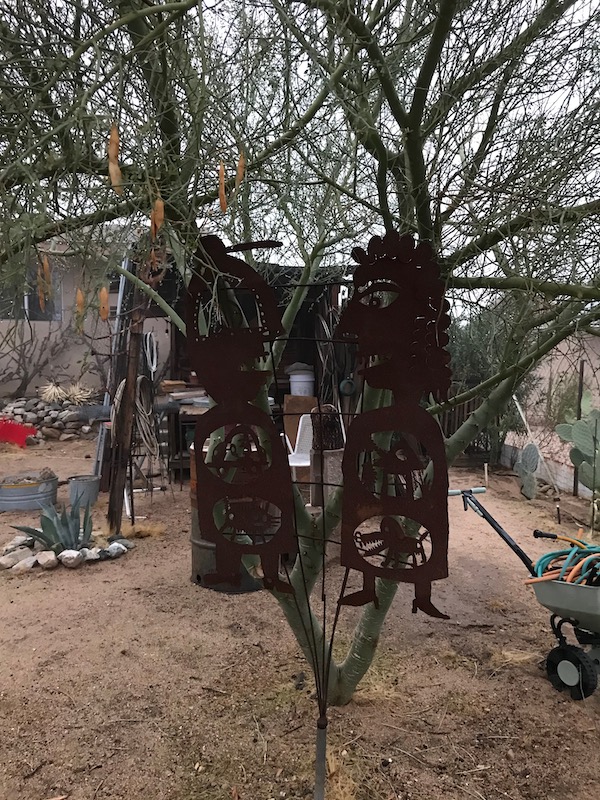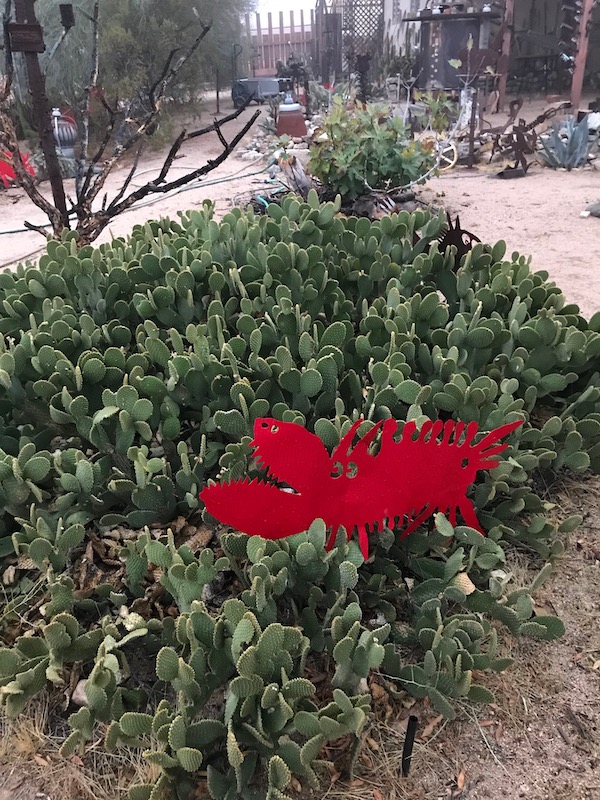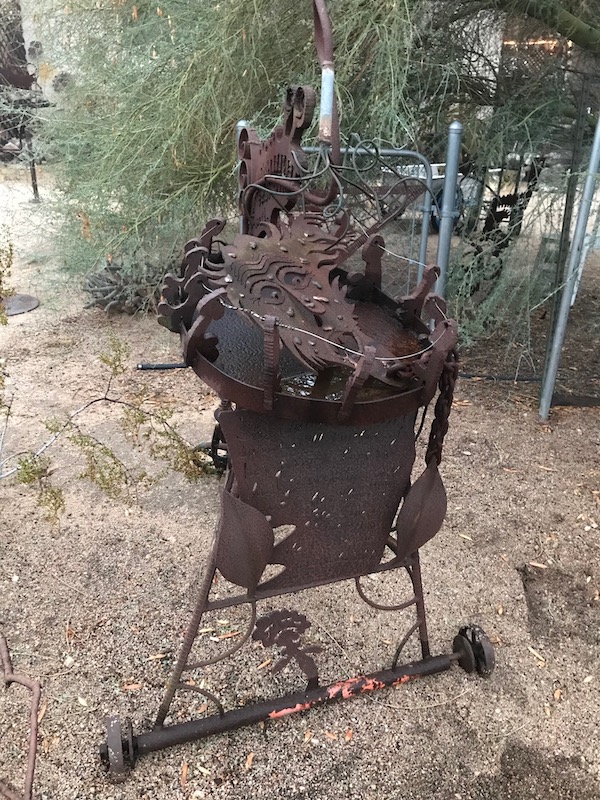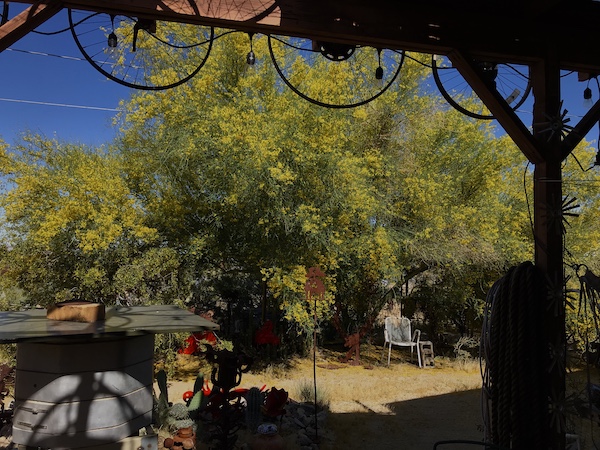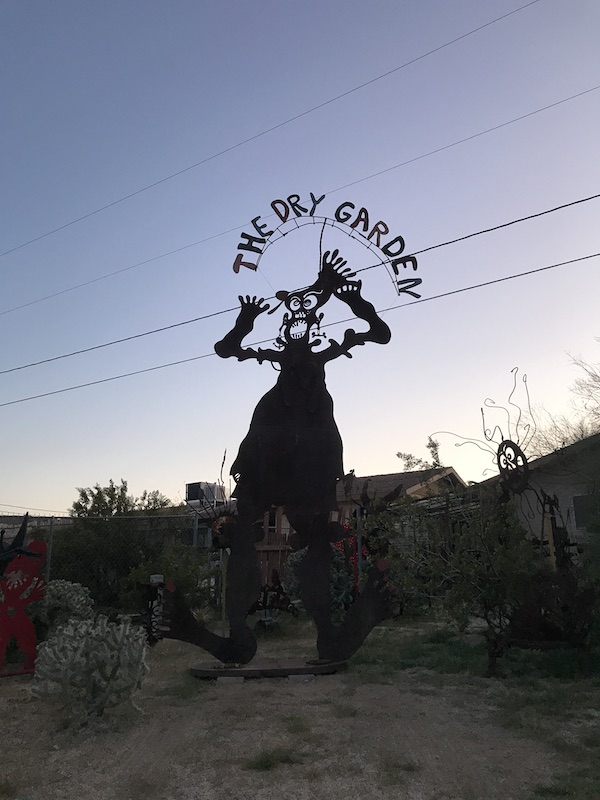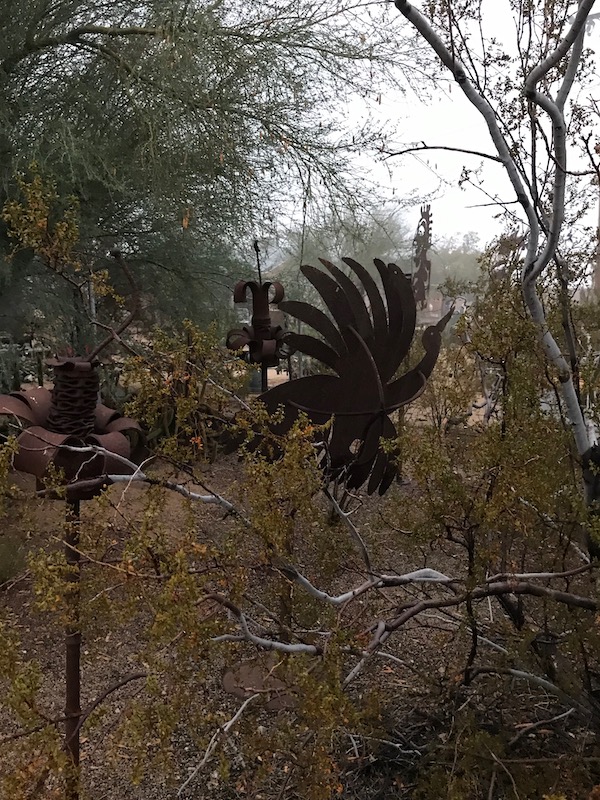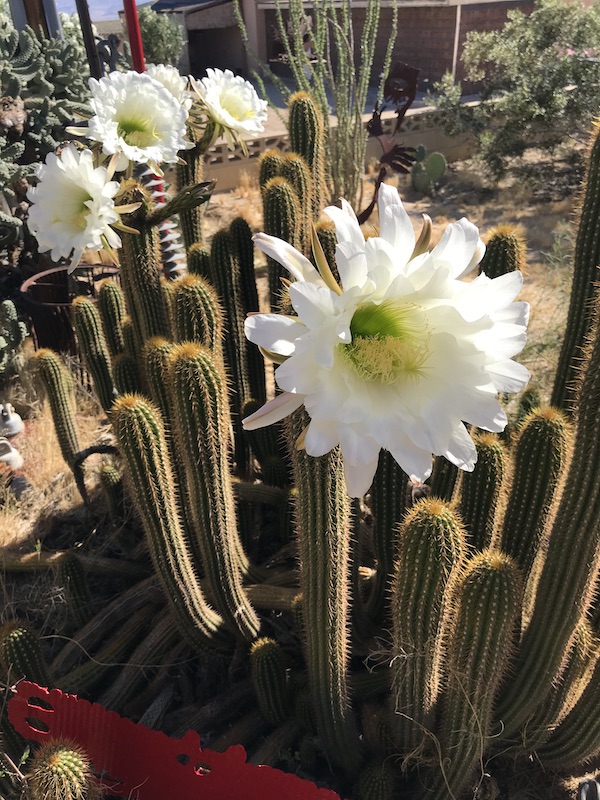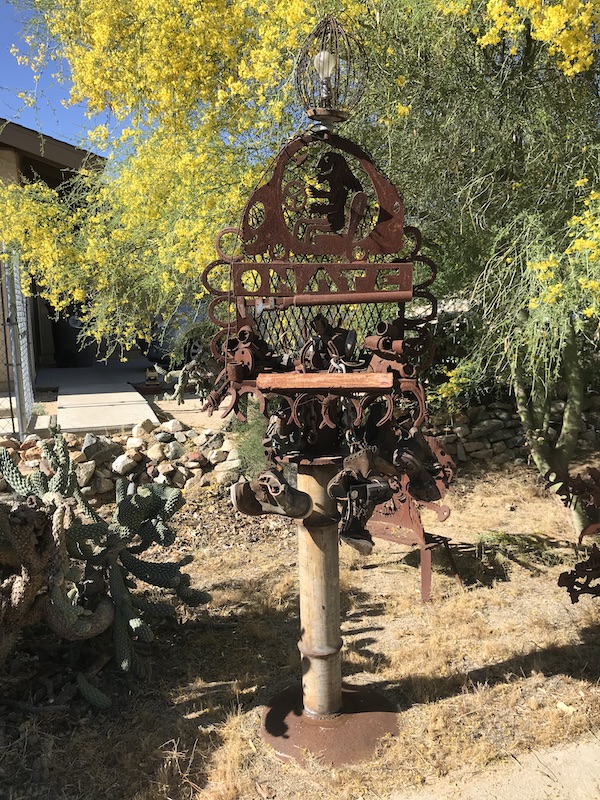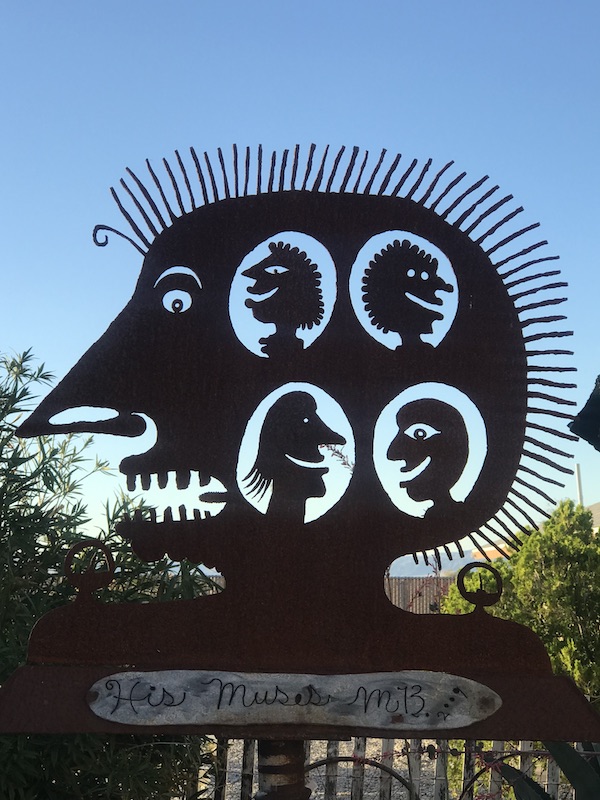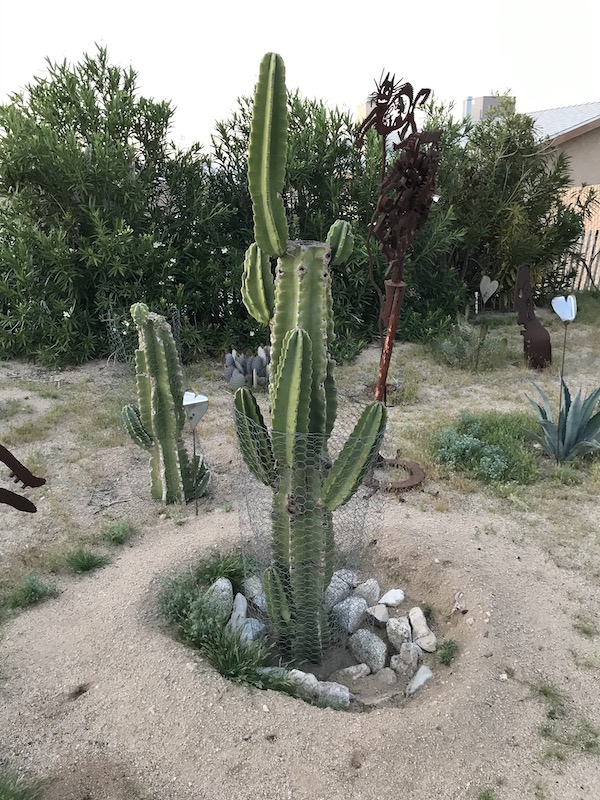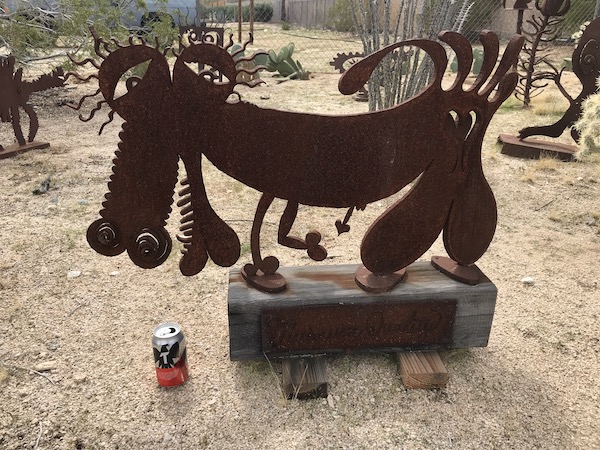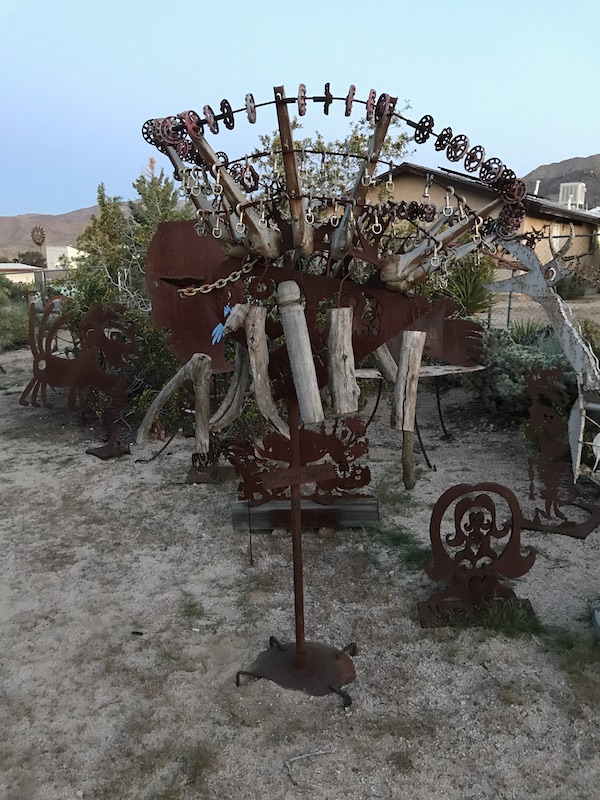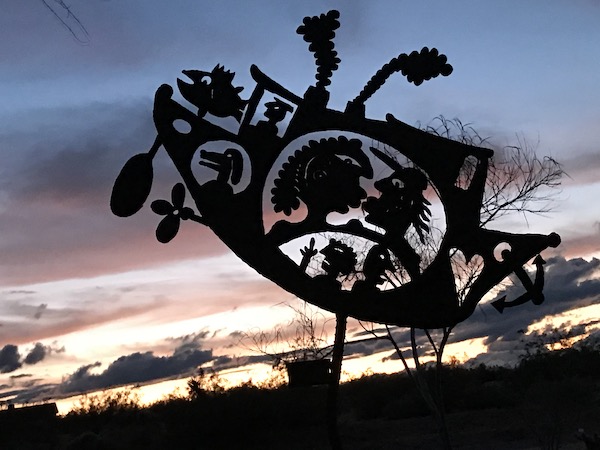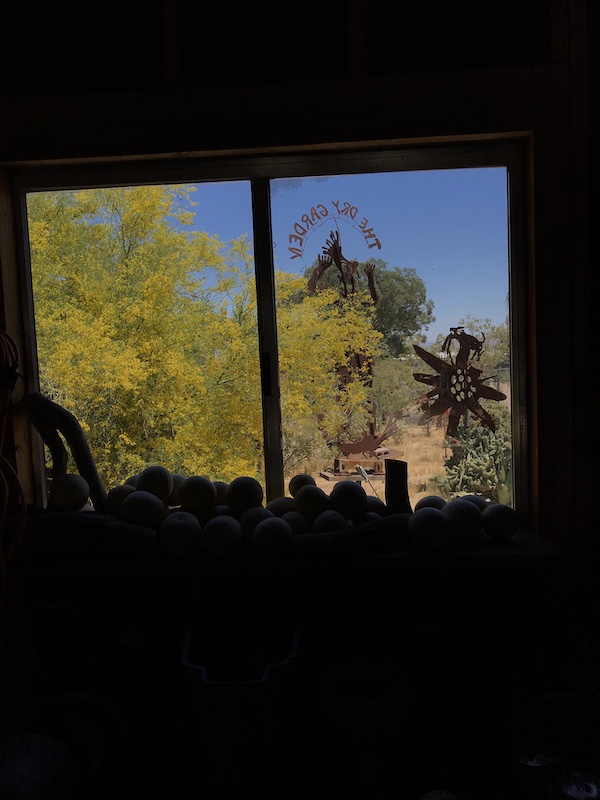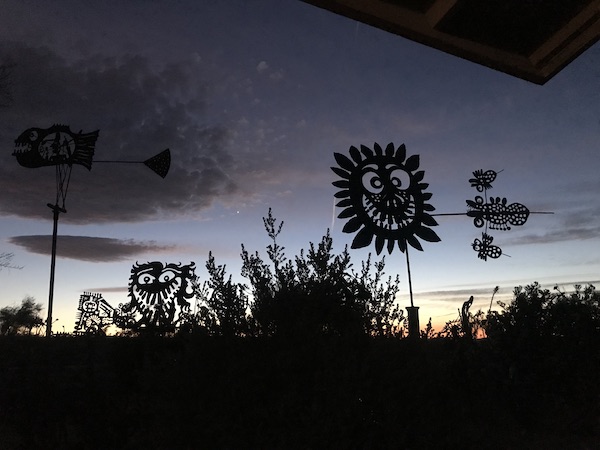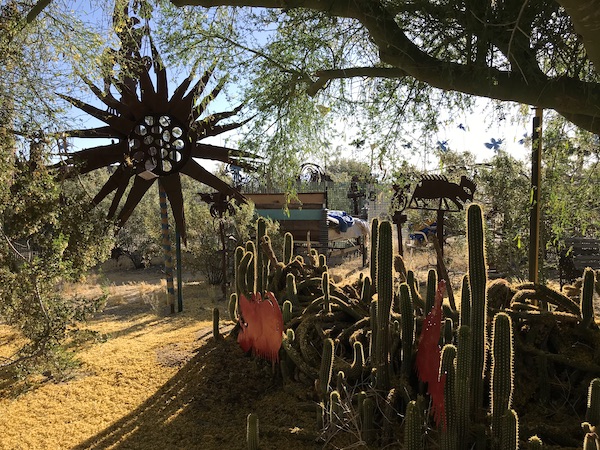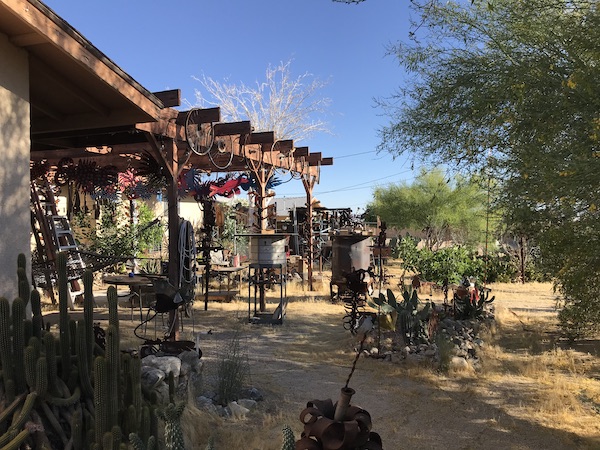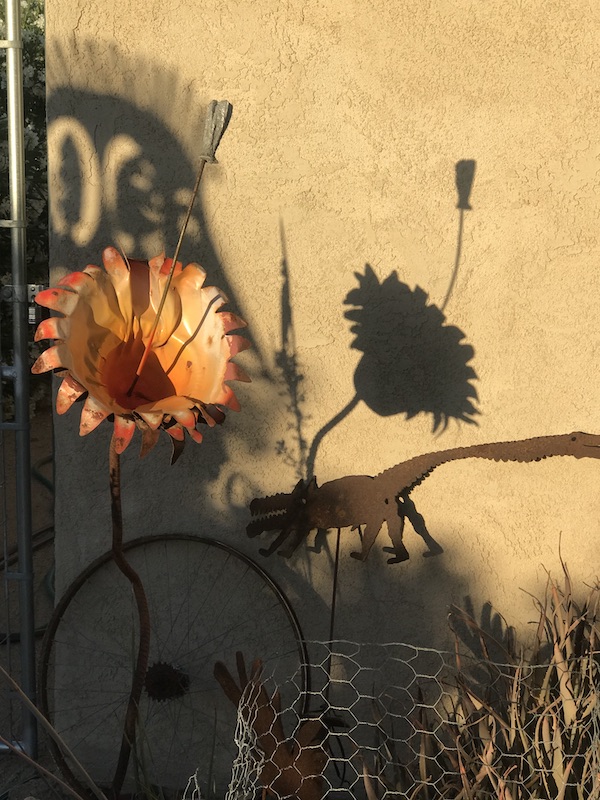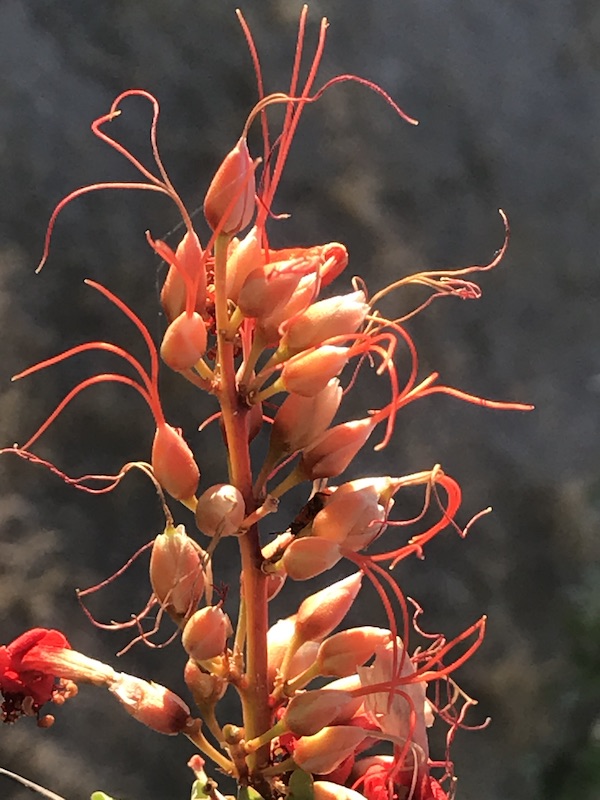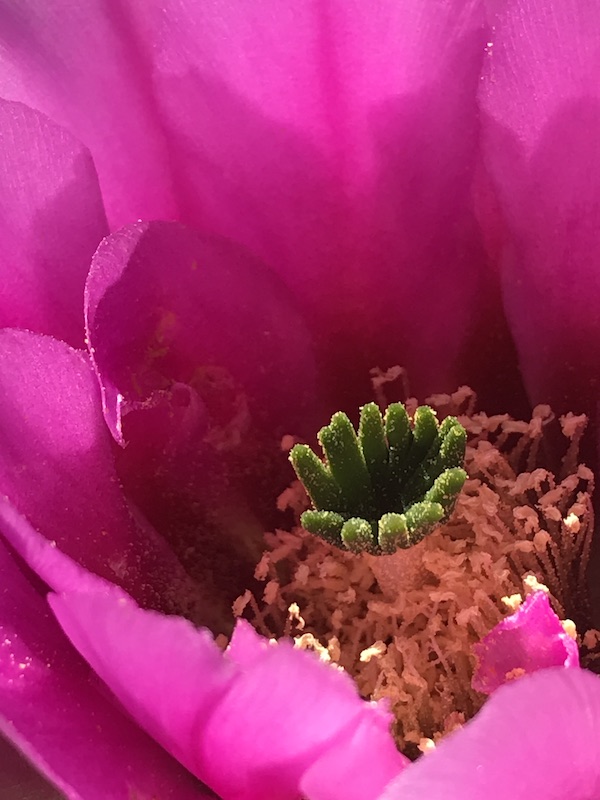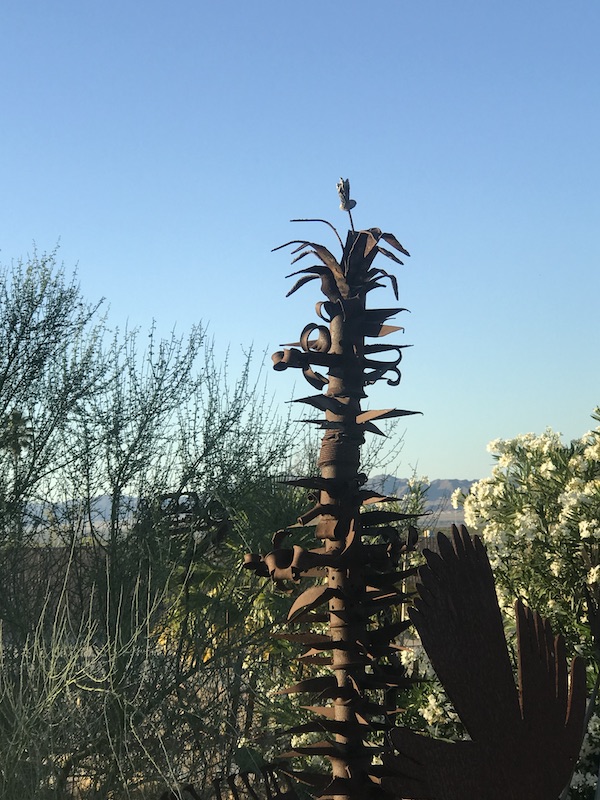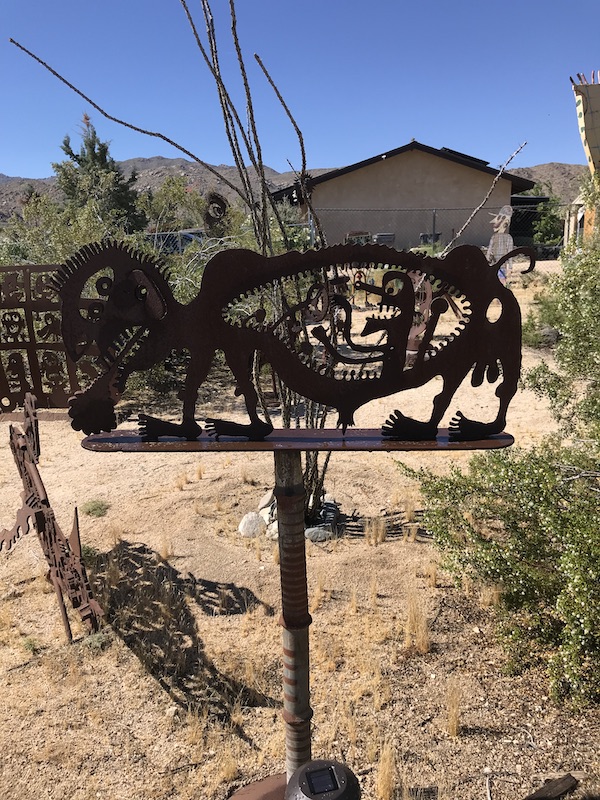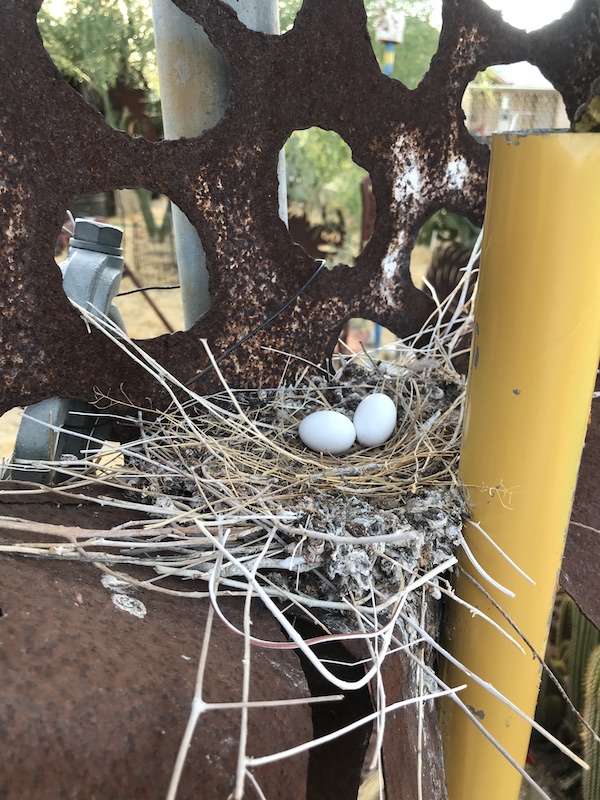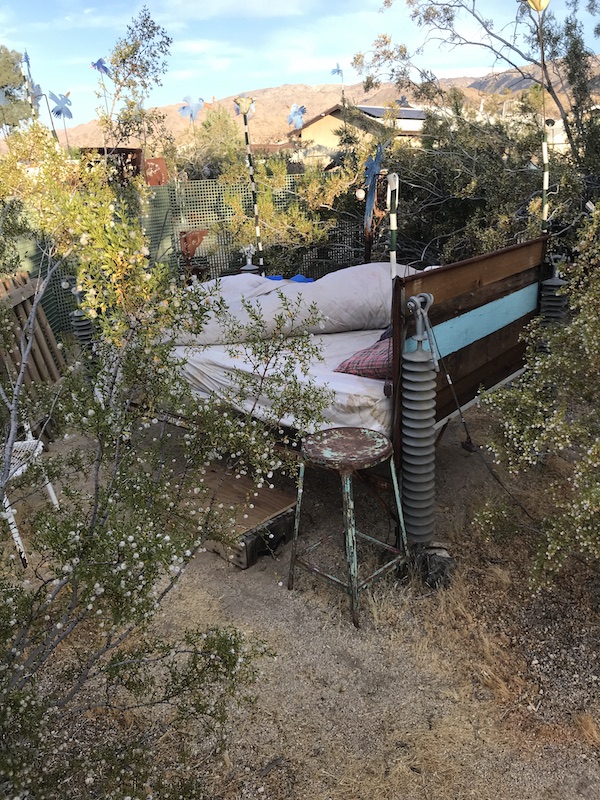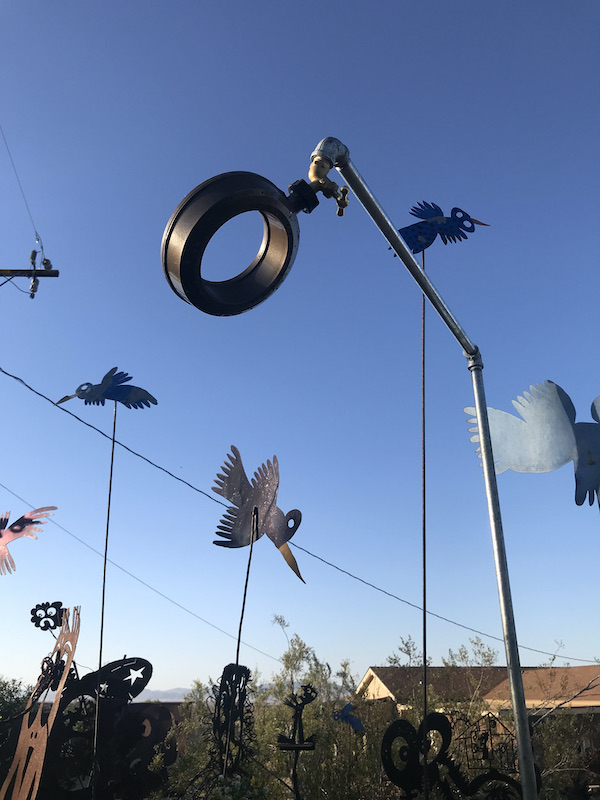 The most valued piece of abstract sculpture, especially when
temperatures hover around 100 degrees... at night.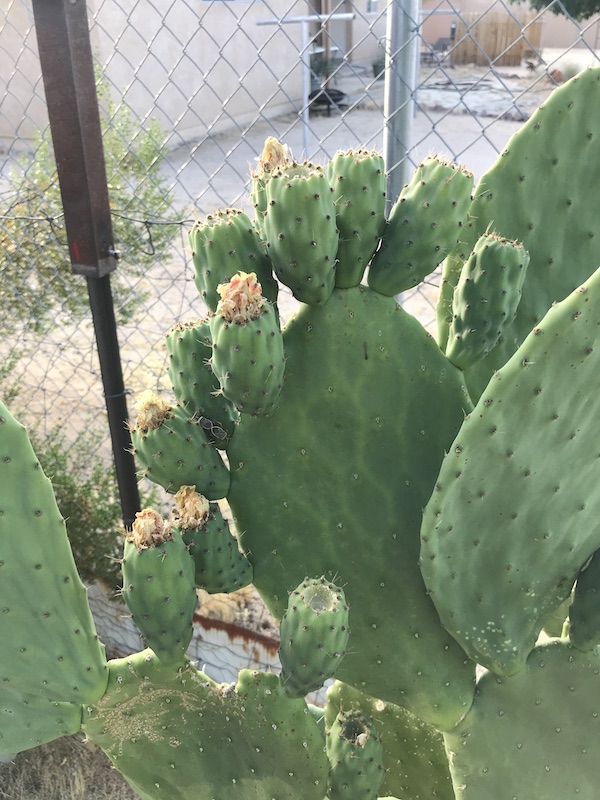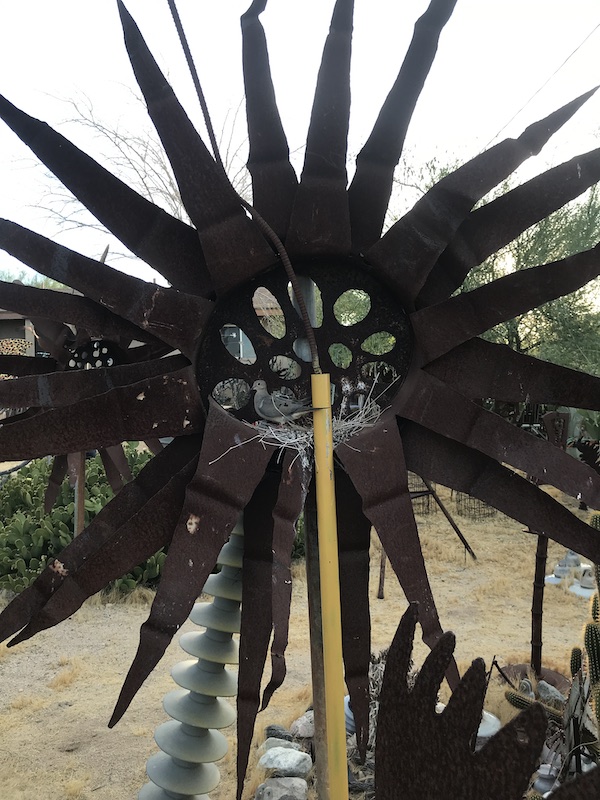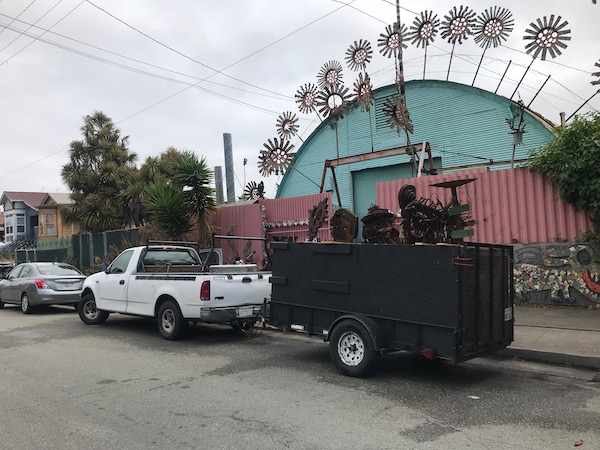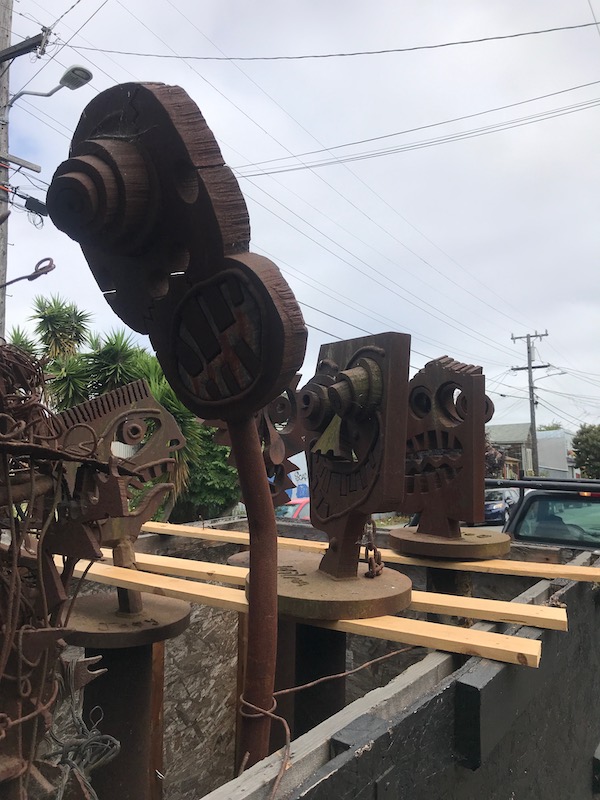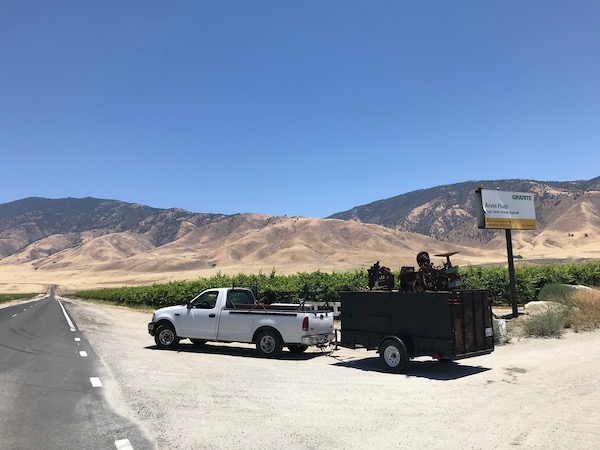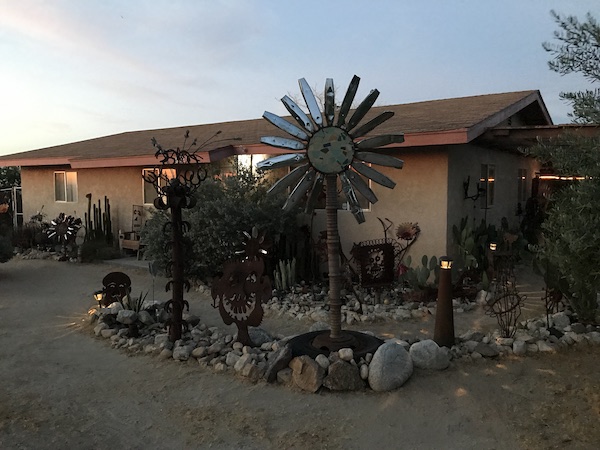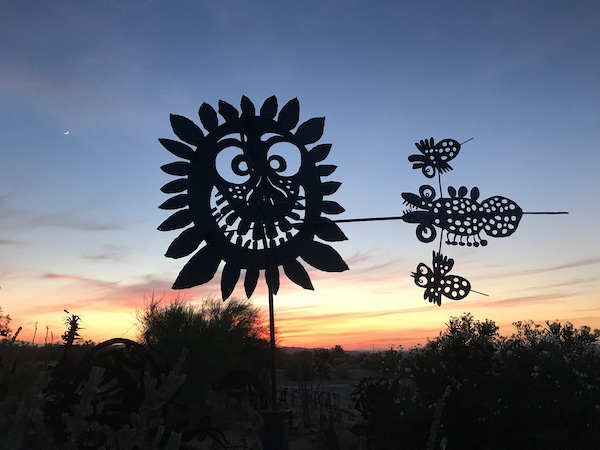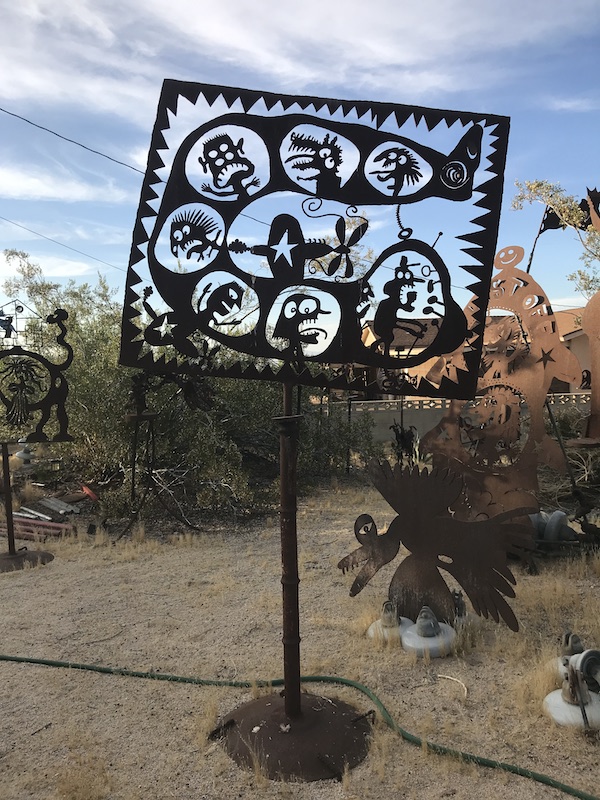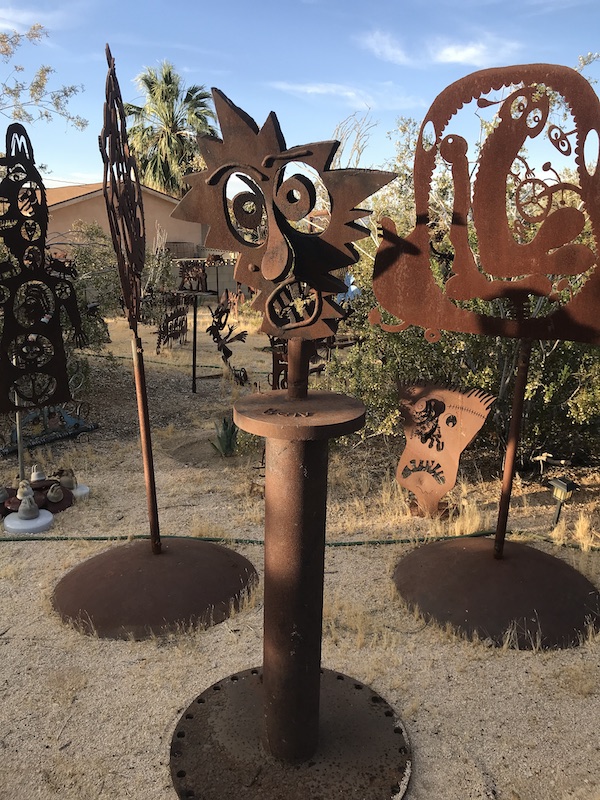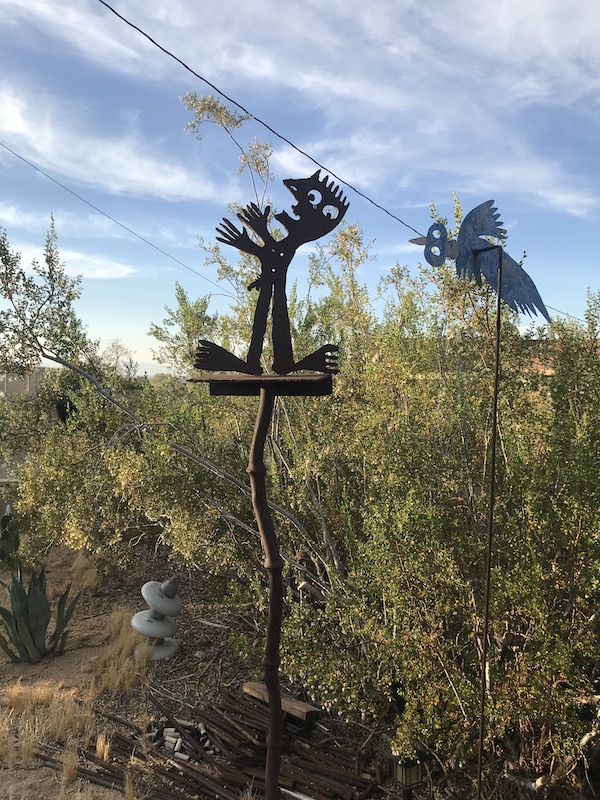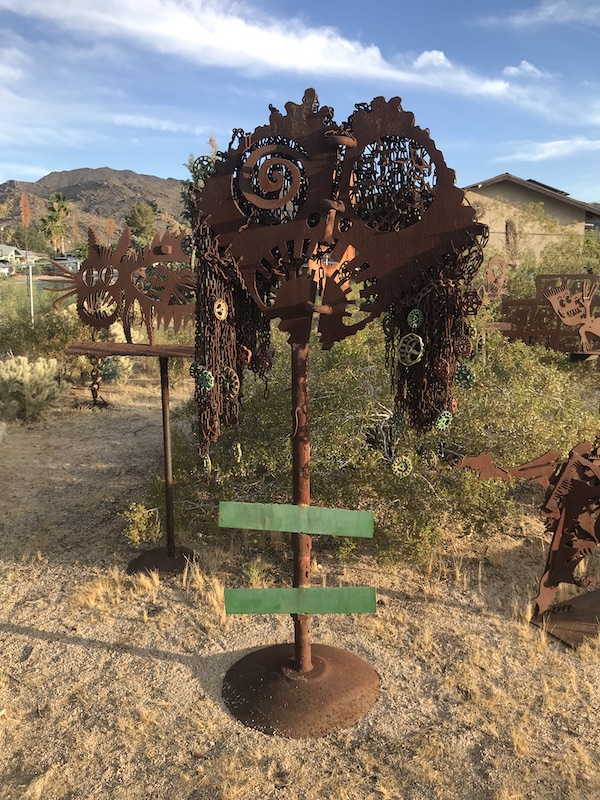 If you feel the need for a haircut - just a trim perhaps - see
Jersey Joany, by all means. Ask her about a liability insurance
policy. Joany can sell you one. She has all your bases covered.
Good luck.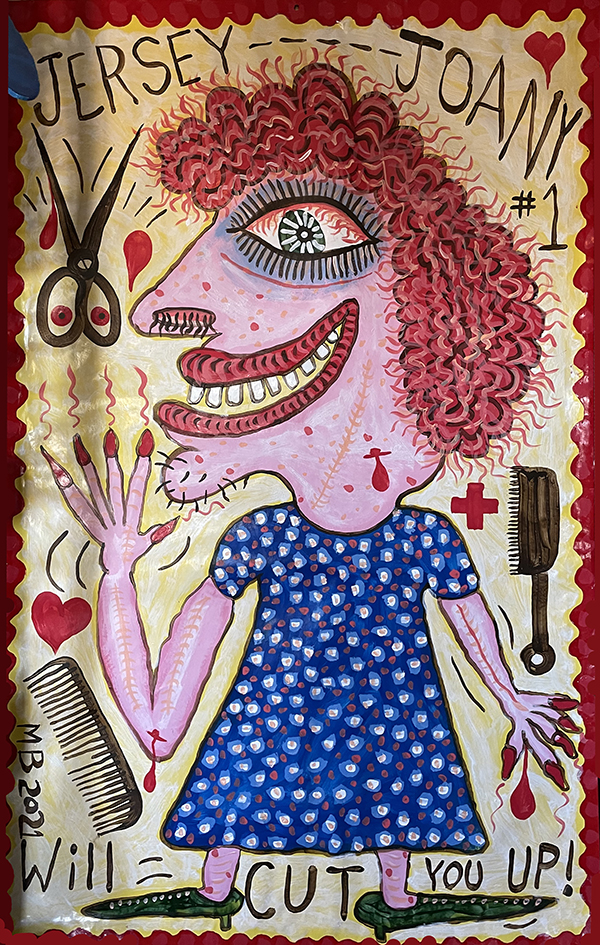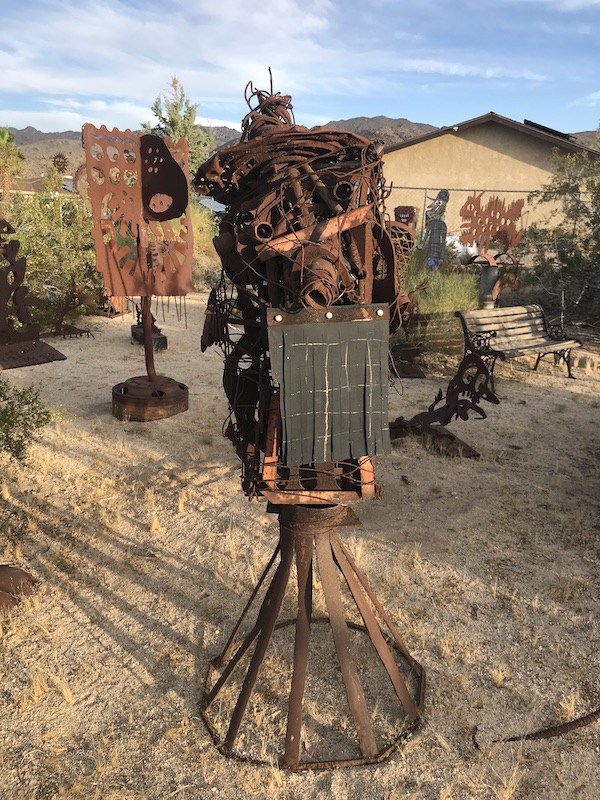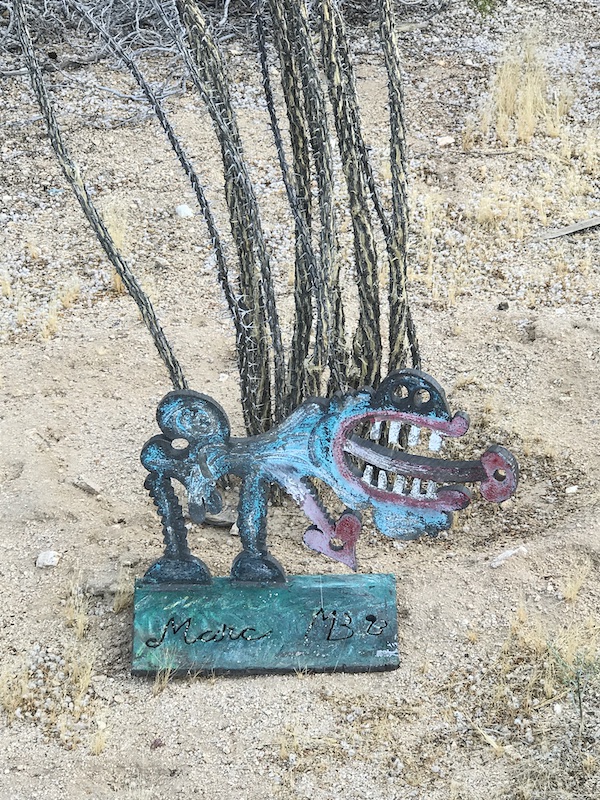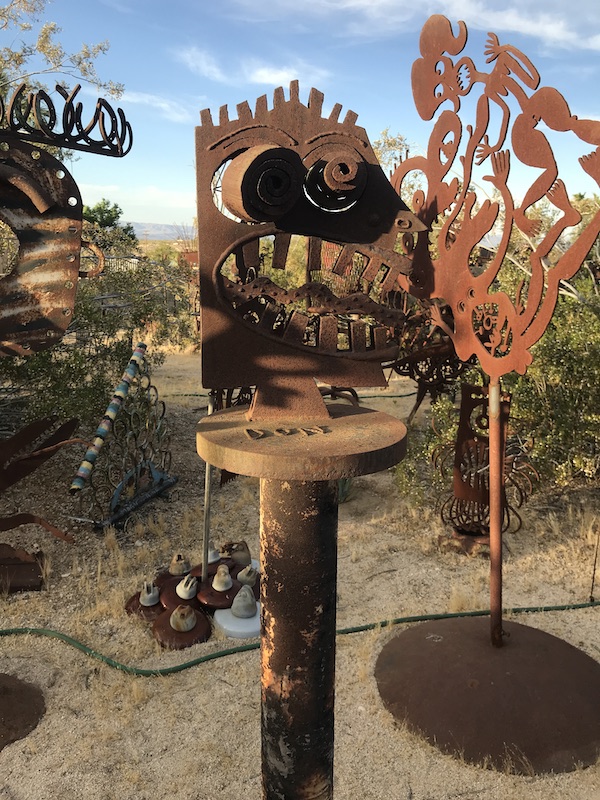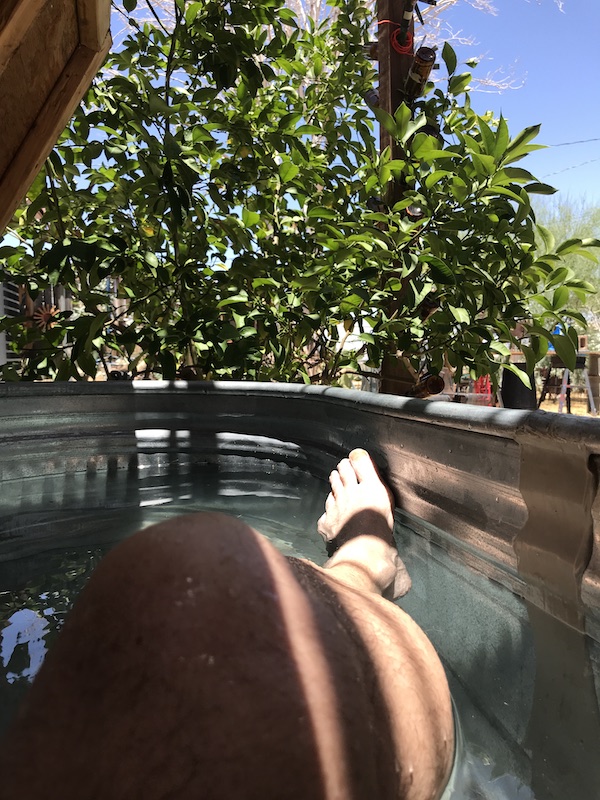 You know, when it's 110 degrees out, you want to be soaking
in the Colorado River, but it's 123 miles east of here, where
it's 120 degrees. So, you make your own Colorado River and
just be happy with it. The way it has to be, way out West.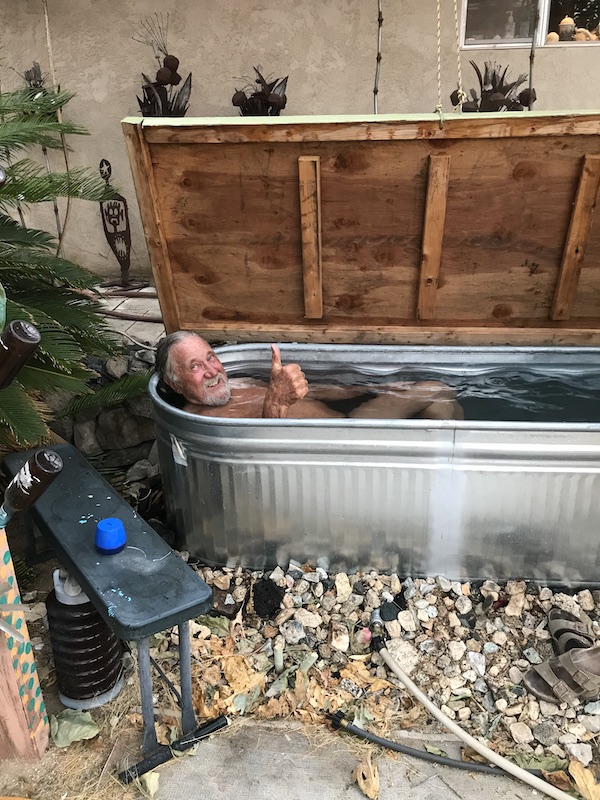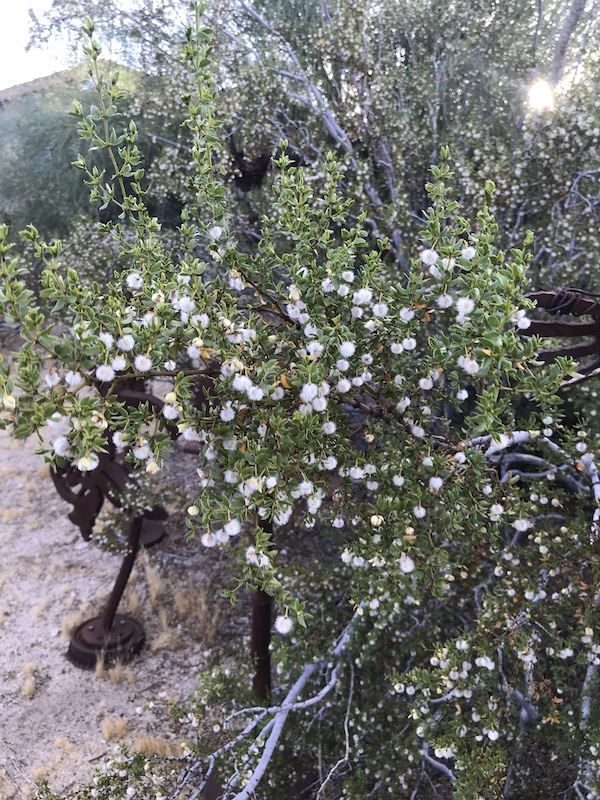 Those lovely Creosote mid summer pompoms.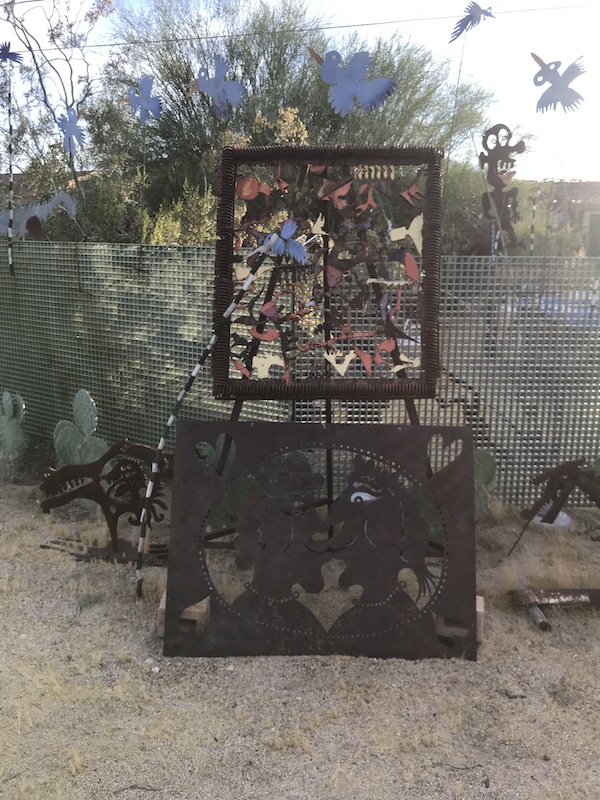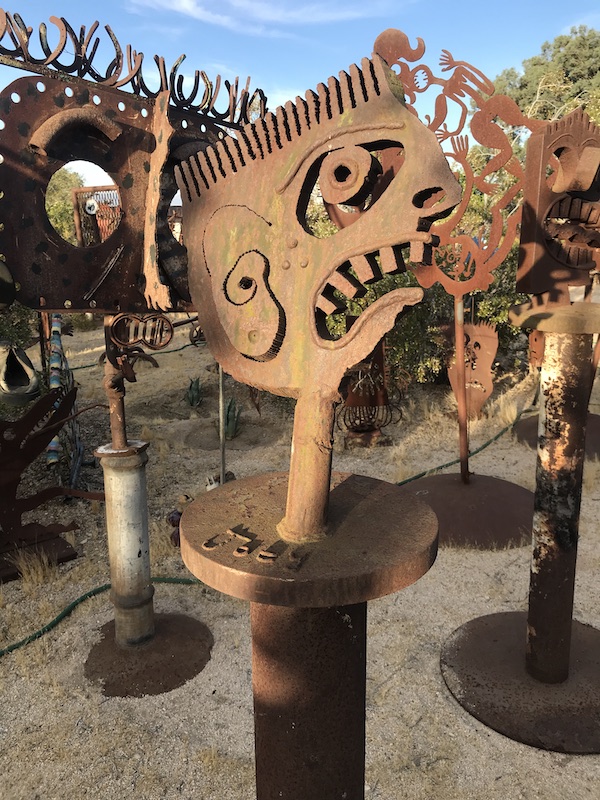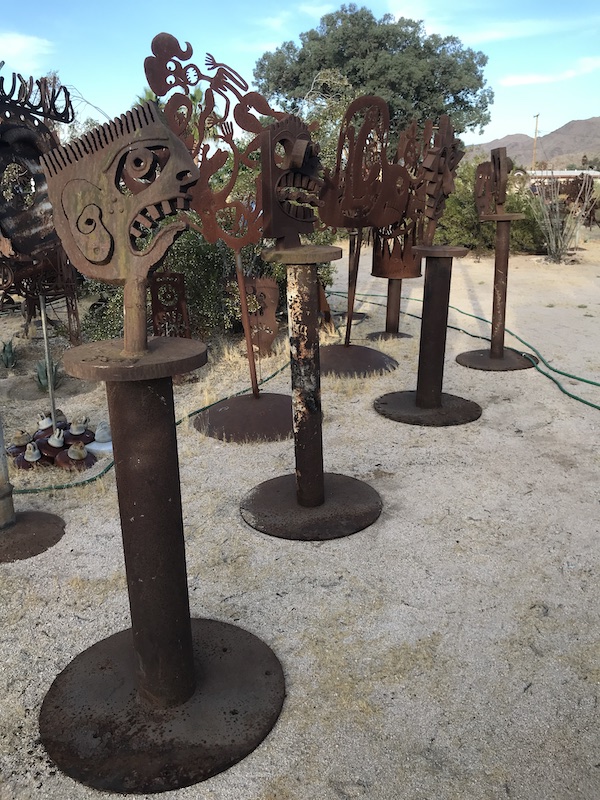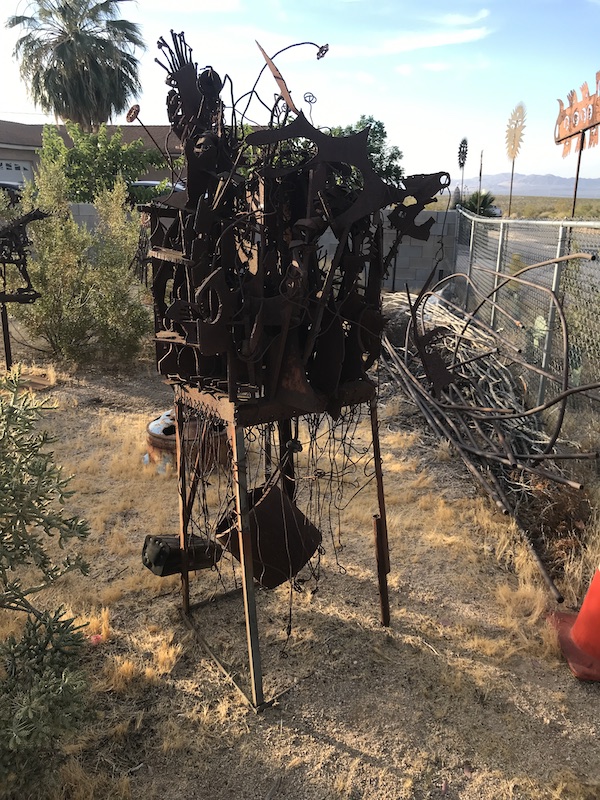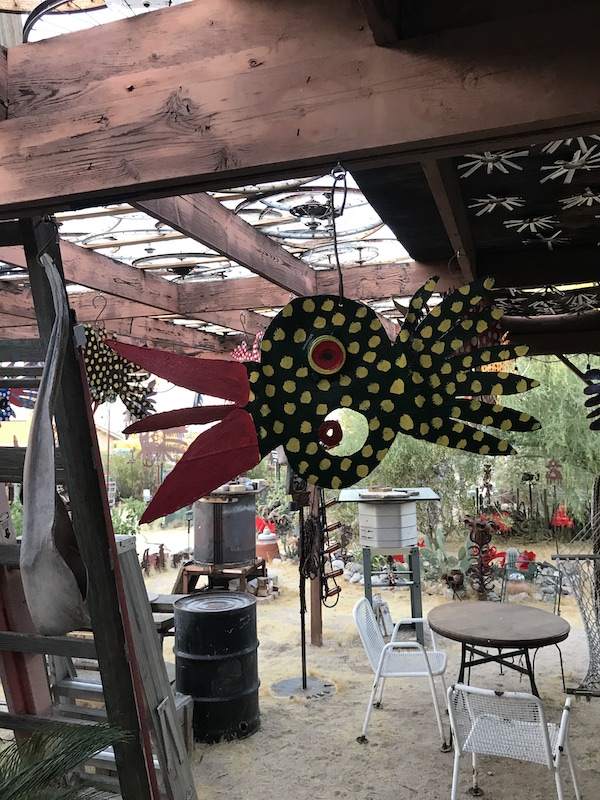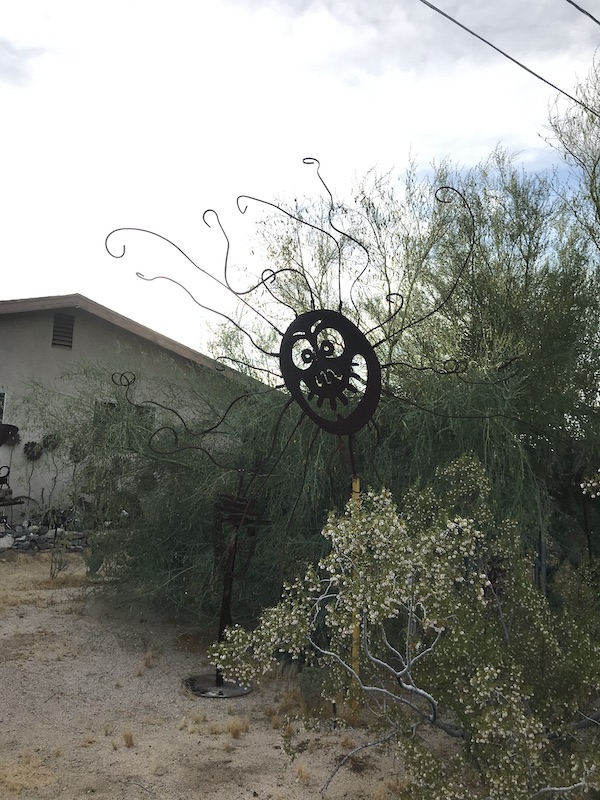 Crazy Sun who lives up in Pipes Canyon now. Miss him, not too much.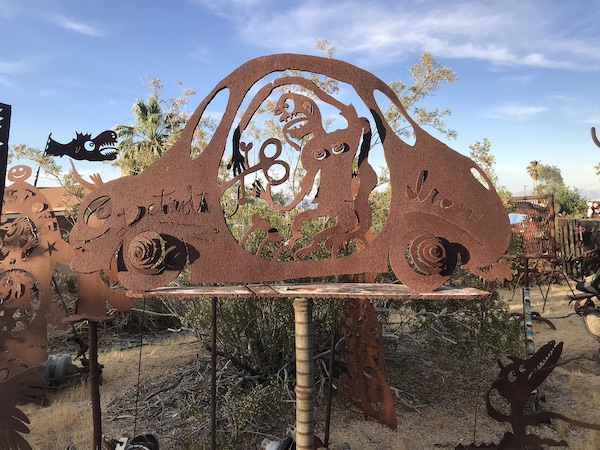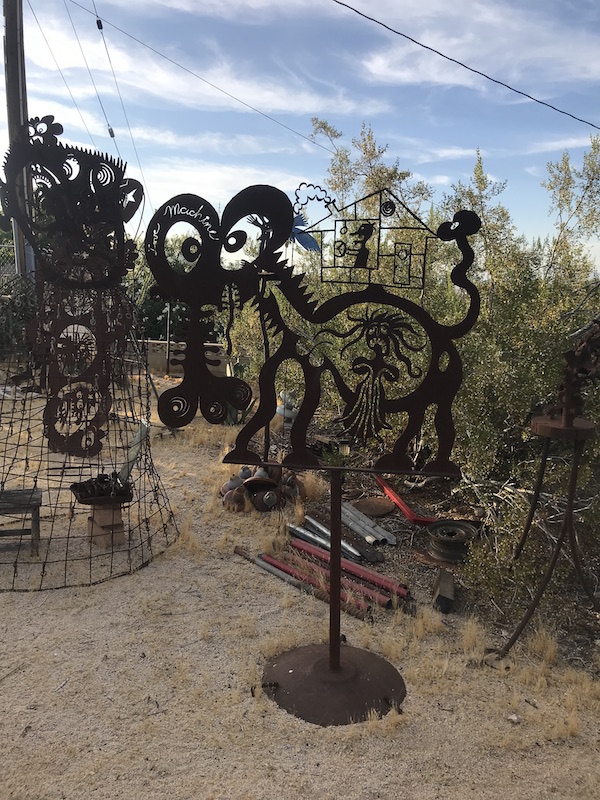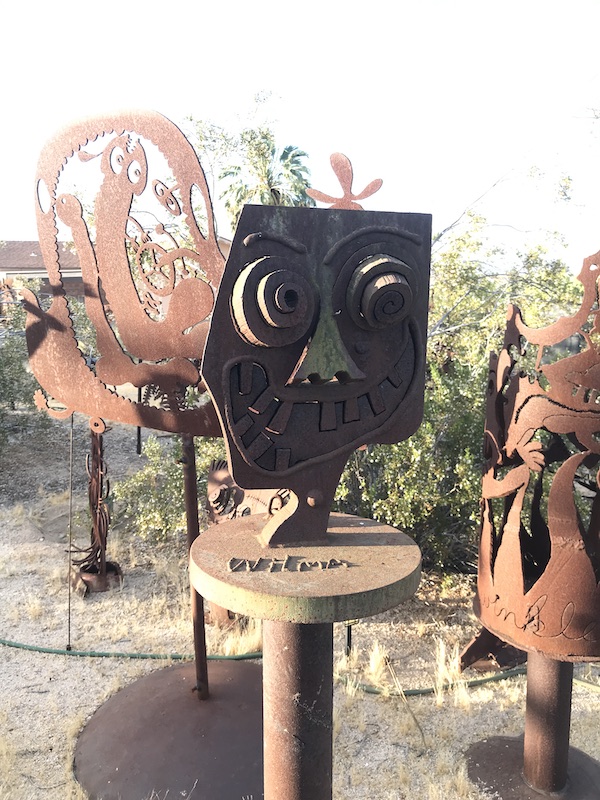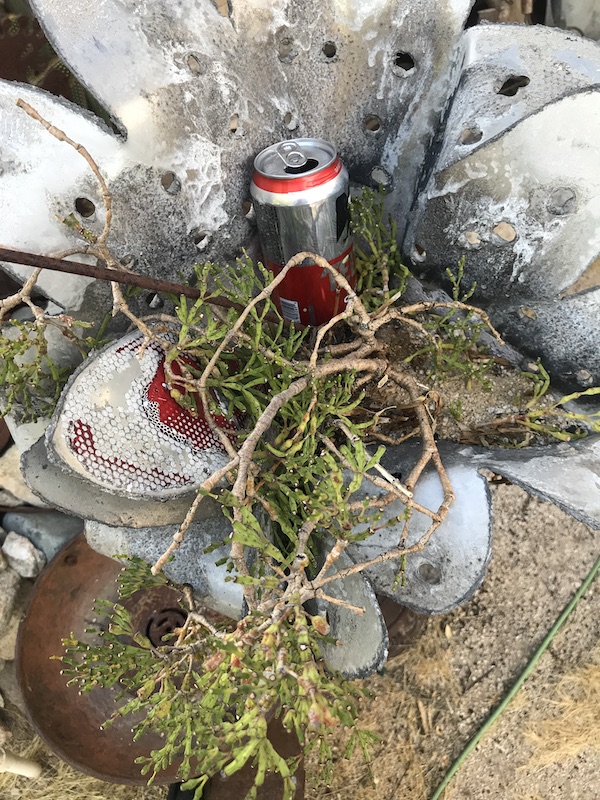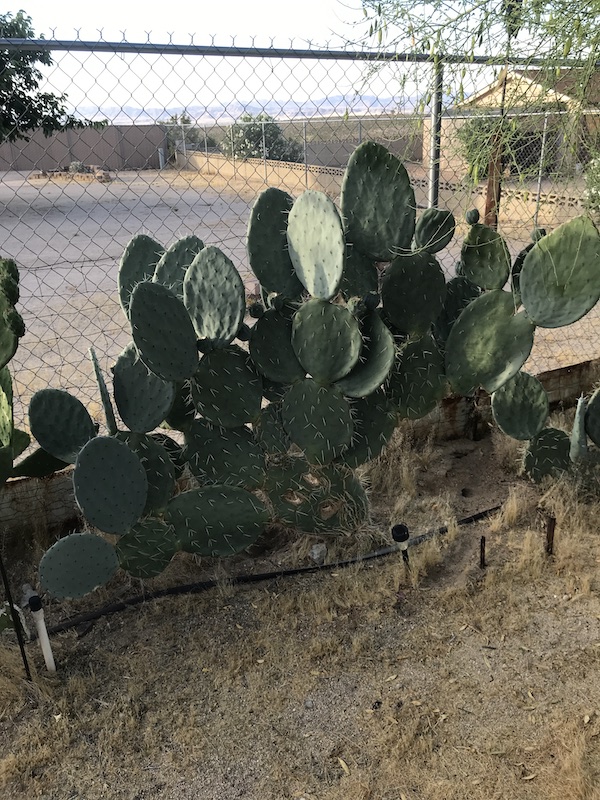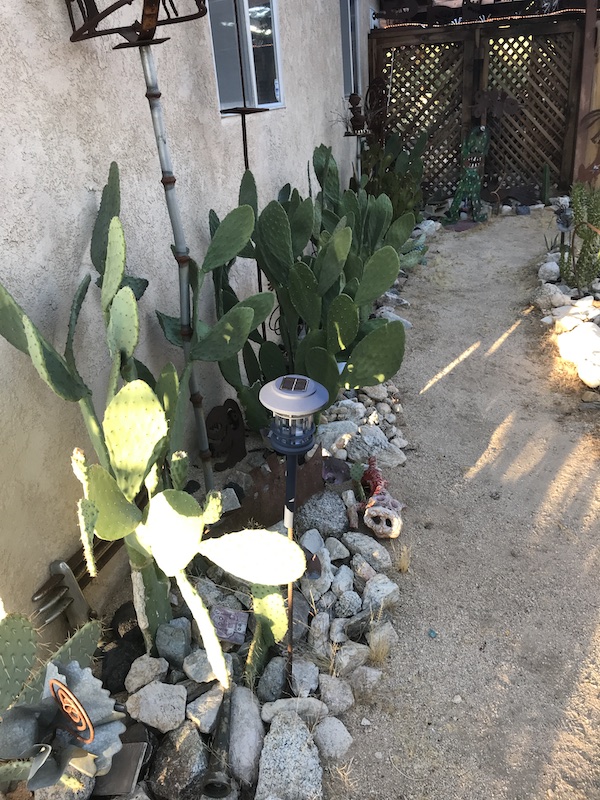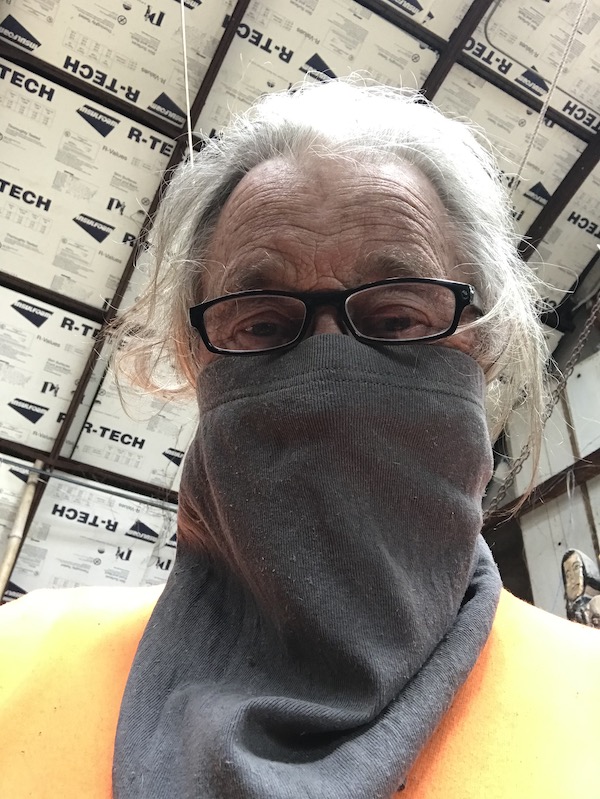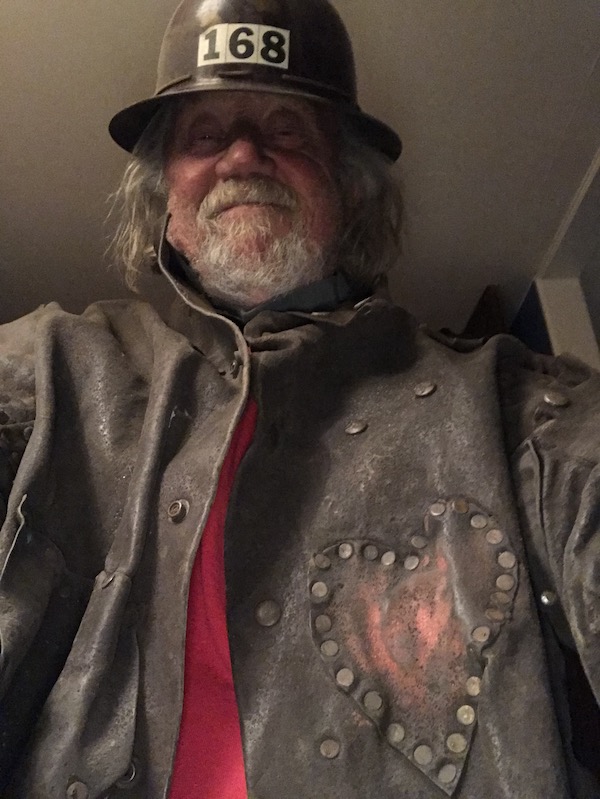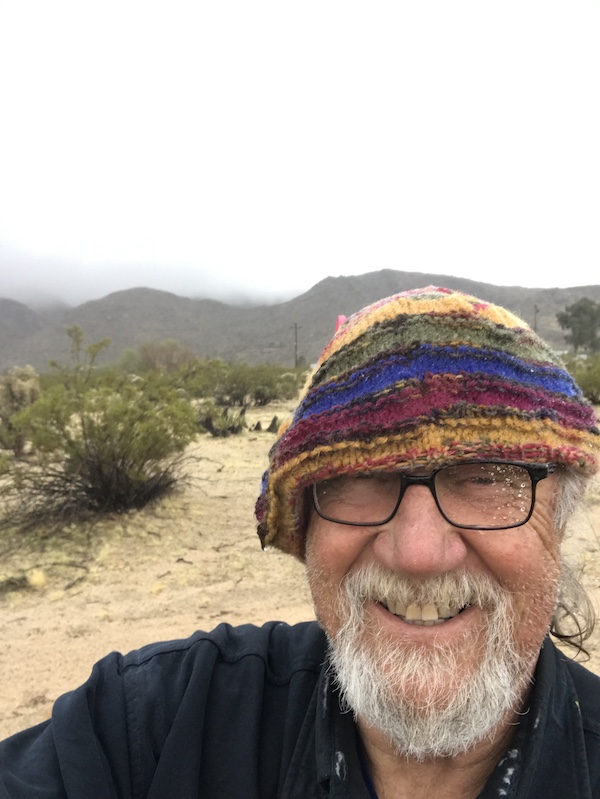 Soaking wet walk in the desert be pretty fun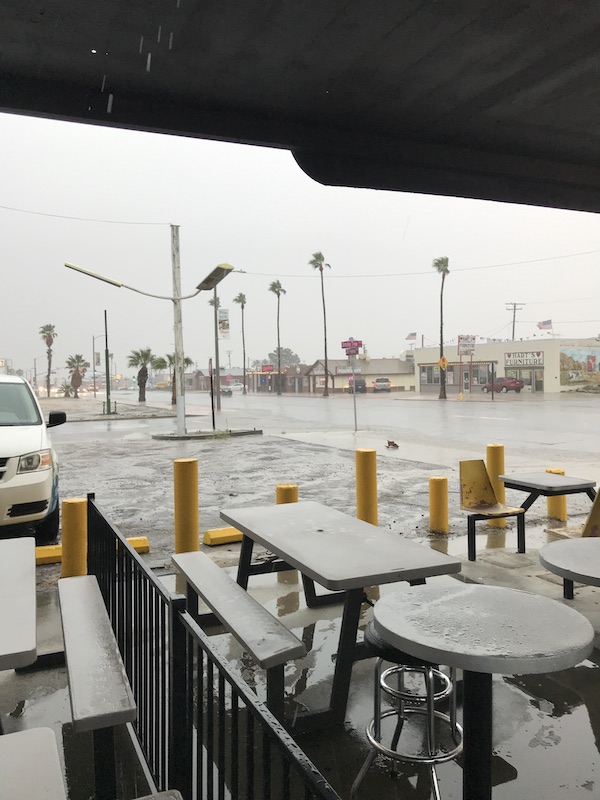 29 in the flooding rain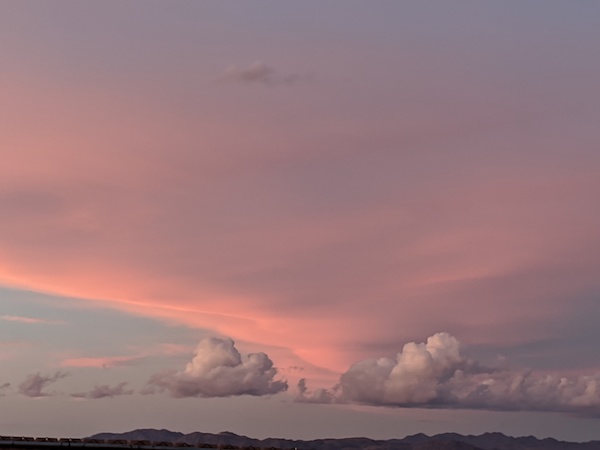 Above photo, "Kissing Clouds", by neighbor Carmen Mendoza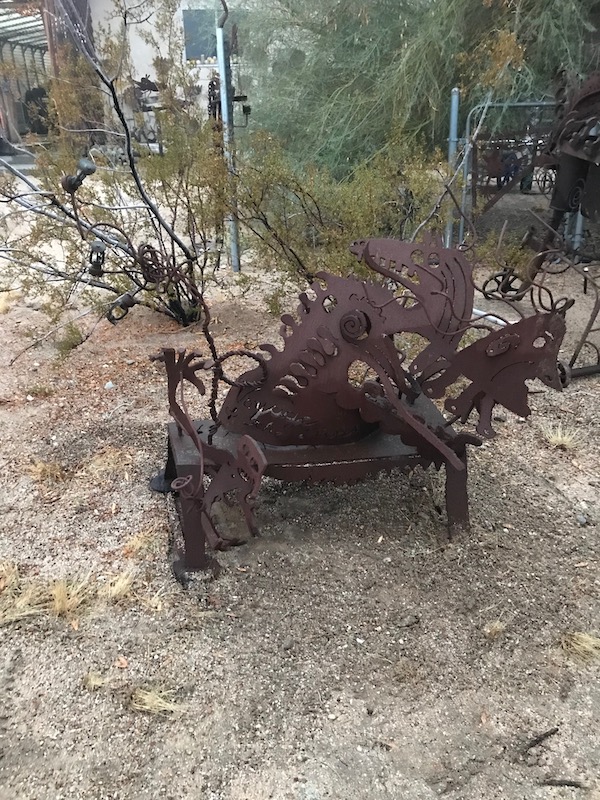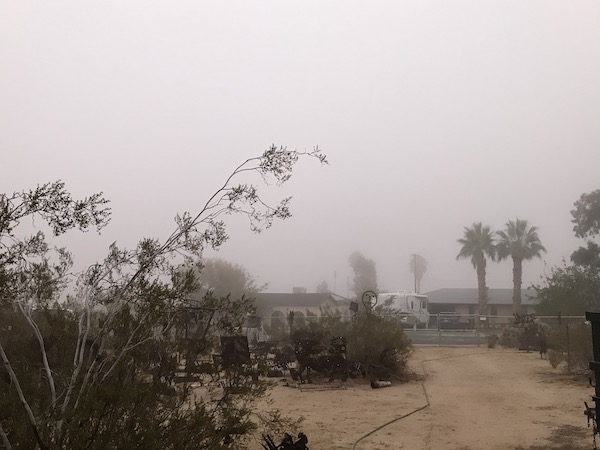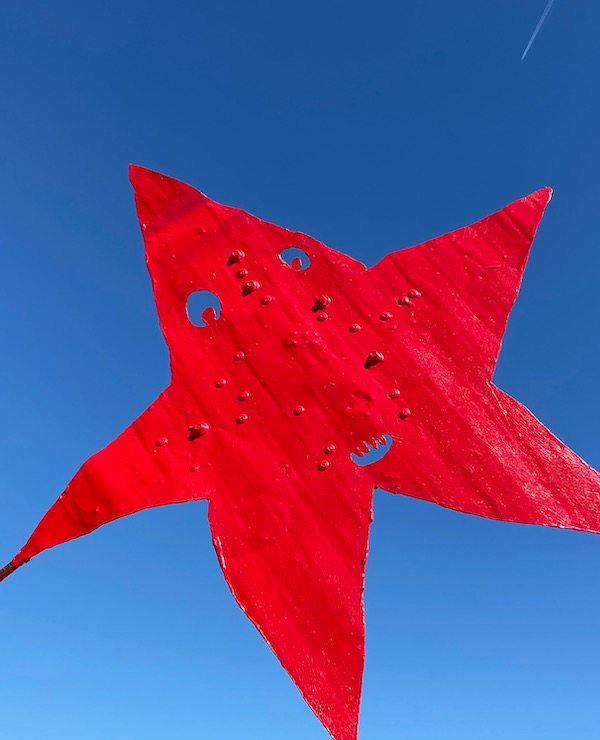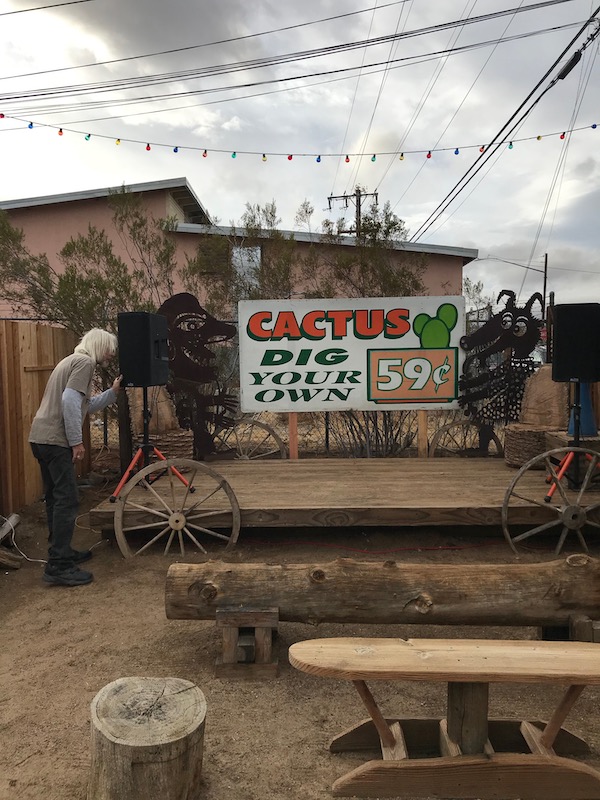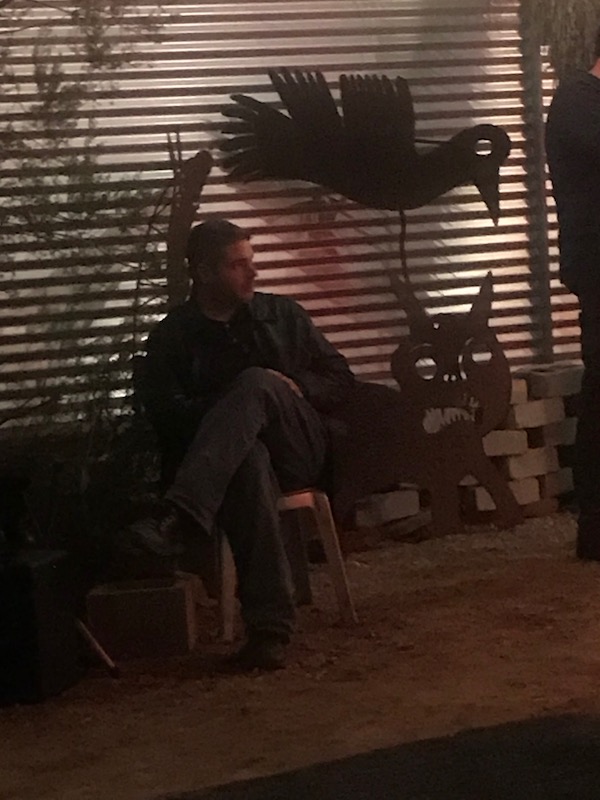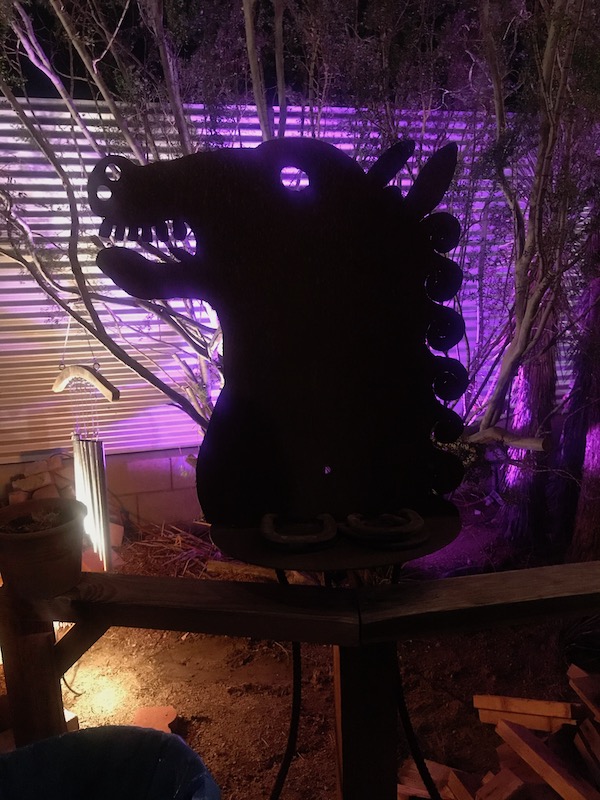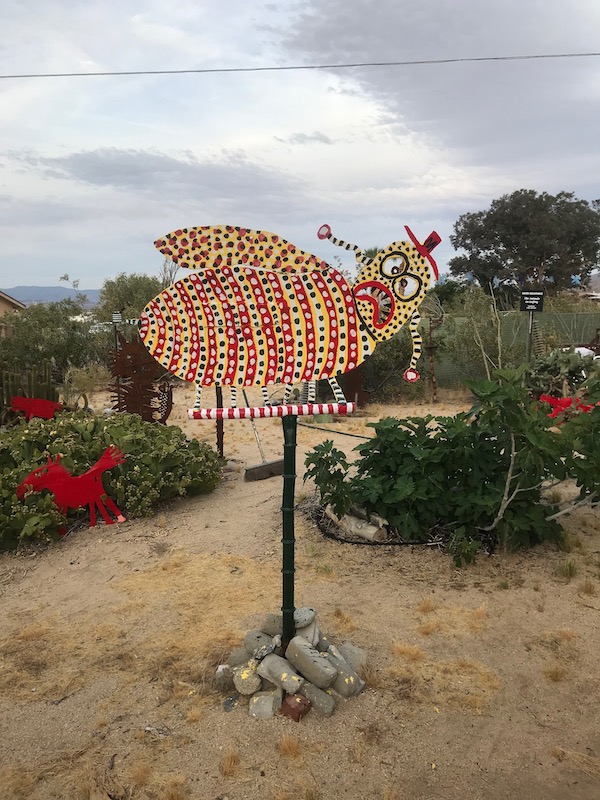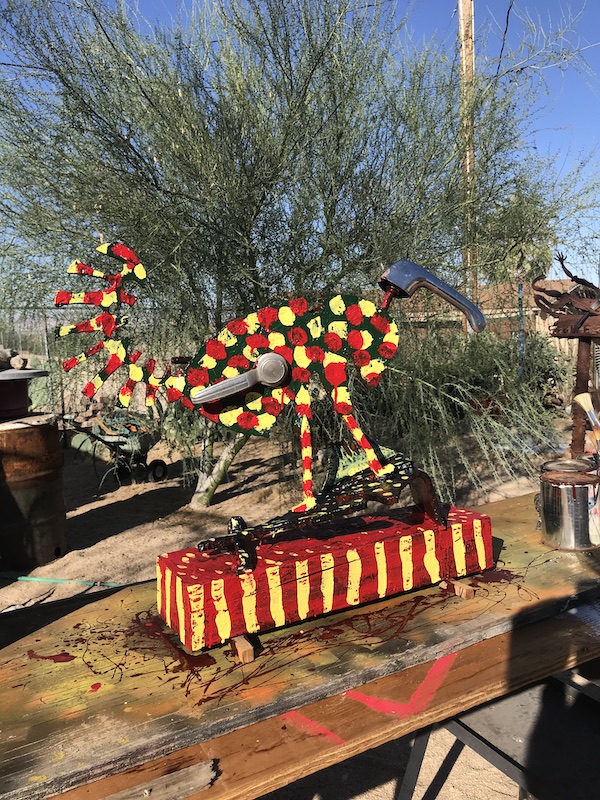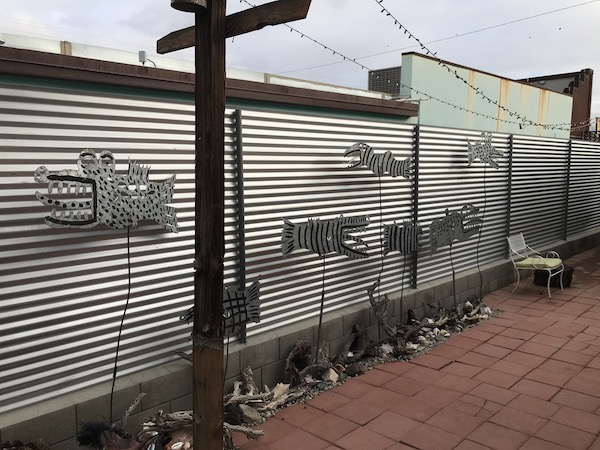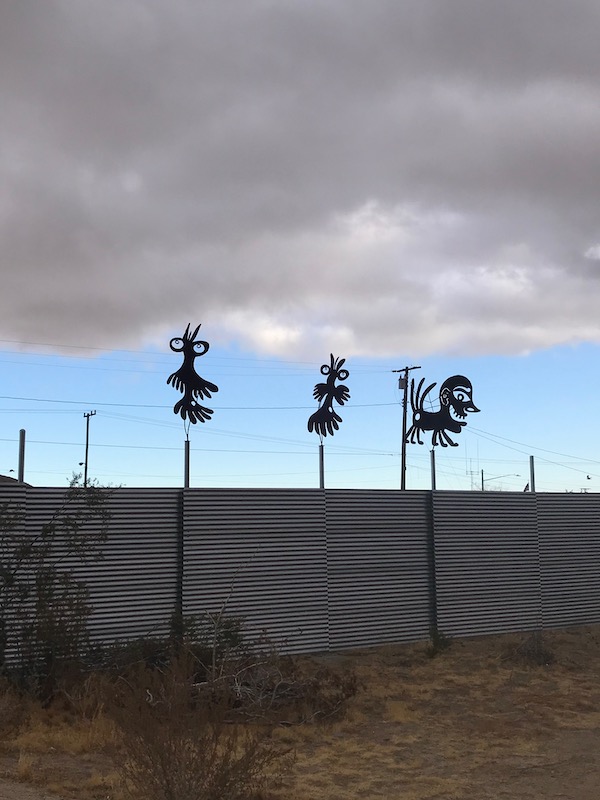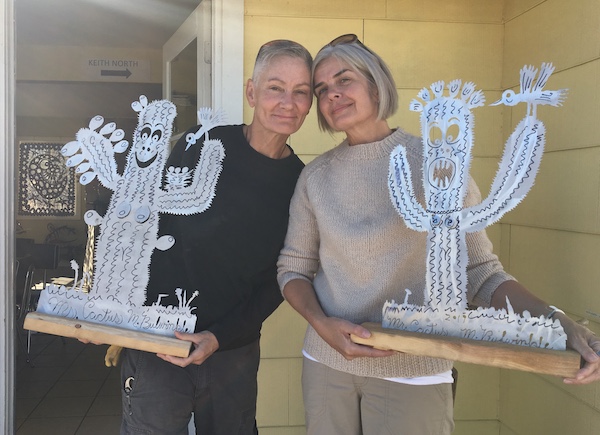 The Prickley Bitches themselves. Nice.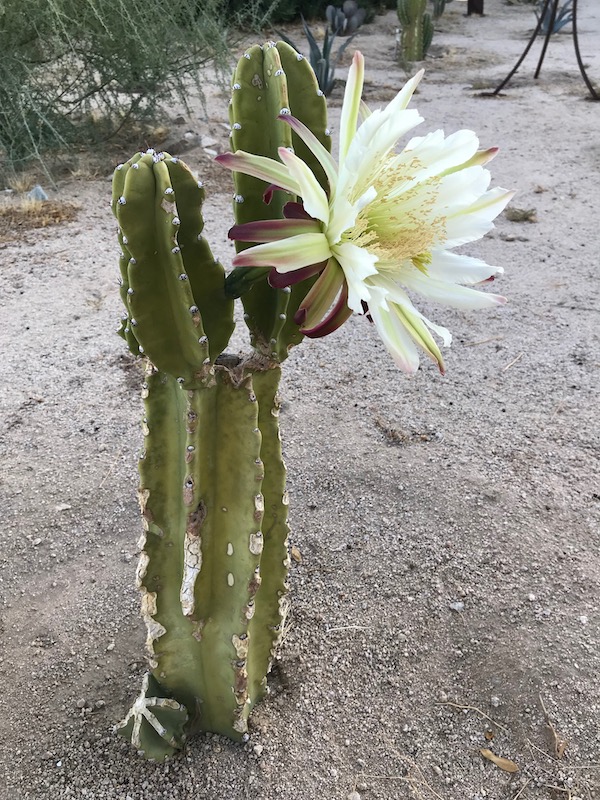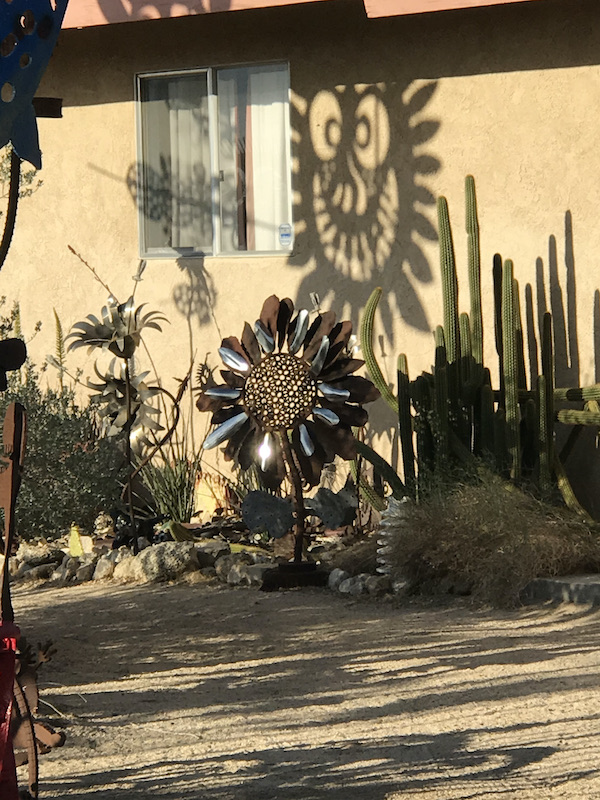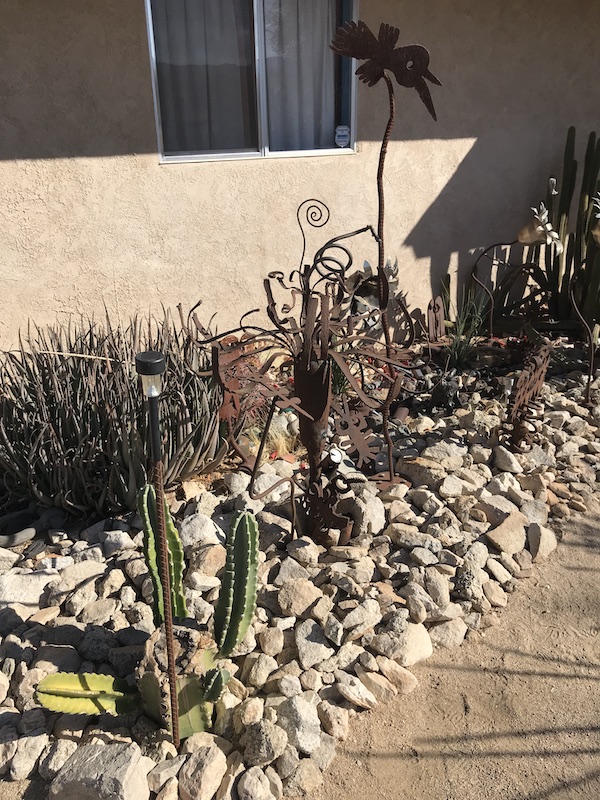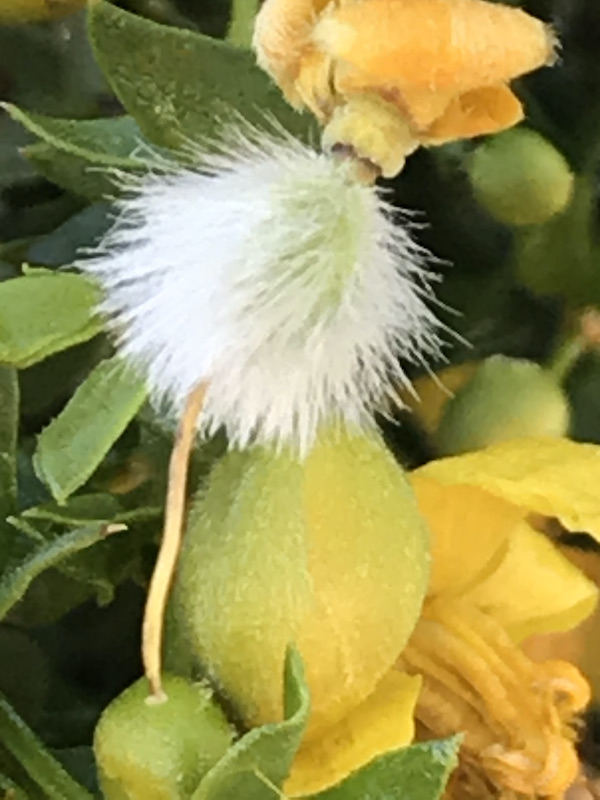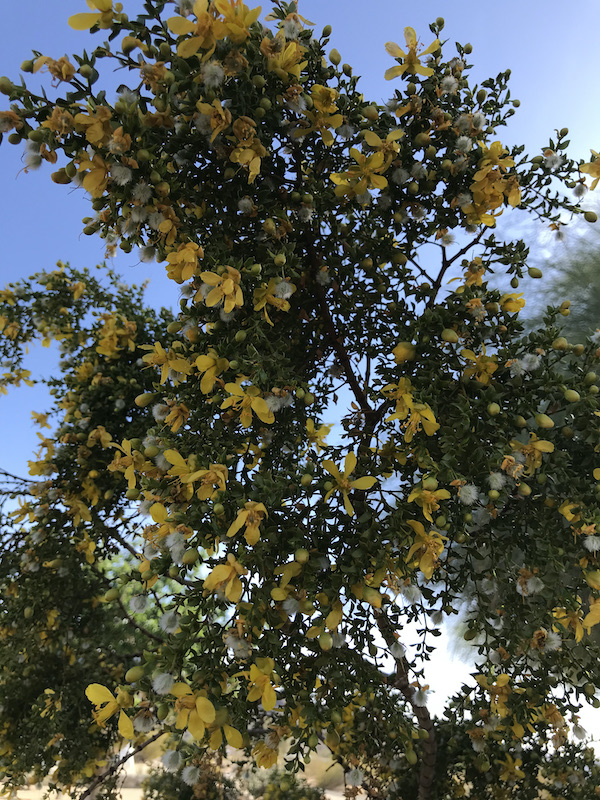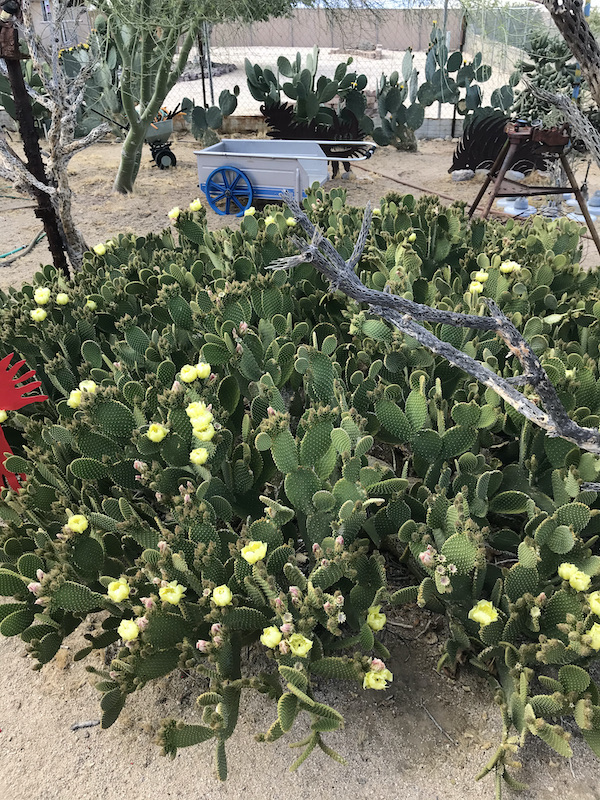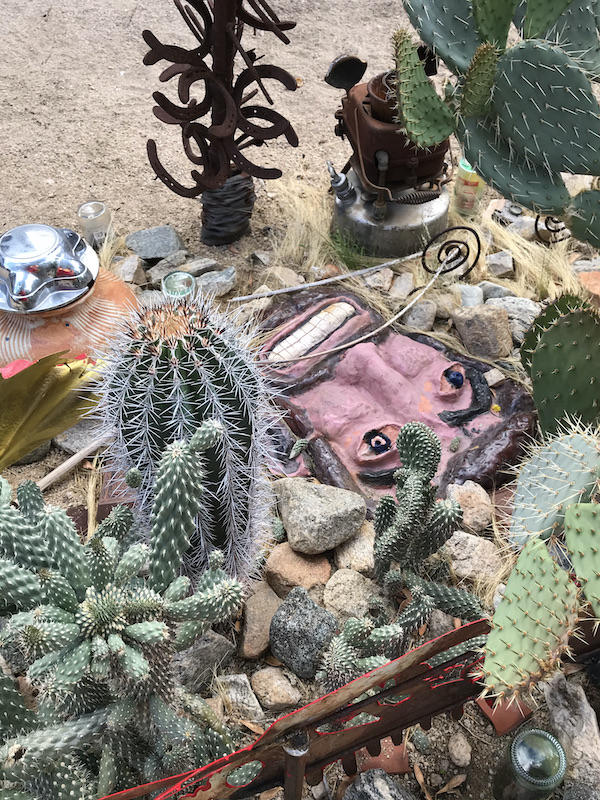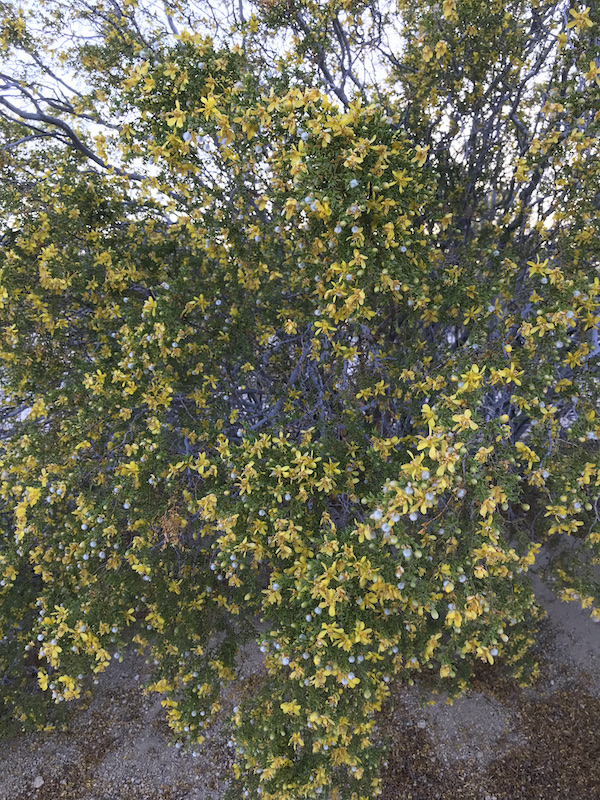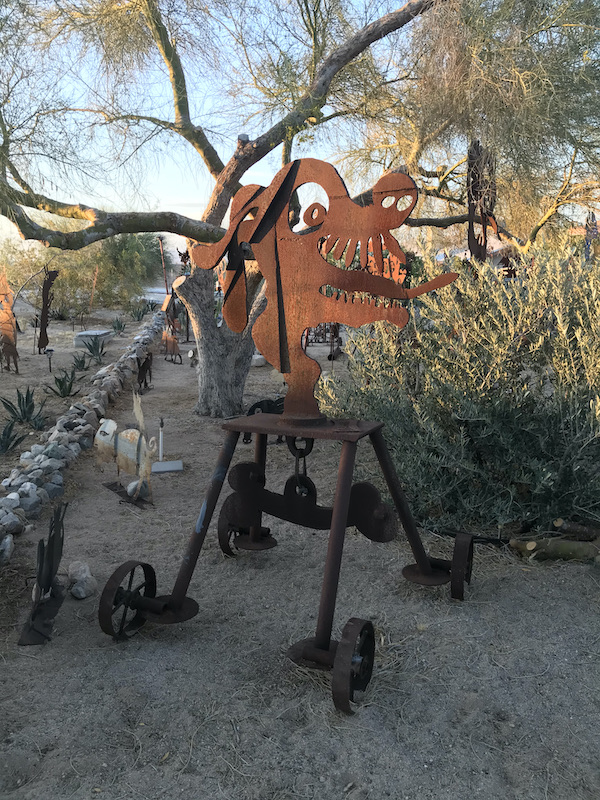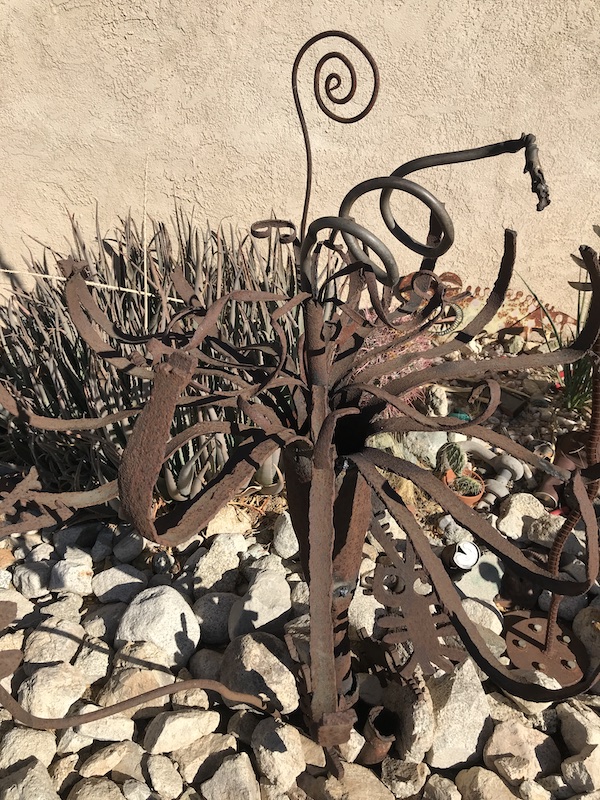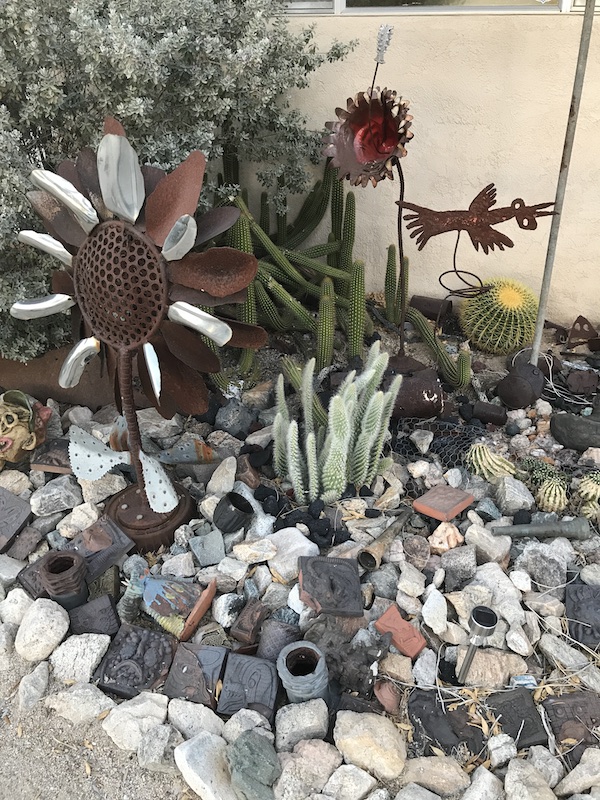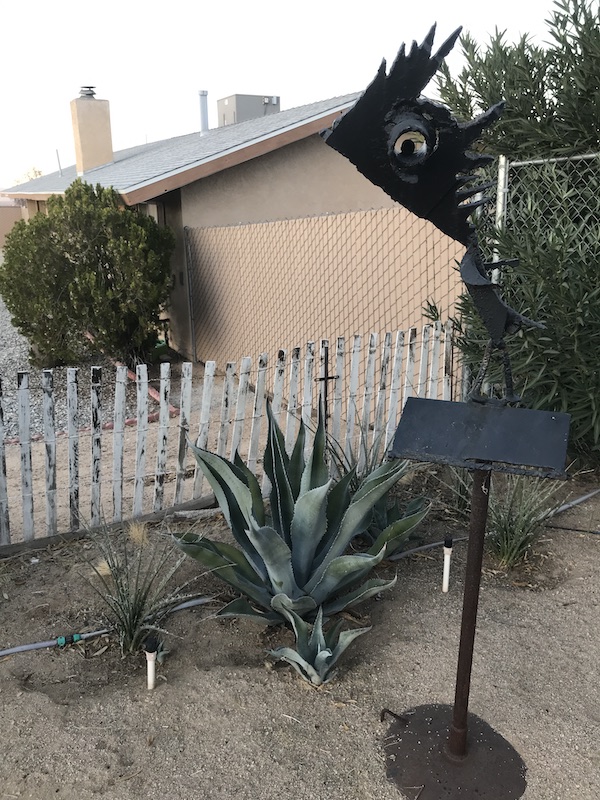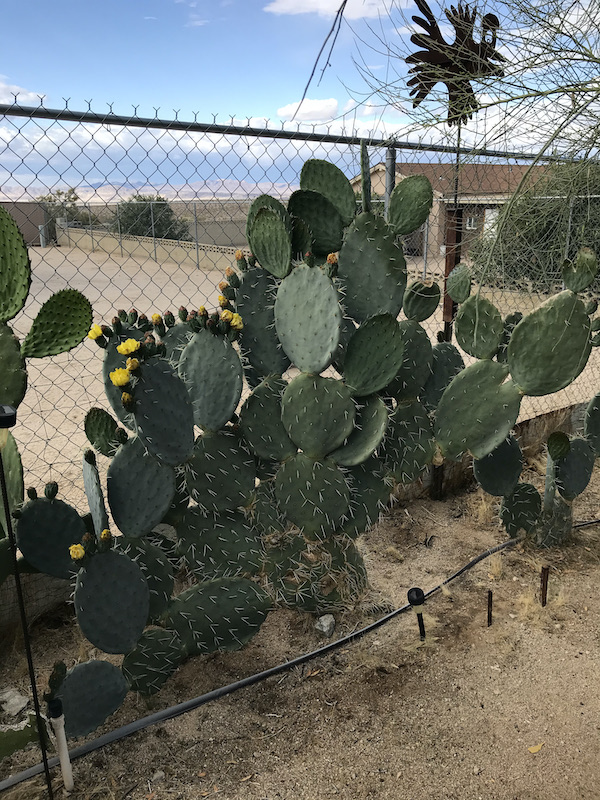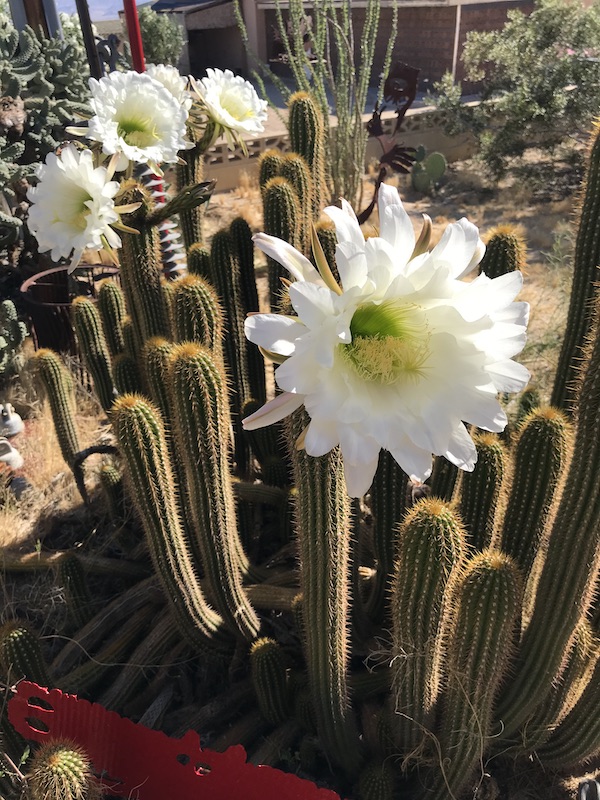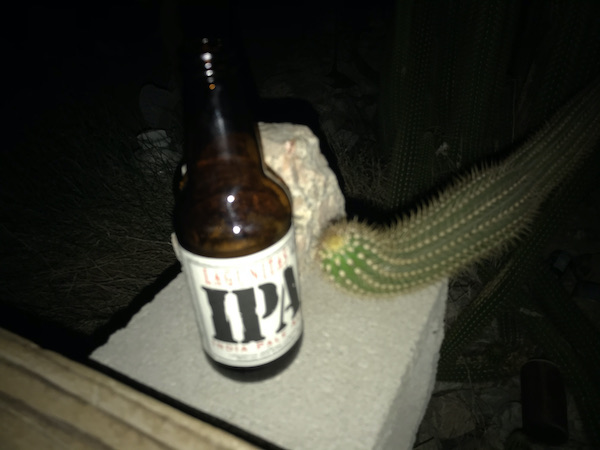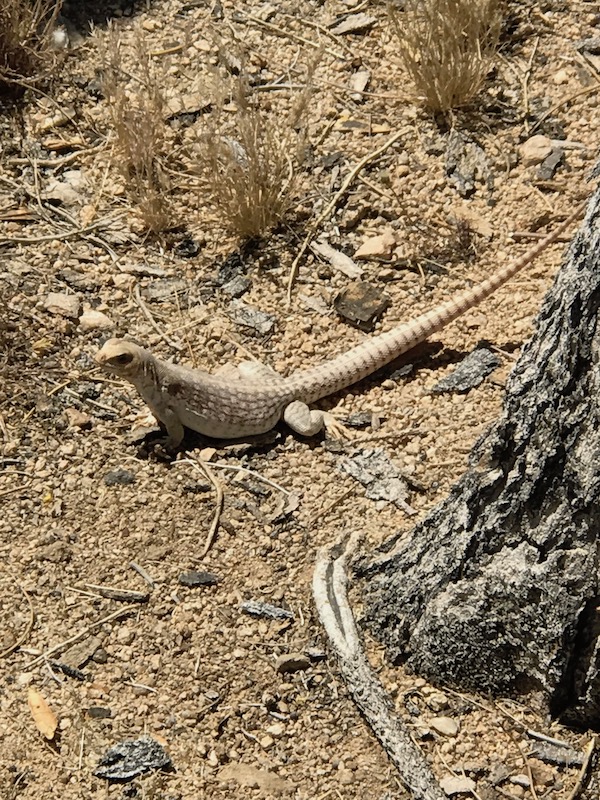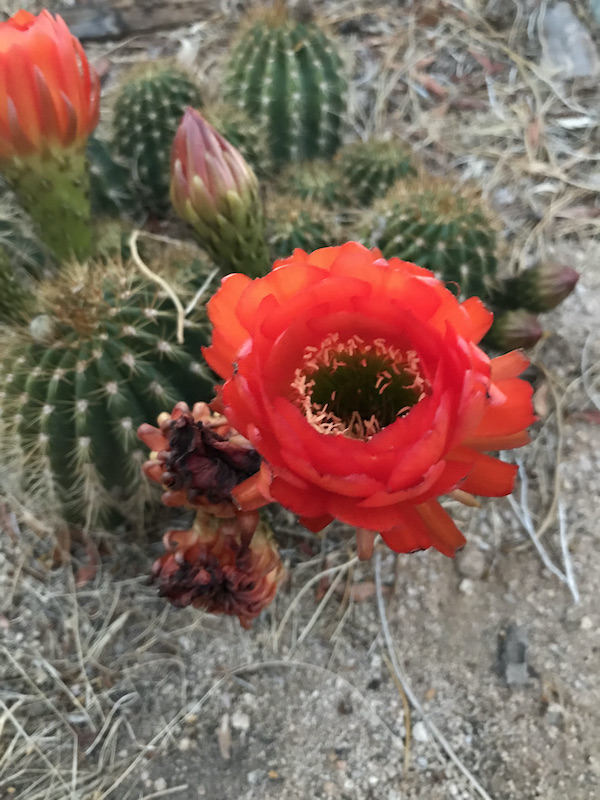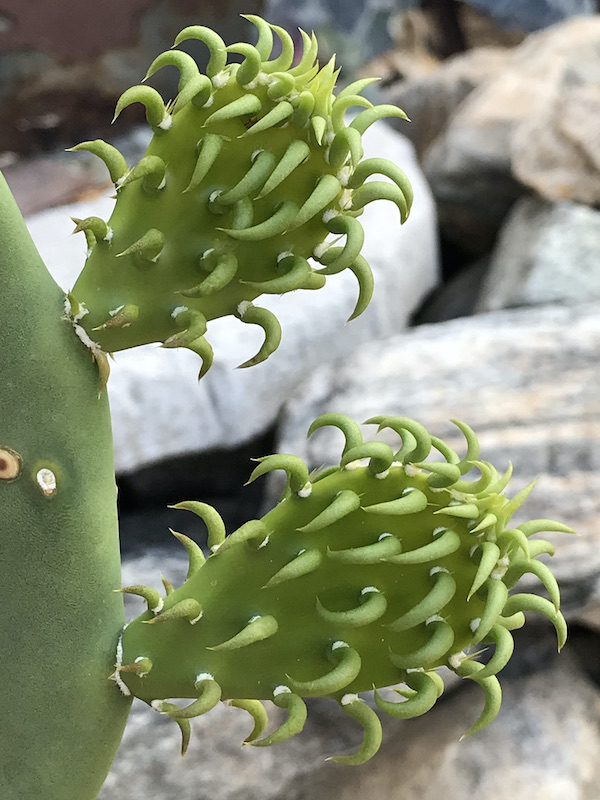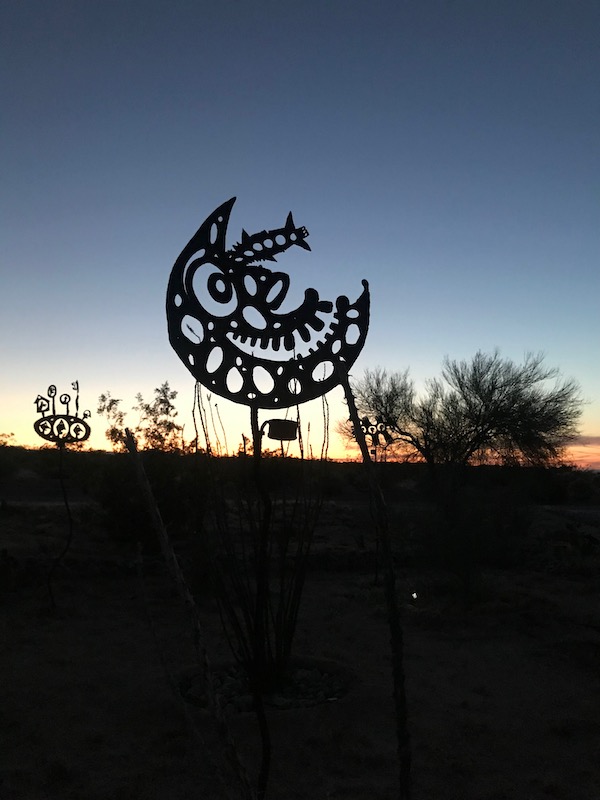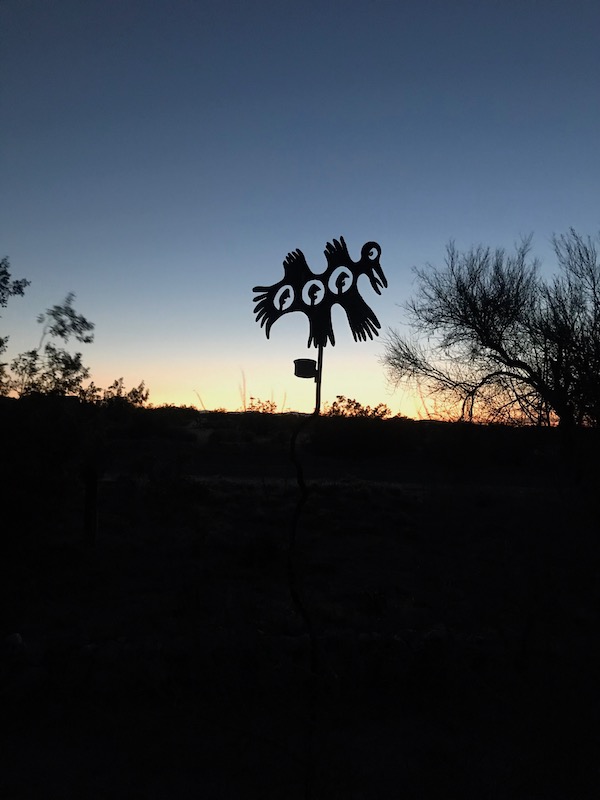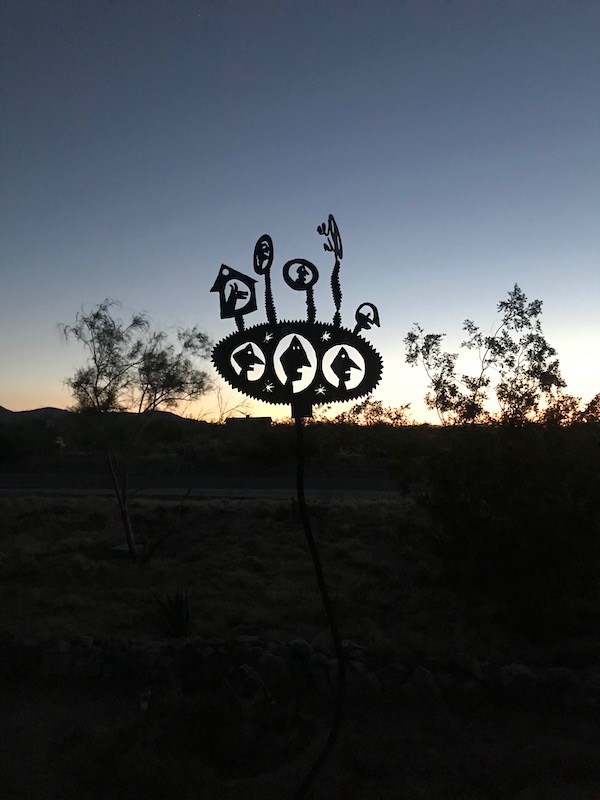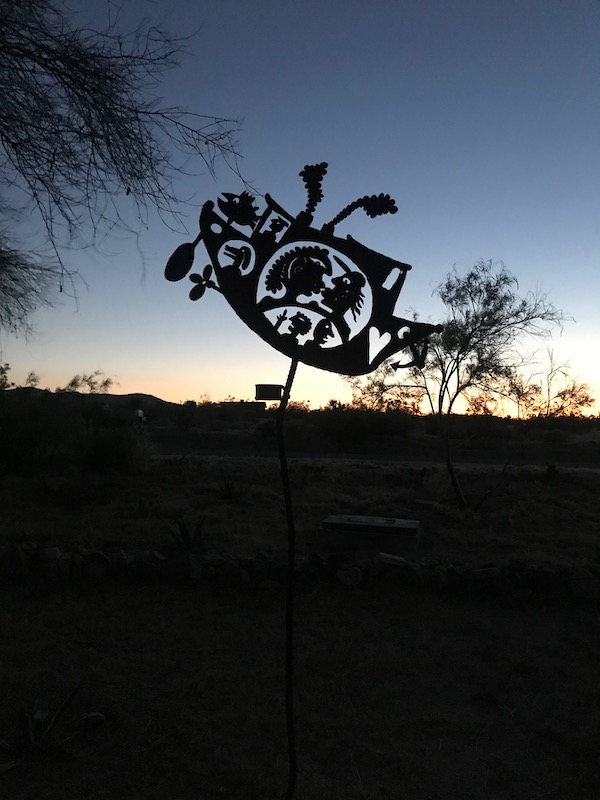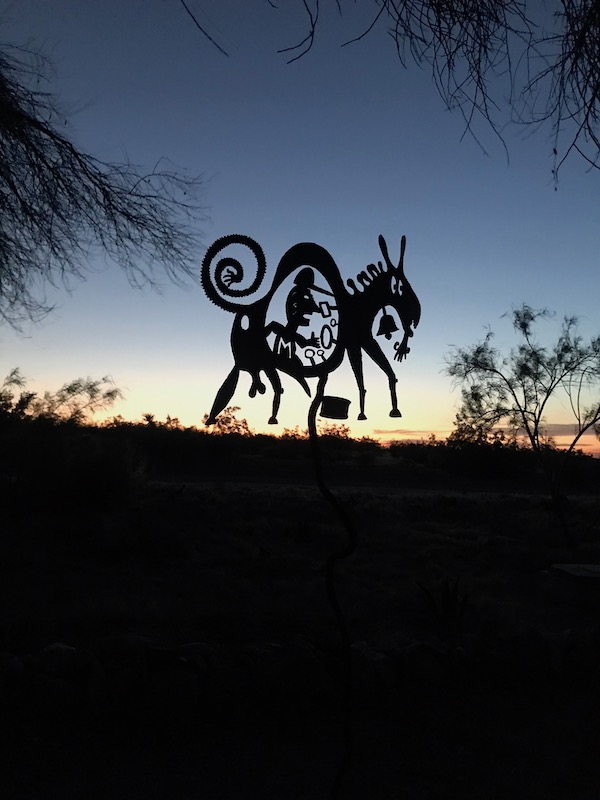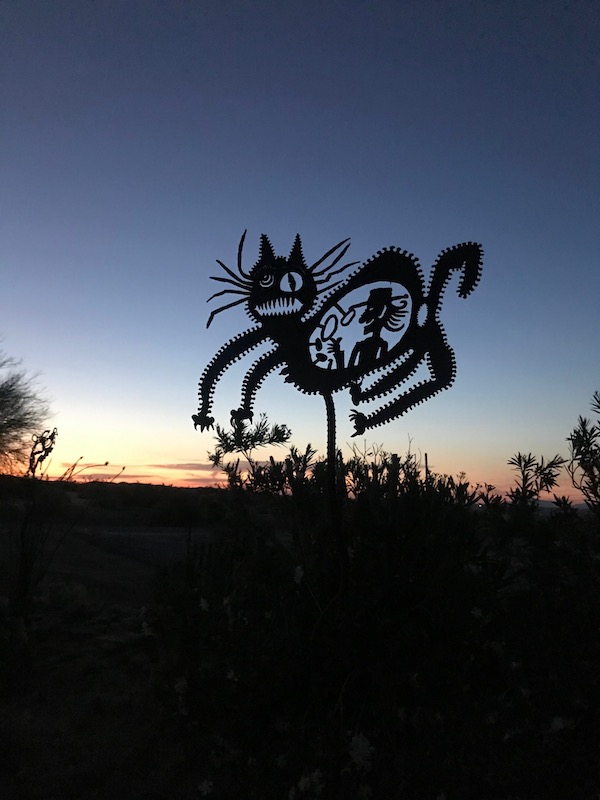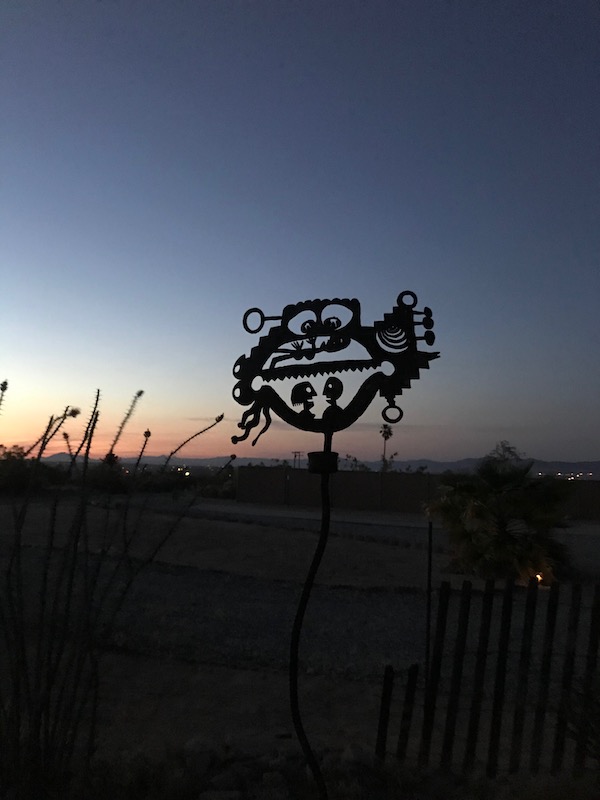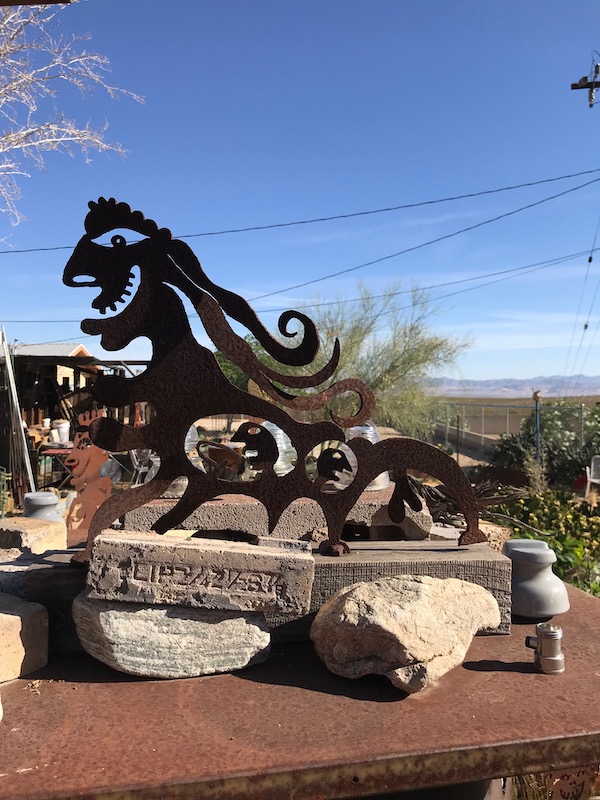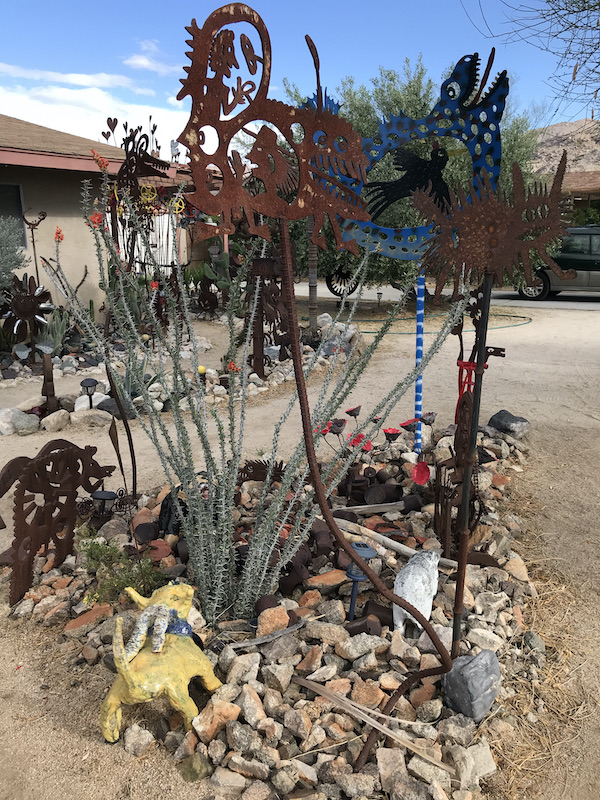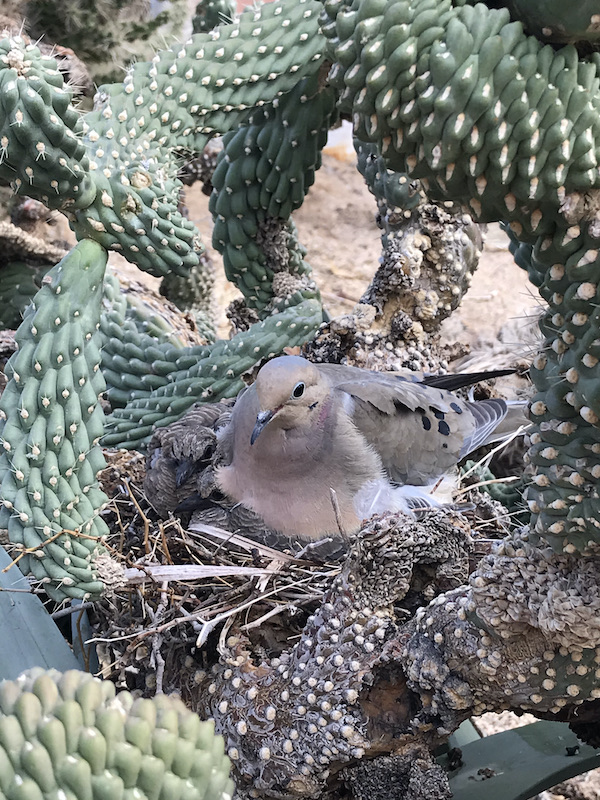 Home sweet home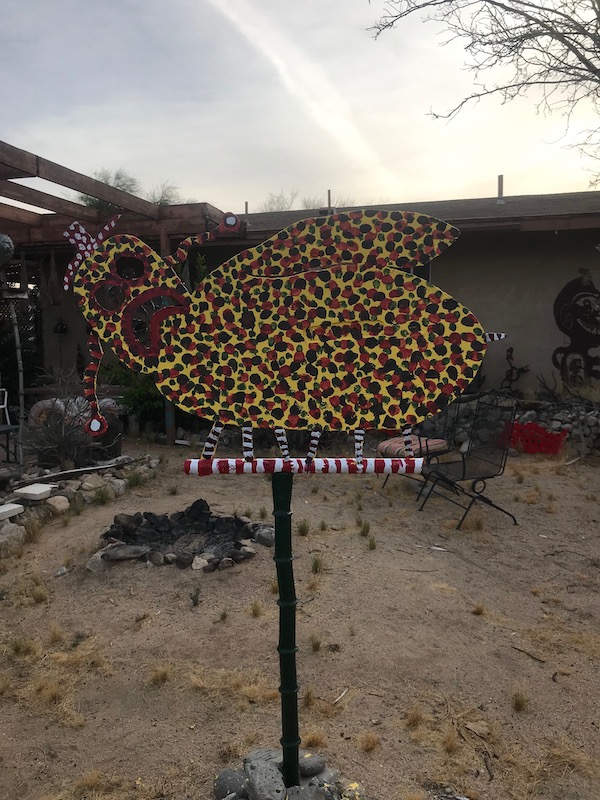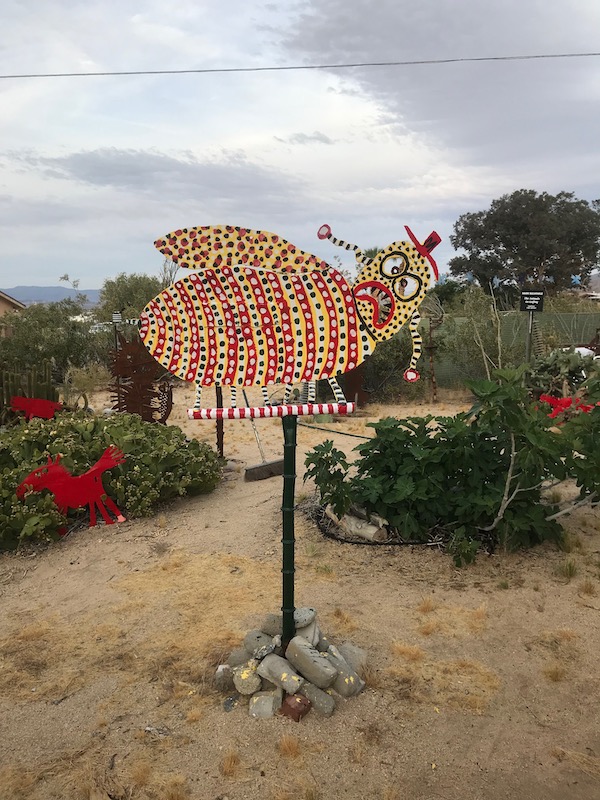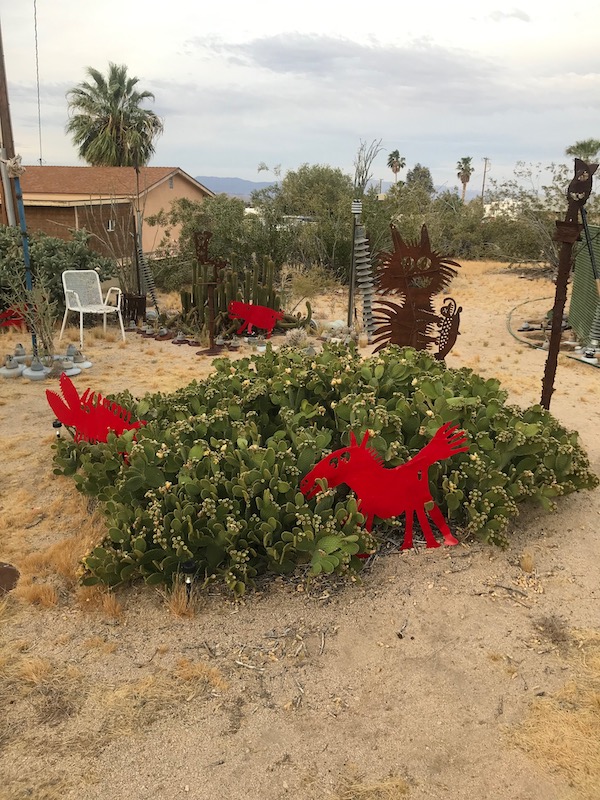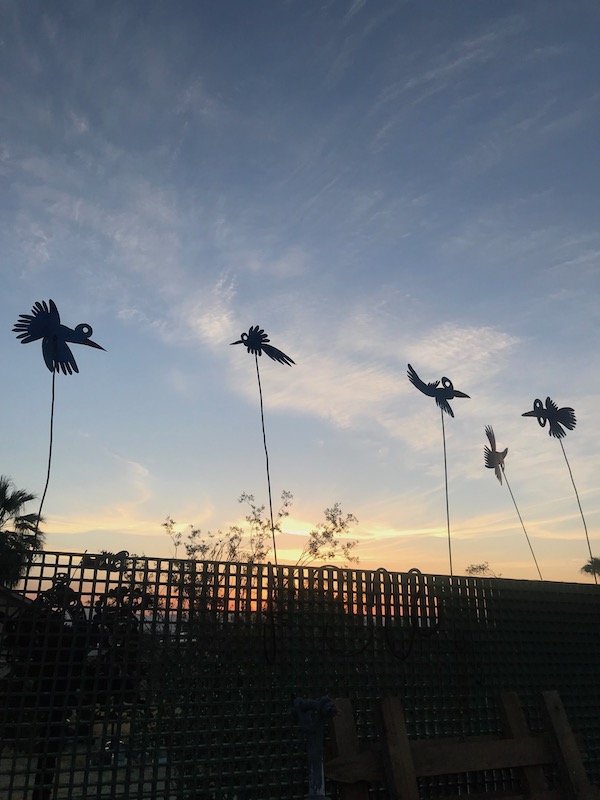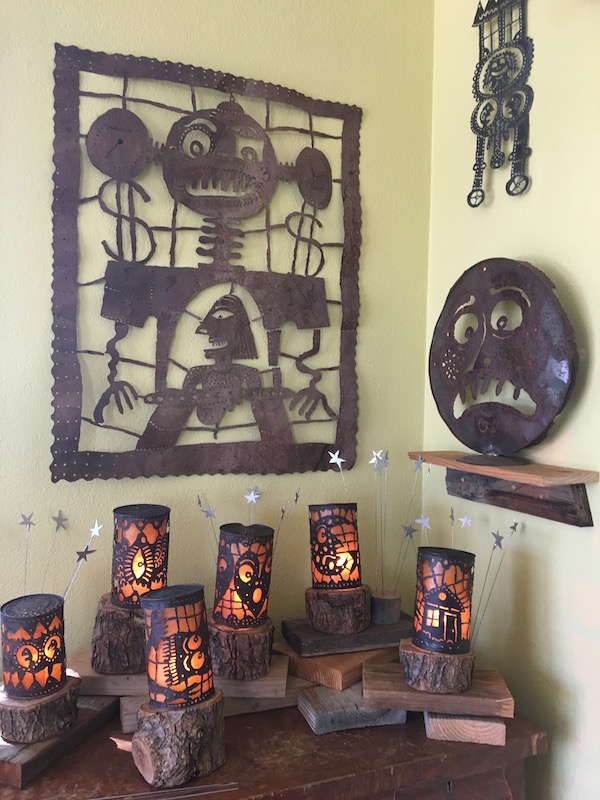 Desert tin cans savaged from an old dump in the desert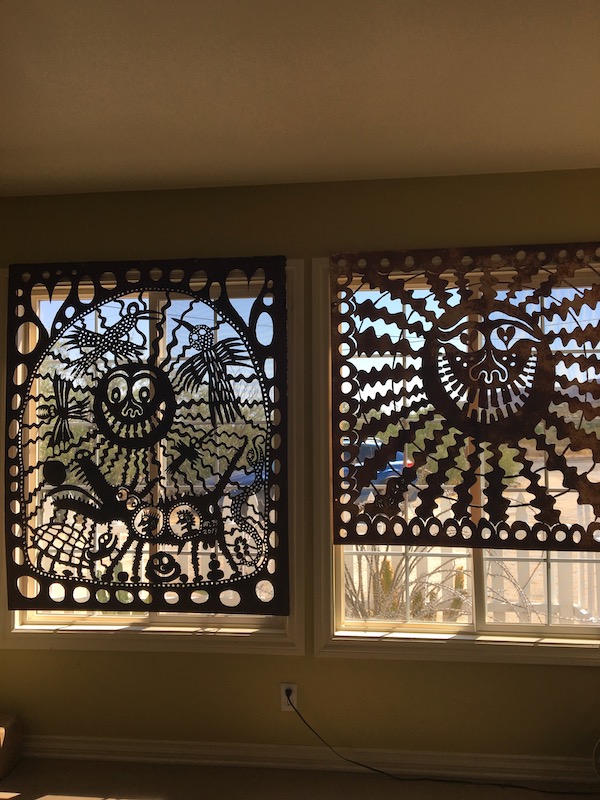 Some new signature Bulwinkle cut steel screens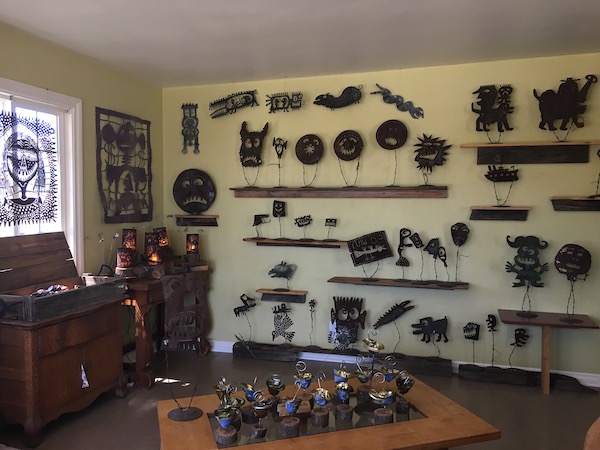 Very old Bulwinkle stuff for sale at HHM&A in Joshua Tree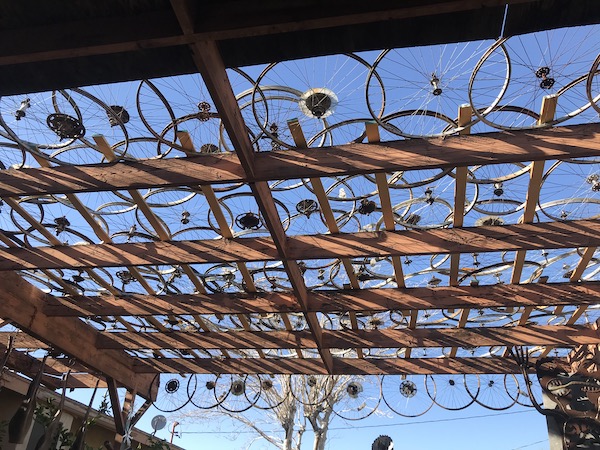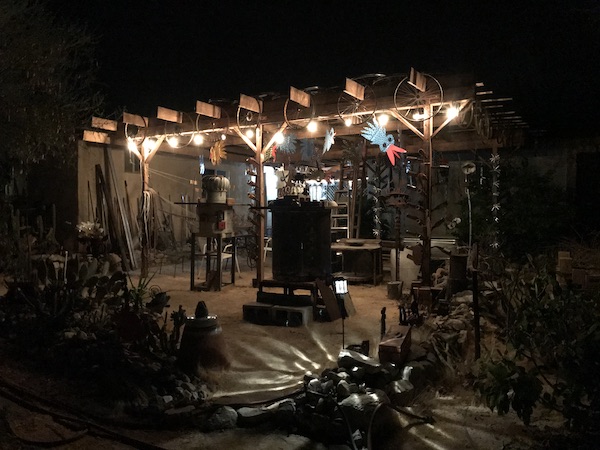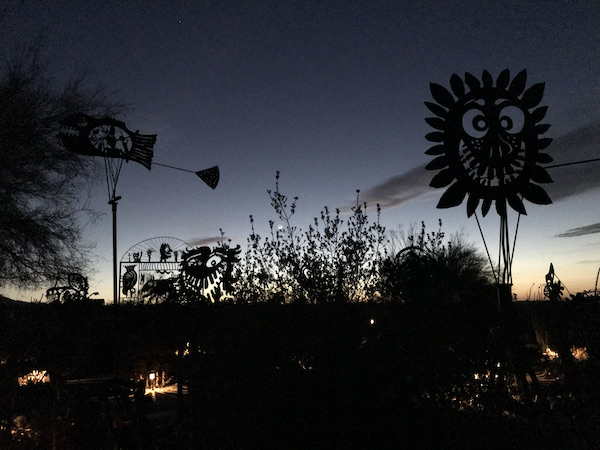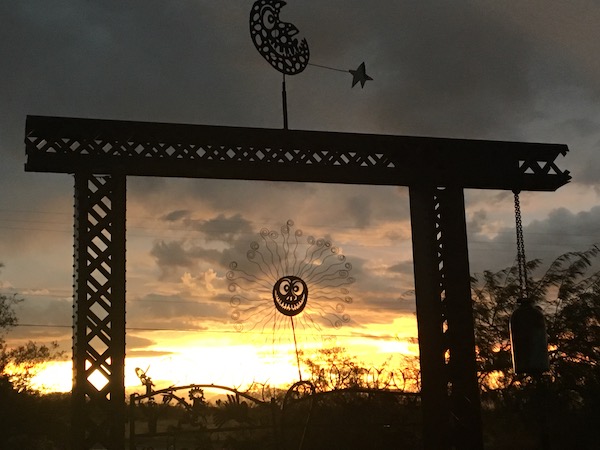 The gate to Harrison House in Joshua Tree made from
salvaged beams from the San Francisco Bay Bridge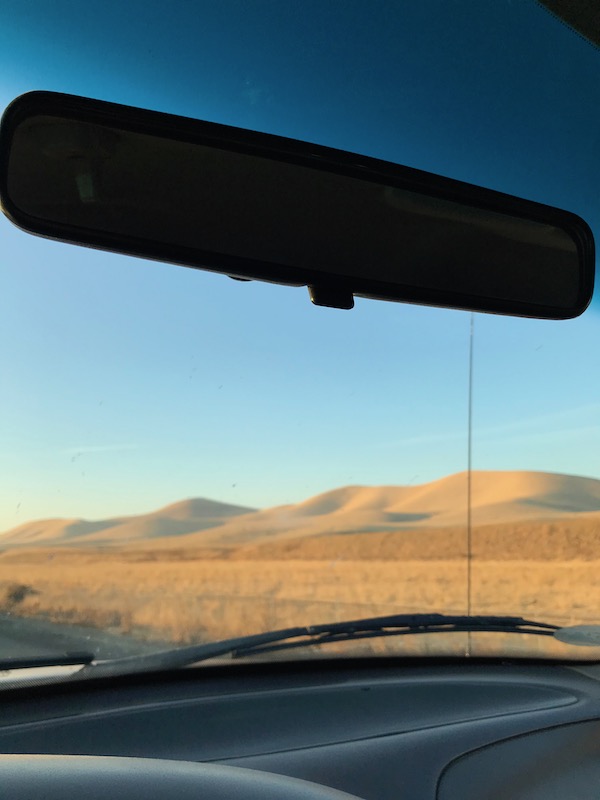 On the road again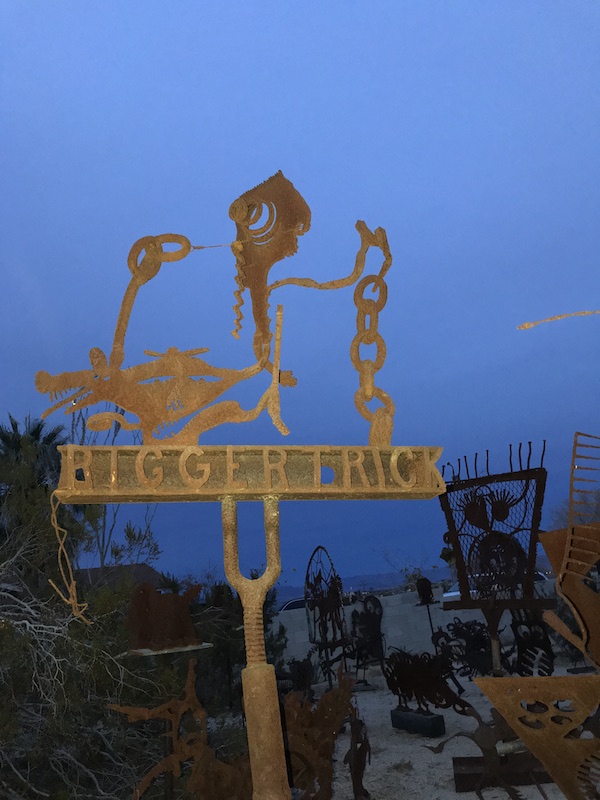 Just another Rigger Trick is all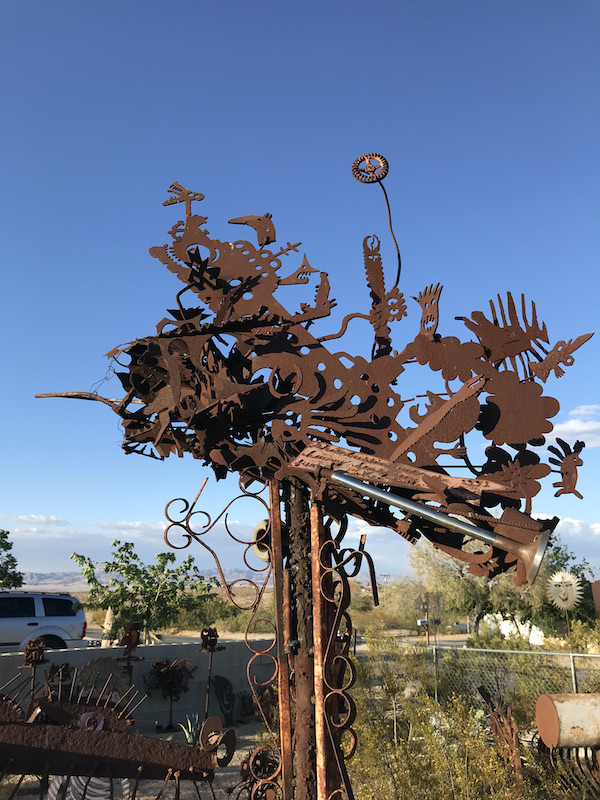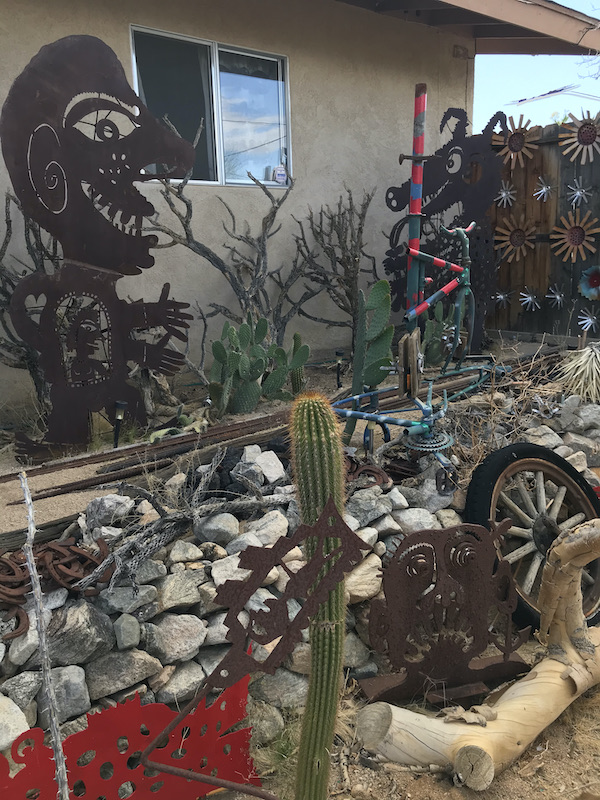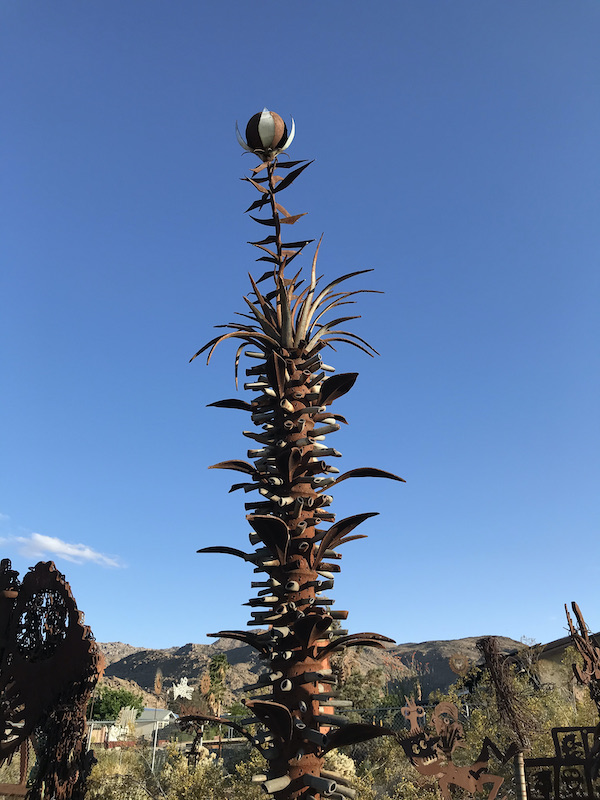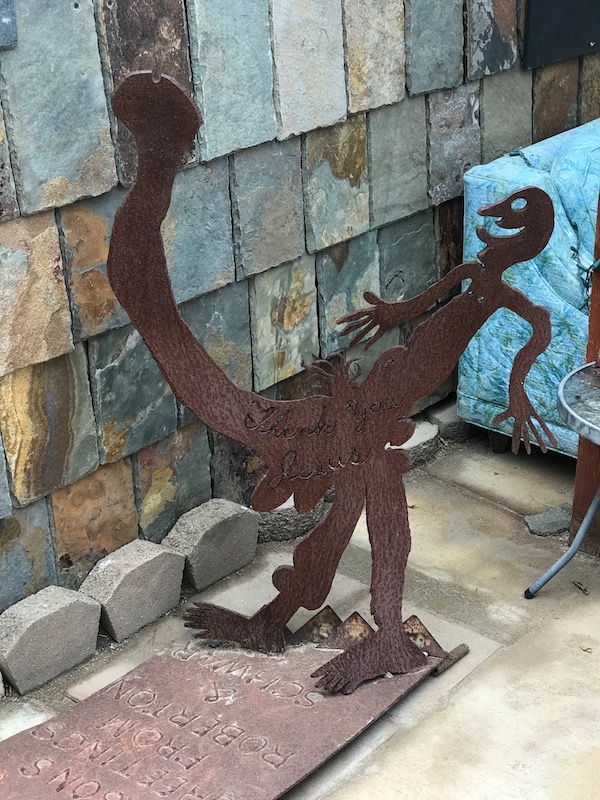 Ahhh. Be careful what you pray for.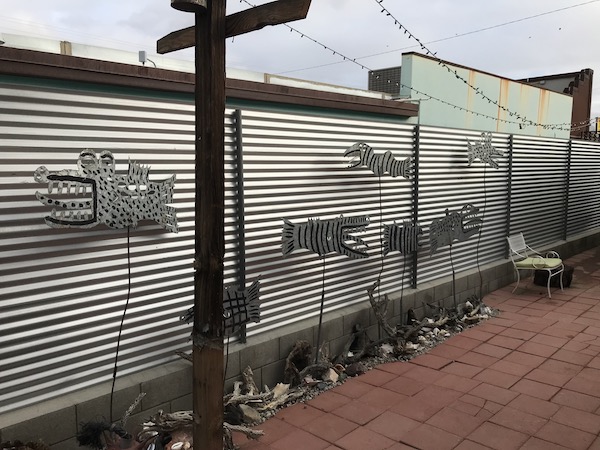 Fish over at Rolo's Taylor Junction in Joshua Tree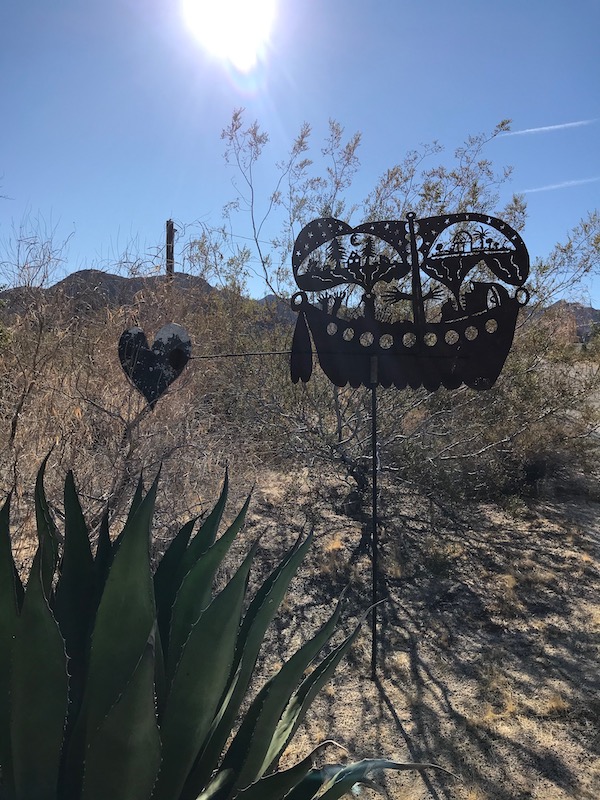 Lou Harrison's old home in Joshua Tree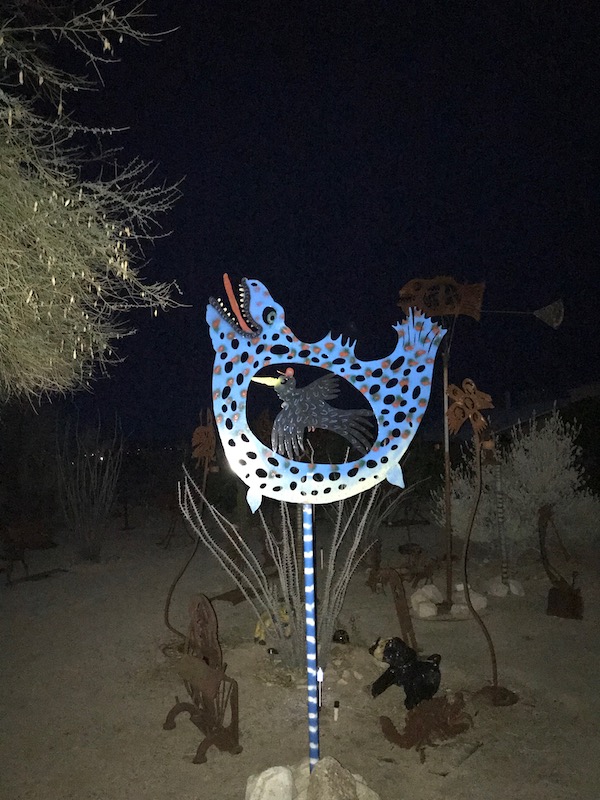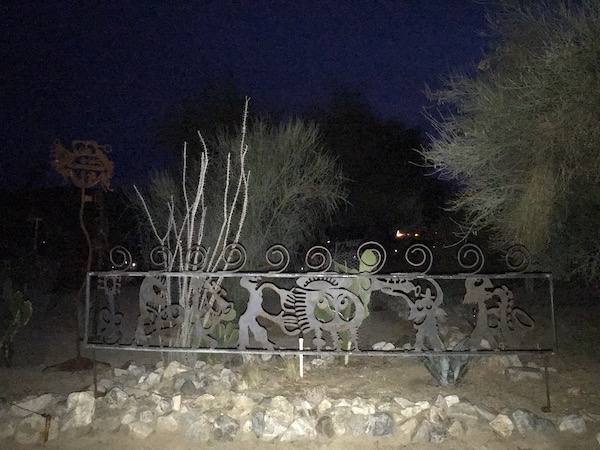 Enrico's band stand in the desert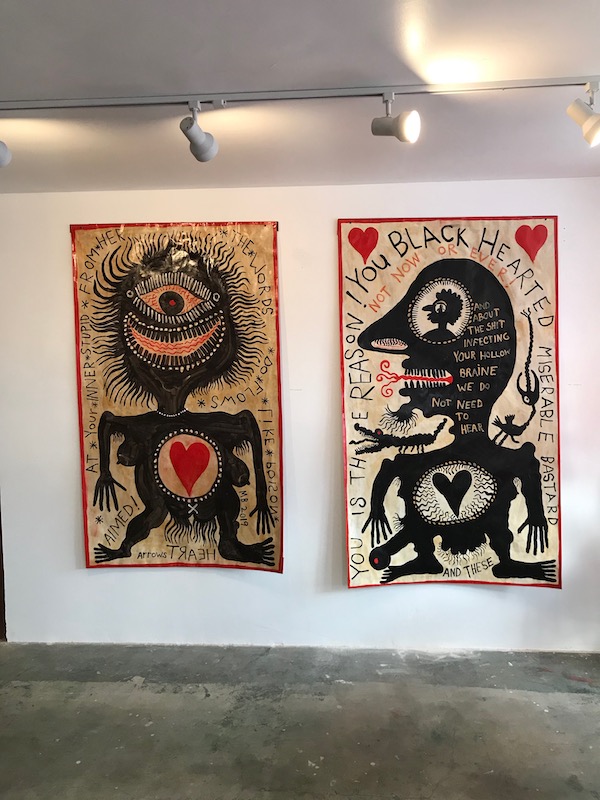 Rude Paintings!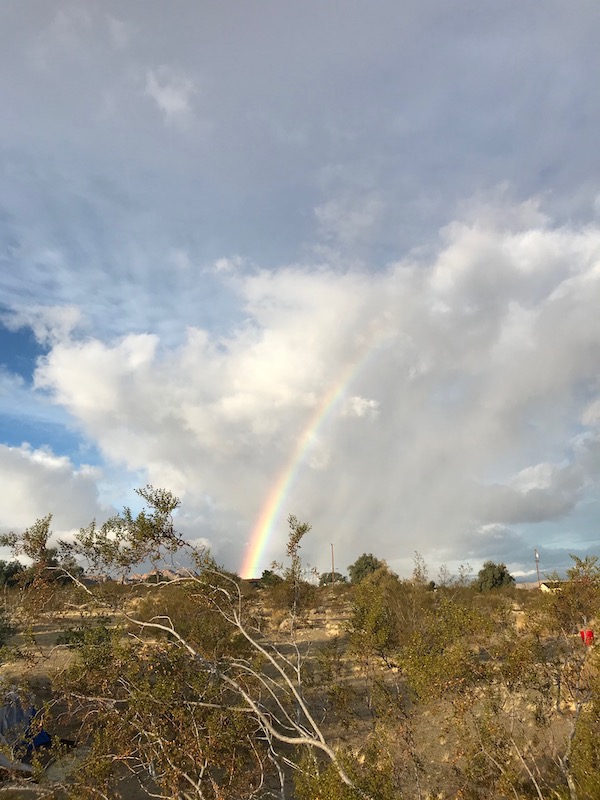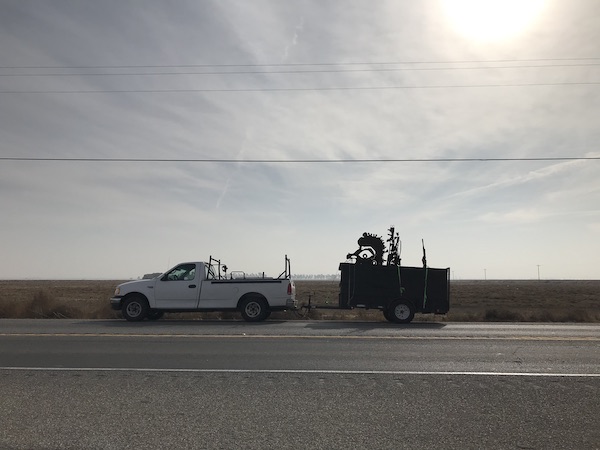 Taking some sculptures out for a Sunday drive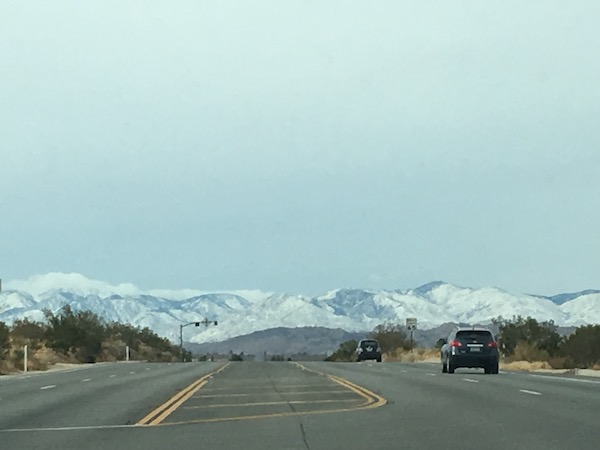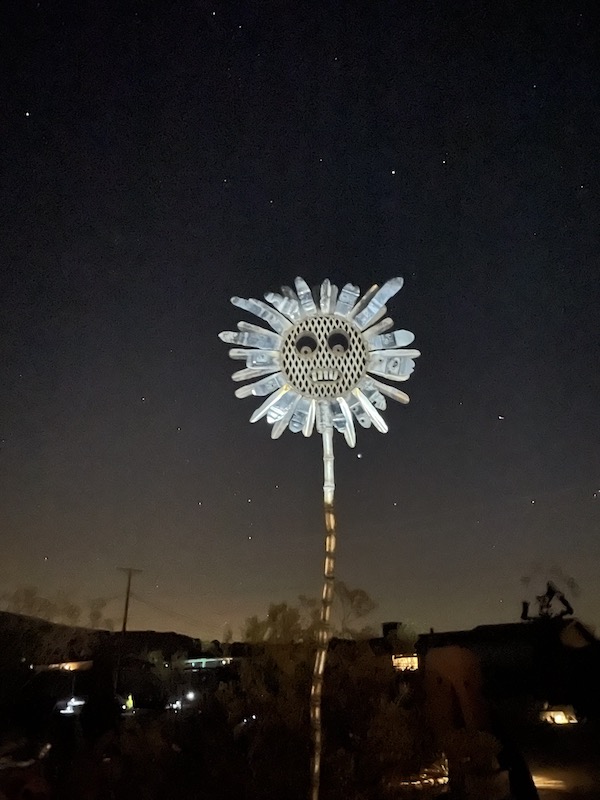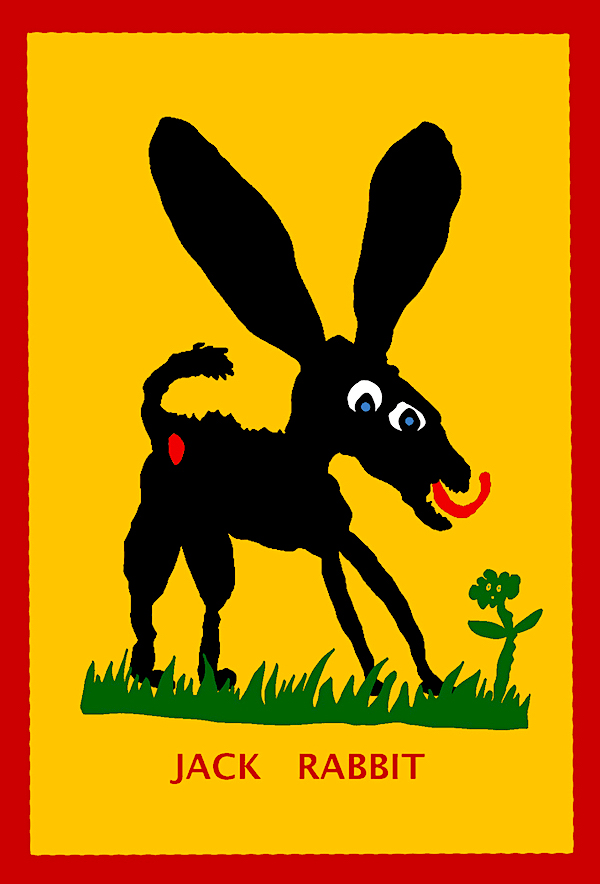 Jack (The critters have to eat, too - mostly each other) Rabbit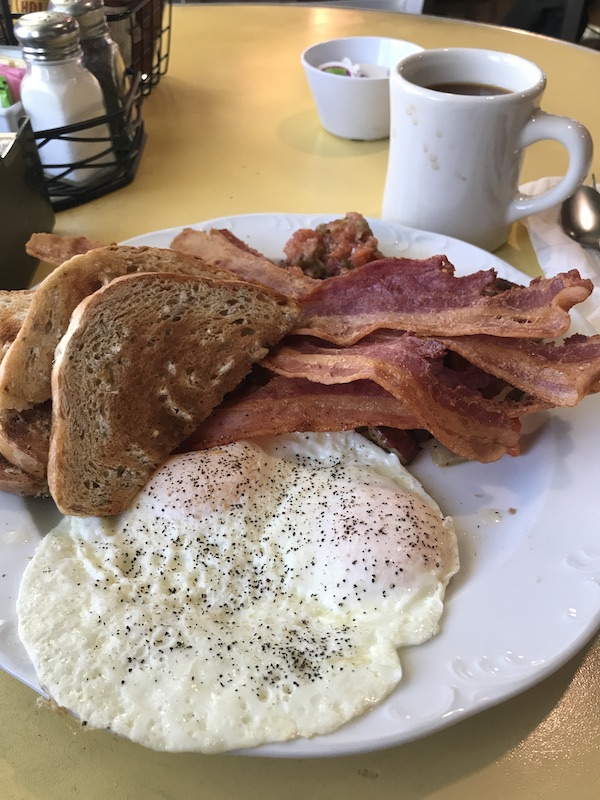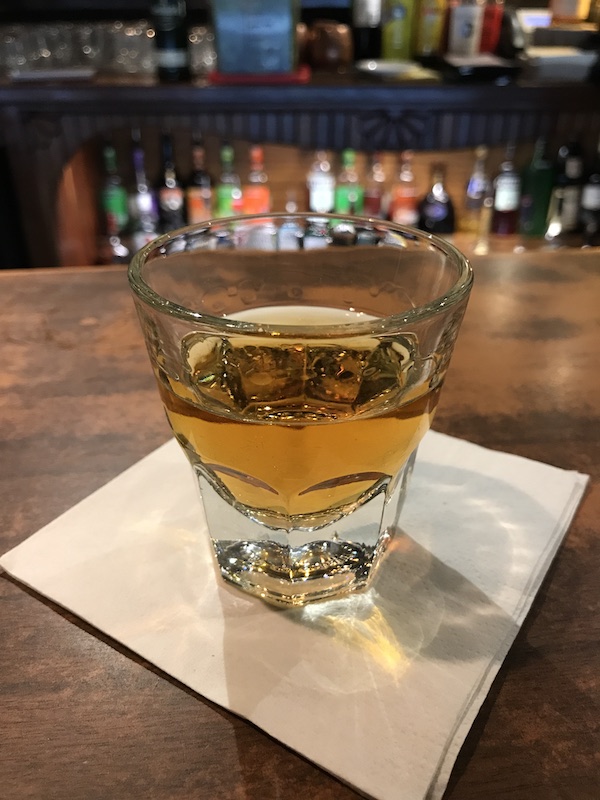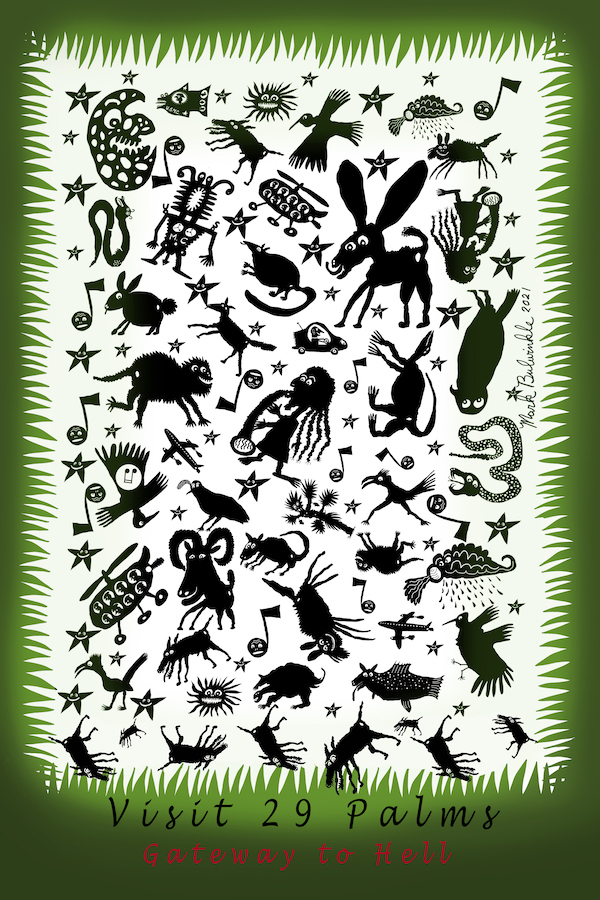 With a little cheap whiskey and a sturdy hand truck a body
might be able to move a pyramid. Maybe I'll try it, no?
Thanks for looking and try the links below. Thanks. MB
Try ArtsyFartsyLand
2018 at Bulwinkleland in the Mojave